ADIDAS CONSORTIUM X WOOD WOOD ULTRABOOST
27 . 02 . 16
Founded in 2002 as modest independent streetwear shop in Copenhagen, Wood Wood since then has evolved into a highly dynamic global design entity. Renowned for their sophisticated mens- and womenswear, the brand has been spearheading a group of young European brands known for their smart fusion of streetwear aesthetics with sophisticated fashion principles. Wood Wood's signature design language has become almost idiomatic for the Scandinavian style so popular today.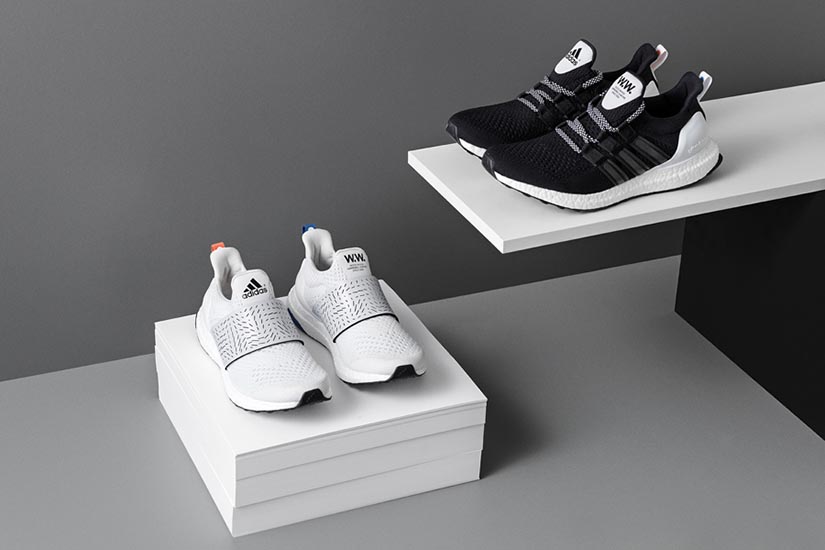 Besides their seasonal collections, the brand has built a solid reputation through their highly conceptual product collaborations over the years. In preparation for this project with adidas Consortium, Wood Wood signed up for an advanced astrophysics lecture centered around a major discovery in 2014. That year, scientists announced what they believed to be the indirect detection of gravitational waves in the afterglow of the Big Bang. As the last untested prediction of Einstein's Theory of General Relativity, nding gravitational waves proved to be quite a big deal… Besides its groundbreaking scienti c importance, an early depiction of this pattern – line segments intersected by shaded areas of orange and blue – turned out to deliver a visually striking design. Wood Wood incorporated elements of this chart into the design of their UltraBOOSTs. Alternating blue and orange color highlights are found throughout both shoes – as inserts on the midsoles, color-markings on the Torsion sole elements, heel straps and extra set of laces for the black men's version, as well as colored insole branding. For the women's version Wood Wood exchanged the lacing system with an elastic mid panel creating a futuristic slip-on style.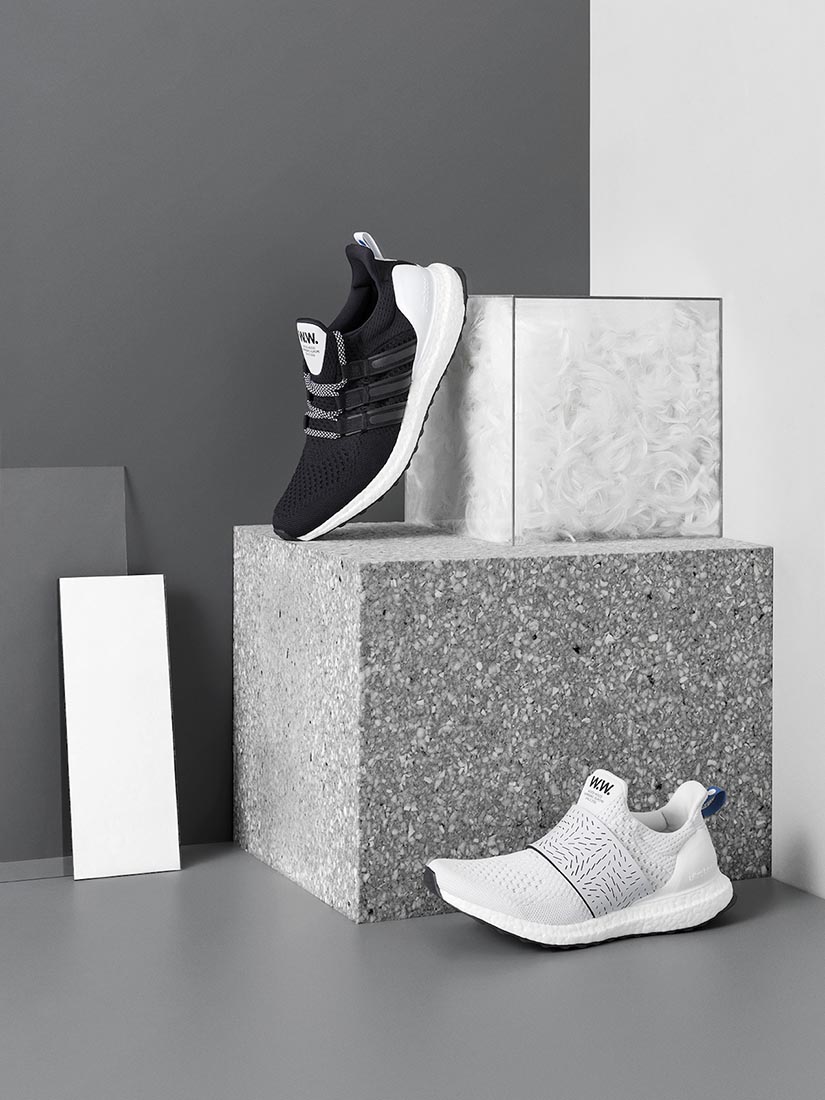 Wood Wood's research into astrophysics served as an initial spark for this project and even though they took to challenging heights with their conceptual approach, the resulting designs of both of their UltraBOOSTs stayed down-to-earth and quintessentially wearable. The subtle, technical detailing complements the innovative core of the adidas Primeknit UltraBOOST and attests to Wood Wood's experienced design sense.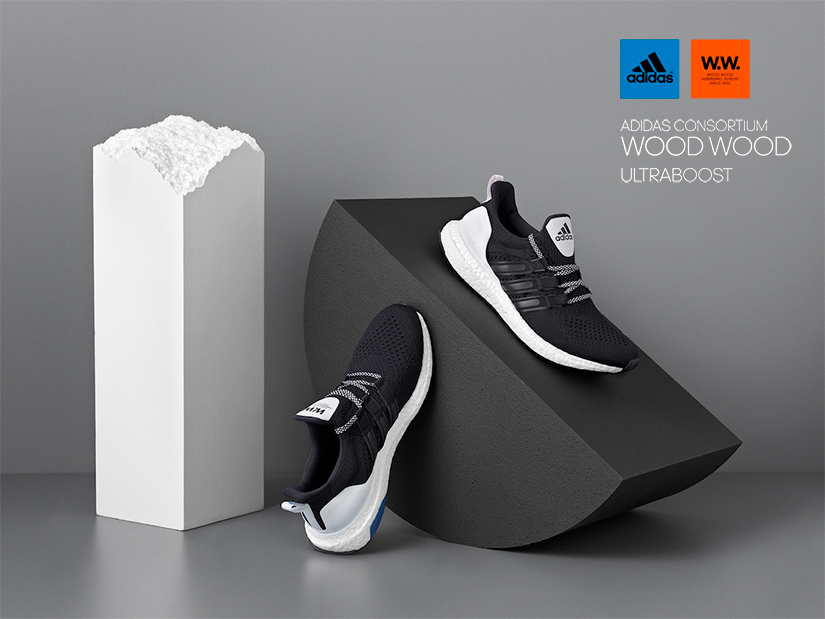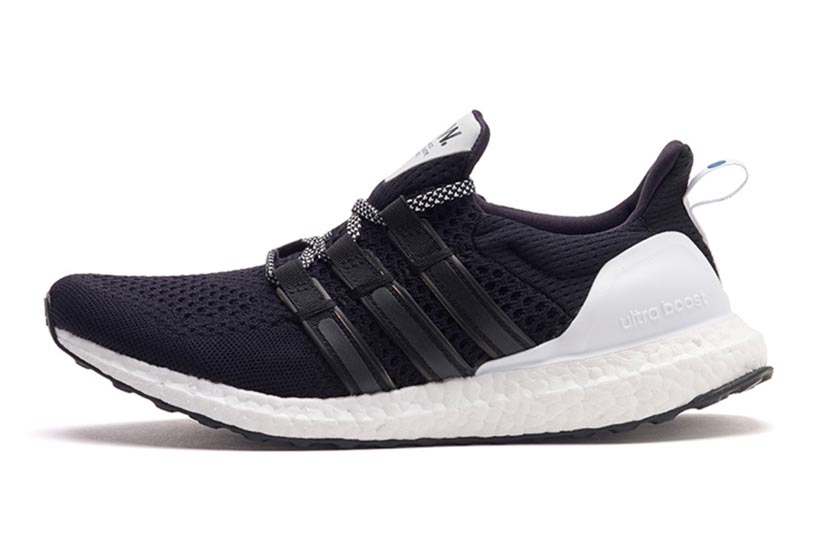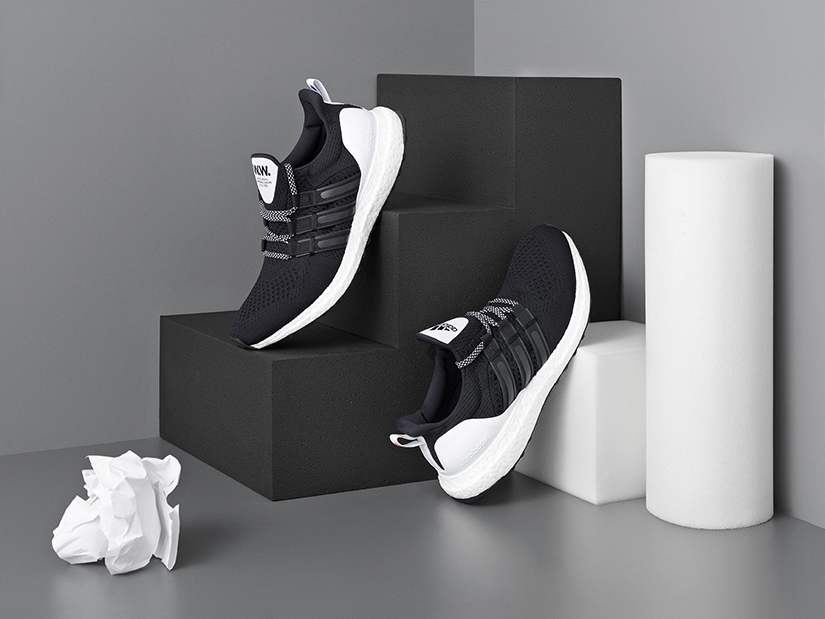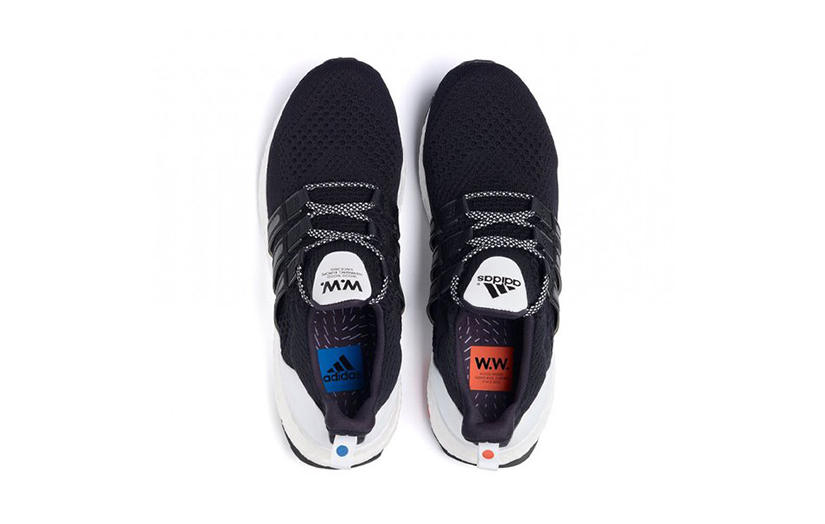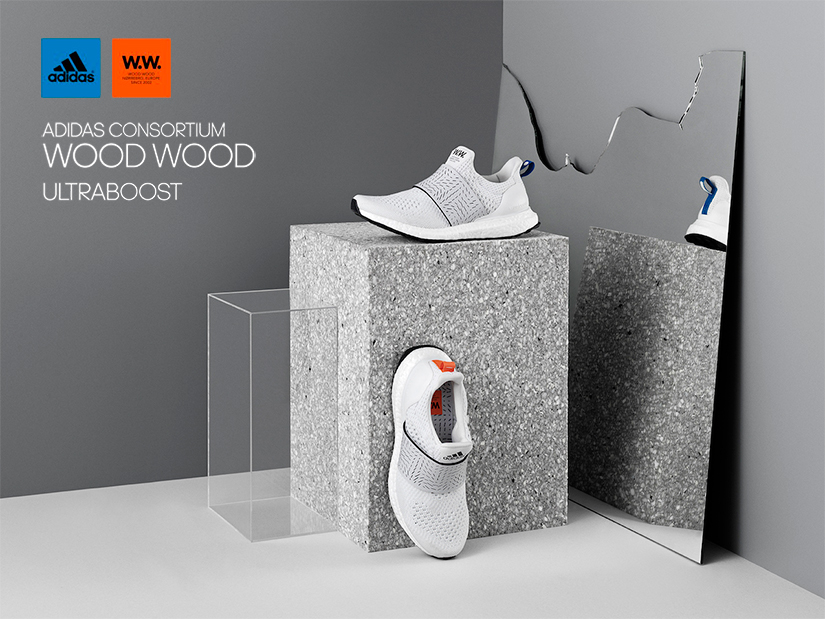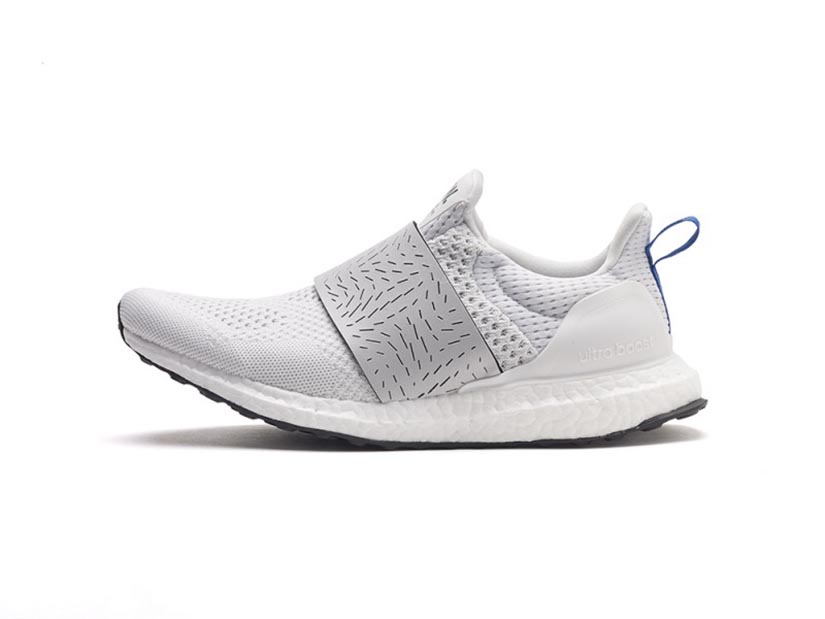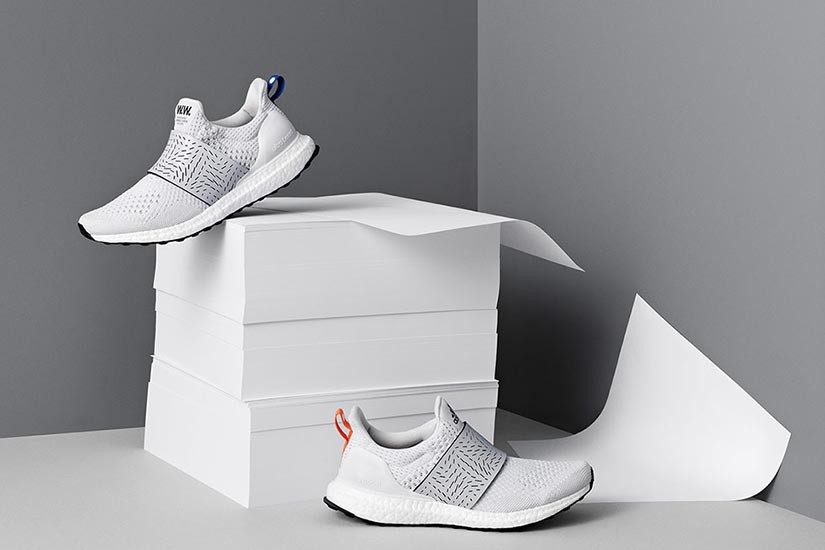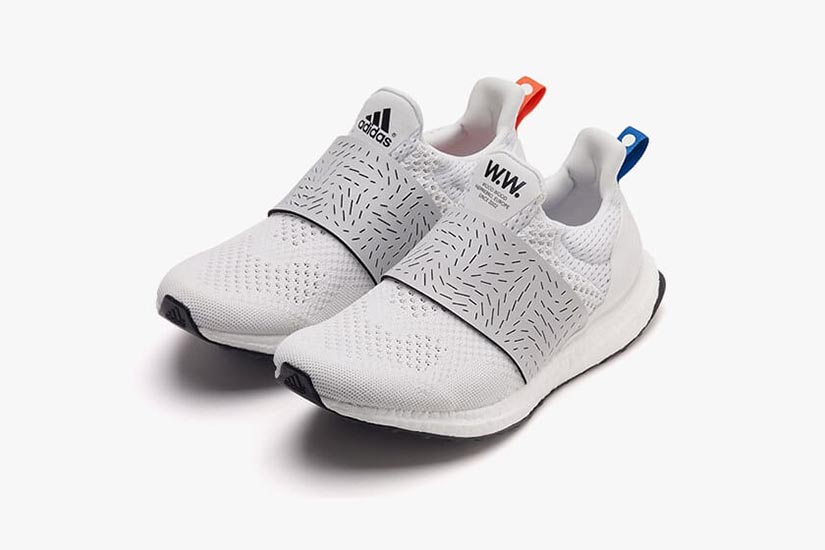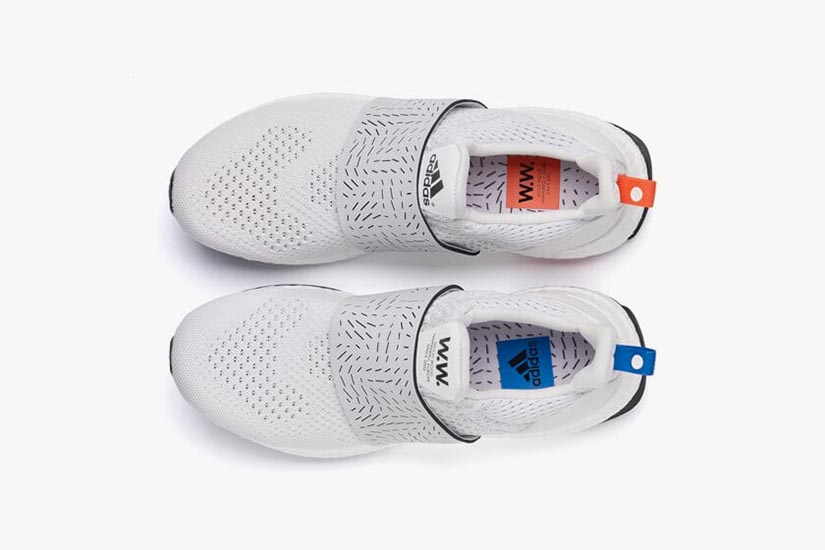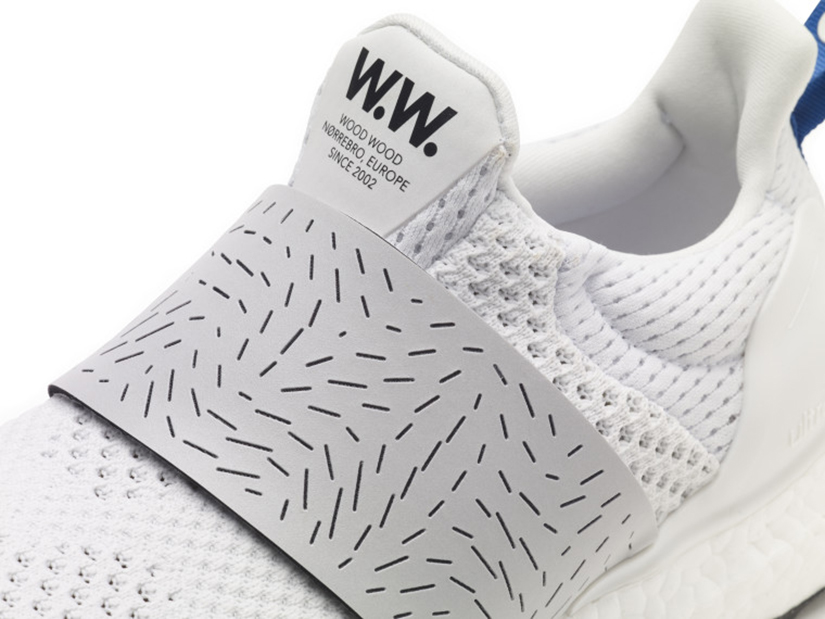 ADIDAS ORIGINALS BY WHITE MOUNTAINEERING SS16
27 . 02 . 16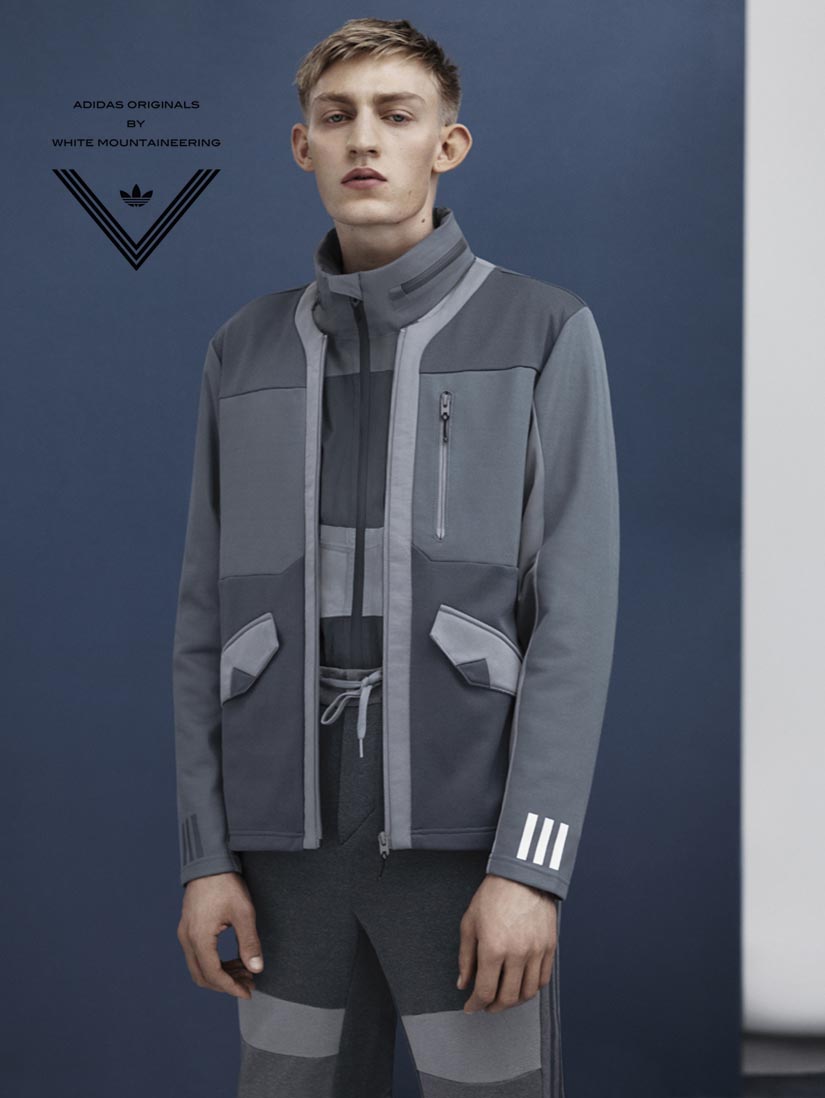 "One, design. Two, utility. Three, technology" – Mr Yosuke Aizawa.
The force behind the Japanese menswear brand ­– White Mountaineering, a Tokyo-based, outdoors-inspired line. Since 2006 the brand has created utiltarian, heritage-inspired collections with a focus on the fabrics, construction and technical features.
For SS16 adidas Originals and White Mountaineering have collaborated on their first full collection. adidas Originals by White mountaineering weaves Aizawa's progressive functional perspective into the enduring heritage of the brand with the three-stripes, elevating classic sportswear pieces through futuristic cuts and high-end technical fabrics such as GORE-TEX and cotton-nylon blends.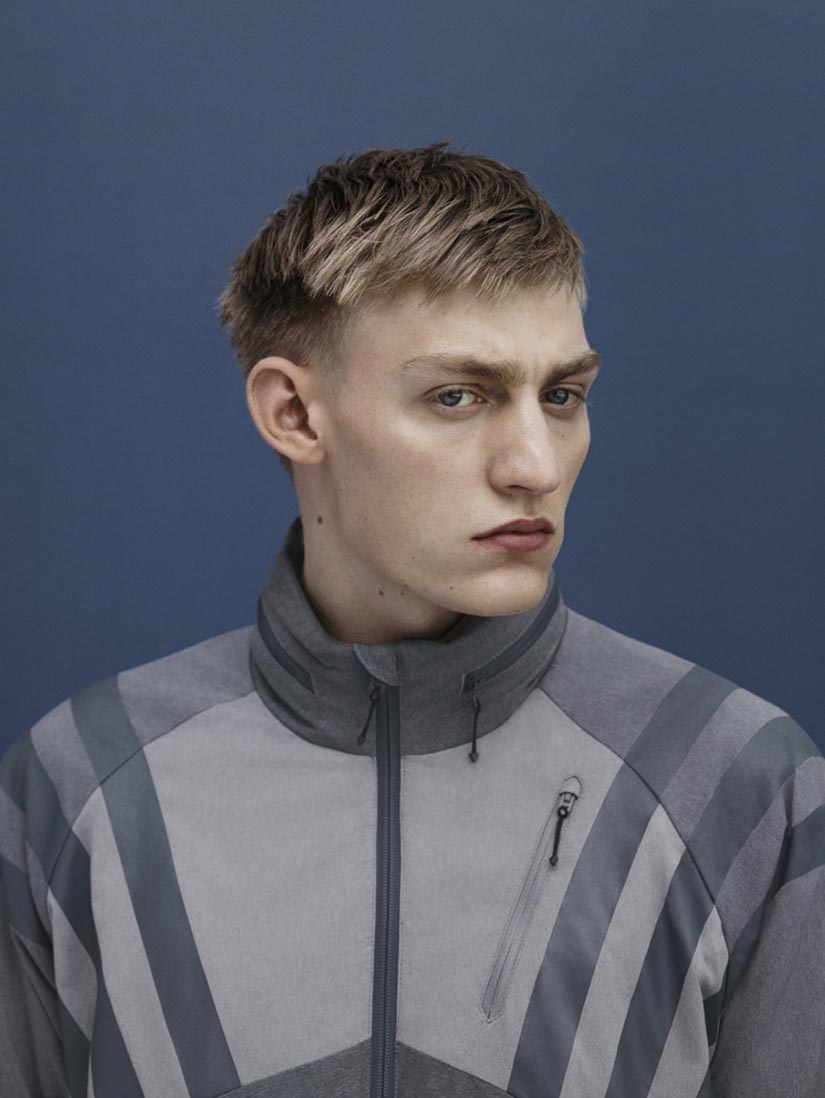 Essential sportswear silhouettes from t-shirts and sweat pants to windbreakers and developed outerwear receive panel constructions and muted tonal treatments that unite the range under White Mountaineering's distinctly stylised approach to utility and fashion.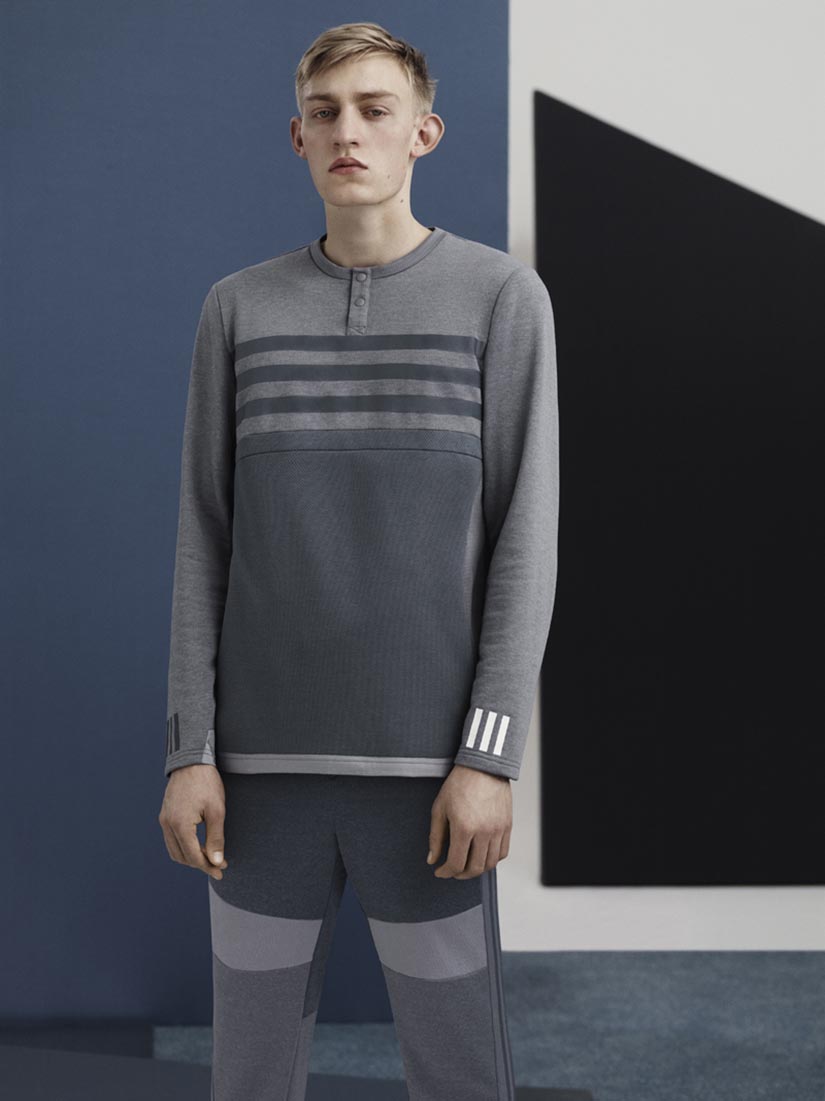 Accompanying footwear brings the same approach to a range of classic and contemporary three-stripes silhouettes, presented in the brand's signature cold-weather colour schemes and layered with premium touches. adidas Originals icons are brought under Aizawa's direction or transformed entirely into brand new designs, underlining a comprehensive range that embodies the collaborative spirit – speaking the language of two labels through a singular, standout collection.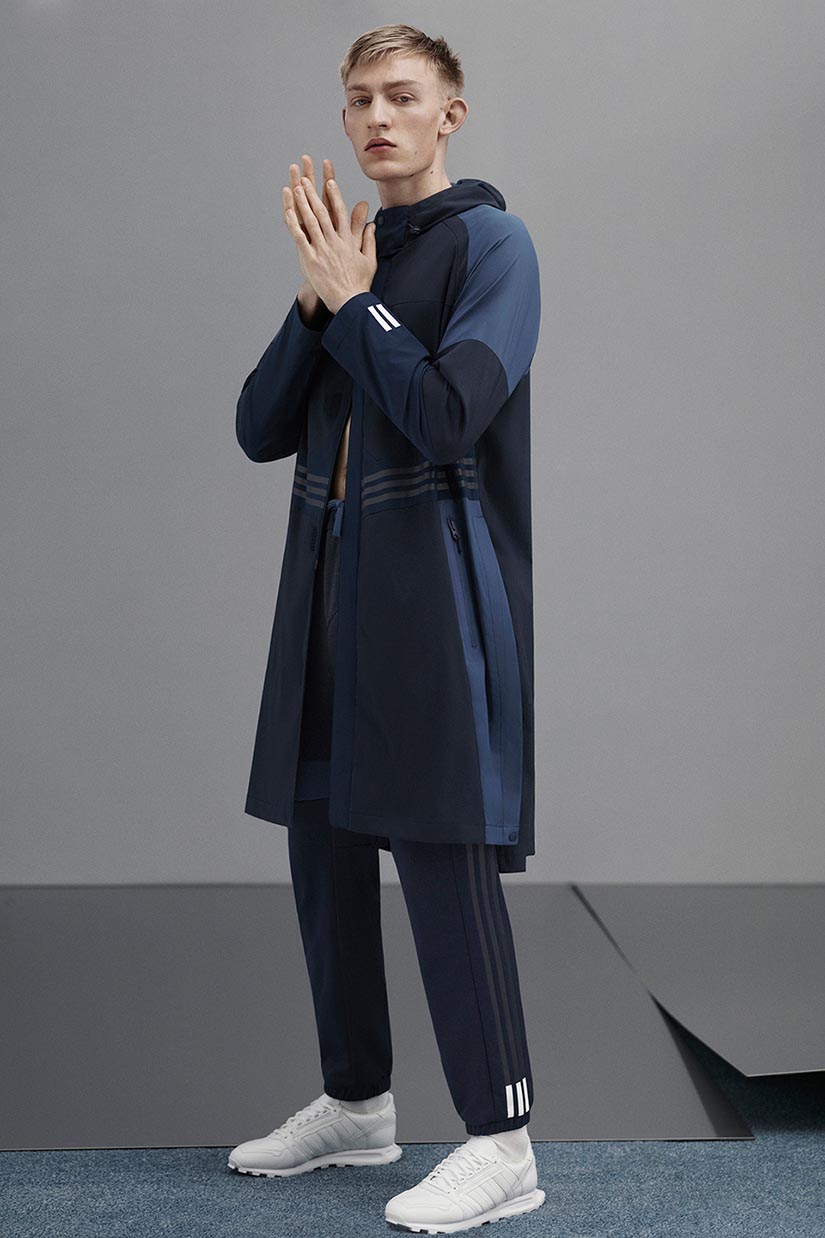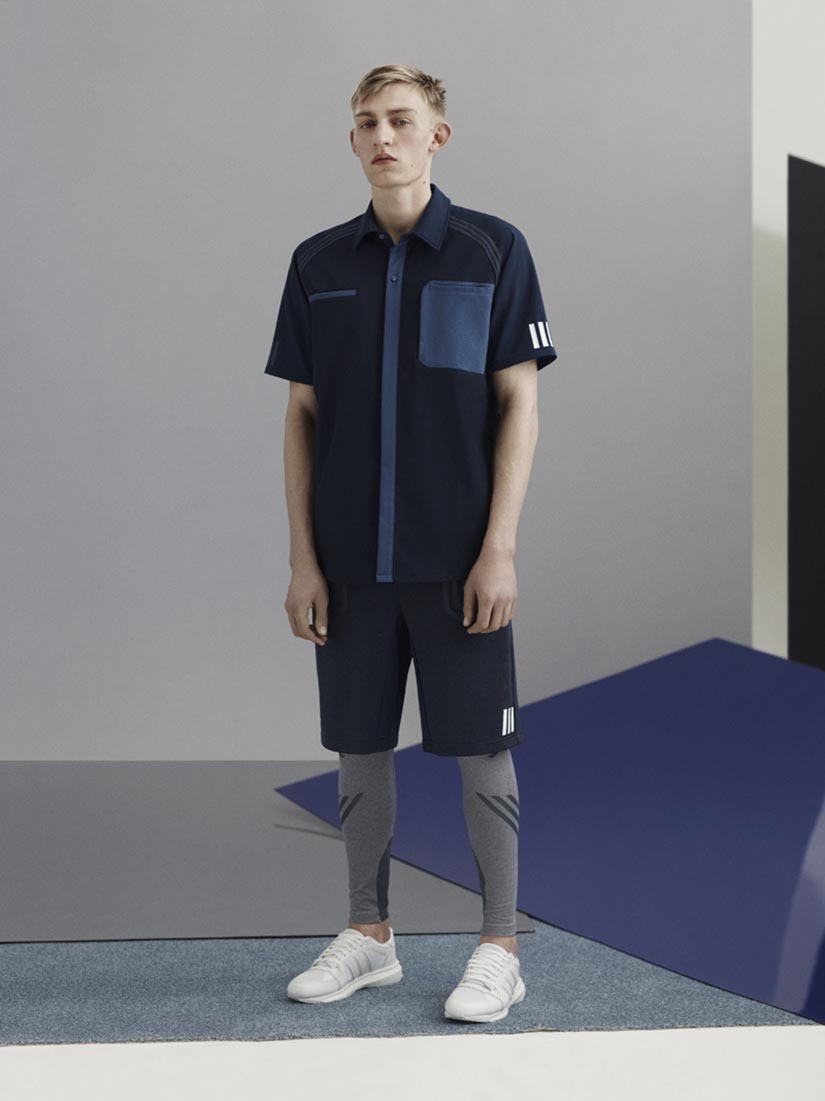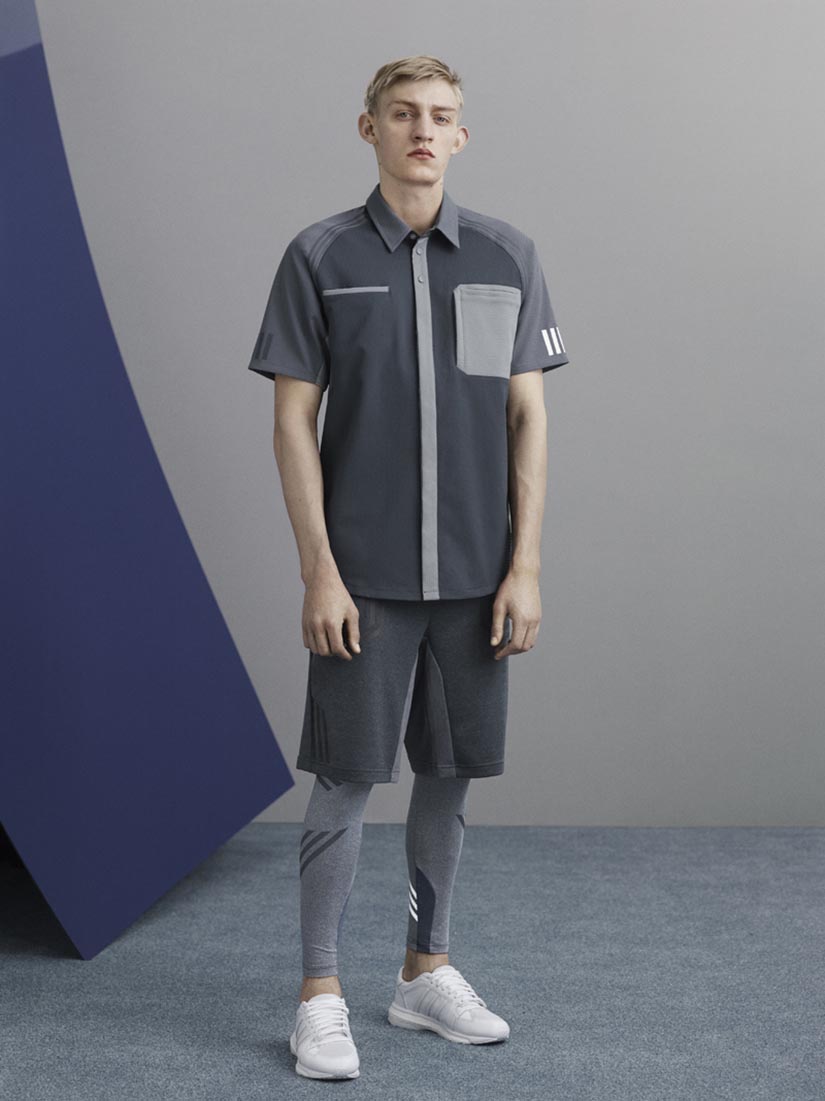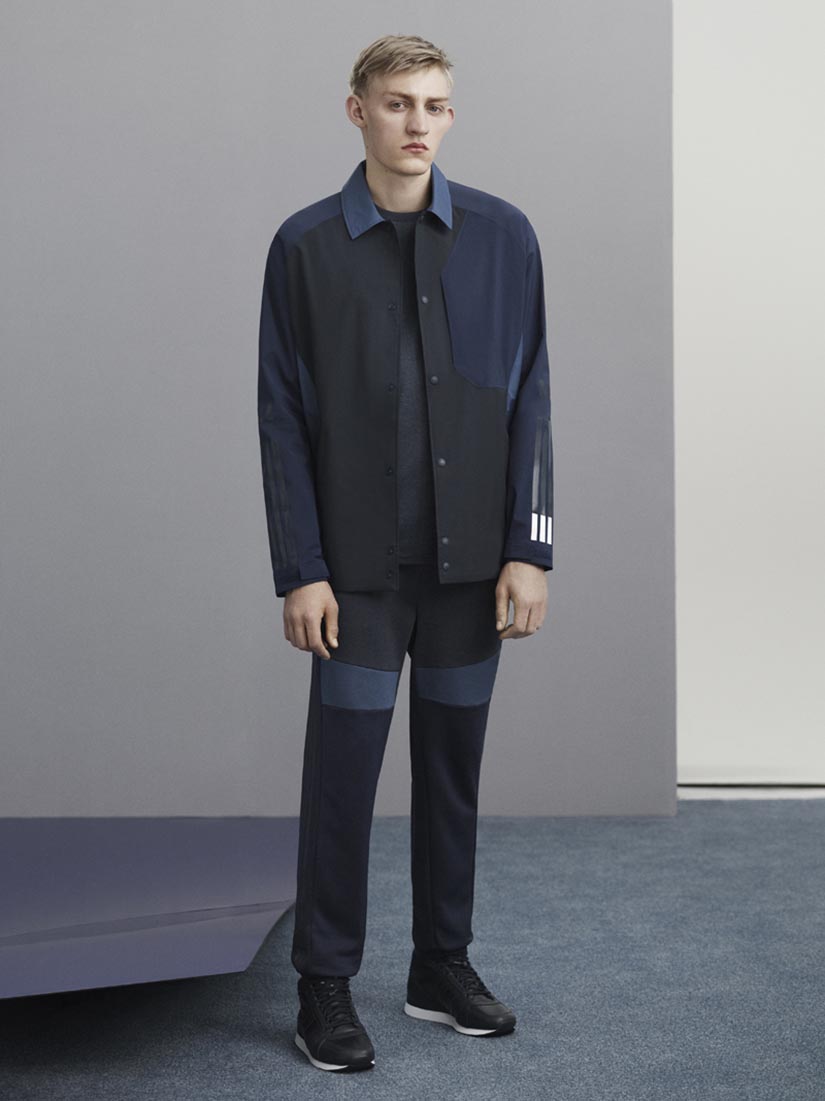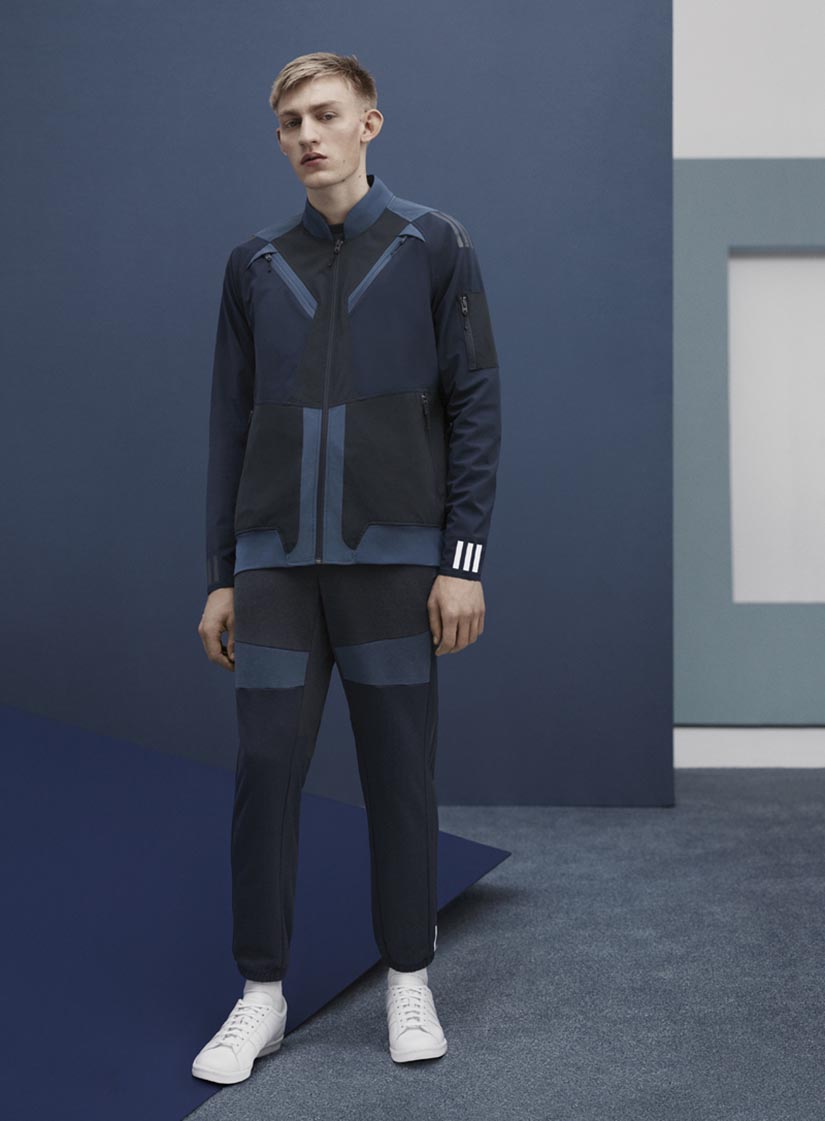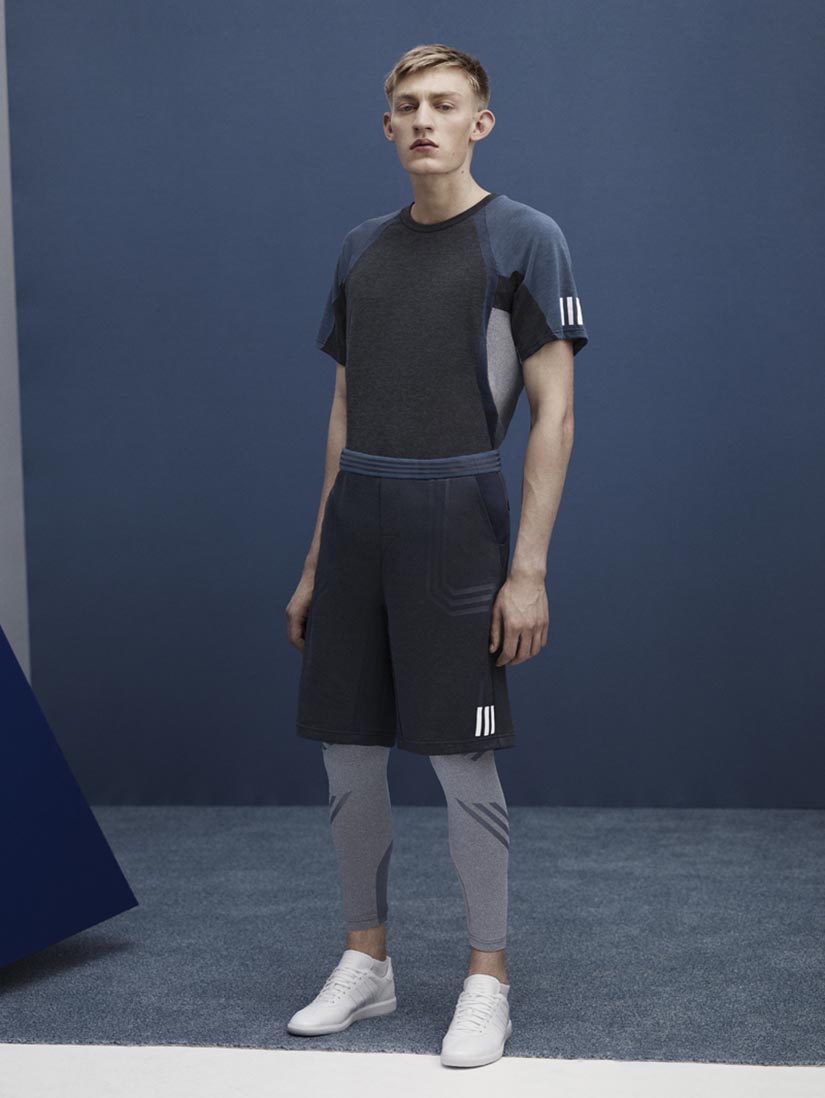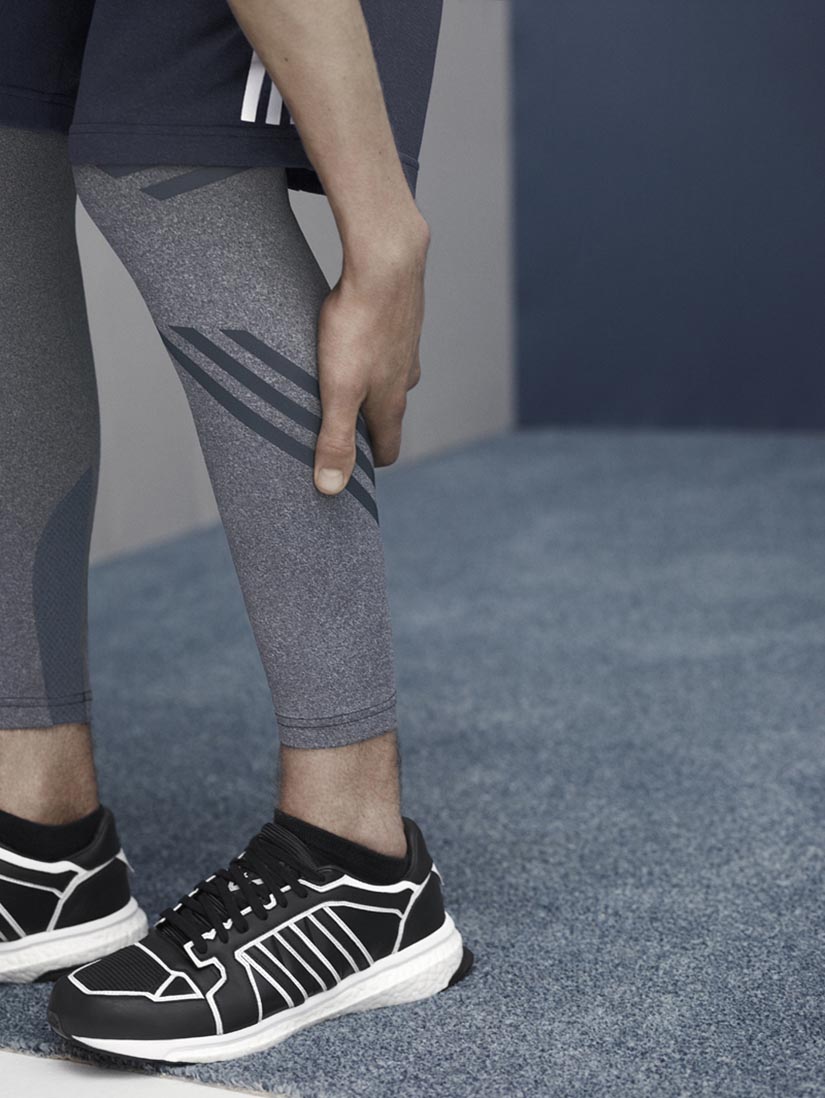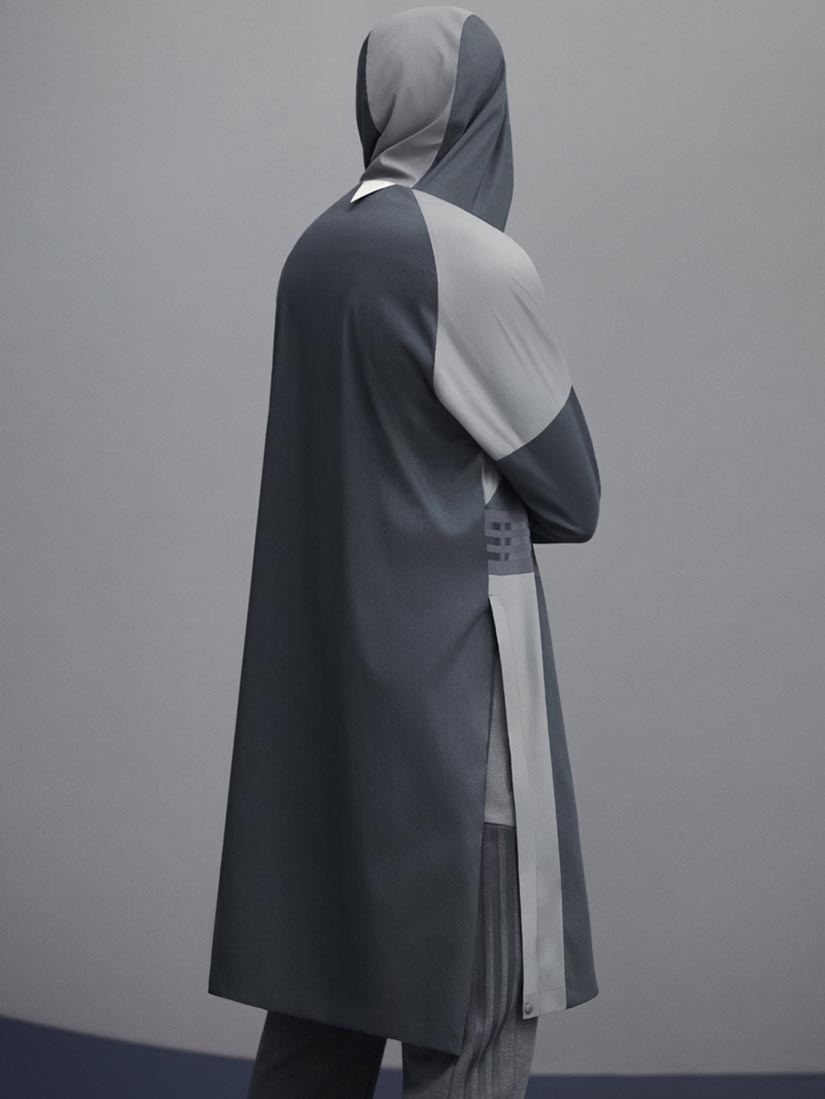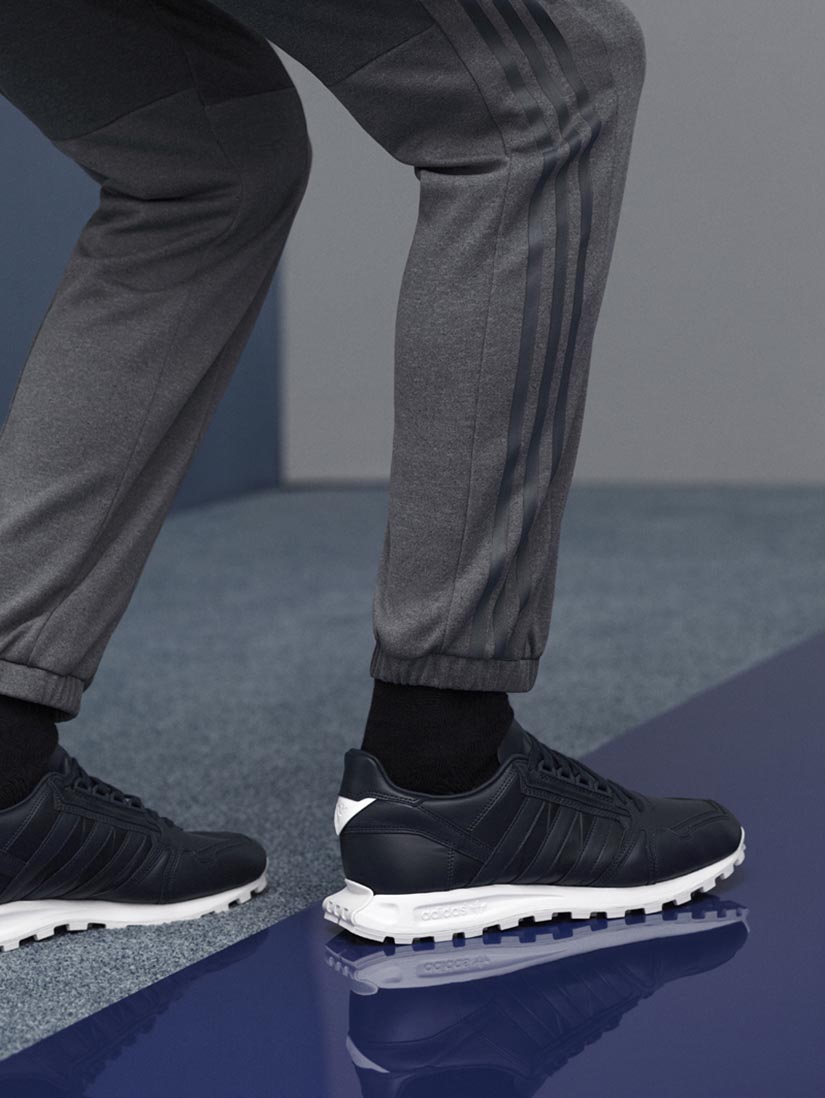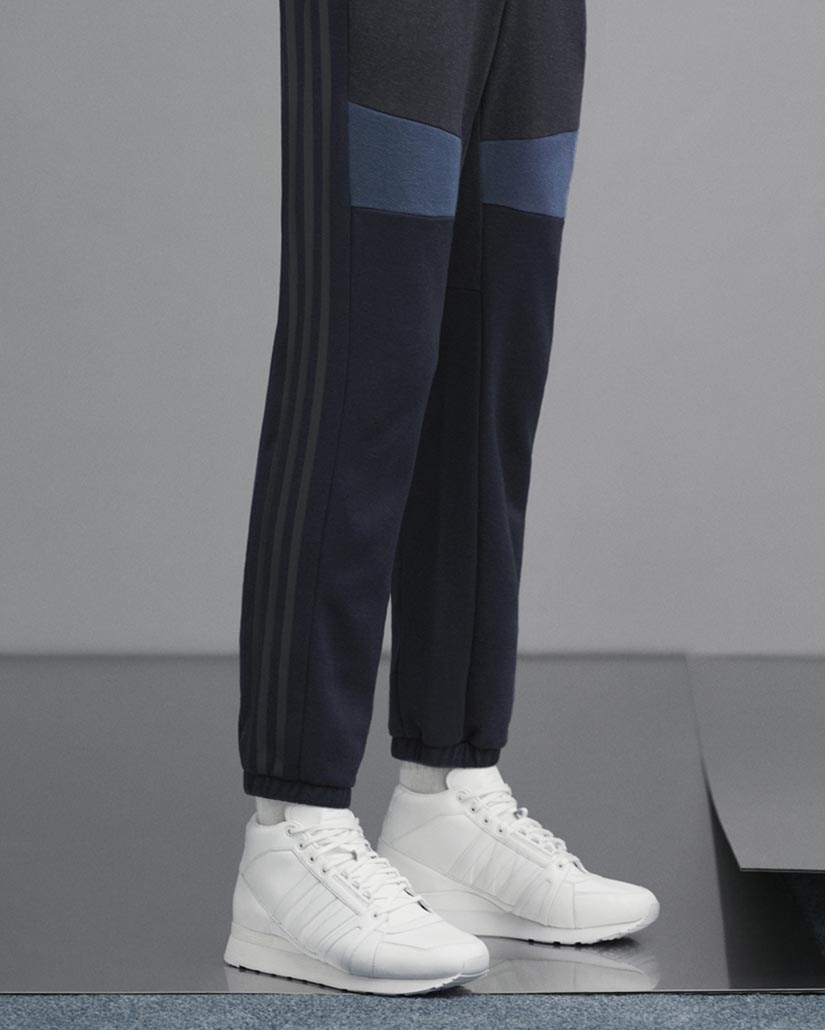 Puma Blaze of Glory Camo x SNS
Saturday 27th February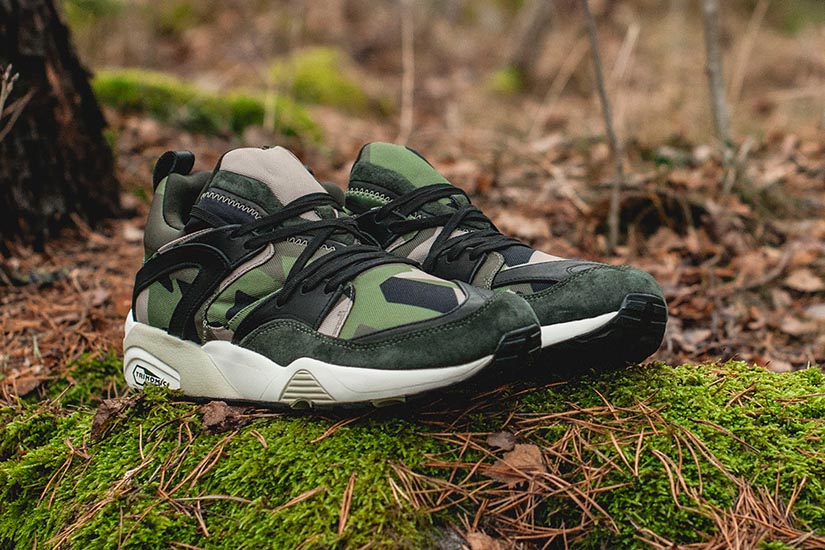 The PUMA x Sneakersnstuff Blaze of Glory "Swedish Camo" takes the design theme from the Swedish military camouflage M90. M90 was introduced 1990 (shocker…) and is still in use today.Blaze of Glory comes with an all-over M90 upper in heavy nylon with details in nubuck and premium leather.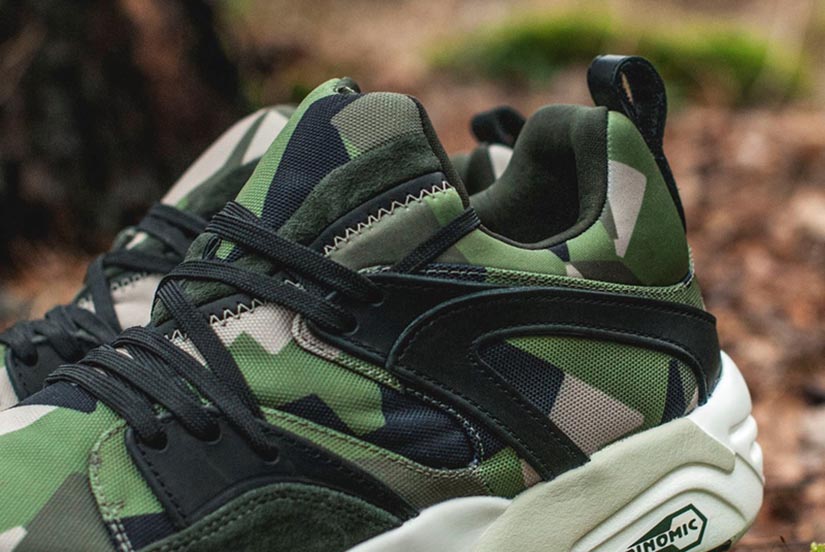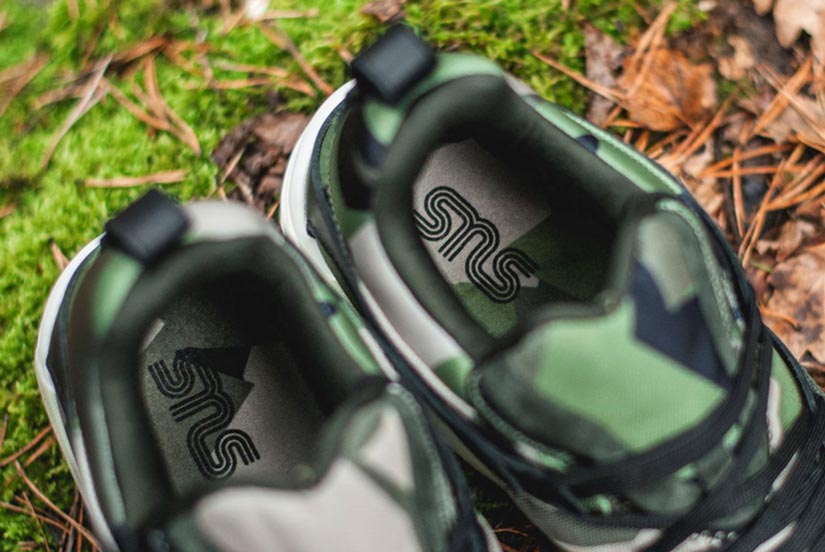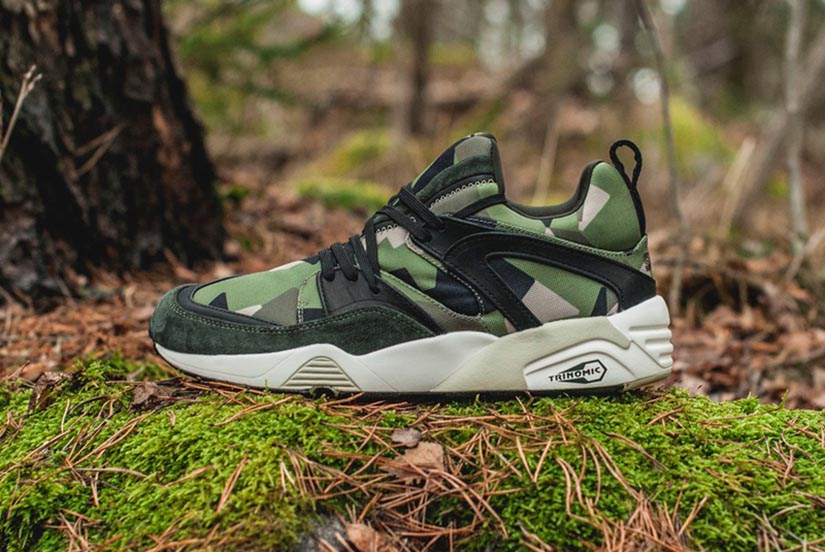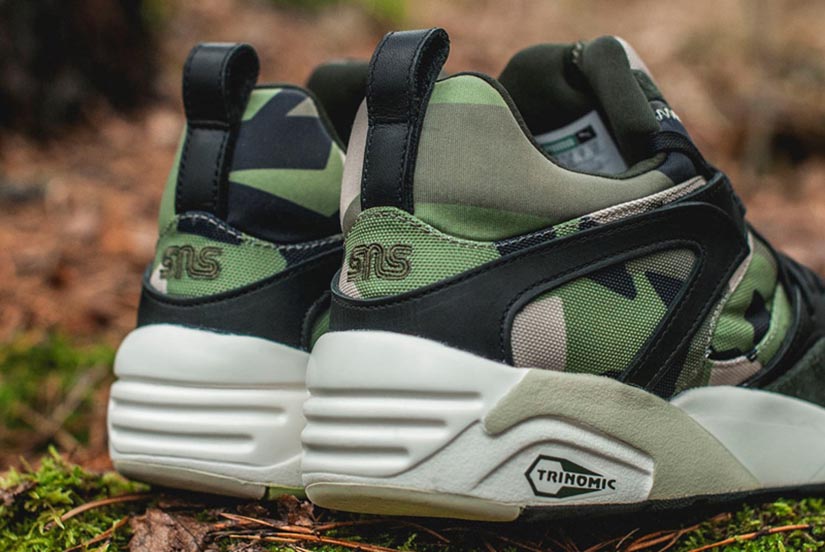 Karhu Aria "Birch & Juniper" Pack
Launch Thursday 25th February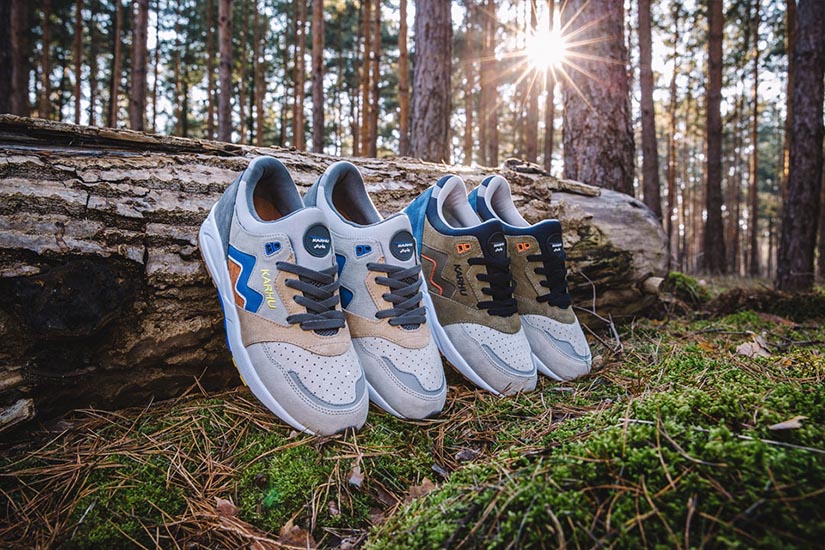 Capturing a natural aesthetic, Karhu ventured into the woods for inspiration on the latest Aria release. Finnish birch (koivu) and juniper (kataja) trees, respected for their life sustaining properties, provide the colour themes for the spring release.
The uppers of both Aria colorways are constructed with premium pigskin suede. The material selection and 3M reflective hits give the pack an earthy feel without compromising integrity. The Fulcrum midsole and mono tongue construction ensures an unparalleled level of comfort.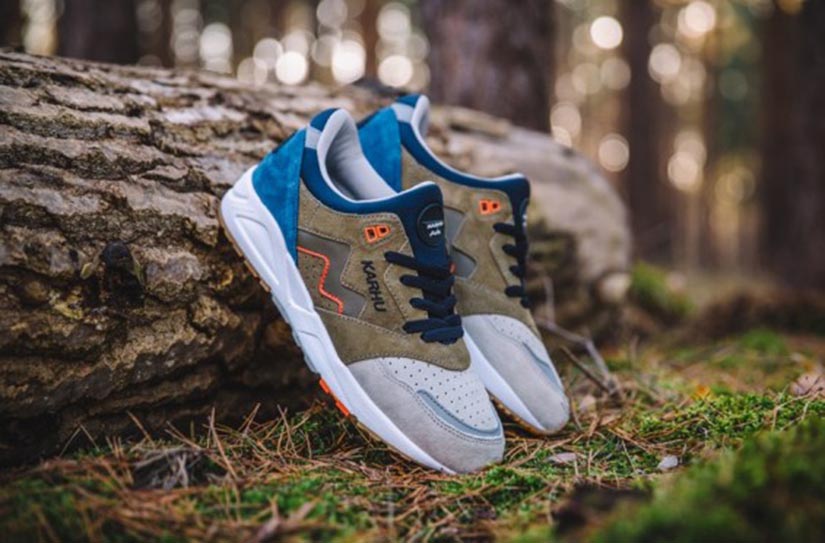 A jupiter tree twists and turns into unique shapes like a great journey and signifies the ability of staying true to oneself. Leaving winter behind, "kataja" colors of blue and orange represent the berries while the green and tans portray the leaves and rich forest soil.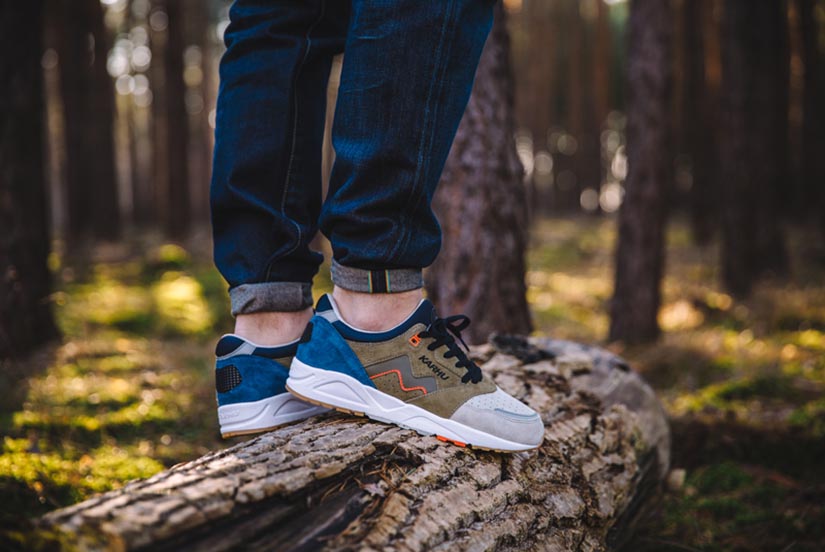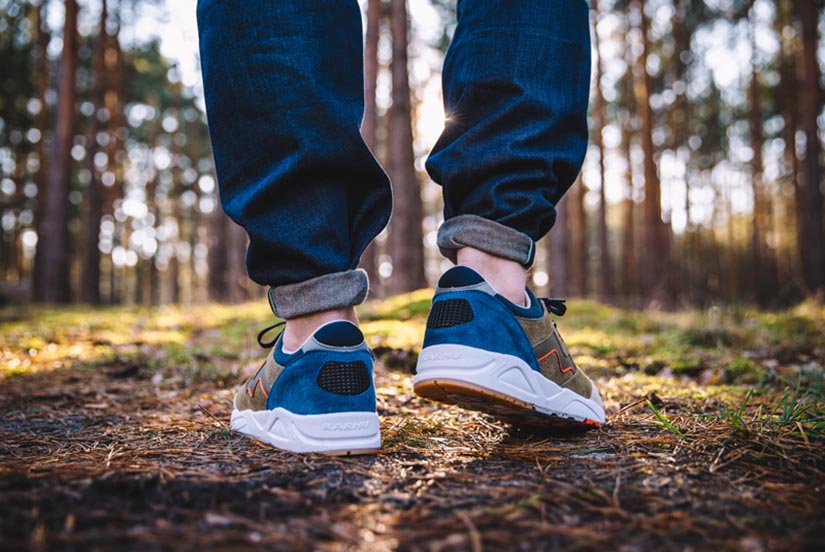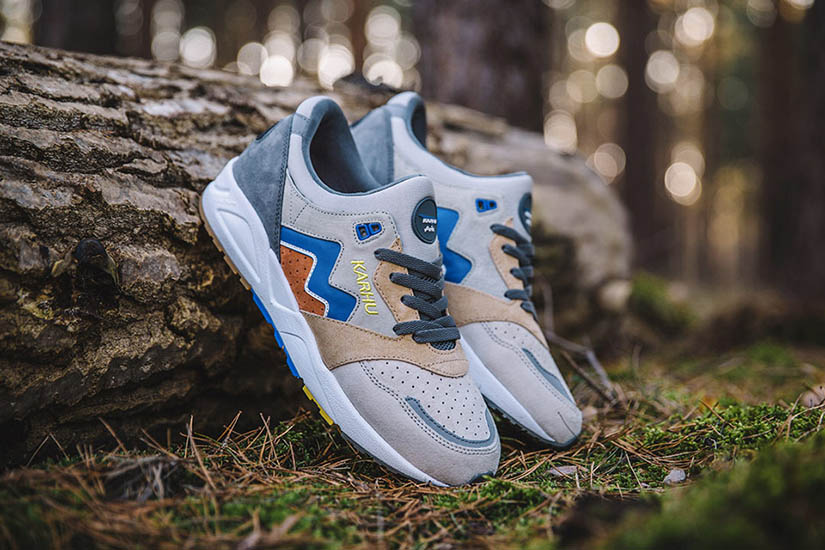 The highly flammable birch wood can catch fire even when wet and is often used by woodsman to light fires when in need of warmth. Symbolizing new beginnings and cleansing of the past, "koivu" colors of light brown, tans and soft greys are accented with the blues and yellow of the spring months.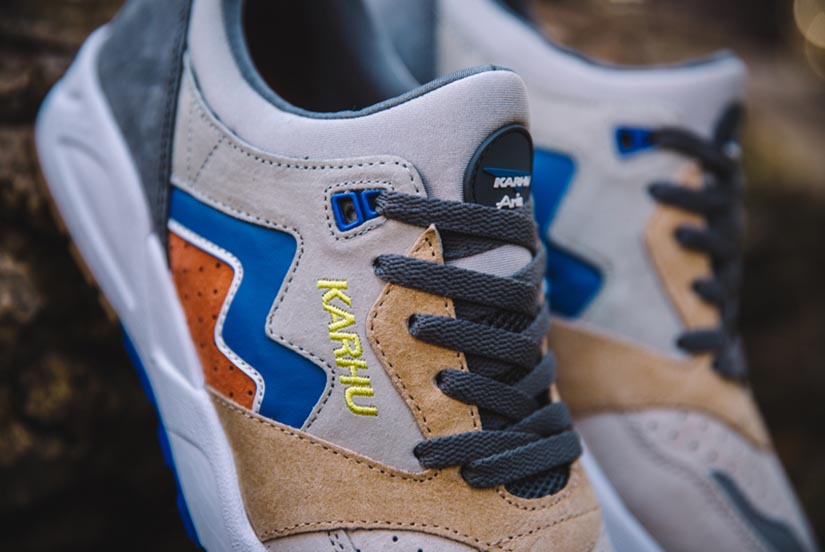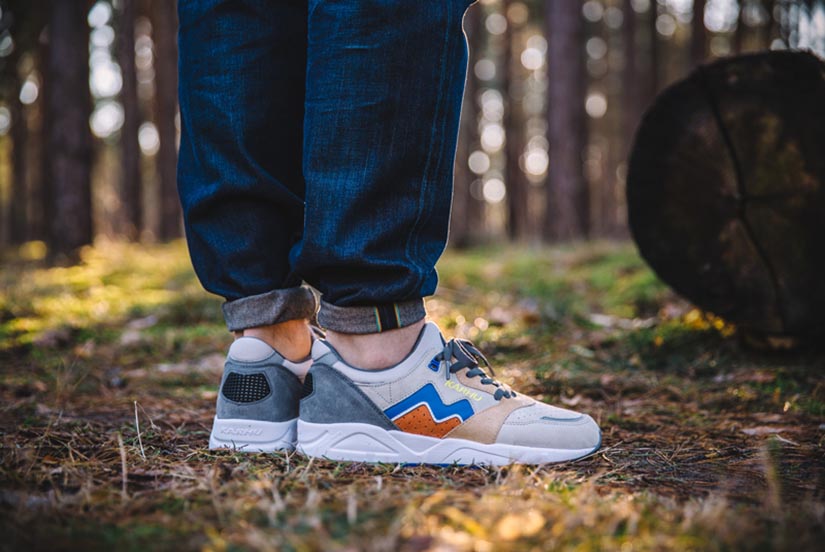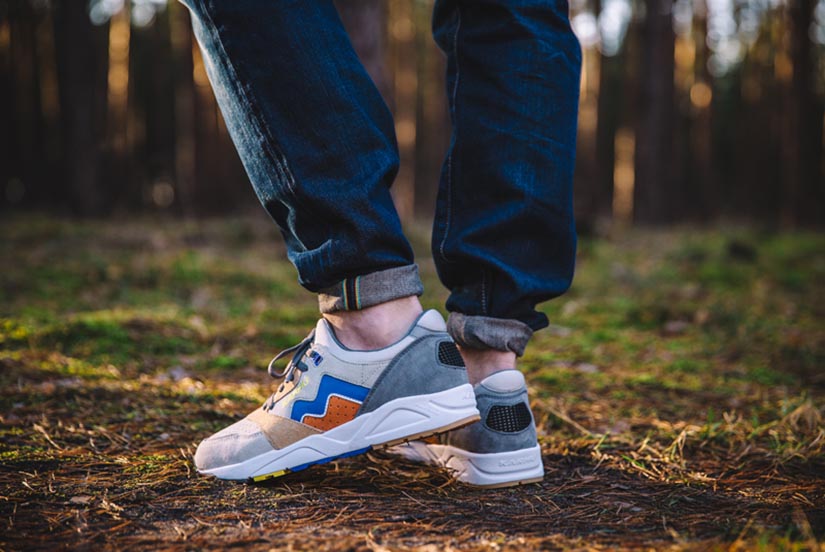 Asics Gel-Lyte III x Reigning Champ
Launch 20th February

Canadian label Reigning Champ has enlisted the help of Japanese athletic brand ASICS for a new collaborative drop. The new partnership marks Reigning Champ's second-ever sneaker release, arriving in the form of three GEL-Lyte III makeups. The footwear component is accompanied by a range of 15 tops and bottoms, all made in Canada with premium suede and mid-weight french terry.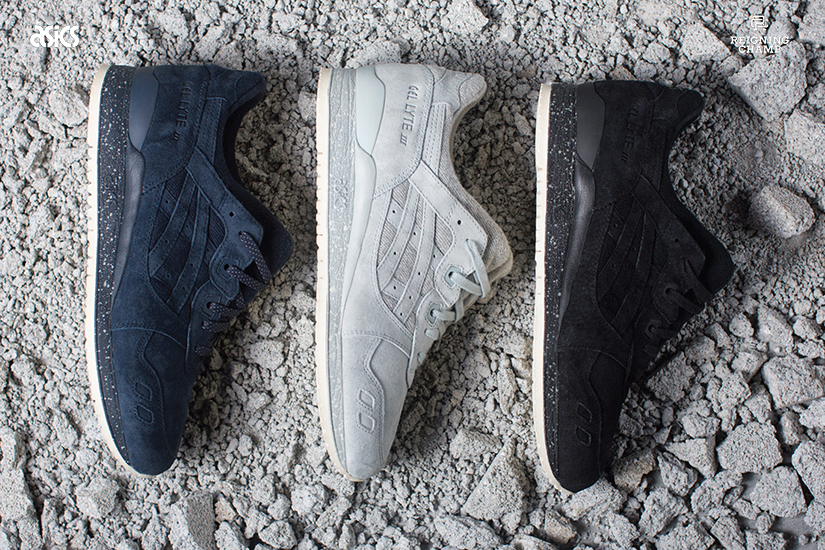 The details and colorways included in the forthcoming release are a thoughtful reflection of Reigning Champ's core collection of apparel, which is based in navy blue, heather grey and black executions.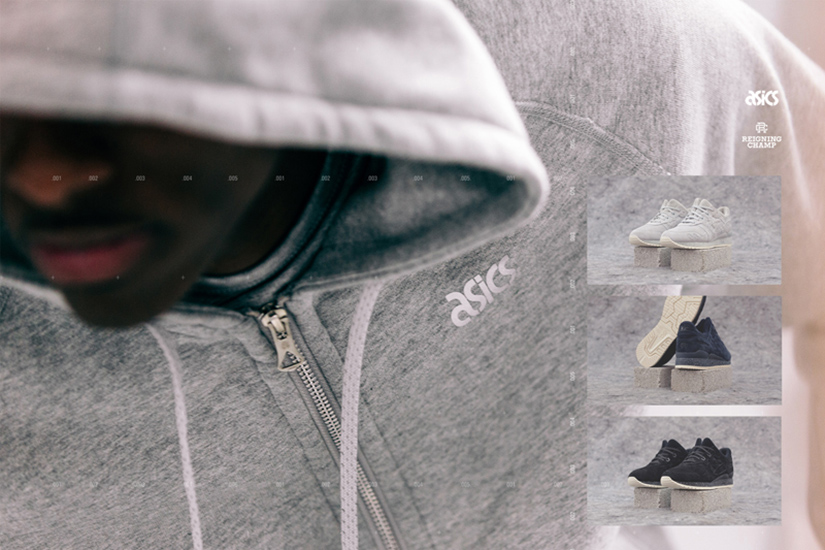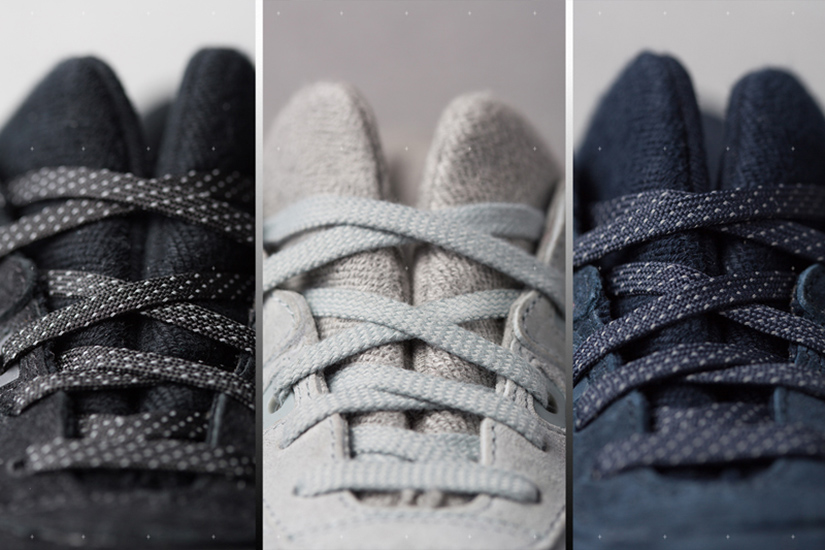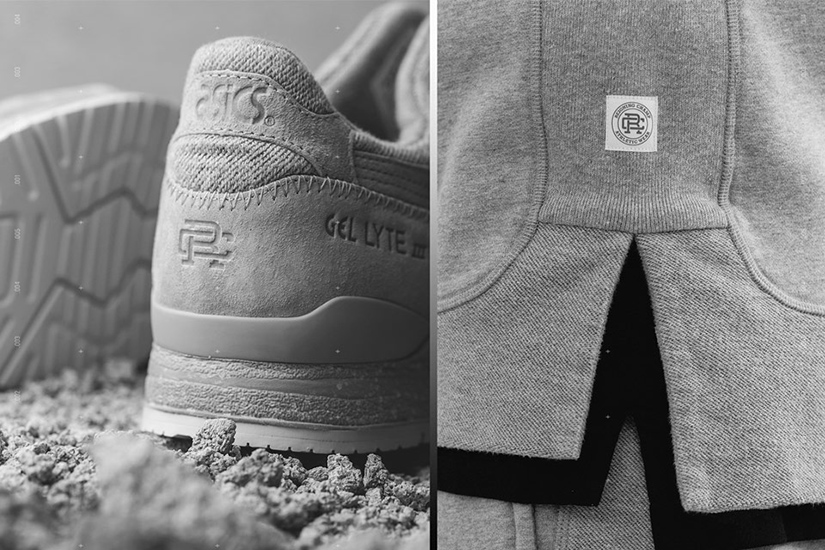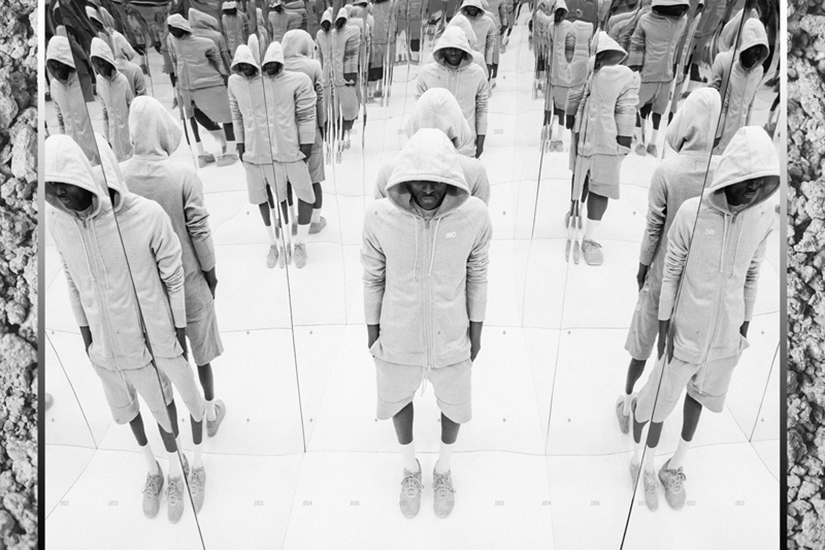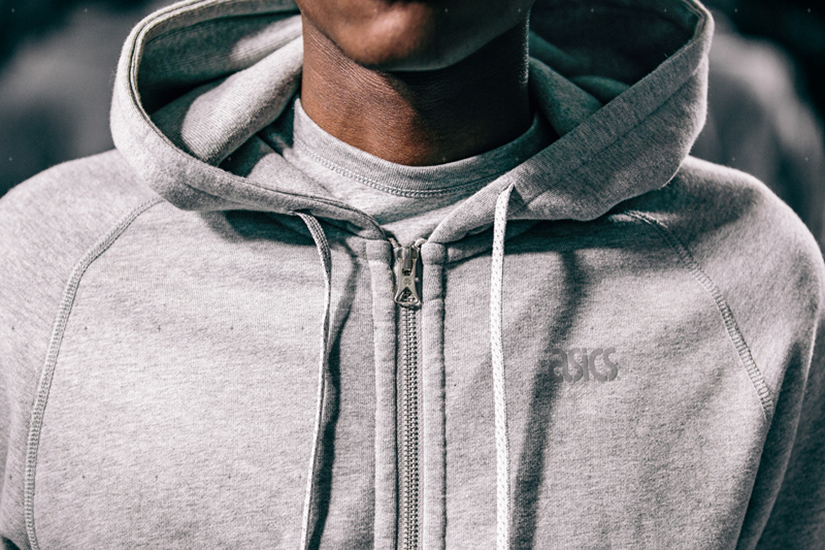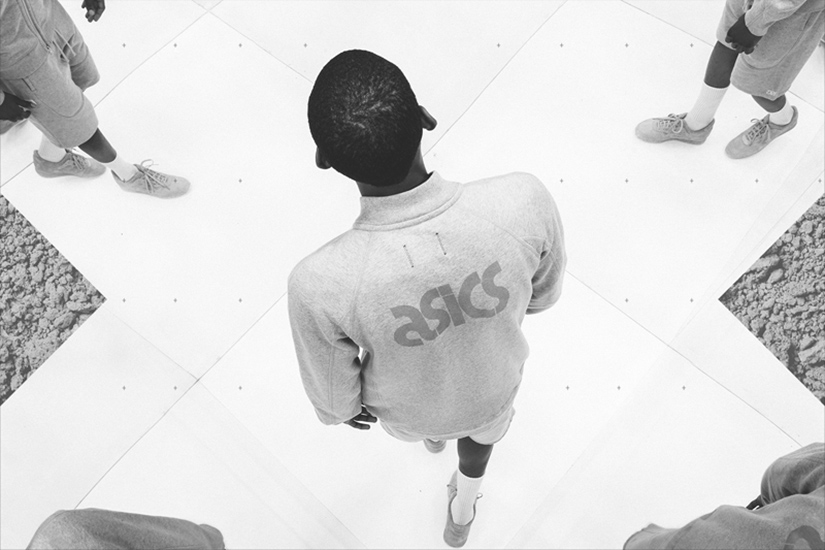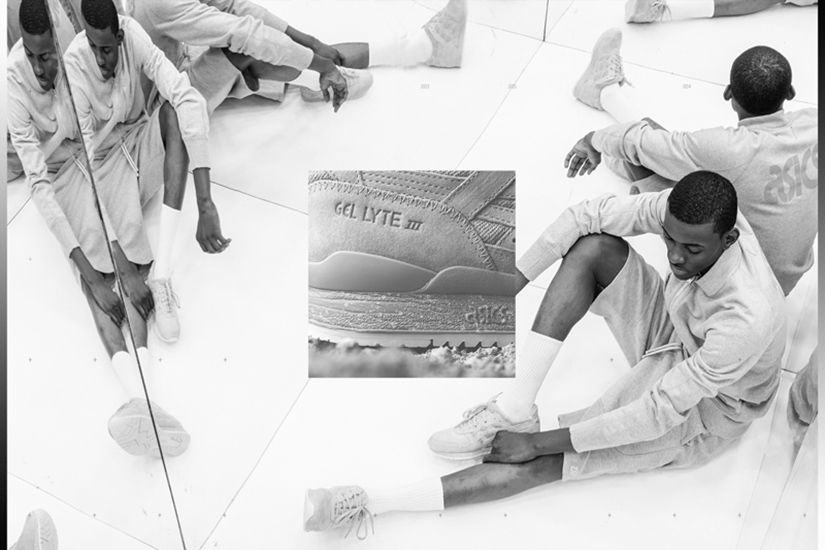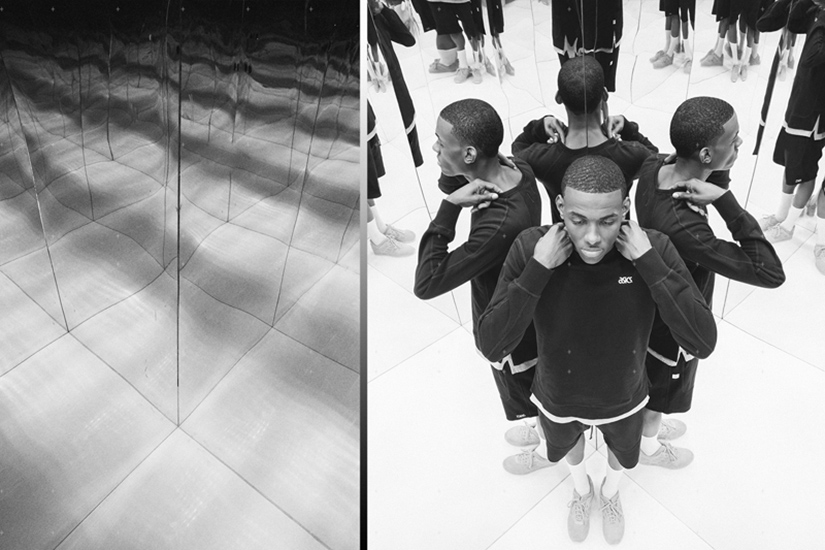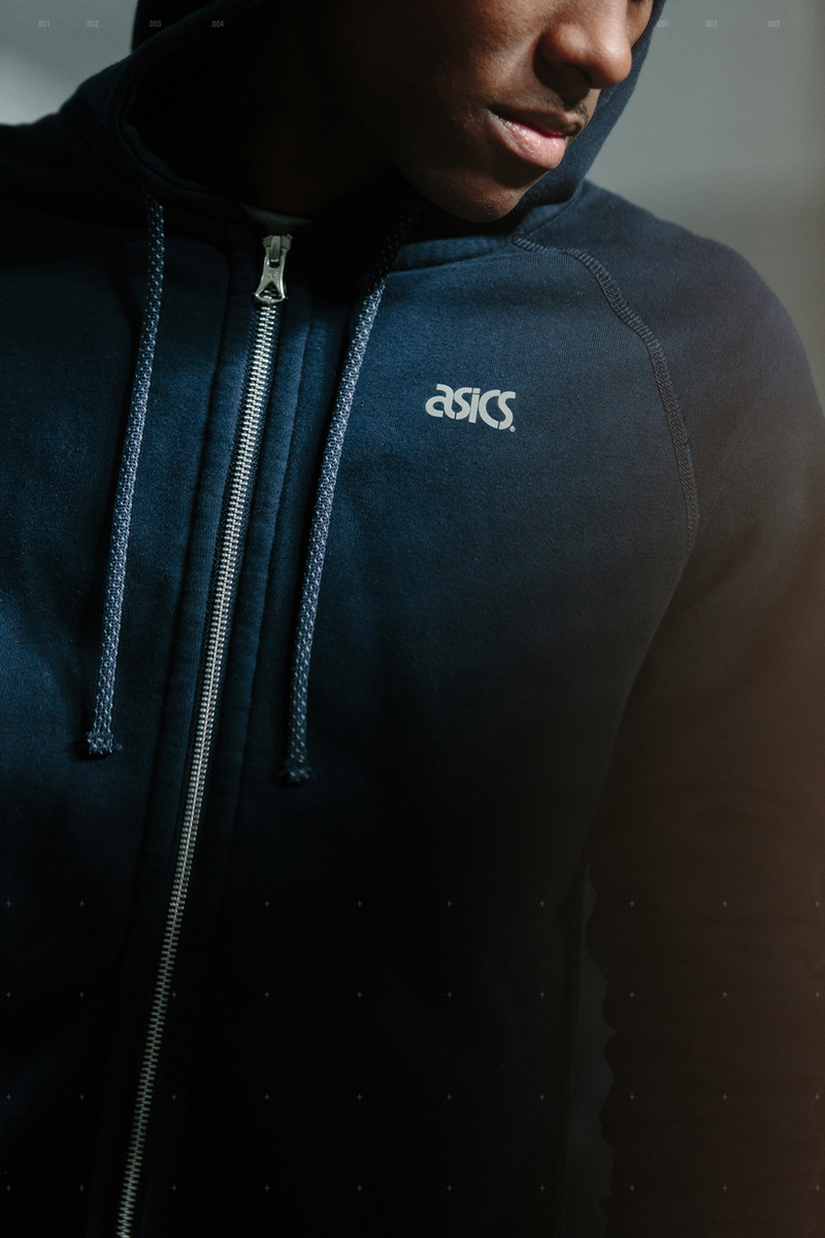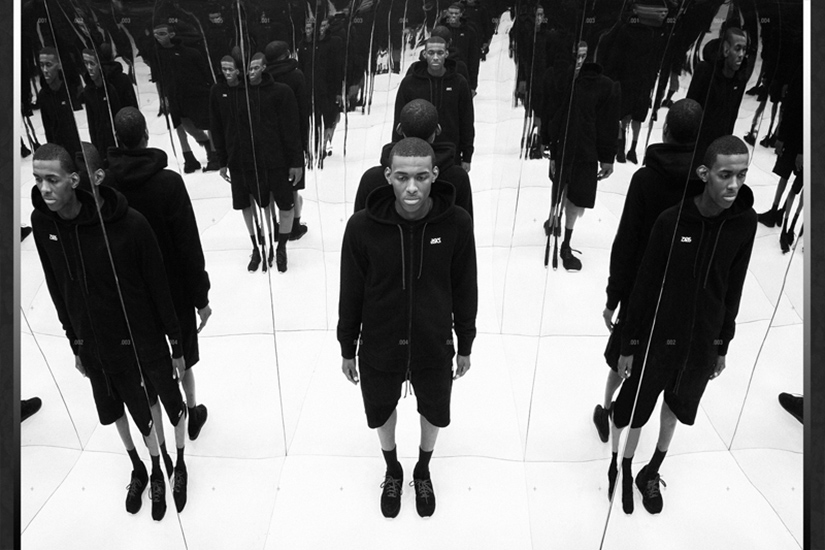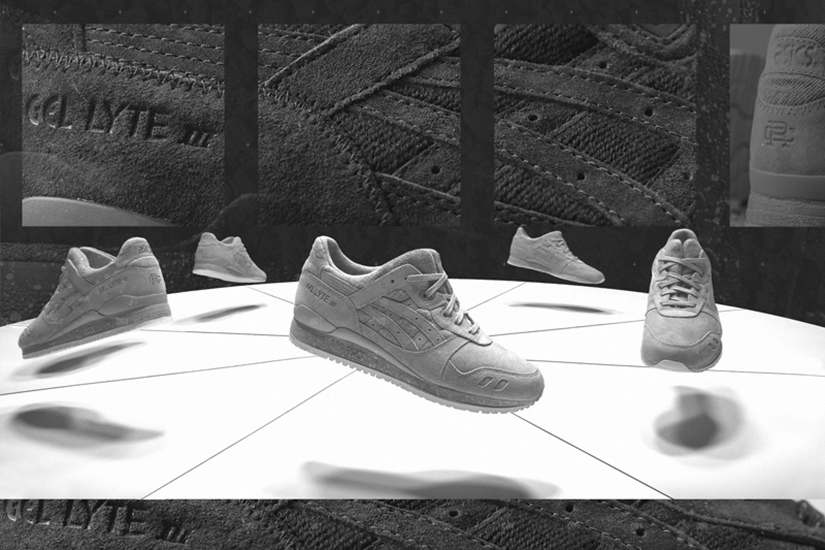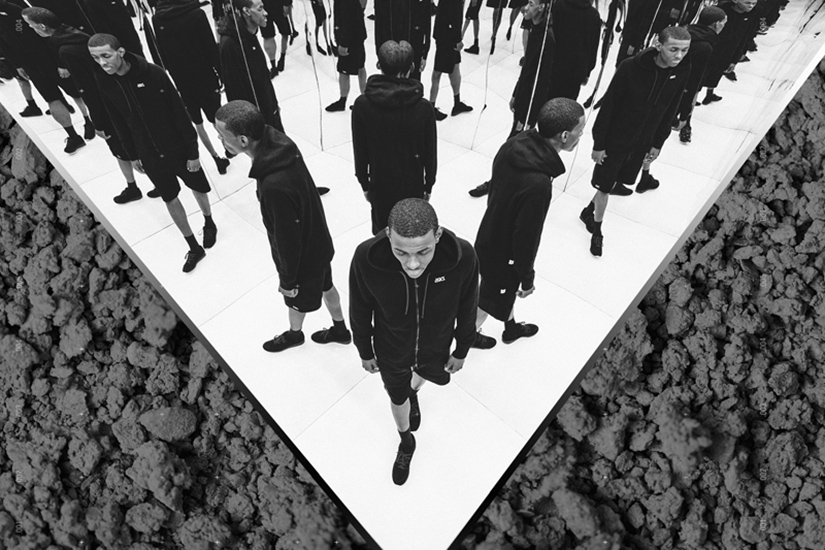 adidas Consortium Tour: NMD Runner PK Nice Kicks
Launch 20th February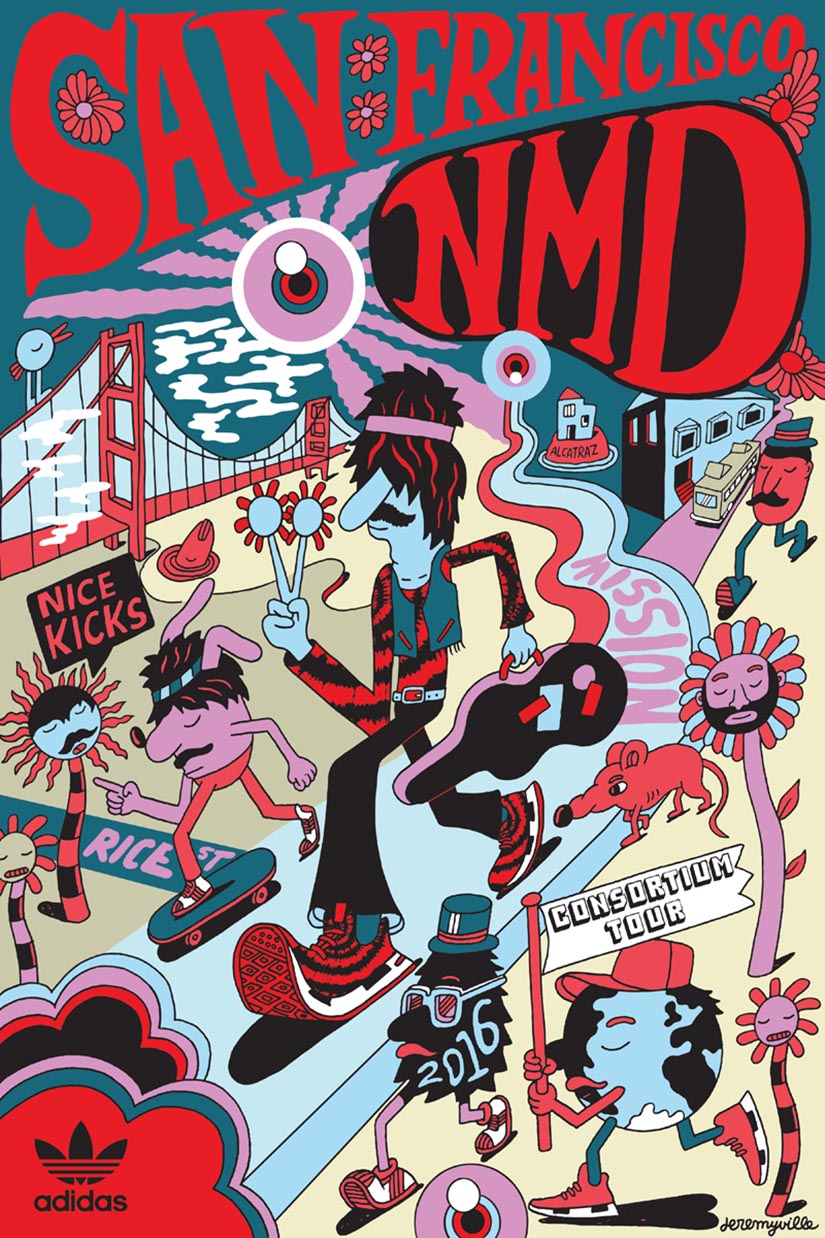 On its second stop the Consortium Tour visits San Francisco just in-time for the opening of Nice Kicks' new store. The guys also happen to be celebrating their 10th anniversary this year – all the more reason to see what's going on in the City by the Bay.
Nice Kicks joins the trip with an innovative tech silhouette, the recently launched NMD Runner. The NMD is a manifestation of adidas' pioneering design philosophy – fusing innovative styles from its archive with the most progressive technologies of the present. Its high-end performance DNA has been fine-tuned to perfectly comply with requirements of the urban environment: ultimate comfort combined with sophisticated style.
While the first executions of the NMD were a bold statement in their minimalistic appearance – monochromatic with subtle color highlights – Nice Kicks took a different approach. Teleporting the NMD into the heyday of San Francisco's psychedelic rock era, their shoe received the full tie-dye makeover, jacking up the silhouette's already striking appearance. The NMD's Primeknit upper proved to be a versatile base for a sublimation print which takes inspiration from the era-defining style of the city's famous 1960s concert posters.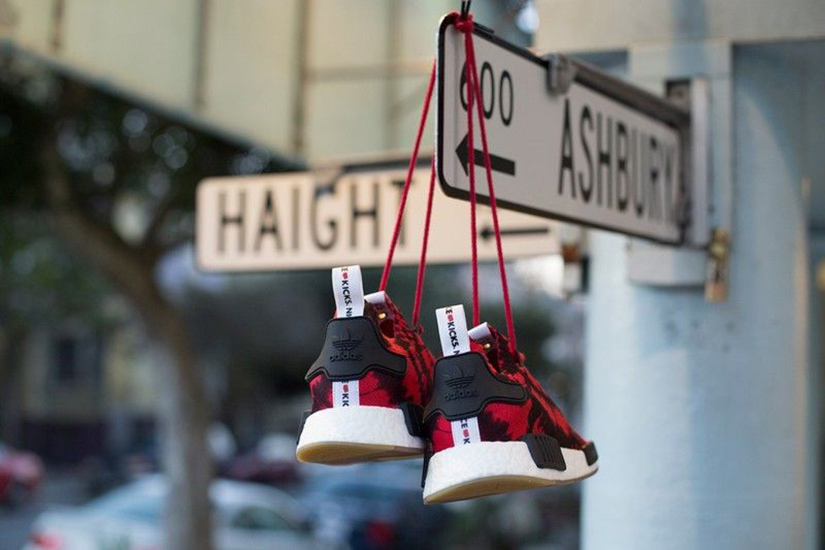 Nice Kicks toned down the overly-radiant psychedelic colors, confining their palette to the company's classic red and black. With their NMD Nice Kicks not only highlights one of San Francisco's many cultural assets but also points to a very specific part of town, notorious for its progressive, free-thinking spirit. Apart from the eye-catching fabric treatment the twirling bubble-styled "Consortium" insole pattern playfully supports this reference.
The adidas NMD Runner balances technical aspects of performance footwear with progressive design elements. Nice Kicks effortlessly adapted its contemporary urban aesthetic to represent their city in the Consortium Tour.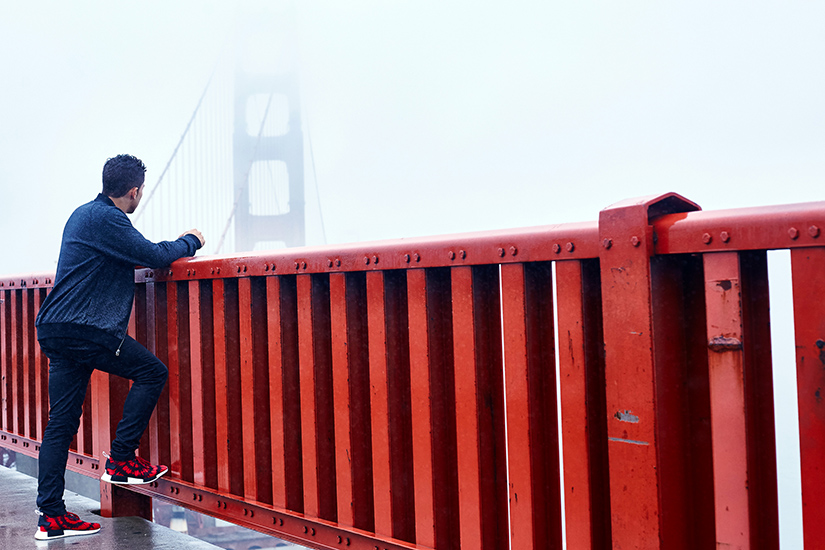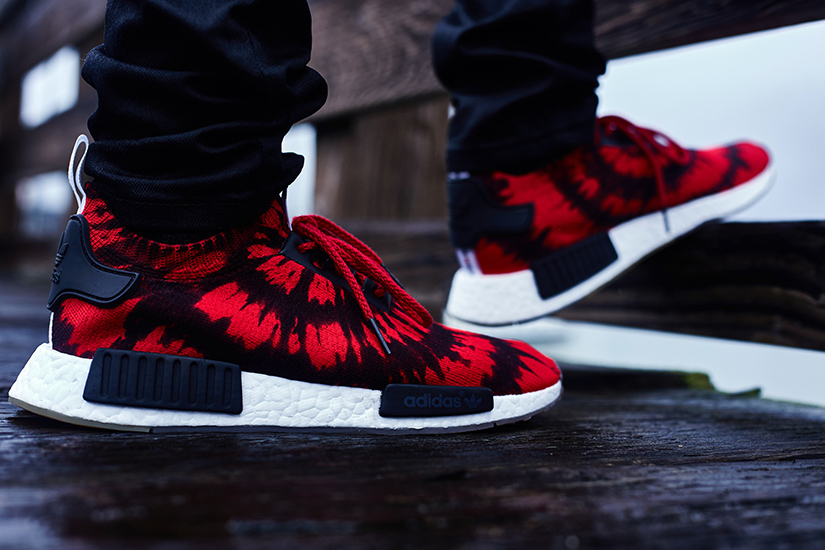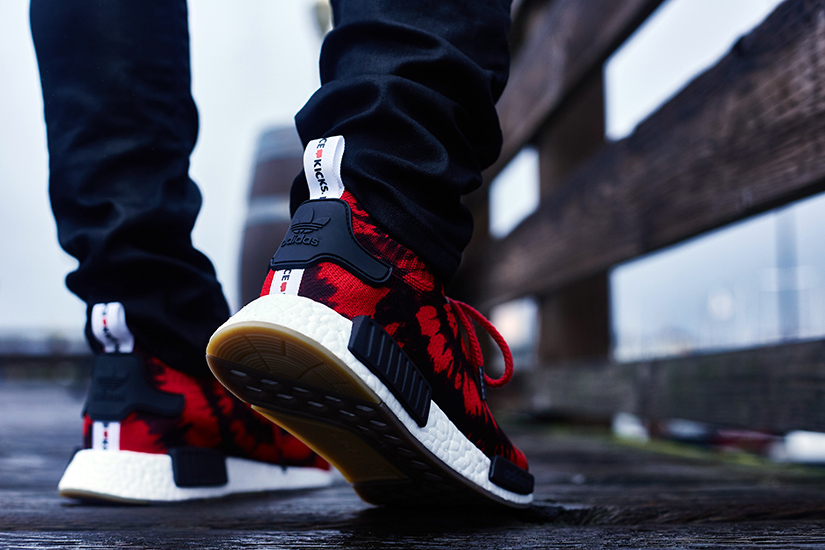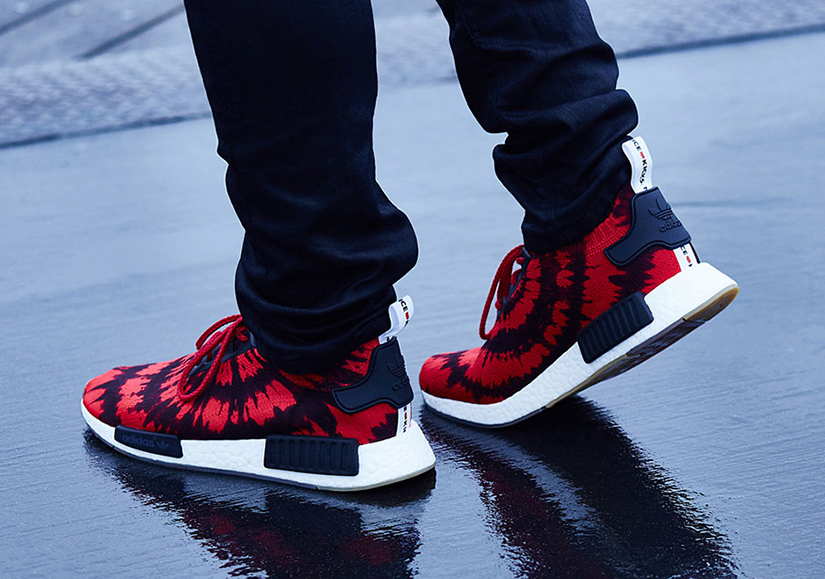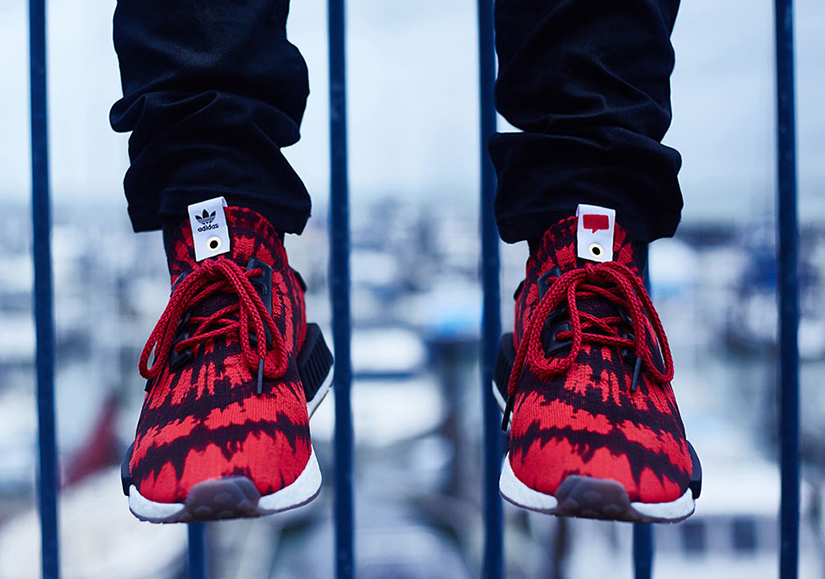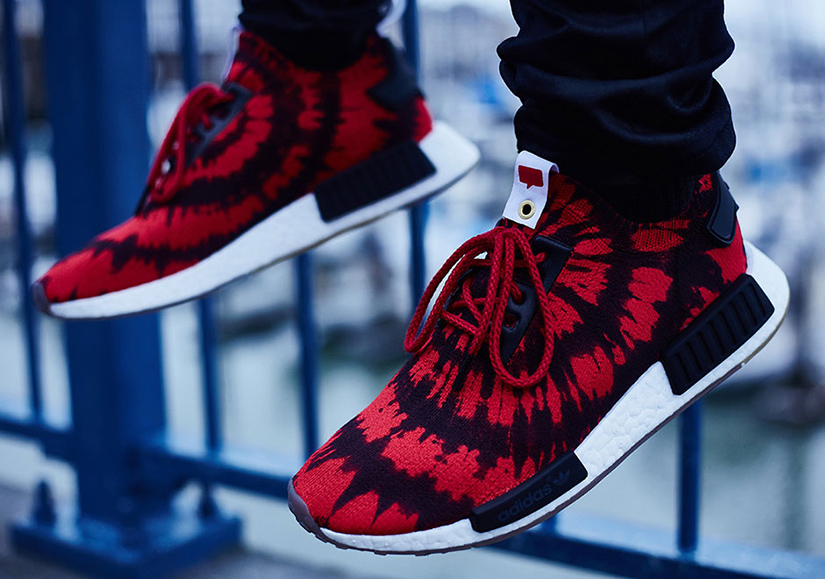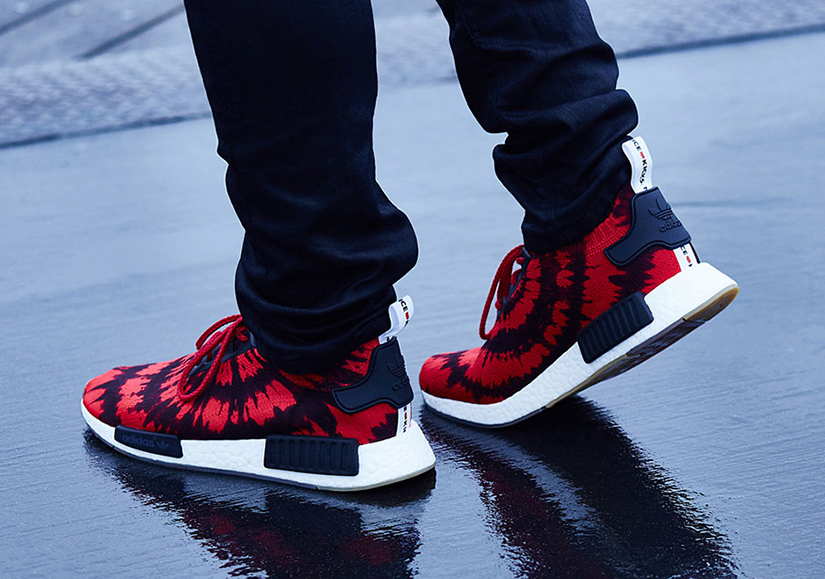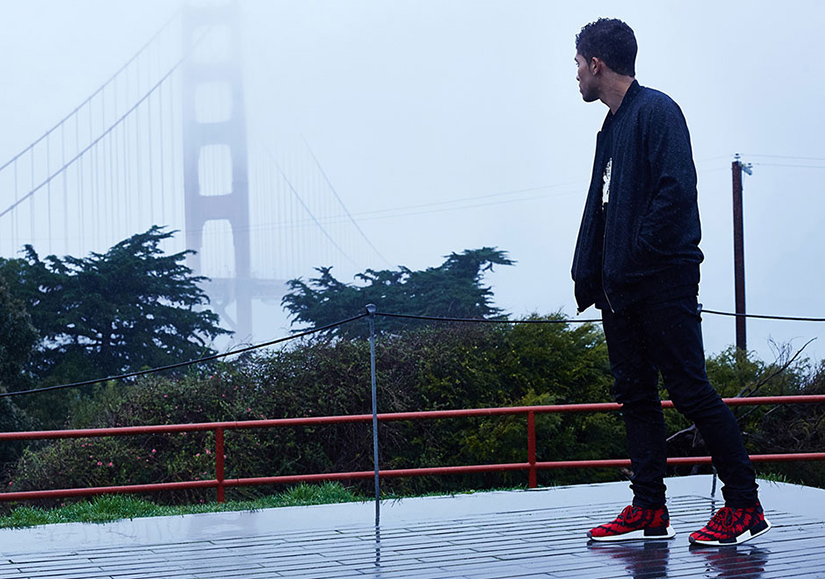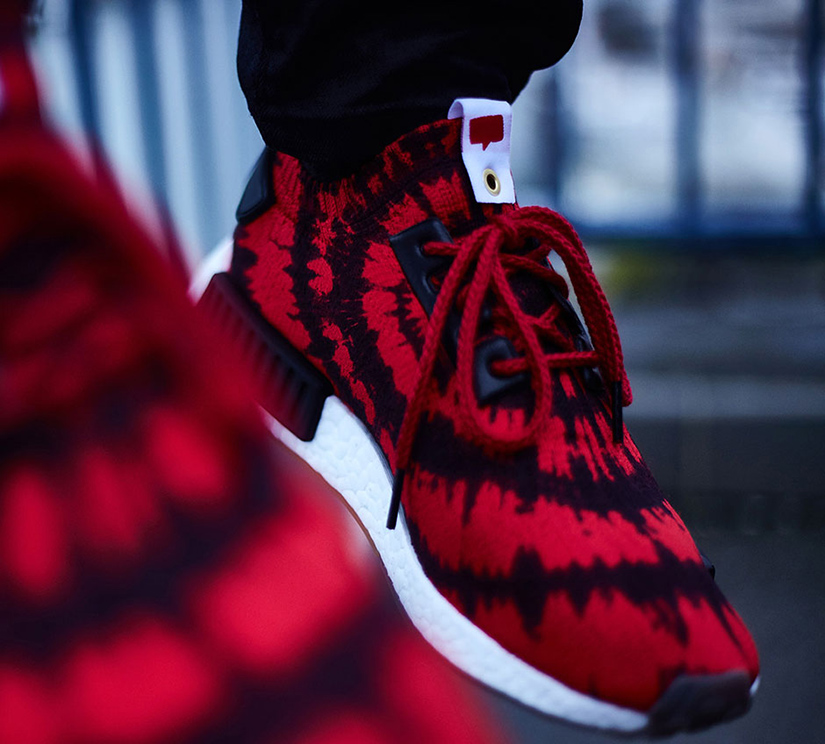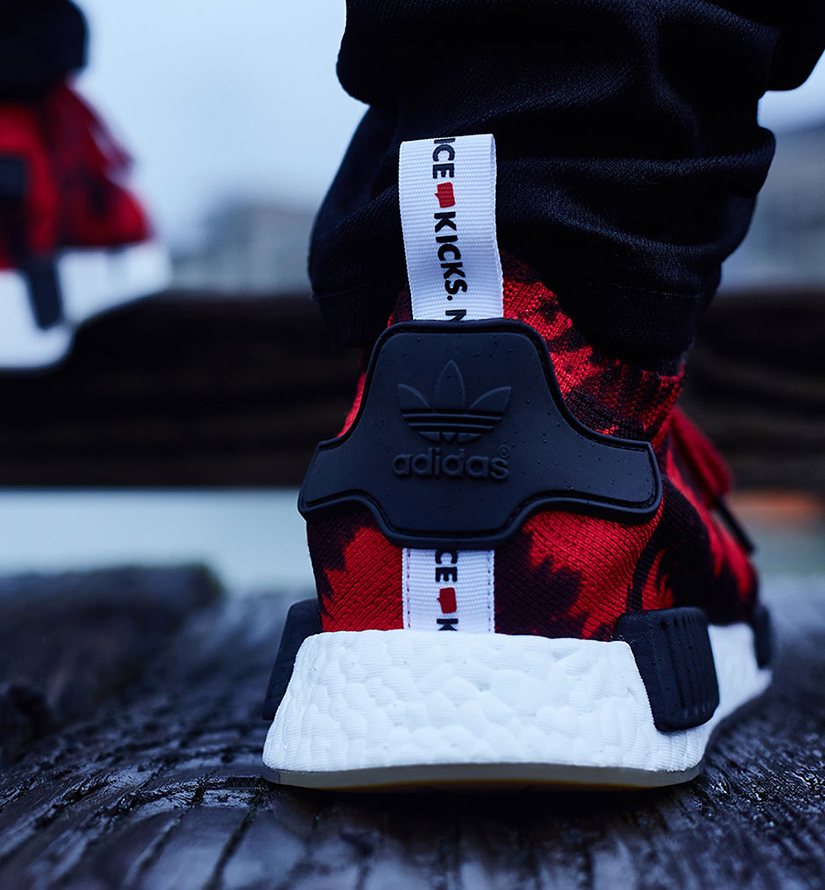 Adidas NMD_R1 Primeknit
20 . 02 . 16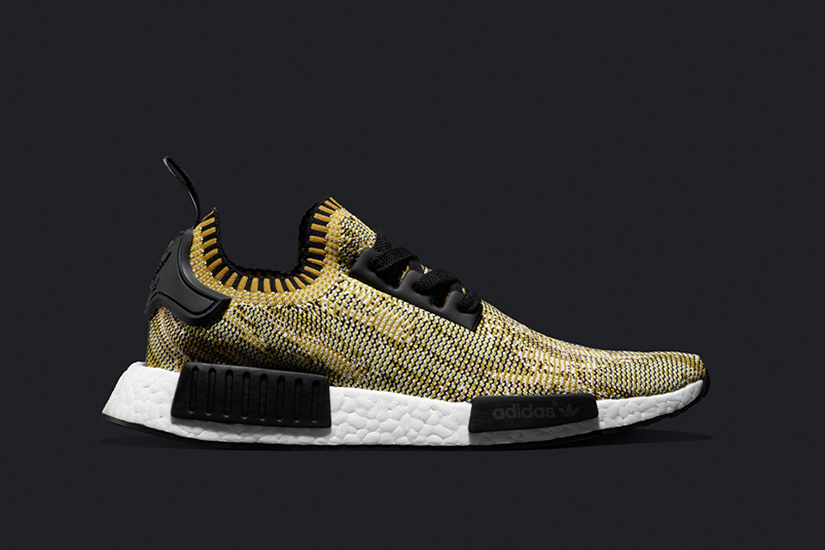 adidas Originals is set to drop its latest footwear icon, the NMD_R1 Primeknit, in a brand new "Yellow Gold" colorway.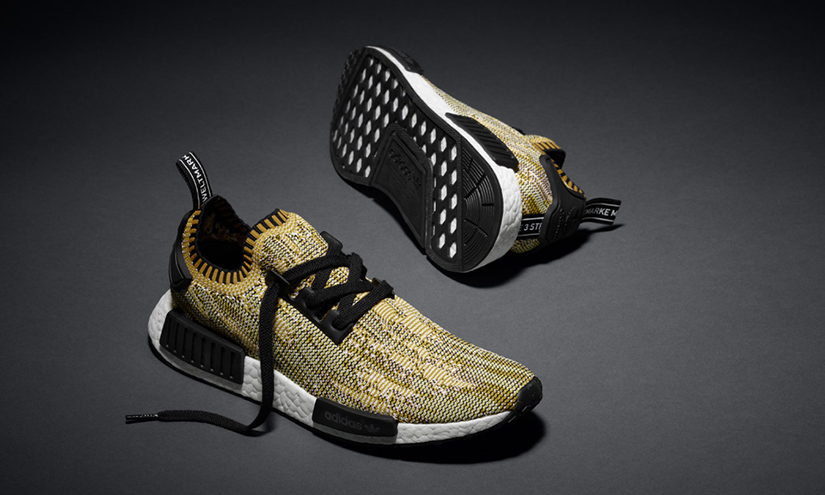 The new colorway comes with a disruptive graphic weaved into its upper, which creates a python skin effect when combined with its particular yellow shade.
Crafted from adidas' signature lightweight Primeknit textile, in an allover noise graphic. Welded tape structural overlays are rounded off with tonal three-stripes atop the shoe's distinctive midsole with EVA inserts.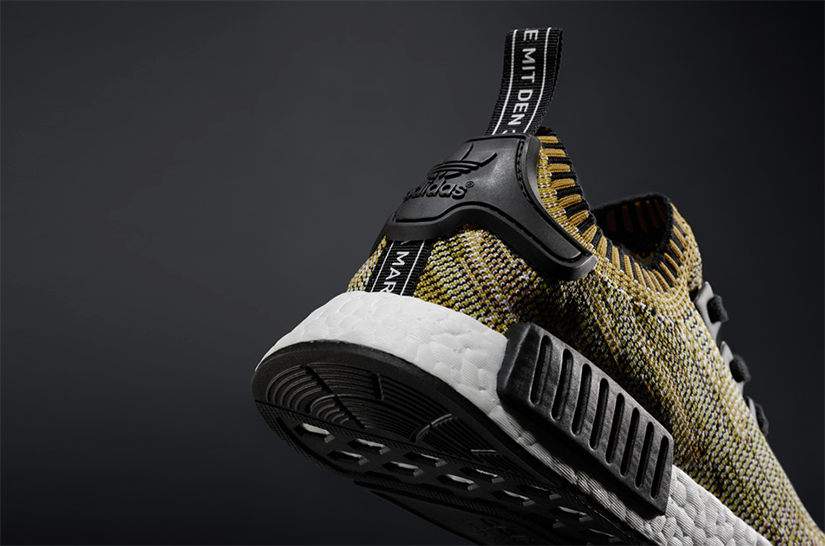 ADIDAS YEEZY 350 BOOST 'PIRATE BLACK'
19 . 02 . 16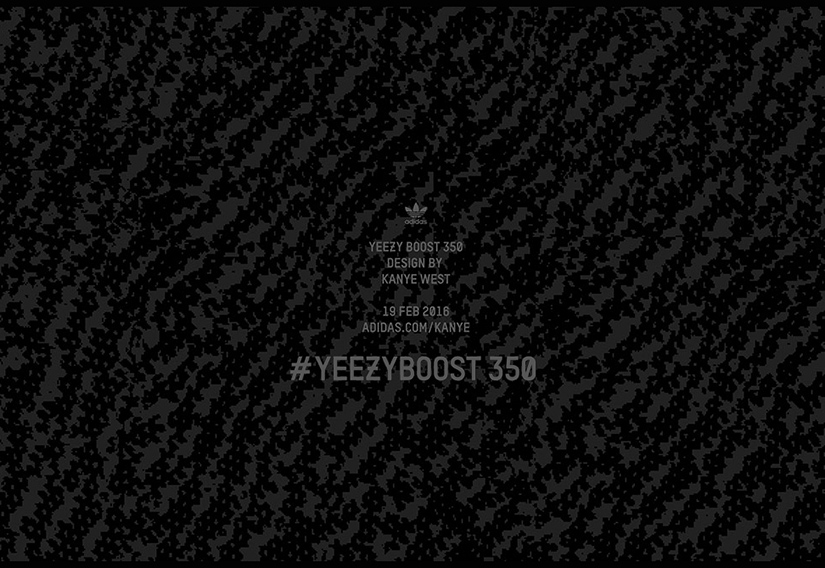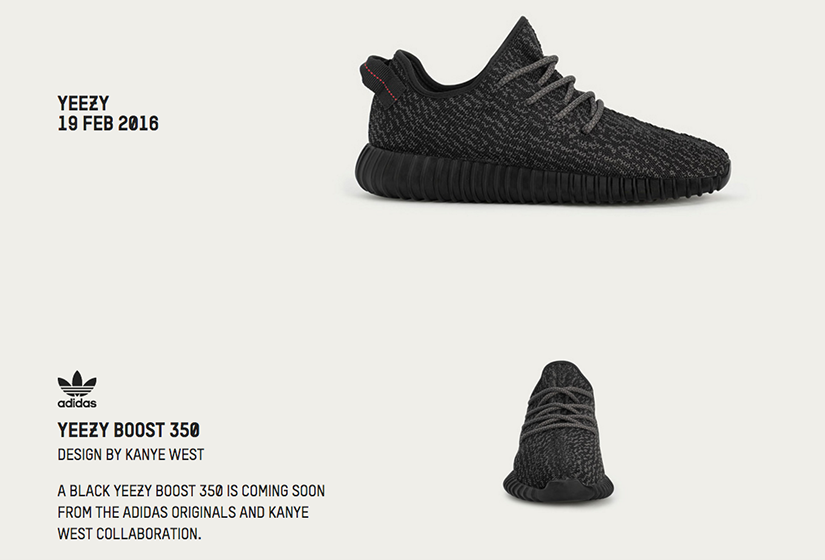 Diadora N.9000 x BAIT "Notti Veneziane"
Launch 13th February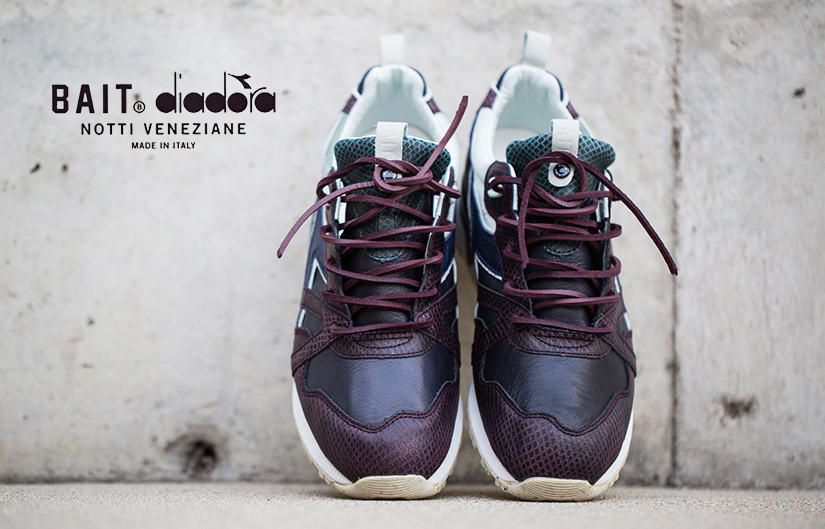 For their first-ever collaboration, Bait and Diadora present the "Notti Veneziane" N.9000.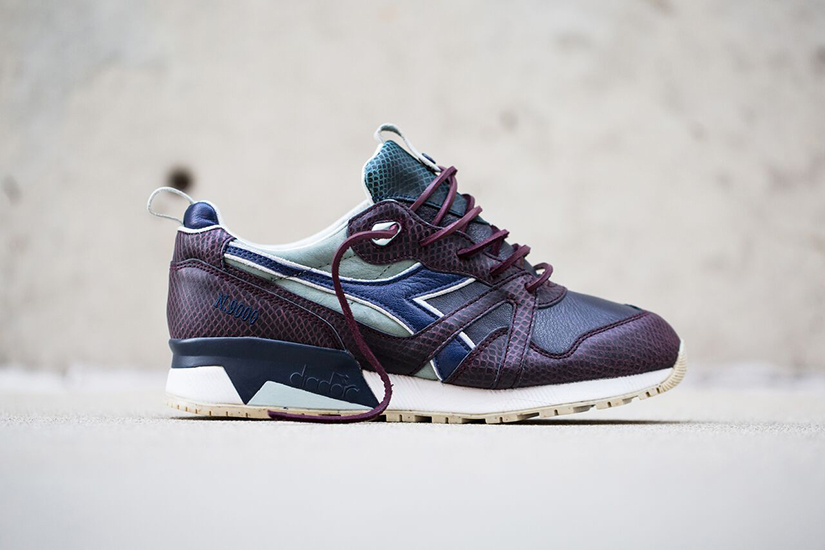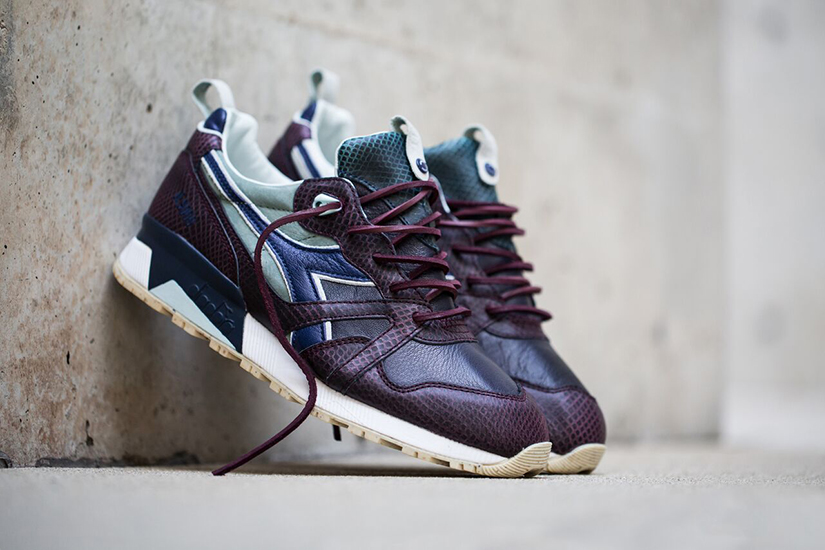 Inspired by the rich culture found in Venice, the "Notti Veneziane" — or "Venetian Nights" — N.9000 pulls elements from various nightlife mainstays, most notably carnival costumes and Italian masks. The result is a mix of materials like Italian cow leather, Italian nubuck, and snakeskin on a mostly dark color palette that combines shades of navy, burgundy, and purple, just to name a few.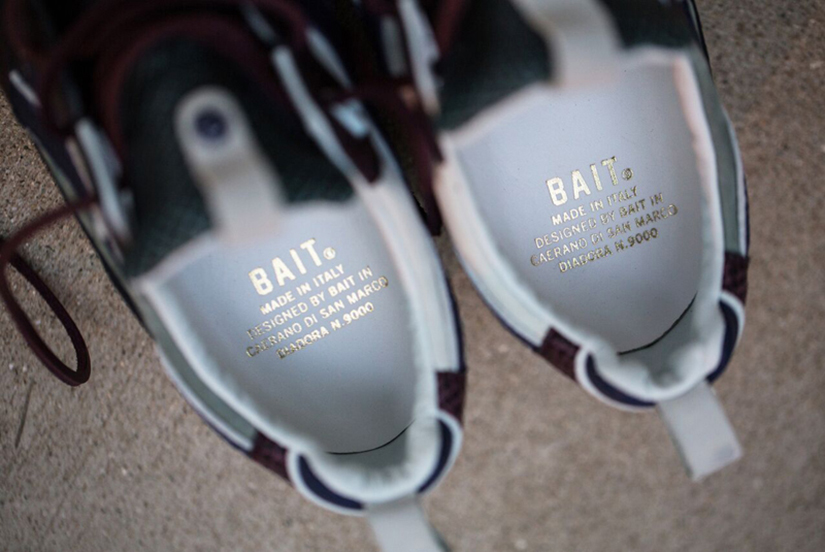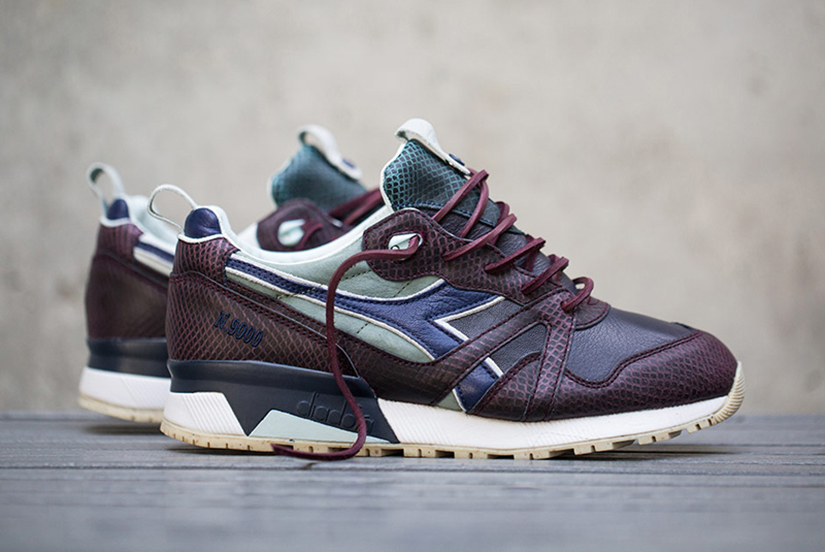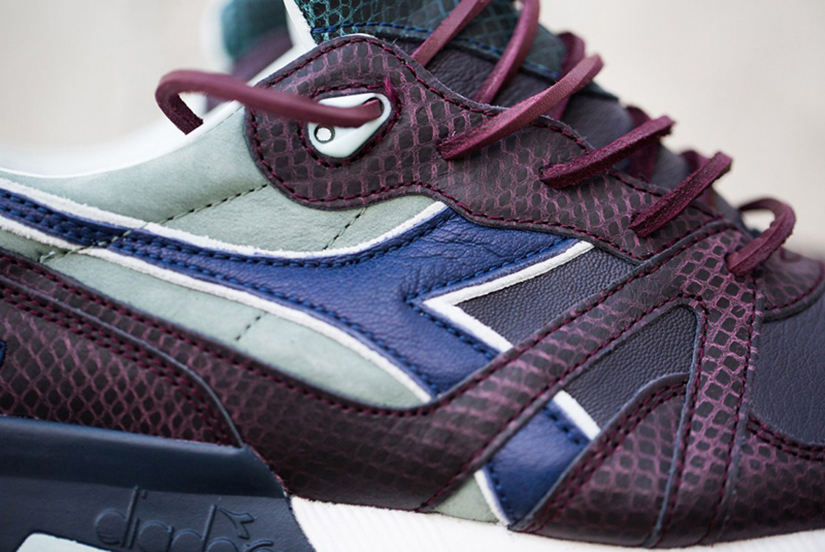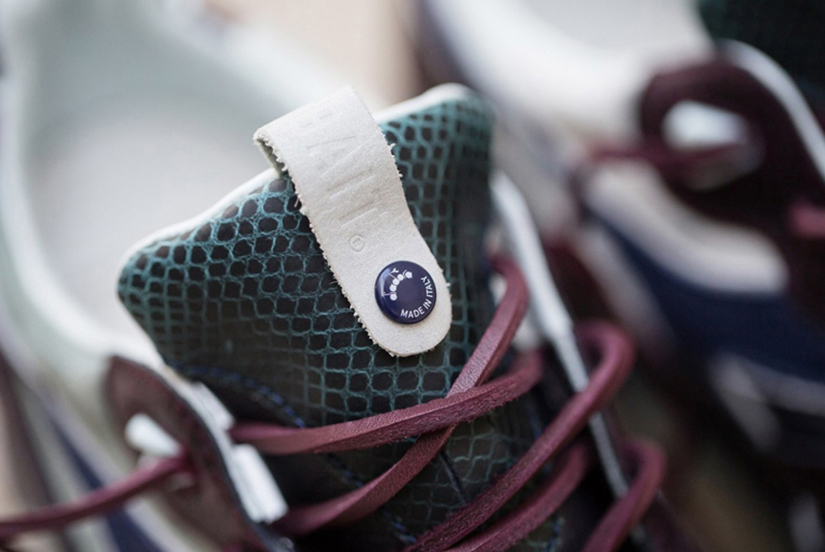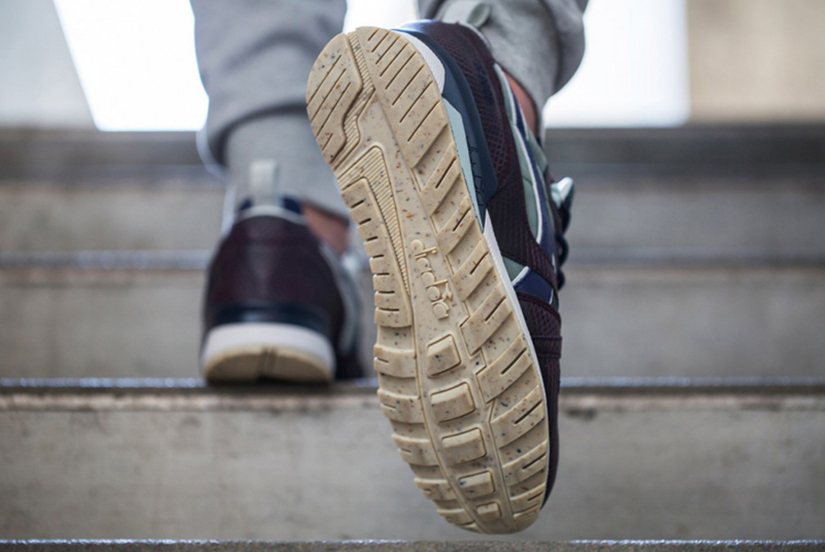 Mita sneakers x ASICS Tiger GEL-Lyte V "Trico"
Launch 13th February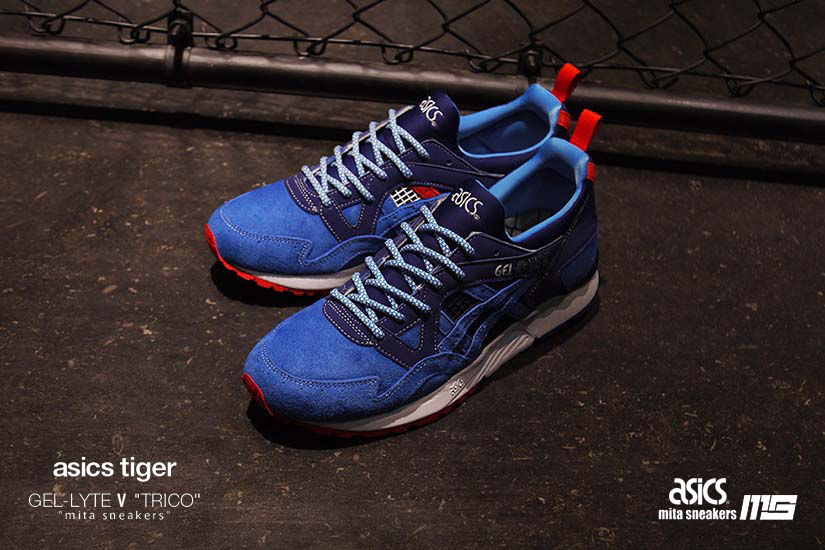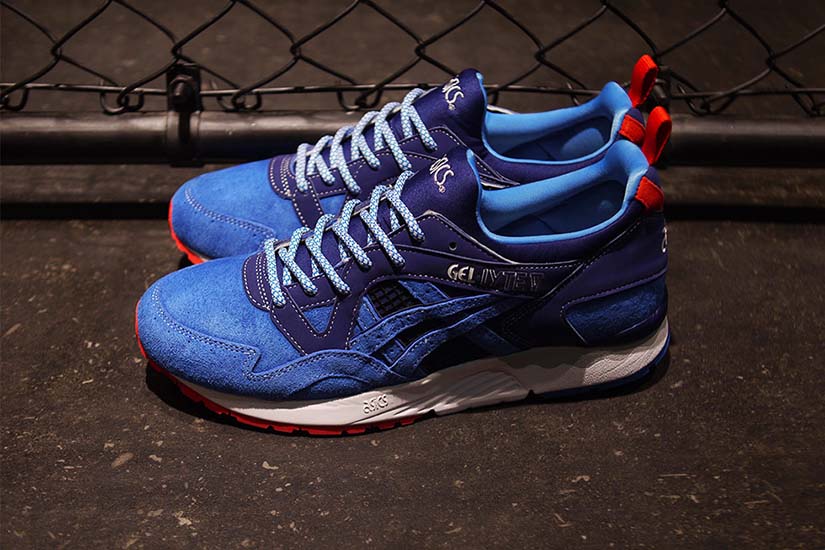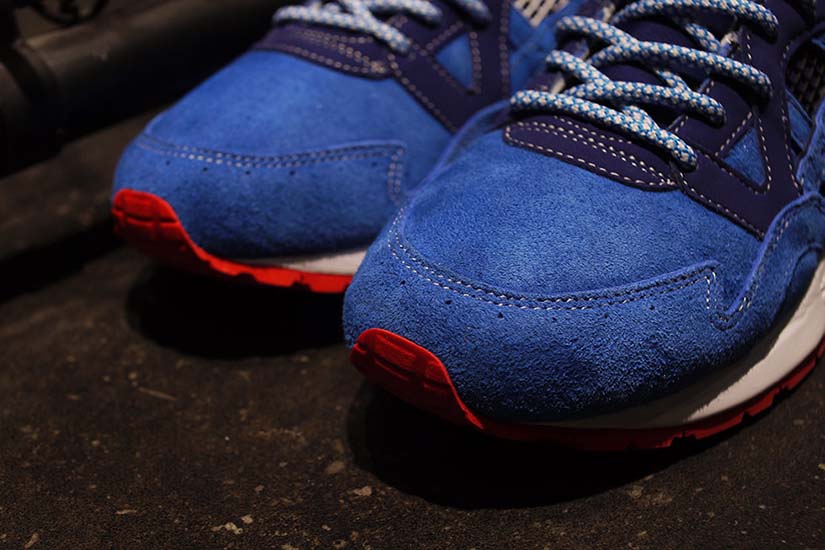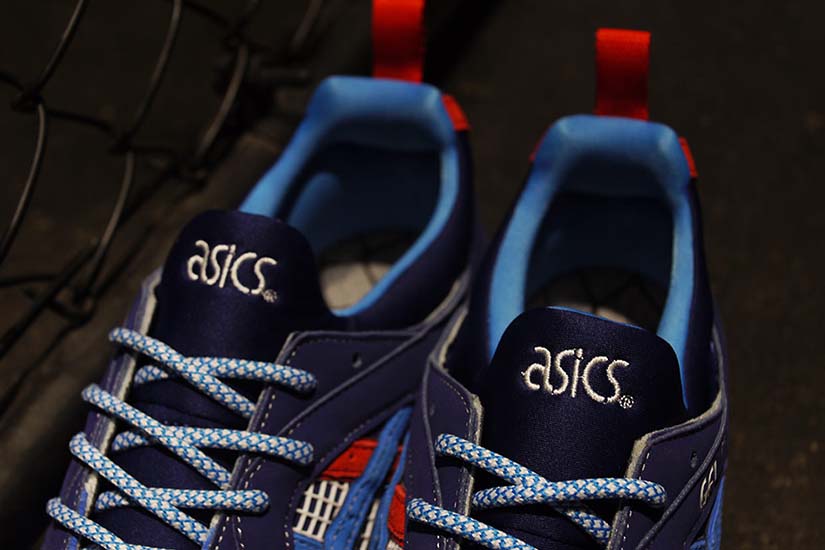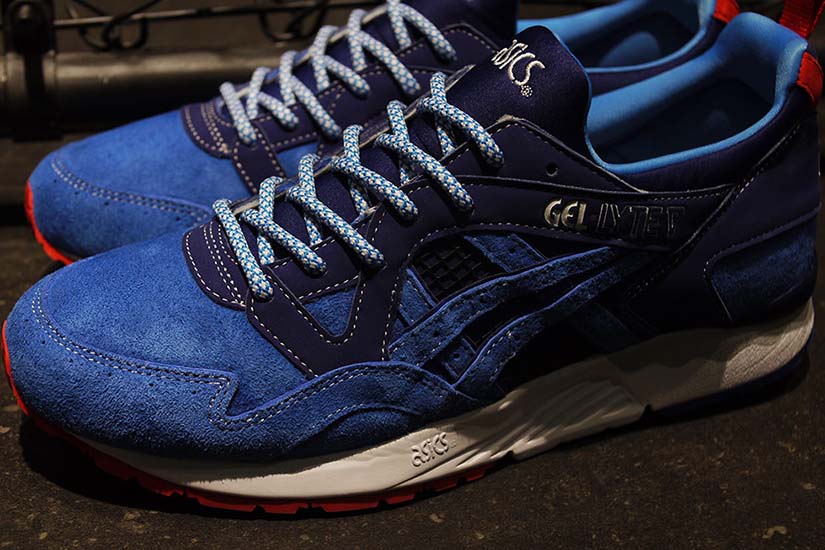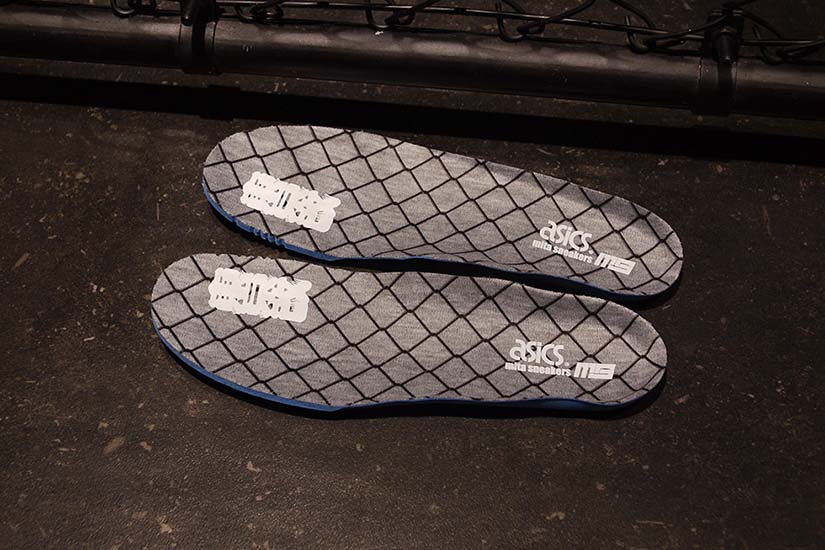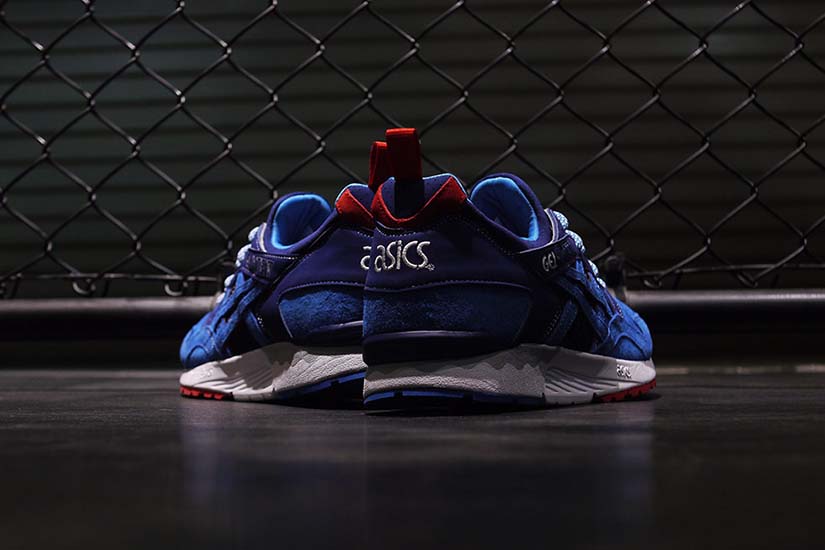 Le Coq Sportif LCS R800 MIF
Launch 6th February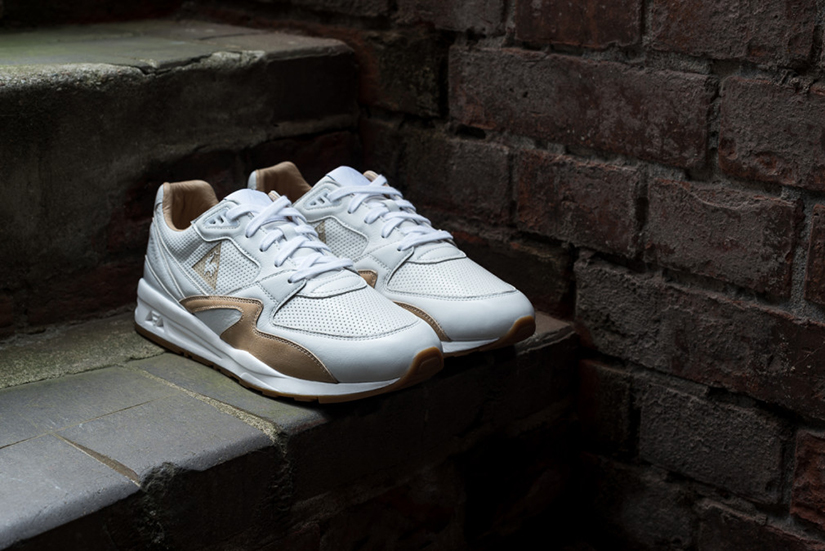 Le Coq Sportif present the latest release in their Made In France series, which started with the French-pro­duced Arthur Ashe in 2015. Saturday 6th of February see's the release of an exclusive limited edition of its flagship retro running shoe, the LCS R800.
The LCS R800 MIF was designed in the brand's offices in Paris and developed in Cholet, in workshops owned by Cléon, a company known for its savoir-faire, innovation and its careful work with materials. The expertise and precision in bringing the hand-made shoe together was next to none and the exceptional full-grain leather was chosen with the utmost care.
The LCS R800 MIF, available as a limited edition of 348 pairs, comes in a wooden case including a shoetree, shoe polish, and a brush.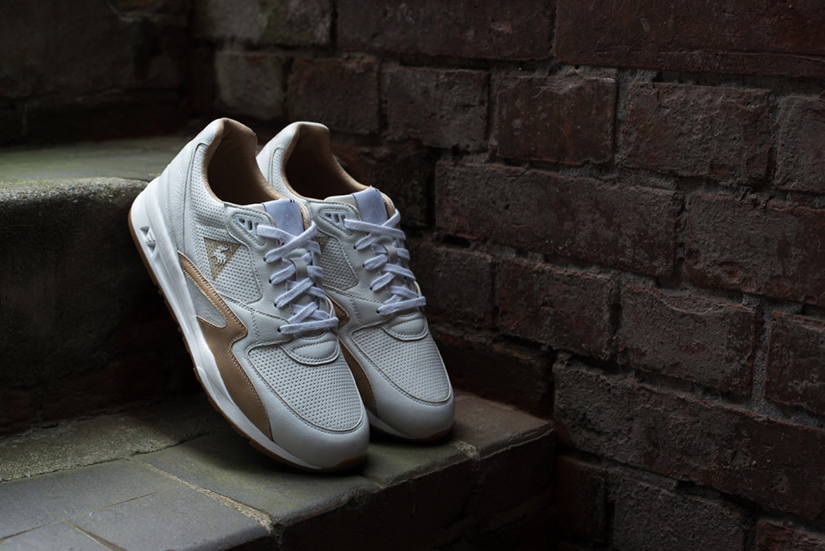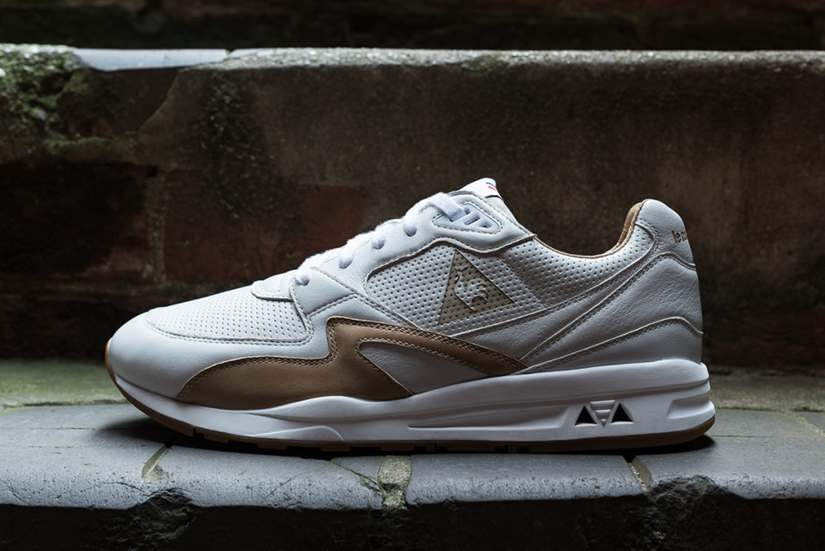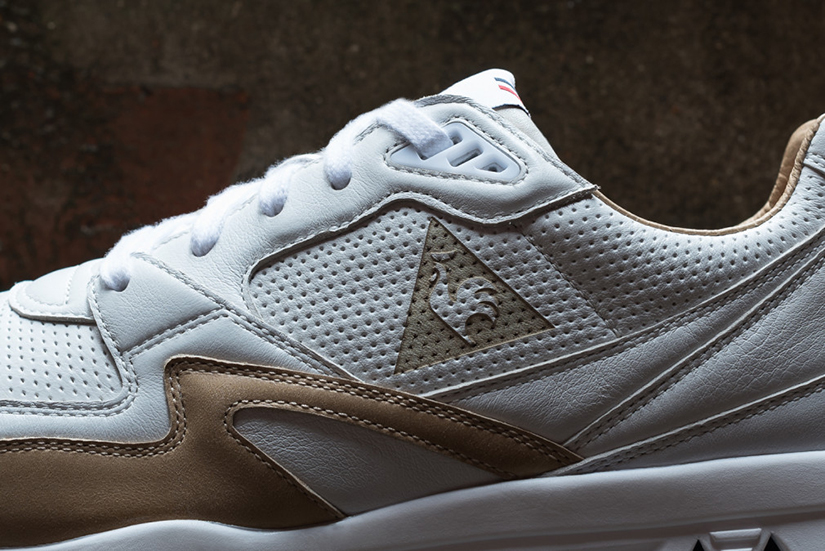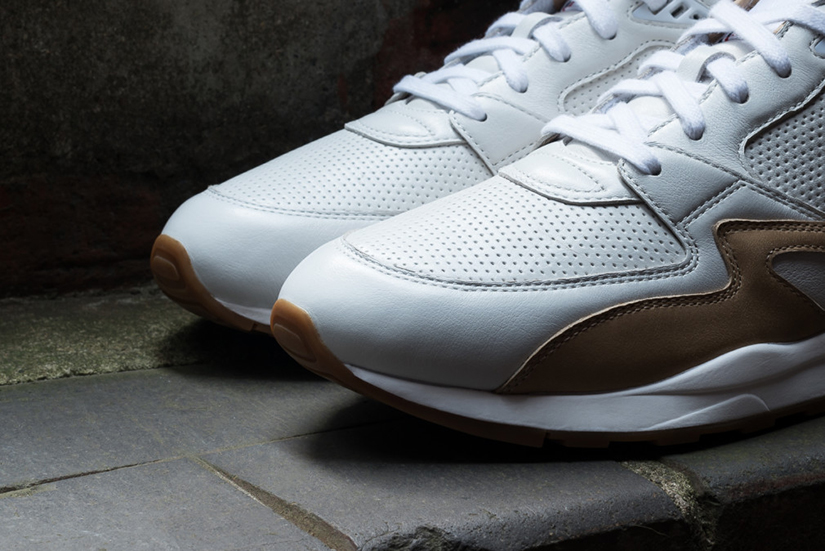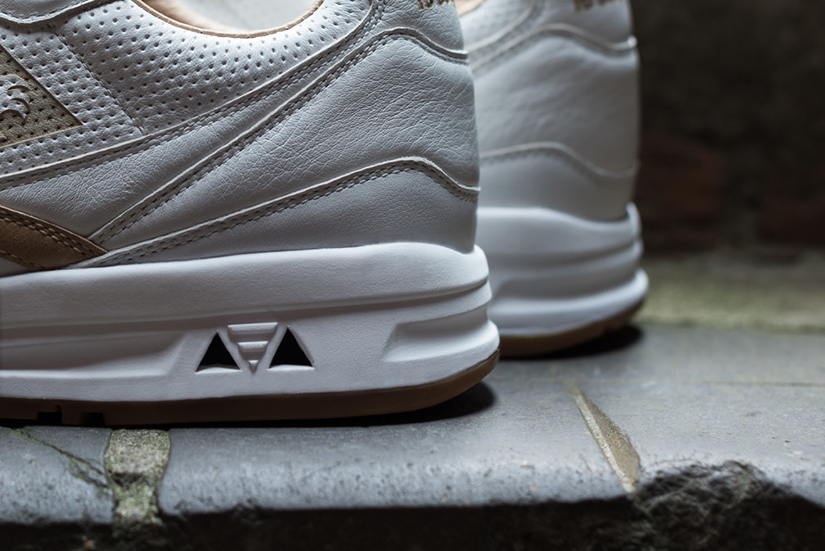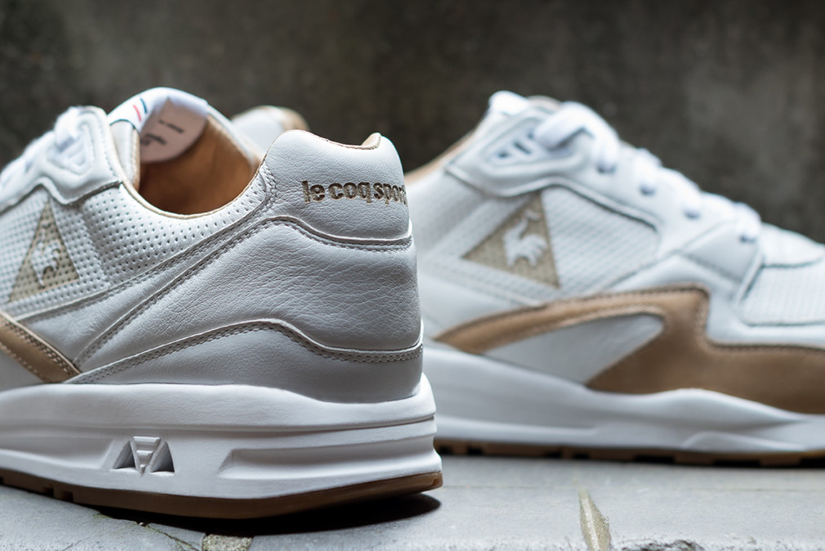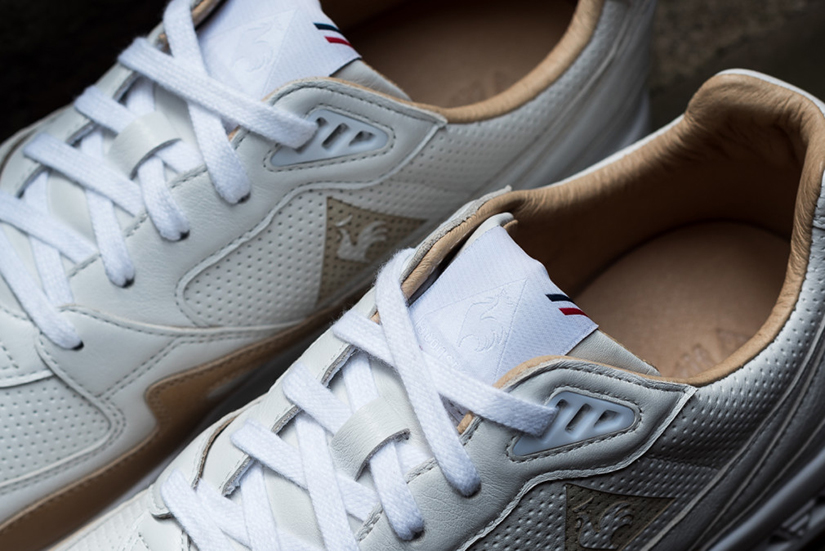 ADIDAS CONSORTIUM X SNEAKERSNSTUFF "TEE TIME" PACK
05 . 02 . 16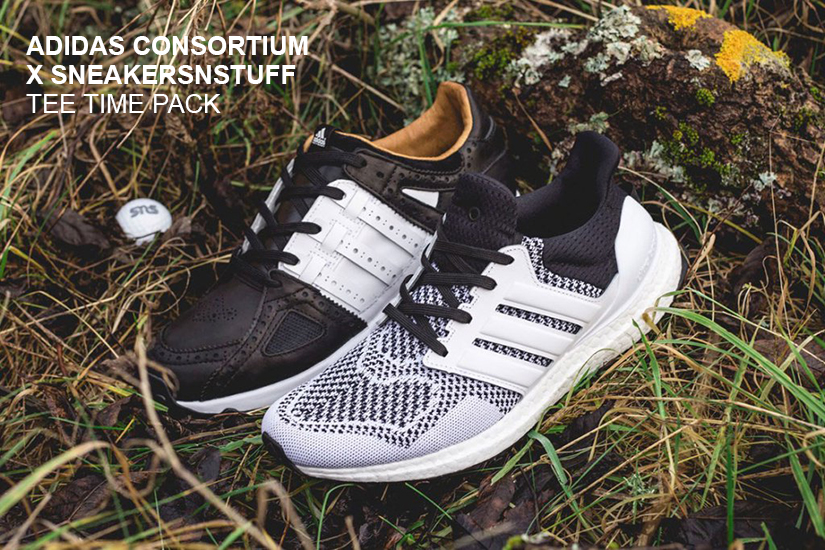 Swedish sneaker powerhouse Sneakersnstuff teamed up with adidas to create their Golf-inspired versions of two highly-popular silhouettes. The "Tee Time" pack features the Equipment Running Guidance 93 and an UltraBOOST, combining a timeless original with state-of-the-art functionality as a nod to the classy outdoor sport and sunny afternoons outside the house.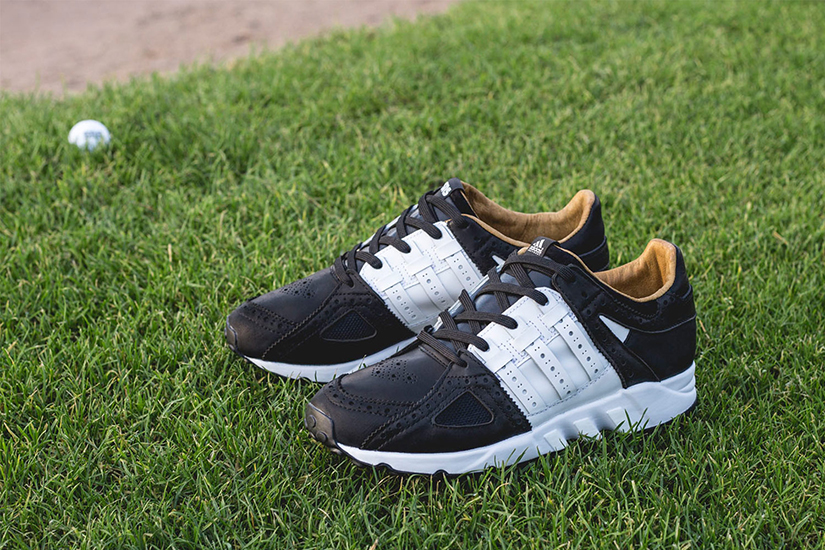 Since the old saying goes that you have to play the ball as it lies and the course as you find it, both shoes boast a variety of features to keep you prepared for any situation on your travel through the green. The EQT comes with a classic golf shoe influenced upper made from high quality black leather. Add that to the soft buttery brown leather lining and you'll rethink your definition of cozy once and for all. A perforated finishing with a classic brogue pattern on the tip and hints of black mesh will keep your feet in style in any situation. The Sneakersnstuff UltraBOOST again is constructed on a BOOST™ outsole, guaranteeing the highest level of comfort for a more progressive look. The upper is made from a black and off-white adidas Primeknit mix, with an embroidered Sneakersnstuff logo on the heel strap, as well as on a woven label on the tongue. Both models come with a grass printed insole to give you that Golf course feeling no matter where you are.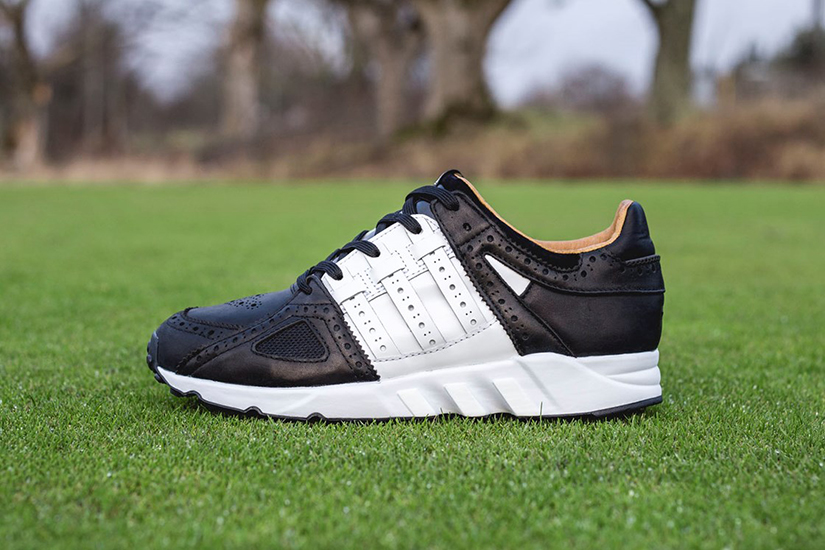 With the accuracy of a long-distance shot when it comes to detailing, and the consistency of a zero-handicap, the pack draws from the elegant recreational activity's heritage. Blending performance and style effortlessly, the "Tee Time Pack" pack is destined to become a hole in one when it comes to style.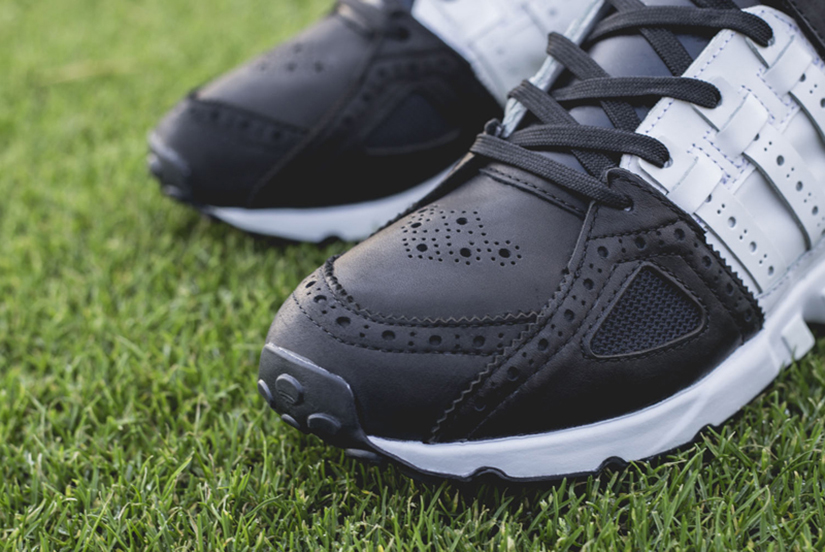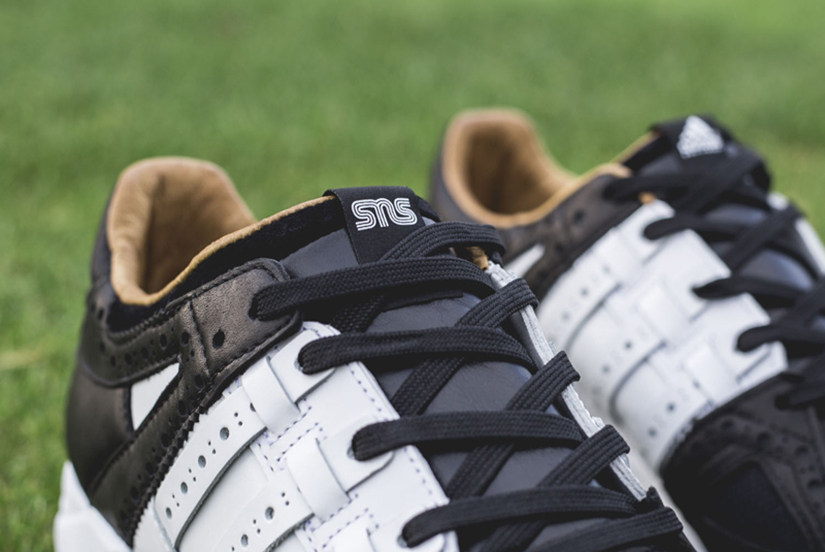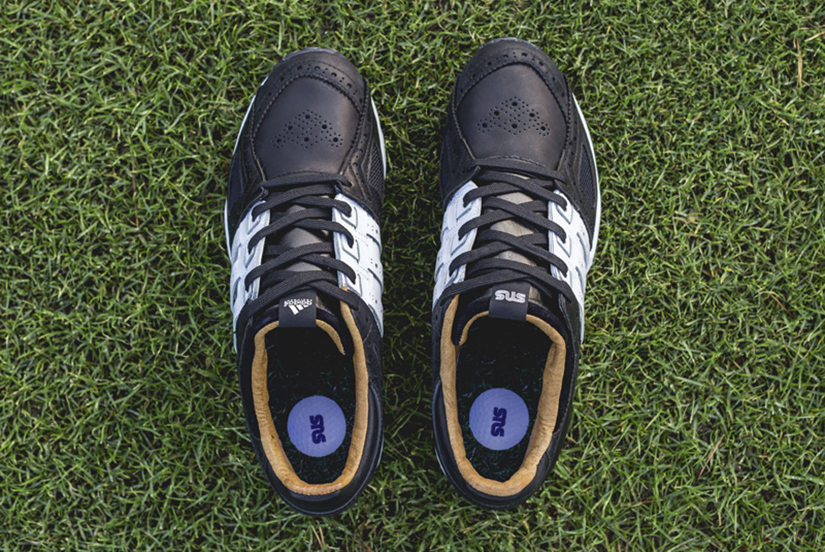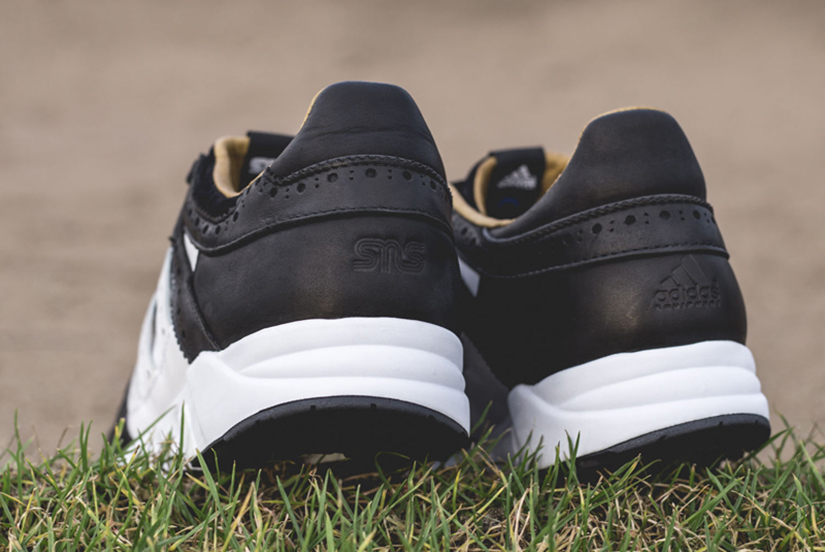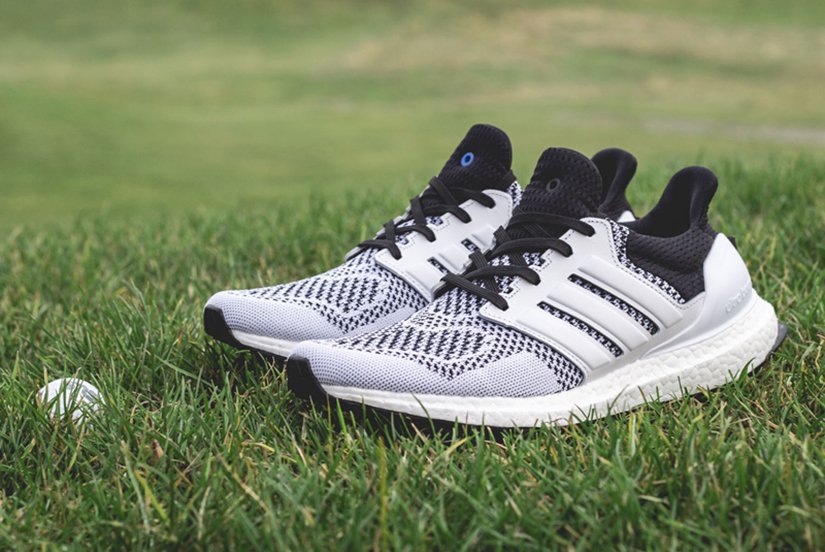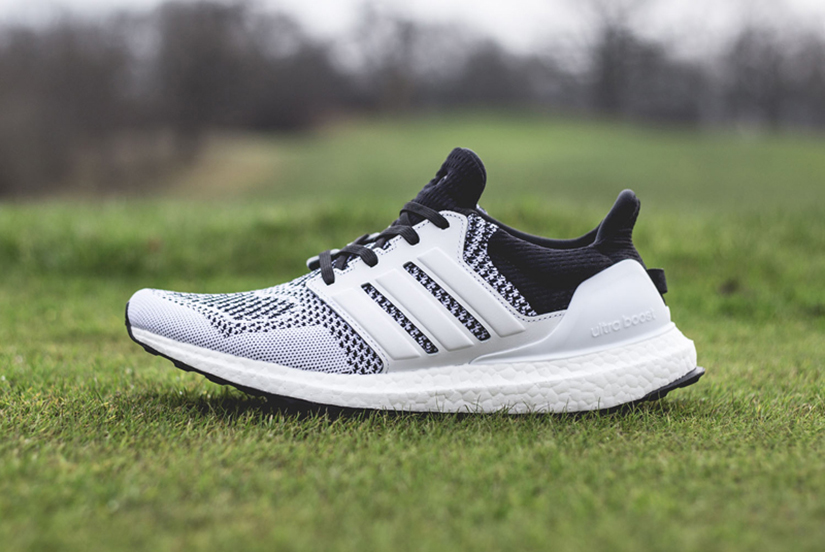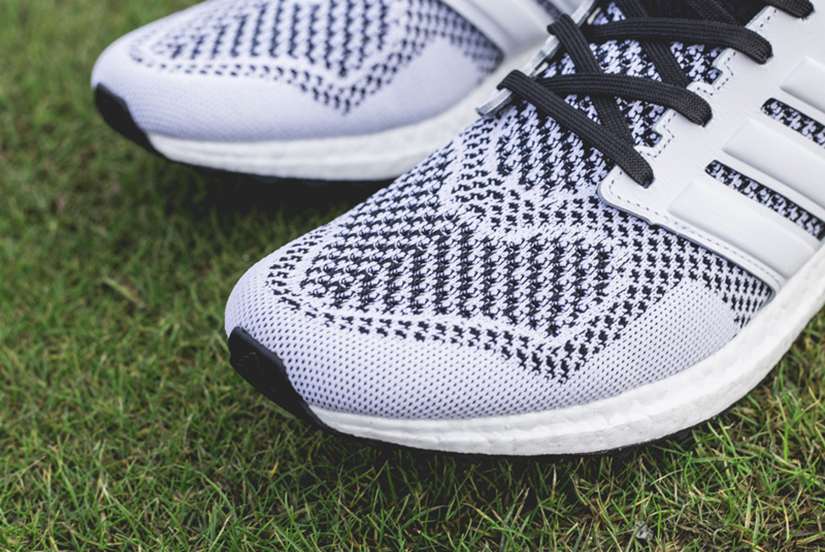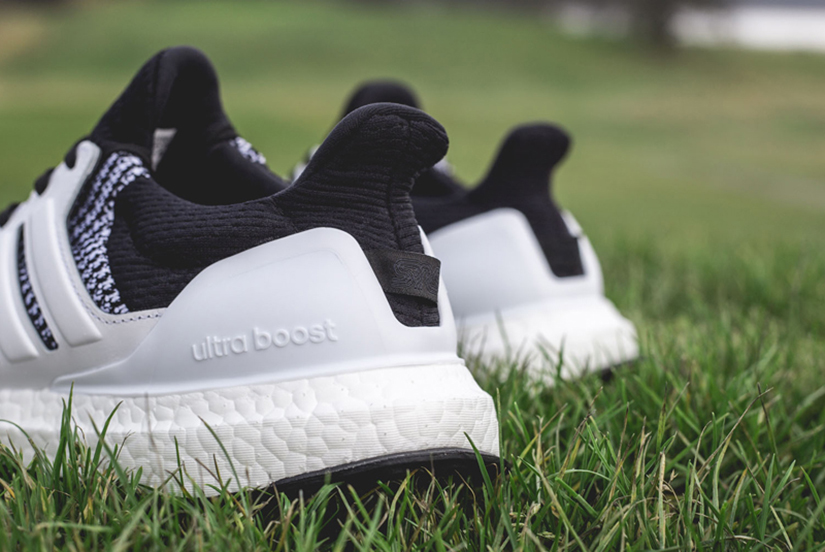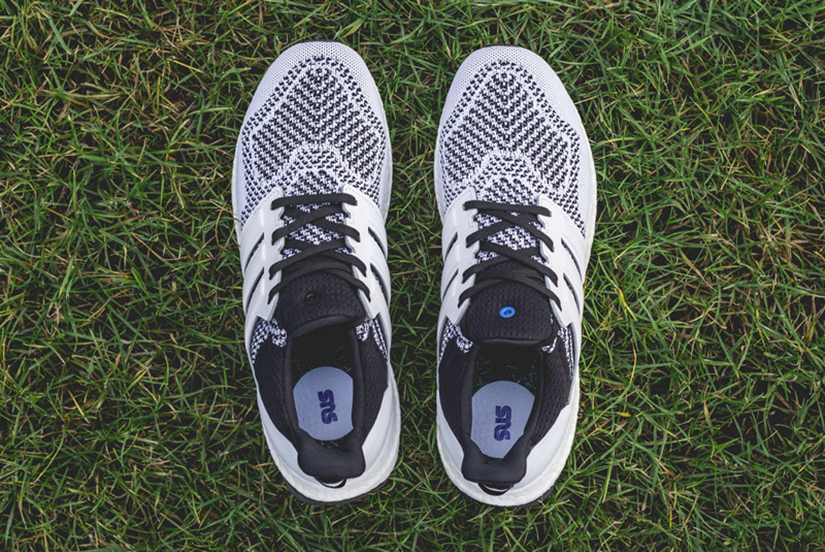 DIADORA N9000 MADE IN ITALY PACK
05 . 02 . 16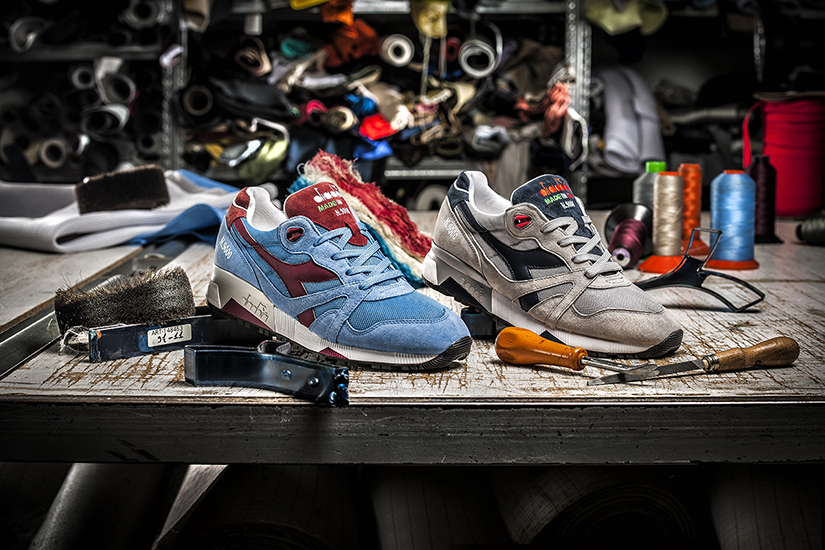 The N9000 was originally designed in 1990 for high-performance training purposes, thanks to shock absorption and other cutting-edge technical features, although more recently it is better known as the model that started the brand's impressive comeback. When it comes to construction and materials, today's releases are an exact replica of the original 1990's runner, making this shoe one of the leading products in the DIADORA catalogue. This season, to give the model the credit it deserves, it is being constructed from top-quality leather and nylon inserts, at the brand's HQ in Caerano di San Marco. There is a choice of two colourways, with either the combination of Silver Lake Blue and Tibetan Red or Paloma Grey and Blue Nights. Both pairs sit on contrasting white midsoles, with coloured accents to tie in with the uppers, and black outsoles rounding things off.