Social Status x Diadora N9000 "Rio Olympic Medals"
30 . 07 . 16
Social Status is hooking up with Italian brand Diadora to release an Olympic inspired release of the Diadora N9000 silhouette to coincide the 2016 Olympic Summer Games.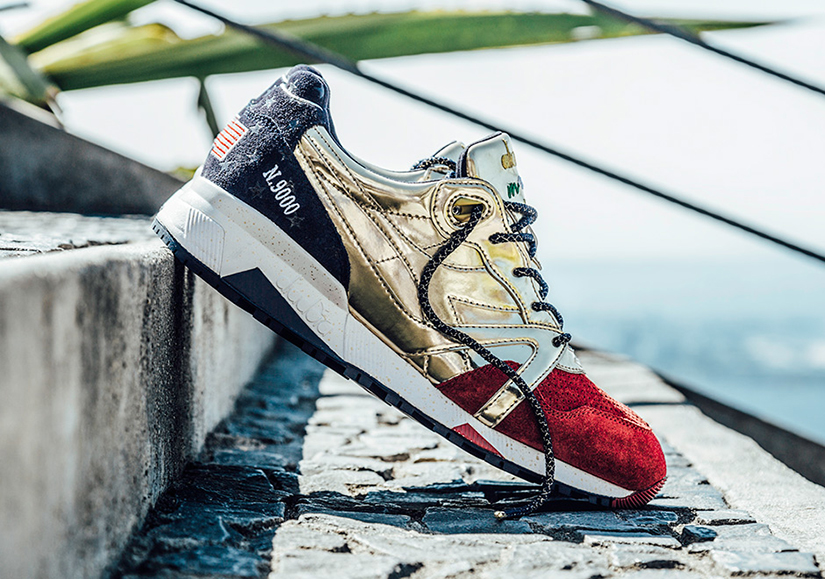 This Social Status x Diadora N9000 "Rio Olympic Medals" brings in the winning ways with a corollas in Metallic Gold. The colorway is offset with contrasting toes and heels both constructed in suede. Stars details the heels, while a U.S. flag covers the rear, along with rope laces with Gold lace tips.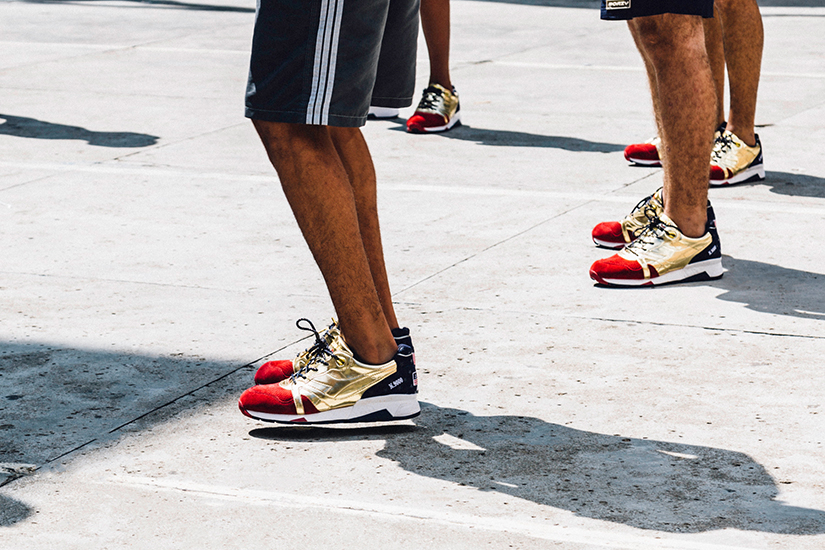 The Social Status x Diadora N9000 "Rio Olympic Medals" will be released next Saturday,July 30th at limitEDitions.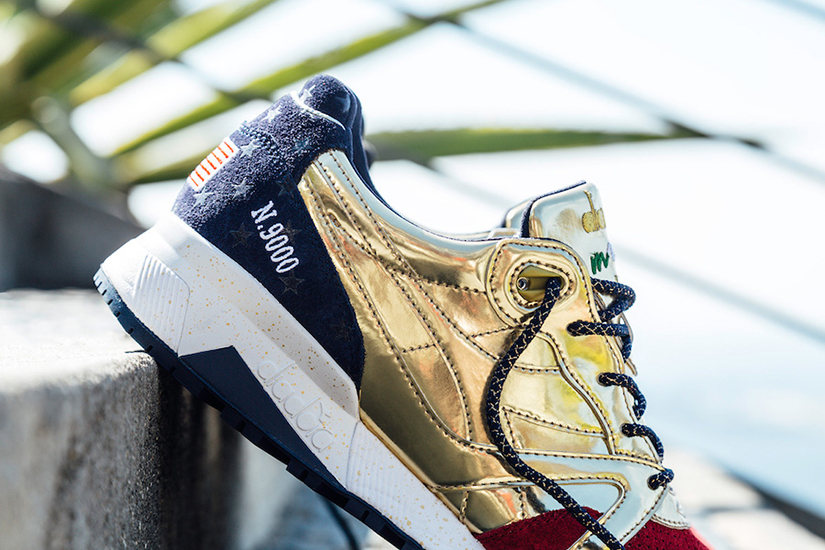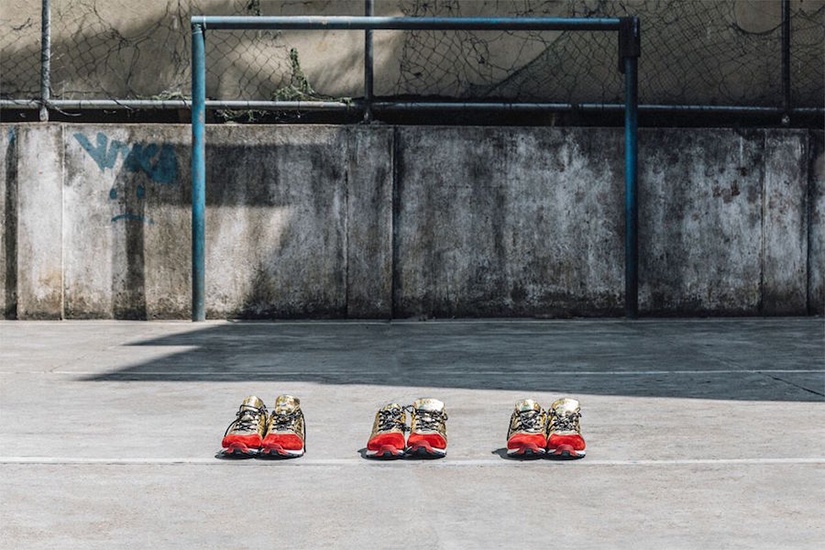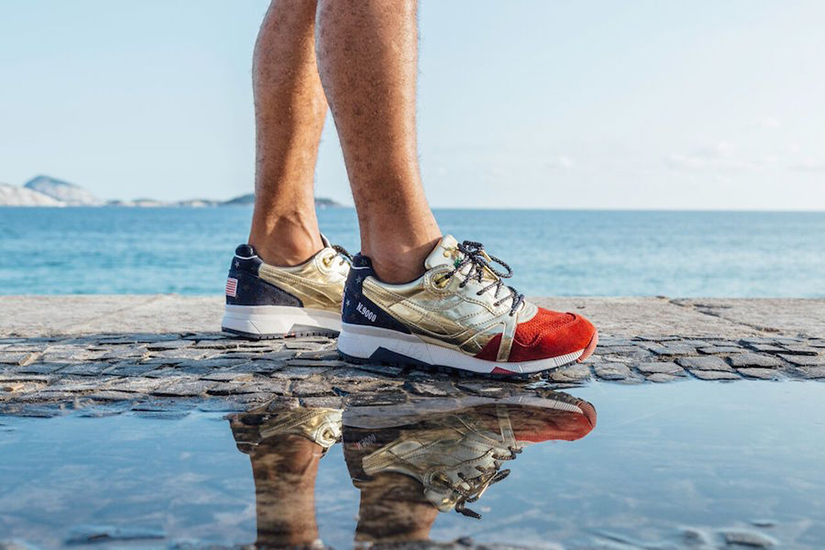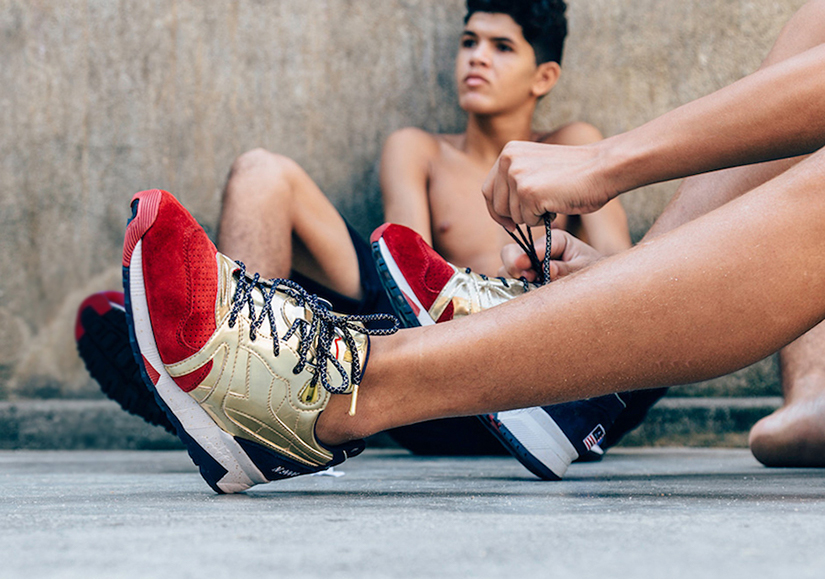 PUMA BLAZE OF GLORY STRAP X FILLING PIECES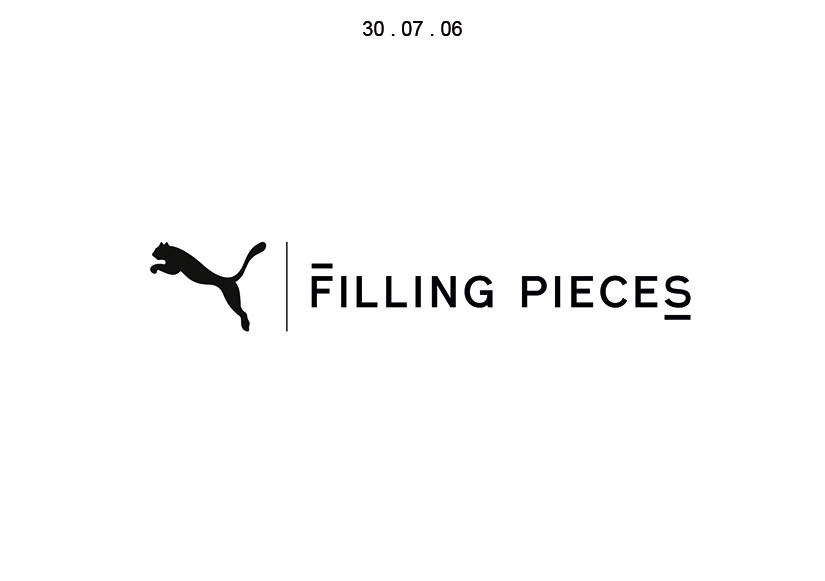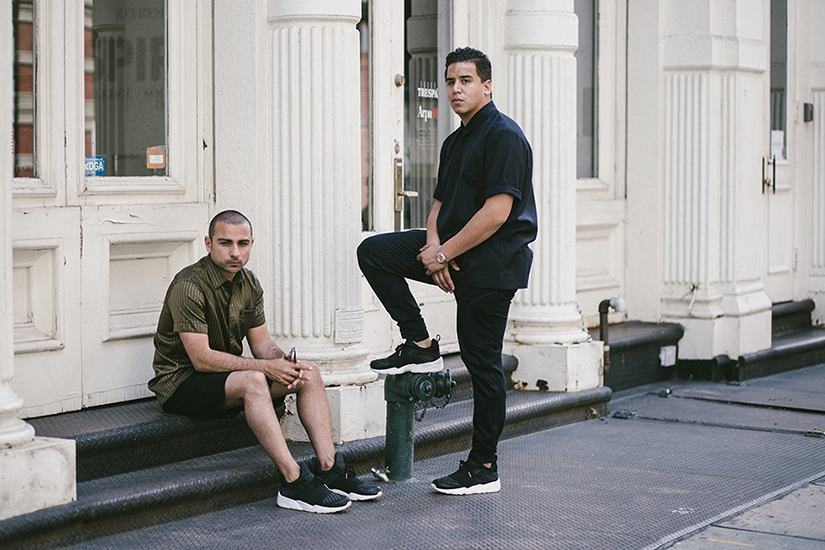 With the upcoming release of the PUMA x Filling Pieces Blaze Of Glory Strap just days away, the two lead designers – Yassine Saidi of PUMA and Filling Pieces founder Guillaume Philibert give us some insight into the collaborative project…

YASSINE SAIDI – SENIOR HEAD OF SELECT, PUMA
What were your initial thoughts of Guillaume's idea for the Puma Blaze of Glory?

Our plan was to create something unique. Something different in storytelling. That's the whole point of collaborating. To bring something different to the market place. When I saw the first design, I knew it was mission accomplished because the design clearly demonstrated both PUMA sports and Filling Pieces' design. It was a risky bet, because it was the first time 2 footwear companies collaborated and we showed that it could be very successful. We basically talked about doing something together. So from day 1 I was confident that he would do something strong. I really thought merging our products and style was very comparable.

How did you feel when Guillaume said he wanted to deconstruct the toe box and remove layers from it?
I think deconstructing and rebuilding are just key words in the design process. We are very protective and careful of the design but we also wanted to give FP the opportunity to alter the upper to create their custom style. I was not against it; I was actually for the idea.

How did you react to the final product?

The creation process went really really smooth. Not a lot of our partners makes only footwear. Filling Pieces understands footwear and know how to make it look good. They've been very true to their astethic. We're very similar in DNA and design, which is why the design is so strong. The first sketch we have is the shoe you see today. So when I saw the final product, it was nice to see that first sketch come to fruition.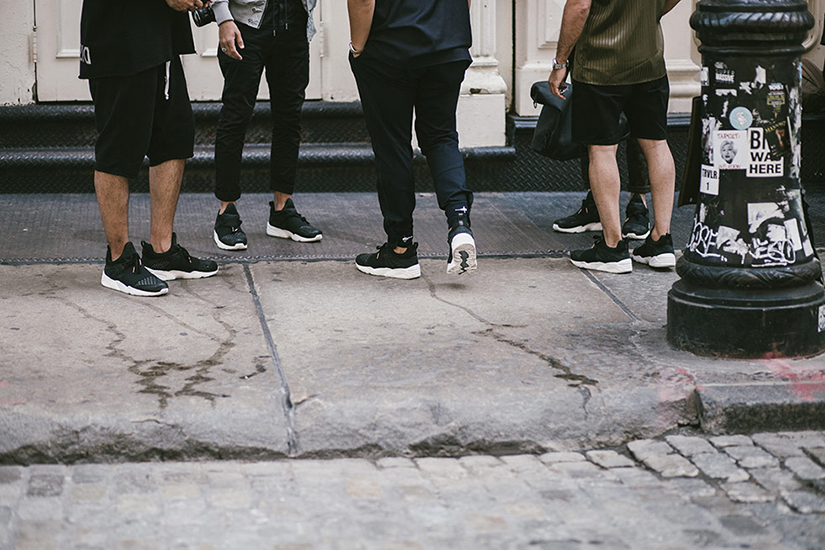 How was it to work together?

The chance we have in our line of work is that we meet each other in every corner of the world. We've been together in Asia, we've been together in the US, we've been together almost everywhere; because we're just following fashion weeks and places where our businesses are. So we've been constantly in talk. Our process is so energetic, so organic in the way the team brought this concept together. It was fairly easy to get to where we are today. I also think we've learned a lot from each other in design and from the project.

What kind of consumer did you have in mind when working on this collaboration?

I was thinking about the sneaker consumer in general that is looking for a luxury version of an icon within the sneaker culture. It was always the objective to bridge the gap between the sport sneaker and the luxury sneaker. So it covers both sides, sneaker culture, and luxury.

How much free reign did you give to Filling Pieces? Was there anything you didn't let them do or were there times you had to reign them in?

No constraints, it has been a really organic process. Since they know footwear, they know what they can do and what they can't do. I just made sure both brands were represented well.

Yassine, were you surprised the collaboration was going to be in black and white?

Well at first, we had two versions. A white base and a black base. And we decided to only choose one color way. But who knows what's coming next, maybe there will be something in the future.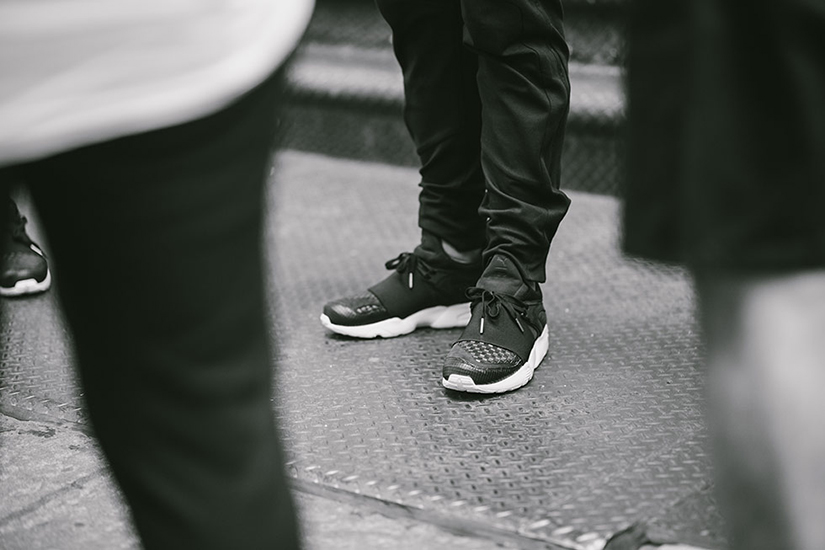 What sets this collaboration apart?

Every collaboration is different because every relationship is different and everybody works in a different way. What set this one apart is that we created a completely new product, that's the main difference.

Do you think the Filling Pieces DNA is evident within the shoe? Why do you think the brands work so well together?
Filling Pieces is clearly evident throughout the shoe. We let Guillaume go crazy and if you look at any FP shoe and compare it to the Blaze, you can clearly see FP's DNA. The brands work so well together because they're both on the same page when it comes to design and creativity.

Did you think Guillaume would pick the Blaze of Glory model?

Guillaume has been wearing PUMA for decades. His favorite siholouete is the blaze of glory. So that was a great starting point for him to instill FP Design.

Were you two in mutual agreement over which direction the shoe should take?

Both brands are represented. Partner takes the lead on design and direction. Me and Giullaume are very close and have known each other for a long time. So that's why it was really organic, because we're a lot alike.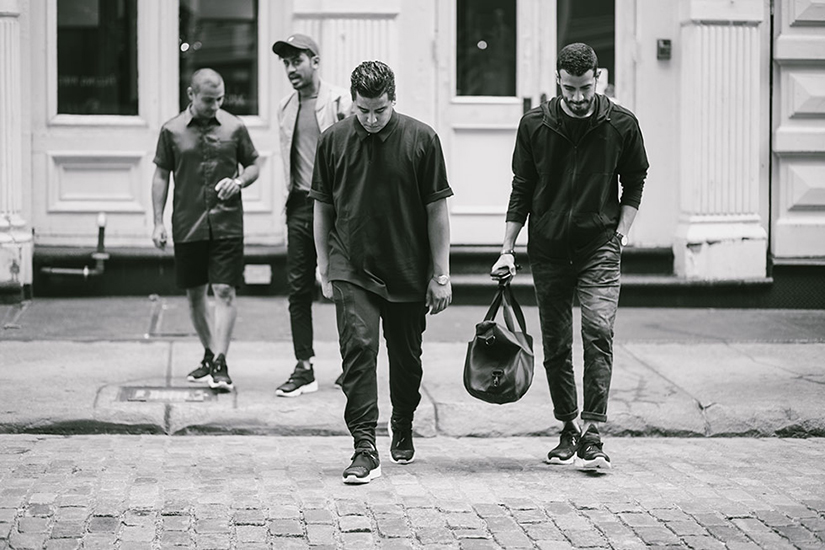 GUILLAUME PHILIBERT – FOUNDER, FILLING PIECES
What is Filling Pieces' take on the Blazes of Glory?

We have a lot of detailing in our shoes, it's what we're known for. There is a lot of detailing in this shoe and luxury fabrics built into the shoe. For example, the laces, the toe cap, the buttery soft lip around the shoe. We added elements to make it a more luxury, high-end shoe and if you look at all of the details on the shoe. For example, the four or five layers on the toe box we changed to three layers to give it a slimmer, narrower look which is a real Filling Pieces design. The strap across is also something we use in a lot of our shoes. It's more athletic, which fits to our collections. Then if you look at the rest of the shoe there is a lot of padding. For example, on the lateral part and that's what we are known for in the heel area of the shoe. The tongue is our signature piece, the cut is designed for wider pants that you can sit behind and for slim fit pants to sit over the tongue. All of the texturing is in leather which we felt had a better look to rubber.

How would you suggest they are worn?

The shoe looks very luxury, then all the athletic tooling gives it a sporty look. Personally of course we have a certain preference of how to wear it, shown in campaign shots. With it being a high end shoe you can wear it out and also to the gym. So you can wear it anywhere.

Did PUMA give you a brief on what you can do with the shoe?

We were able to change the whole outfit. But when we thought about it, we though it wouldn't be PUMA anymore and that wouldn't be right. So we chose a PUMA shoe and we designed the fabrics, the tongue, the toe caps and the detailing. In terms of fabrics, it has had an upgrade. When it comes to Filling Pieces, we are a small label and that's why we are very flexible with who we can use for fabrics. PUMA being a larger corporate company have restrictions of licensed suppliers. So we obviously had less options with PUMA, but that only made us become more creative with any limited means that we had.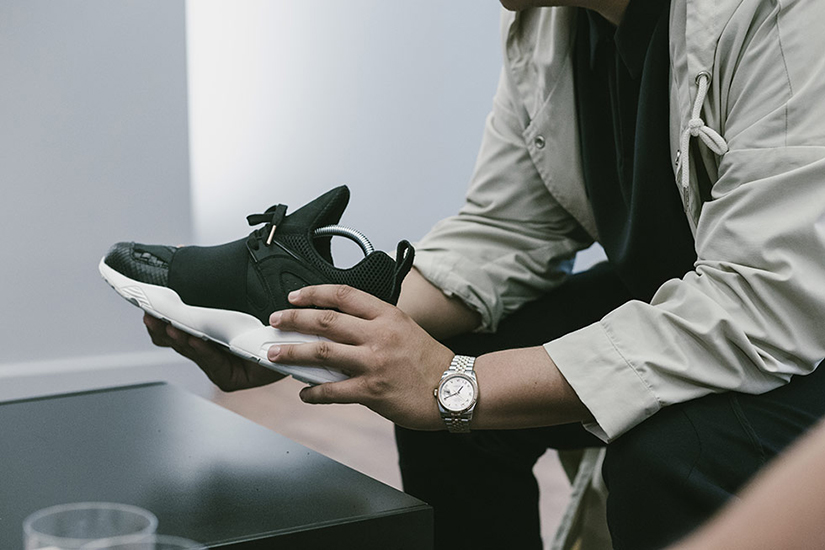 Was it easy to give away your designs traits to another label?

Actually the shoe pays tribute to the Blaze of Glory. The Blaze of Glory I remember from 1993. I have been working on the shoe and the silhouette for the last two years but I believe what Yassine and his team did to the shoe is about paying tribute to the style and to the generation because it comes from 1993. So it celebrates the style and the brand. So for us it's not giving away a style, it's bringing the style and a new to a new consumer.

Is there a reason you chose to execute it in black and white?

Yes, the whole idea behind the shoe was to have lots of detailing. So we could have gone crazy with colours but if you look at our lines it's all fairly calm colours that we do and it black is something you can do in so many different ways and fabrics to give the shoe another type of contrast. We felt that the black and white shoe would be the strongest colour-way and with the detailing we wanted it would make it that bit more special.

Was there any specific inspirations you drew from for this collaboration?

The major inspiration was from the best of the Filling Pieces collection. From the strap to the toe caps, these are details from our bests we took to the Blaze of Glory.

Do you use anything from your architectural background?

In terms of designing shoes, I always get things from an architectural point of view when it comes to techniques and lines. Also when it comes to concept, technique and functionality in architecture are very important. I think how PUMA designed it already was great, we just made it slimmer and more accessible to our consumer.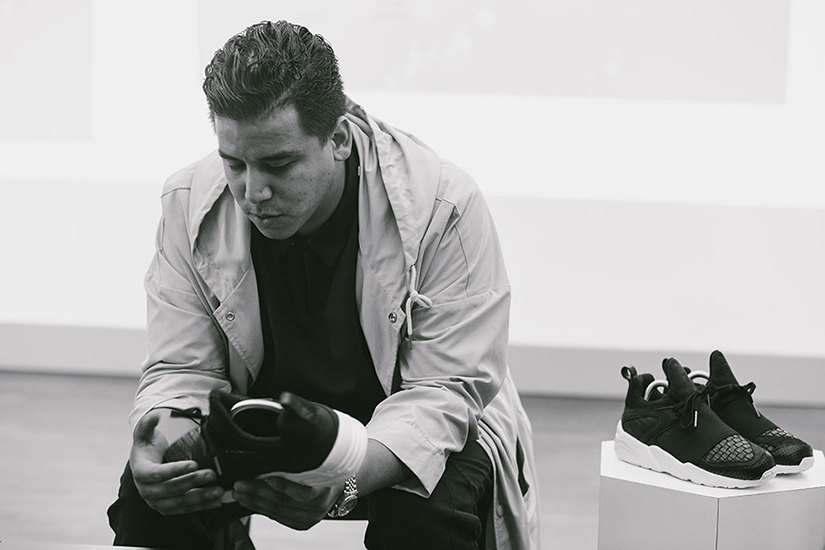 What do you think about working with PUMA?

Working with PUMA was great because they showed us how as a big company there is a lot of creative people and smart people with ideas of how to create the shoe. They have more restrictions than Filling Pieces, but in terms of creative minds they don't have any restrictions.

Did you have an idea in mind before you began?

I never expected it. I'm very grateful to have had the chance to work with PUMA. As I said before, we're always working towards the future. We came together two years ago and there was this moment of joy when the opportunity came about. Then we spent years working on it before release and I think the coolest moment was when I put it on and people on the streets liked them. It was such a big project for us.
PUMA x Filling Pieces Blaze Of Glory
Launch 30th July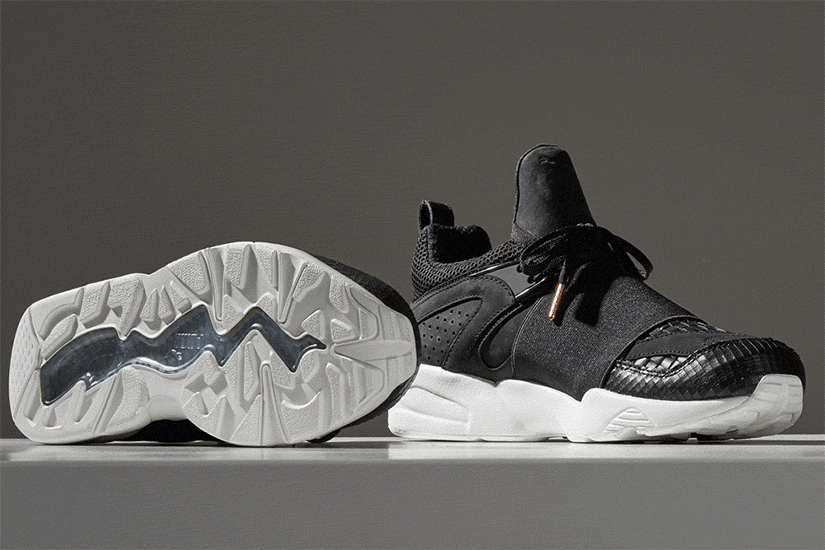 Known for the premium casual aesthetic, Amsterdam-based sneaker brand Filling Pieces have teamed up with sportswear giant PUMA to apply their much-loved
DNA in the iconic Blaze Of Glory.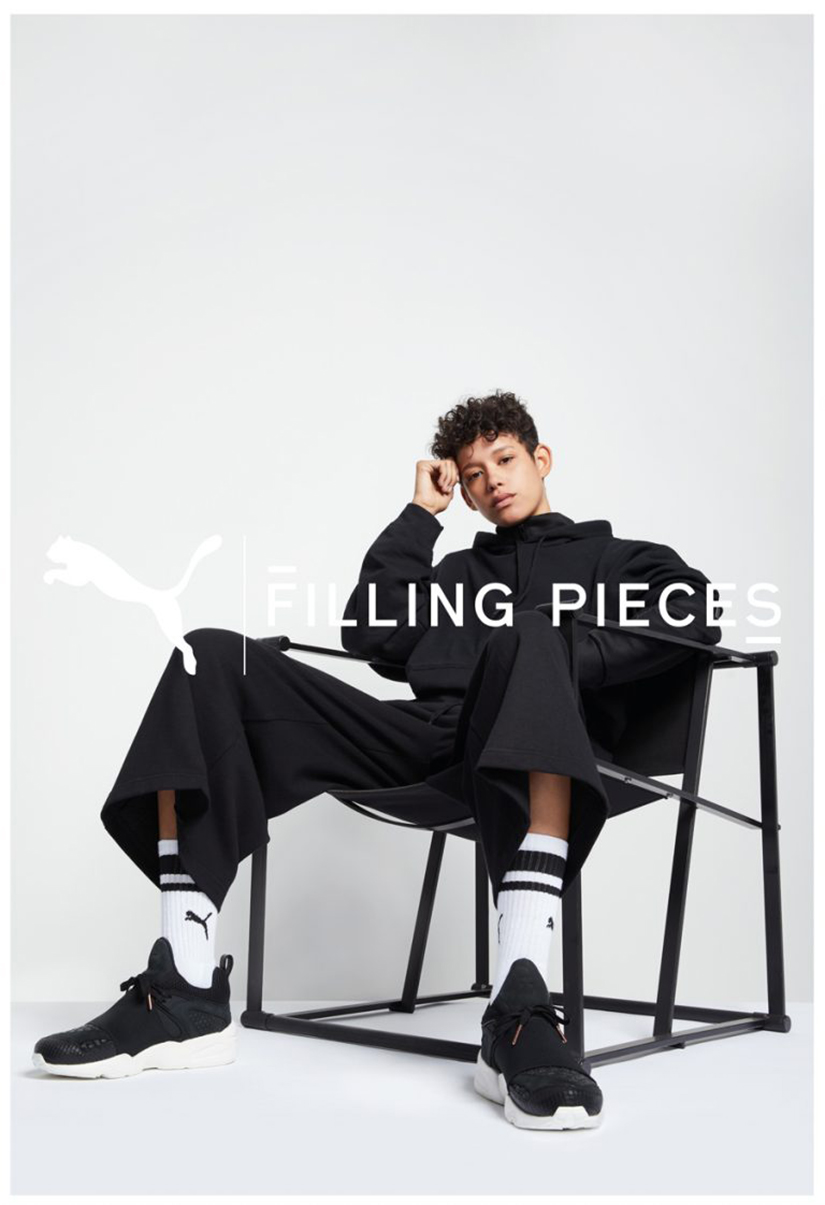 Taking the technical silhouette of the archival runner, FP have applied premium nubuck and leather in tonal black to the uppers, whilst the shoe also boasts Trinomic tooling, a contrasting white outsole and a remodelled tongue in line with Filling Pieces mainline models.
PUMA x Filling Pieces Blaze Of Glory will launch at limitEDitions . Saturday 30th July.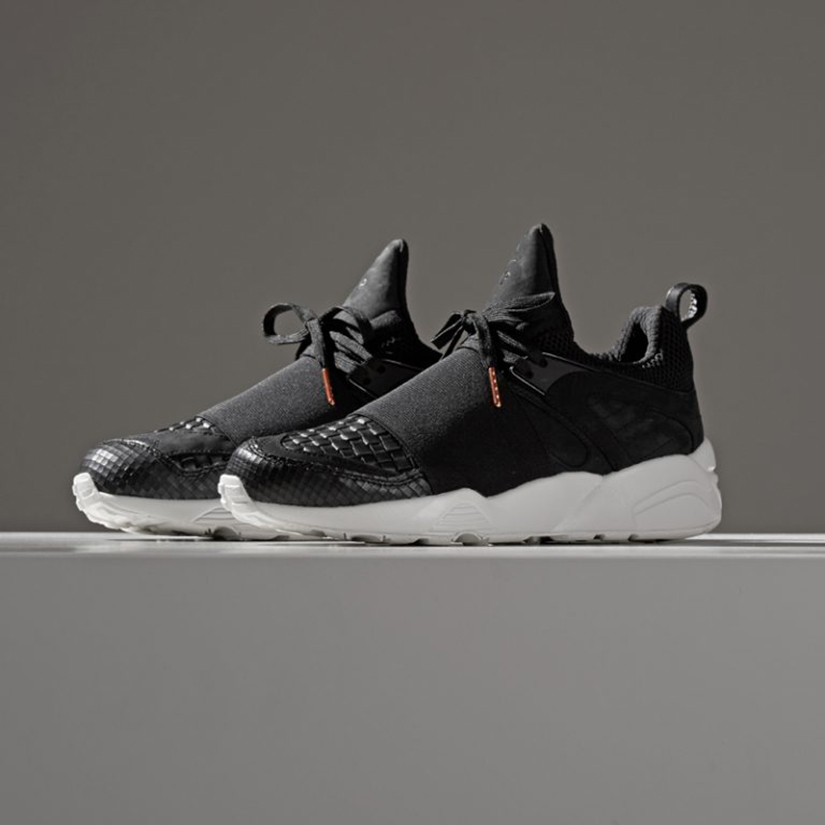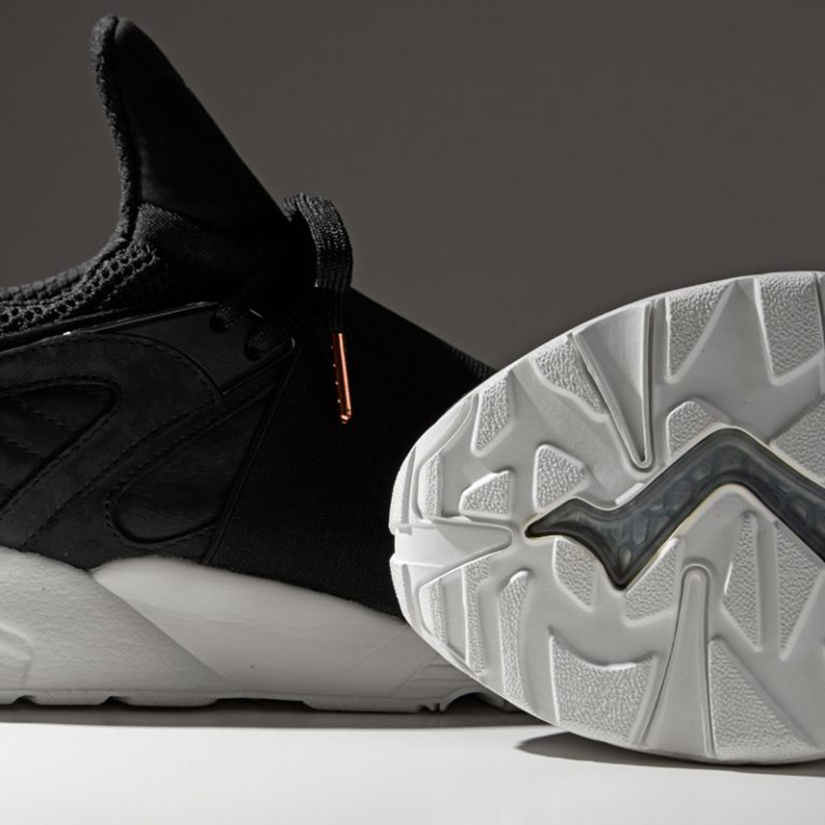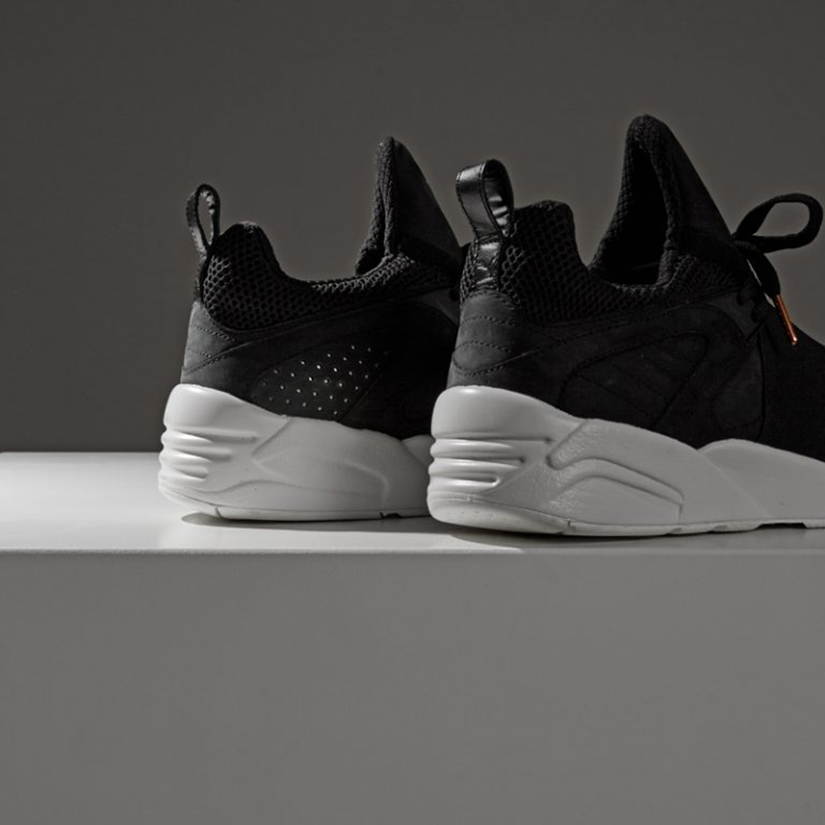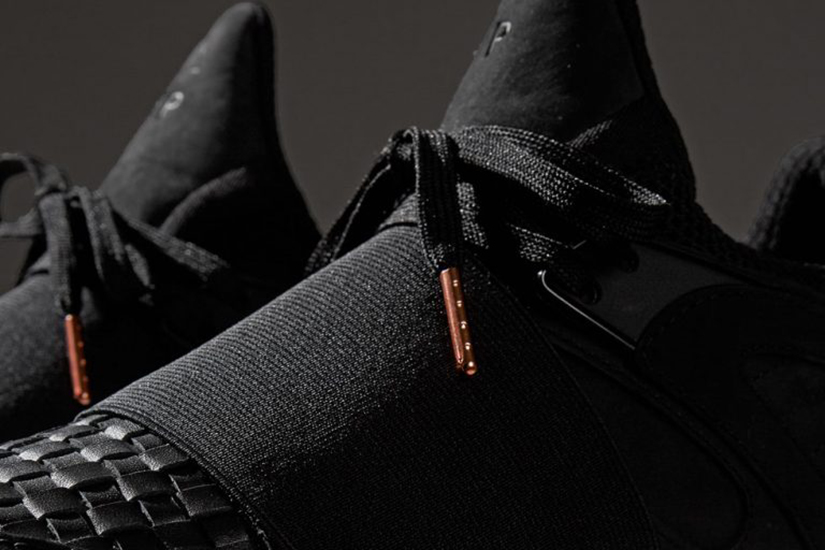 Asics Gel-Lyte V "Aix-en-Provence"
Launch 29th July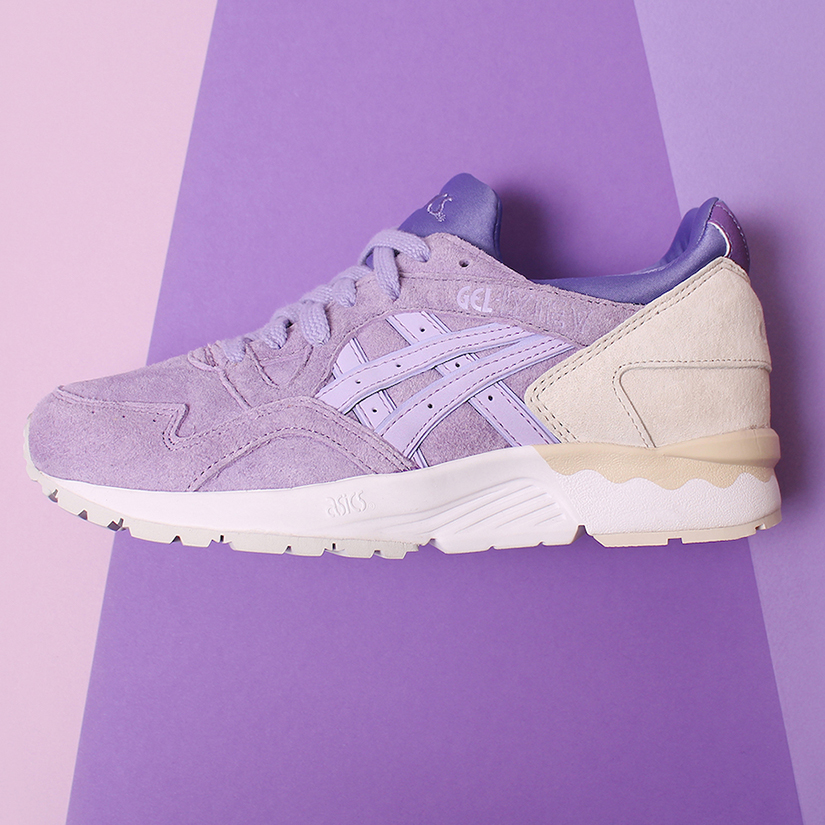 Asics present the Gel-Lyte V "Aix-en-Provence", a shoe which is inspired by the French, and late night picnics, summer and lavender.
Back in 1979 the Asics research facility in Kobe branched out into a research laboratory exclusively for evaluating sport shoe features,now known as the Institute of Sport Science of Asics. Over 100 scientists here continue to push the boundaries of footwear performance, comfort and fit. It was here that they developed the Asics Gel Cushioning System, which is able to absorb shock by dissipating vertical impact and dispersing it into a horizontal plane. It revolutionized the Asics footwear line and was the start of the Gel-Lyte dynasty.
The legacy of Asics innovation continued with the introduction of the Gel-Lyte V, a subtle progression within the Gel-Lyte series that features a sole unit with a stability insert, Gel pad at the heel and P-Gel in the forefoot, as well as a sleeker, more form-fitting toe design to create extra comfort. It's a more flexible and lighter sneaker. A product of this time and an intelligent piece of performance shoe design.
The Asics Gel-Lyte V "Aix-en-Provence" will be available next Friday, July 29th at limitEDitions.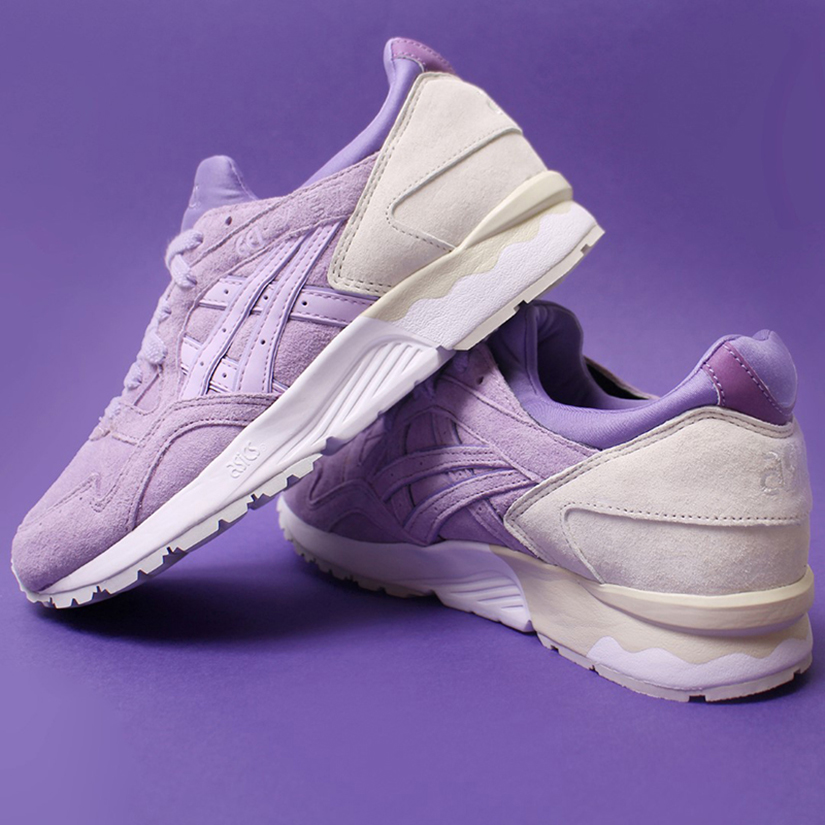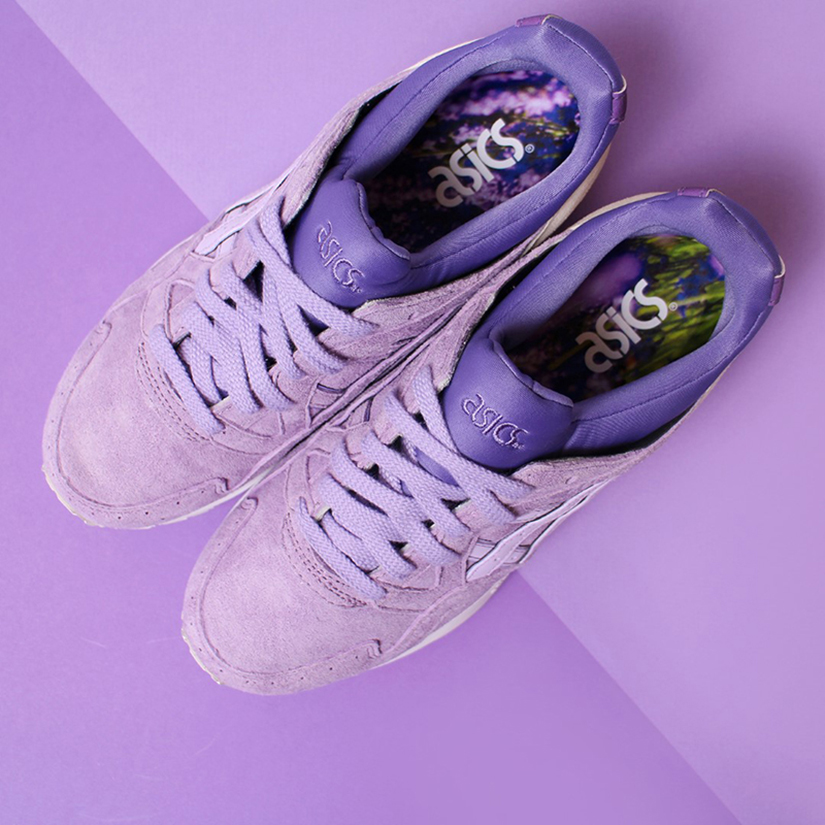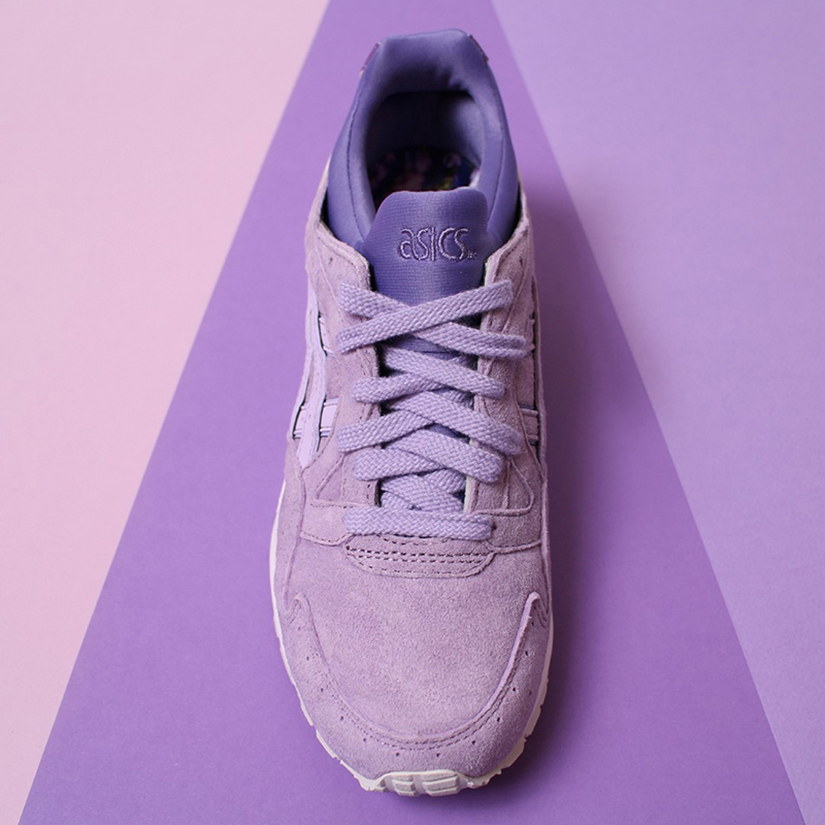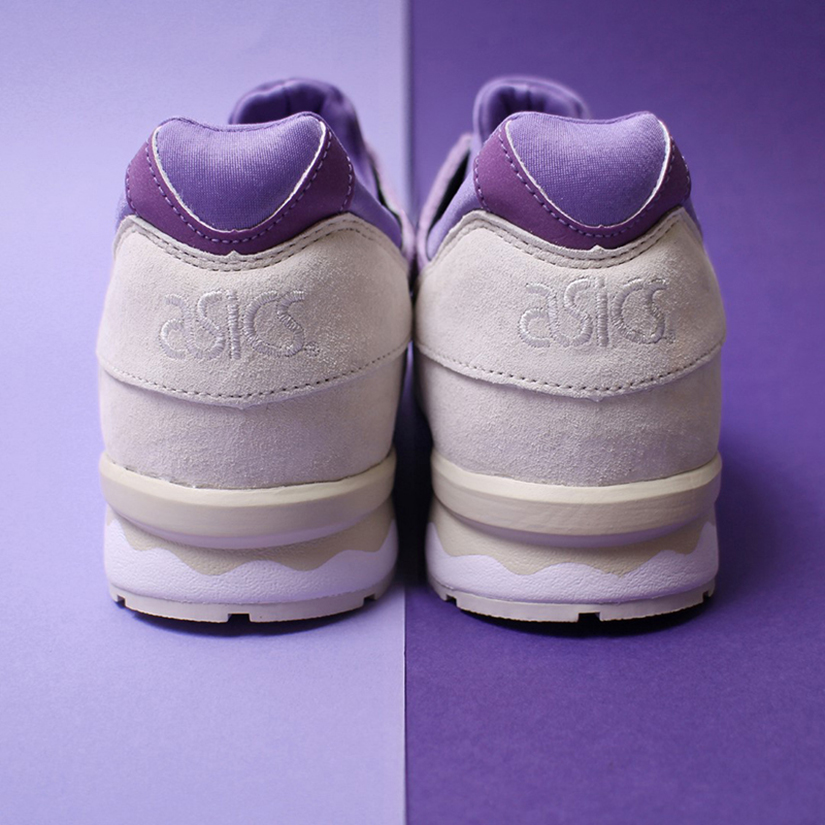 Nike Air Max 1 Flyknit
28 . 07 . 16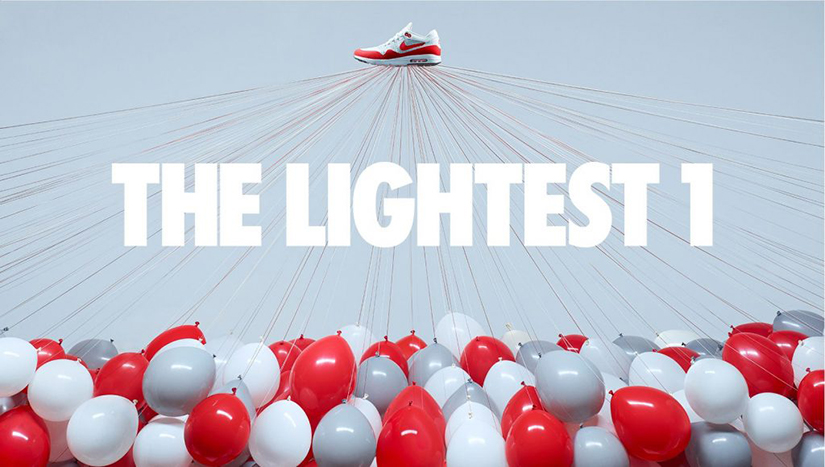 The introduction of the Nike Air Max 1 in 1987 changed running footwear forever, with the legendary runner immediately cementing it's place in history thanks to visible Nike Air cushioning.
For the last 29 years, the Air Max 1 has been a source of innovative design time and time again, and now, almost three decades later,Nike introduce it's revolutionary Flyknit construction to the runner,to create the lightest 1.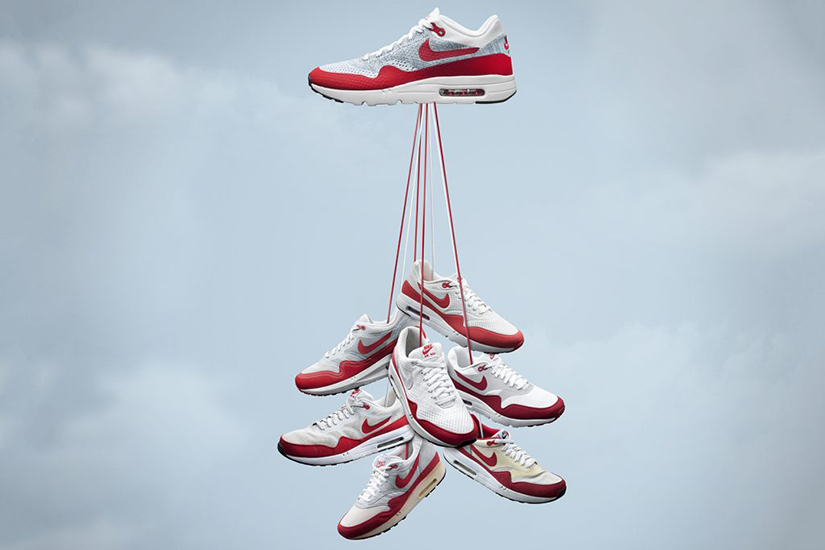 The lightest version of the revolutionary icon, the Nike Air Max 1 Ultra Flyknit gets remixed with a Flyknit upper, and is combined with an Ultra midsole and plush Nike Max Air cushioning for all-day comfort.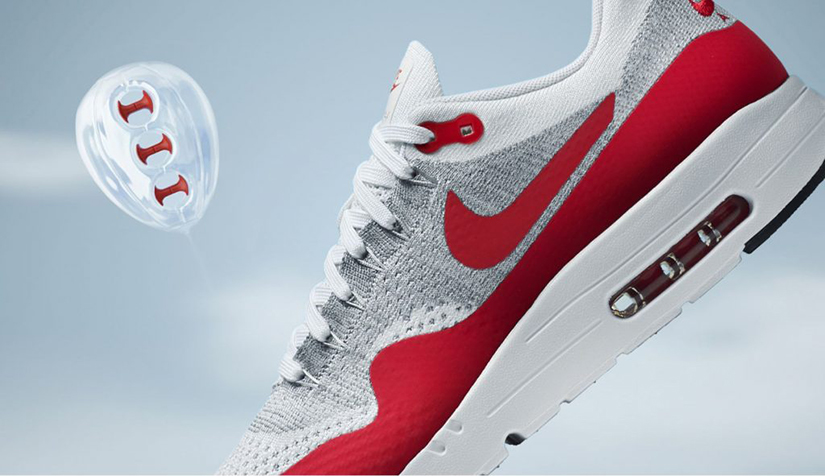 The upper features woven Flyknit yarns which provide breathability, and also stretch and support where you need it most, conforming to the shape of your foot for a comfortable and lightweight feel.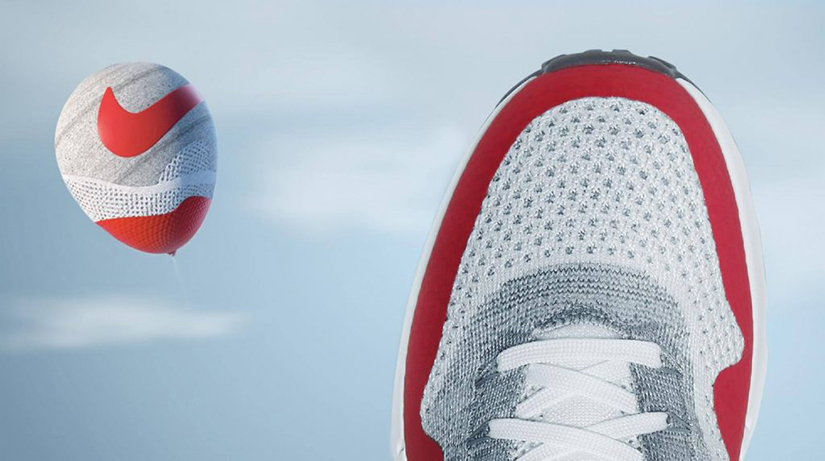 The Ultra midsole is cored out in targeted areas for reduced weight without sacrificing durability, and don't forget about that Max Air heel unit for excellent cushioning.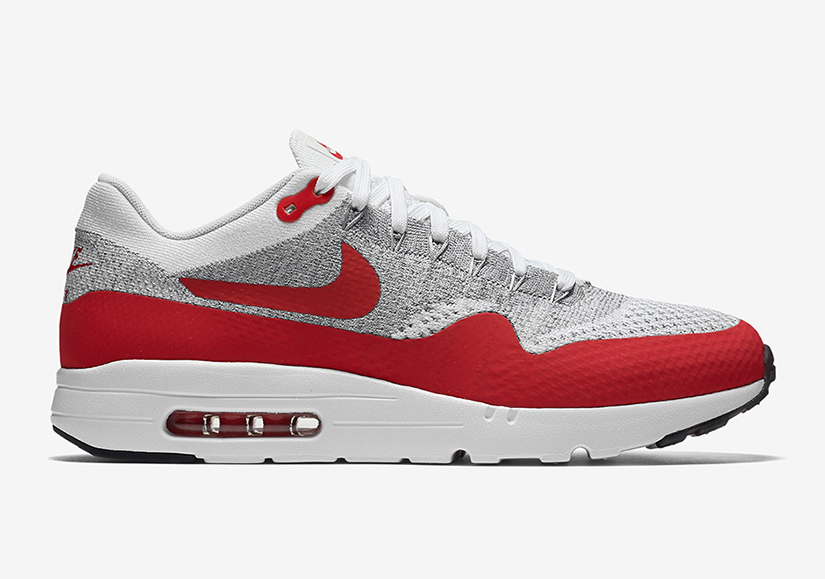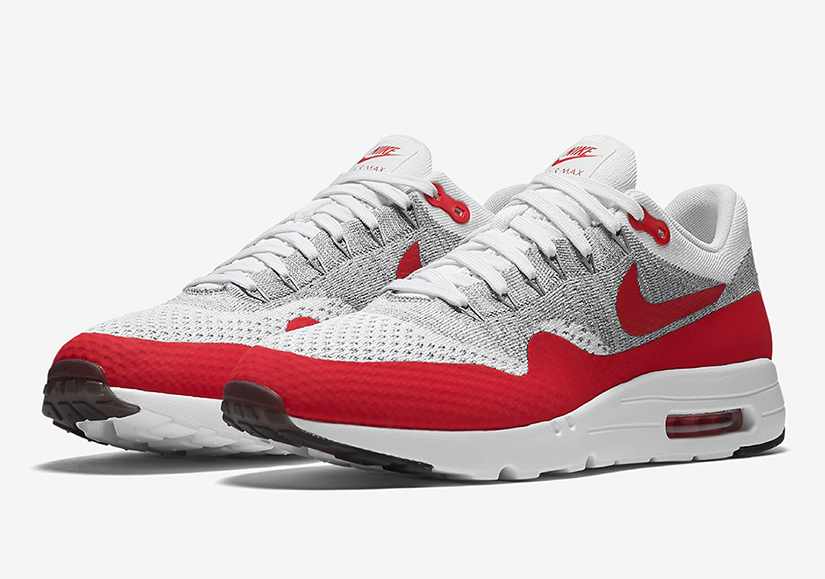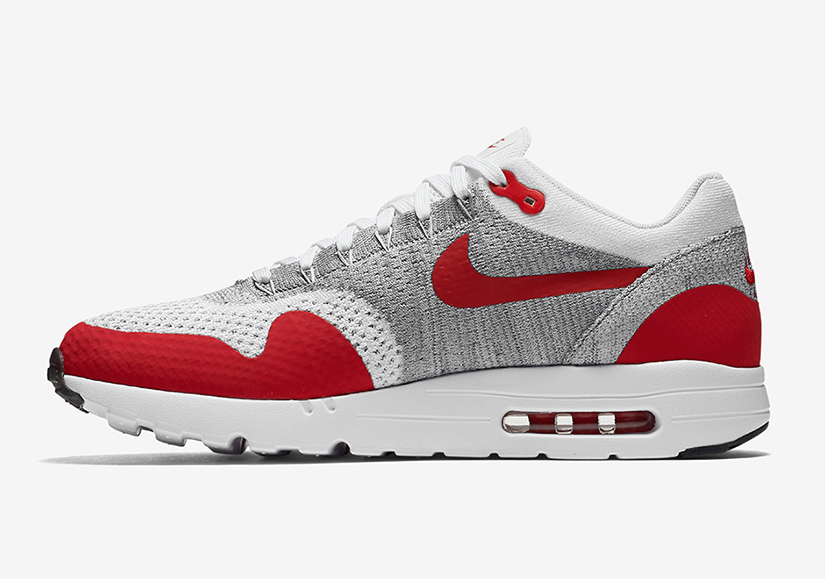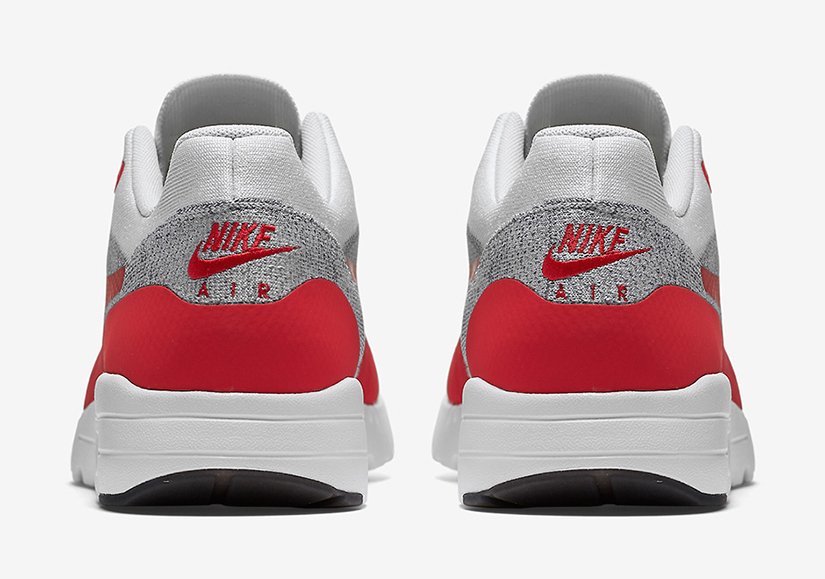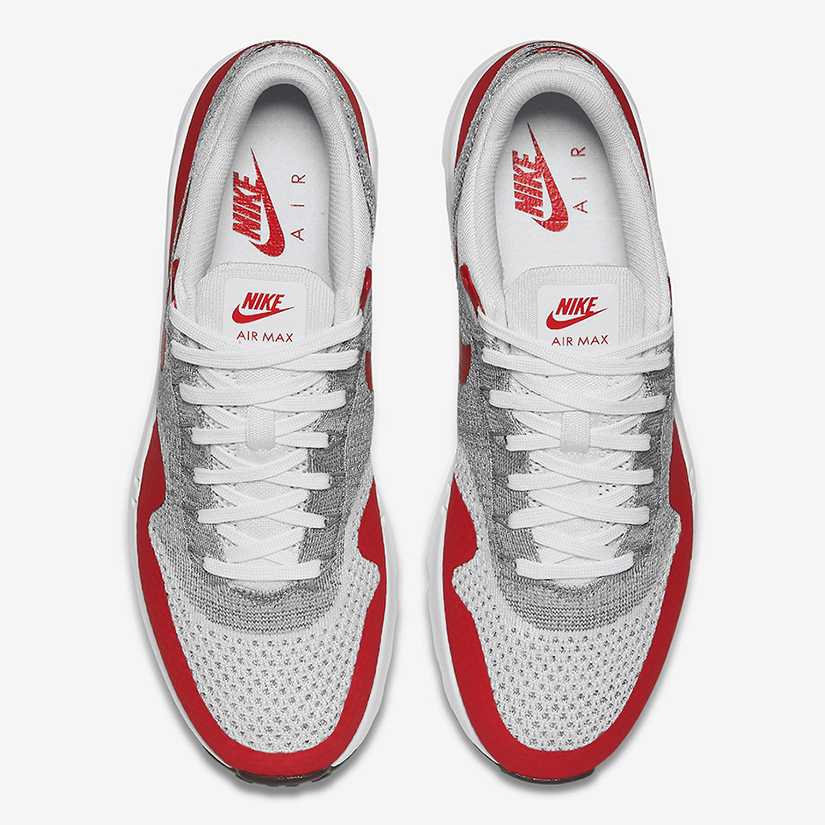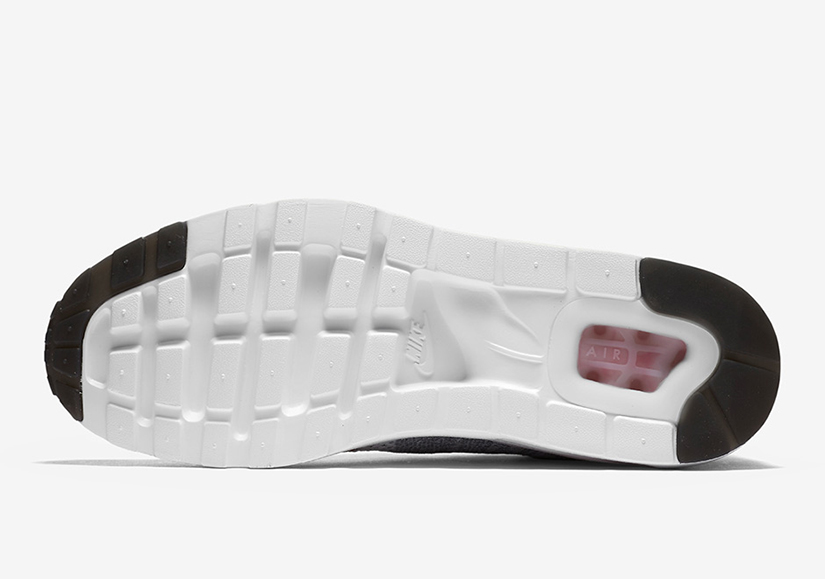 Nike Air Zoom Chalapuka
Launch 28th July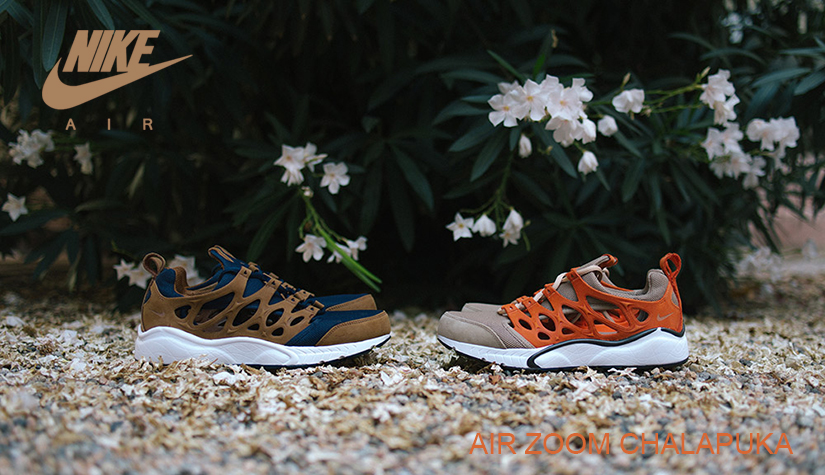 The Air Zoom Chalapuka is part of our Zoom Air story for the year and inspired by the Air Chapuka.
The upper is a crafted and premium interpretation of the early 2000's model from the Alpha Project.
Molded leather die-cut quarter panels and an open construct bootie. Leather details, like pull-tab and tongue label.
All built on the Air Zoom Talaria tooling to give it the all-day every day comfortable ride.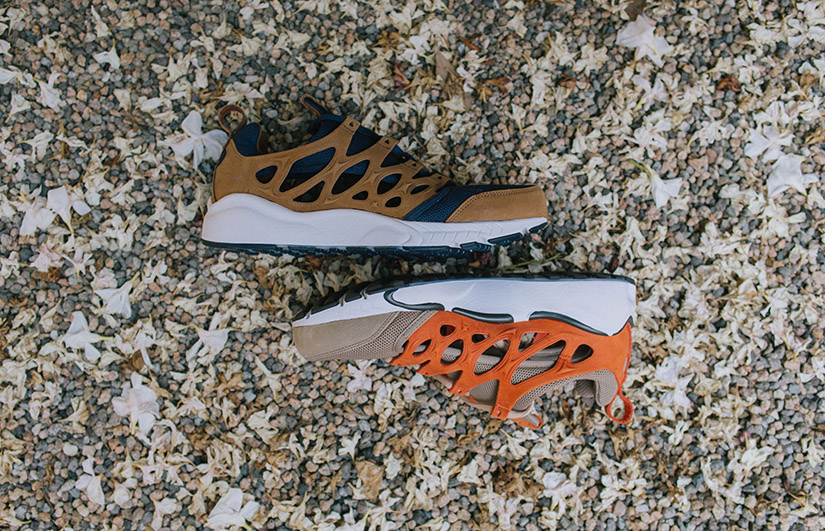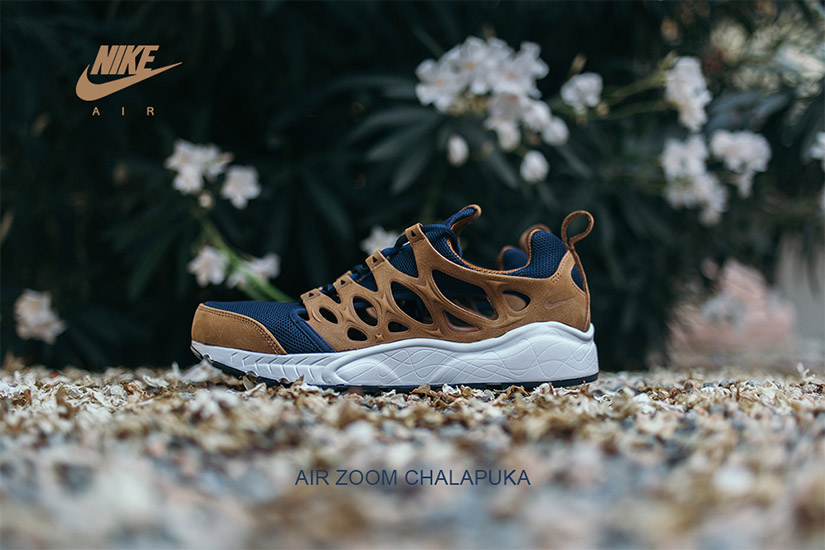 AIR ZOOM CHALAPUKA
872634-200
HAZELNUT/HAZELNUT-DENIM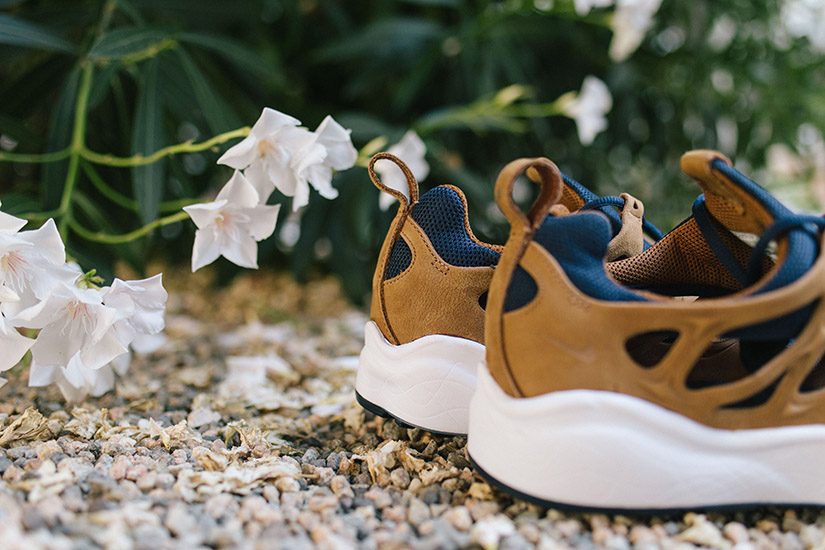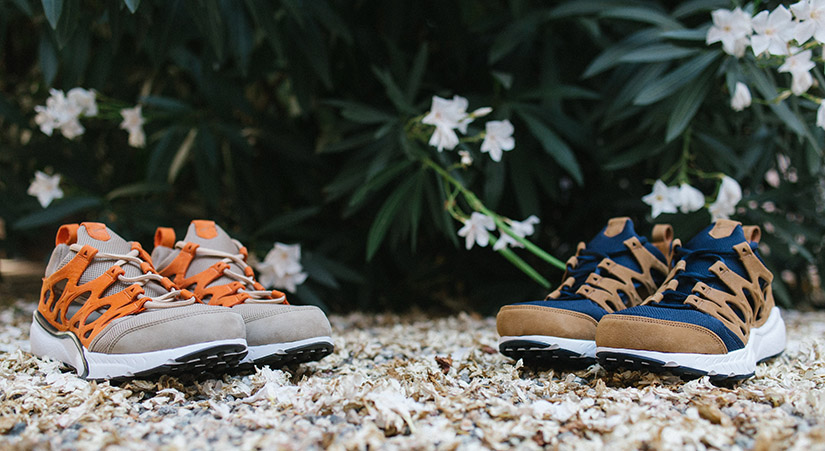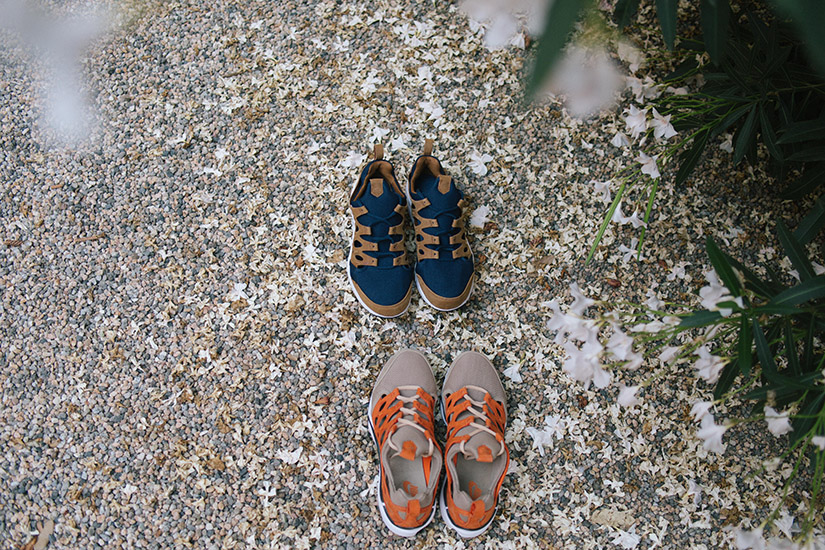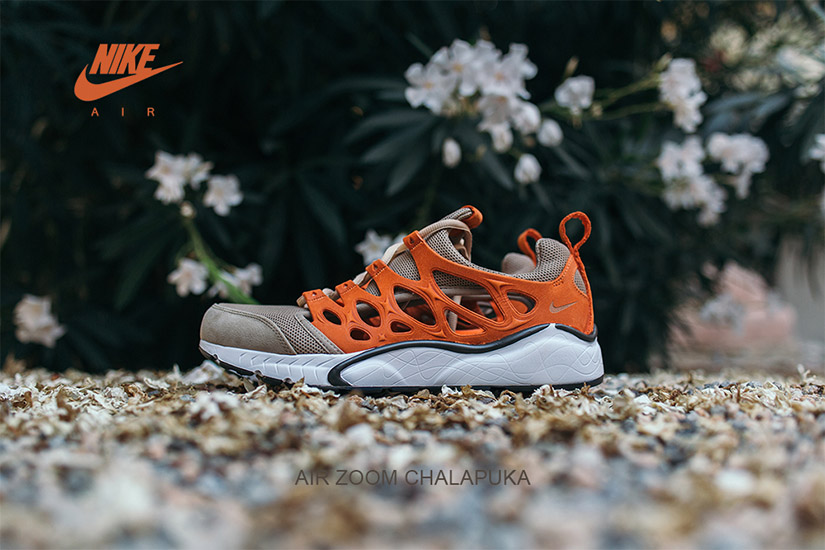 AIR ZOOM CHALAPUKA
872634-202
VACHETTA TAN-SAFETY ORANGE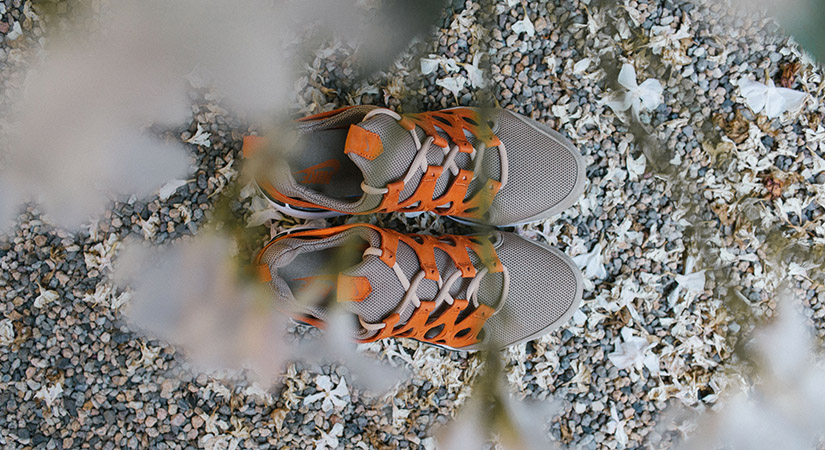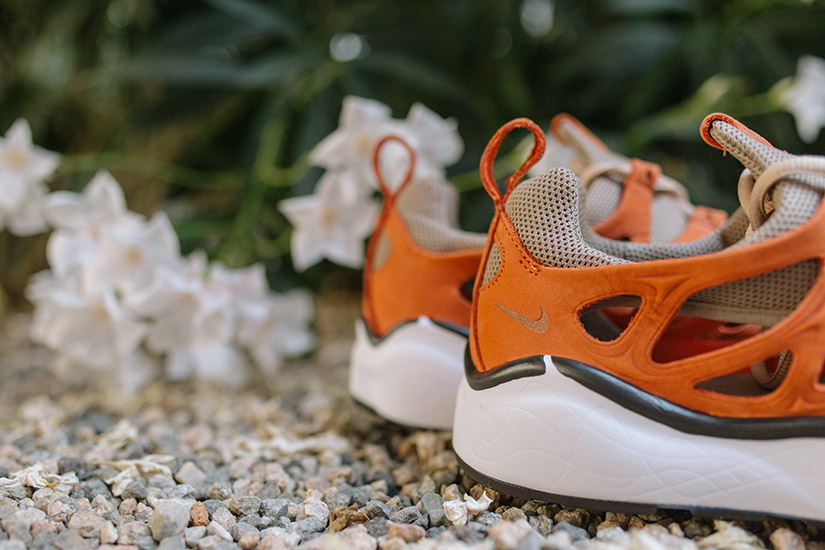 adidas Originals = PHARRELL WILLIAMS Hu NMD
22 . 07 . 16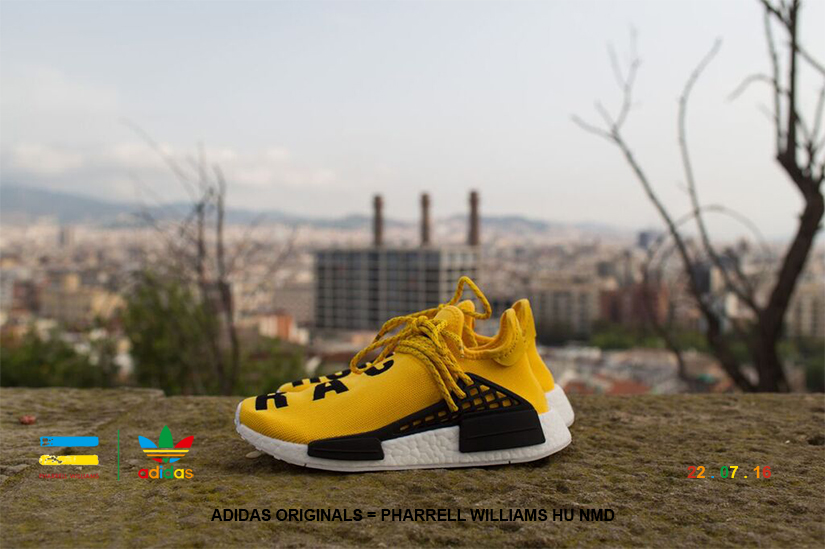 adidas and Pharrell Williams continue their successful cooperation with another pack of colorful sneakers. This time they created a whole new silhouette based on the NMD. The HU NMD sits on a usual NMD boost sole with the characteristic blocks on the outside but features a small black cage on the rear block to hold the laces. The single peace sock line upper gives the HU a dynamic look and a great shape.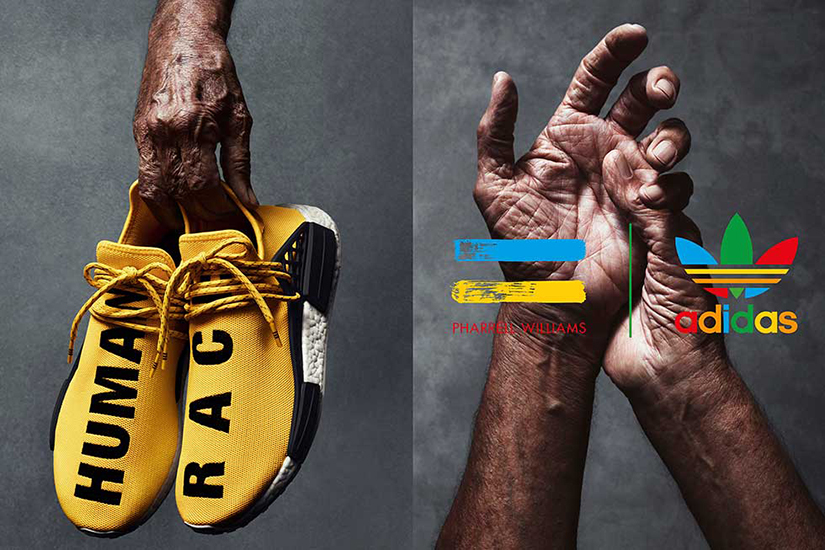 adidas HU NMD x Pharrell Williams "Yellow." Part of a three-pack of "Human Race" adidas NMD styles, the sneaker features a yellow and black upper with the words "HUMAN" and "RACE" emblazoned on the uppers .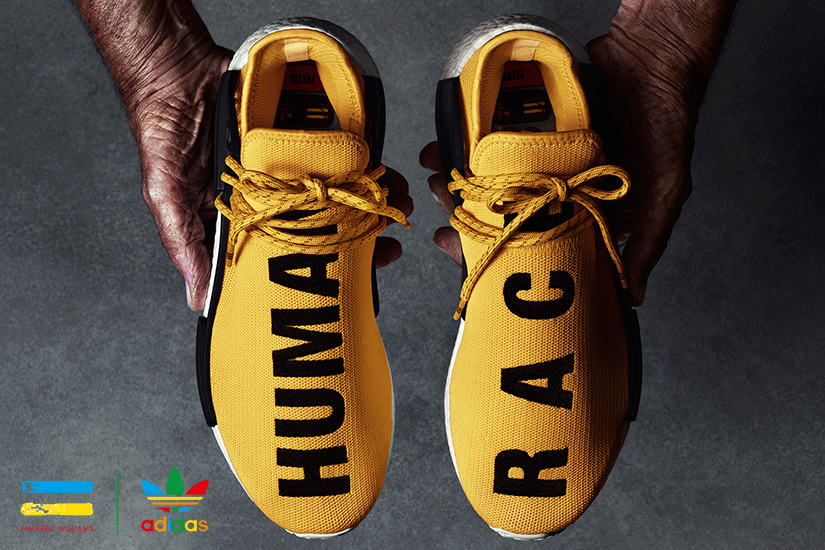 "Hu = Human Being, Human Race, Human Kind, Human Species"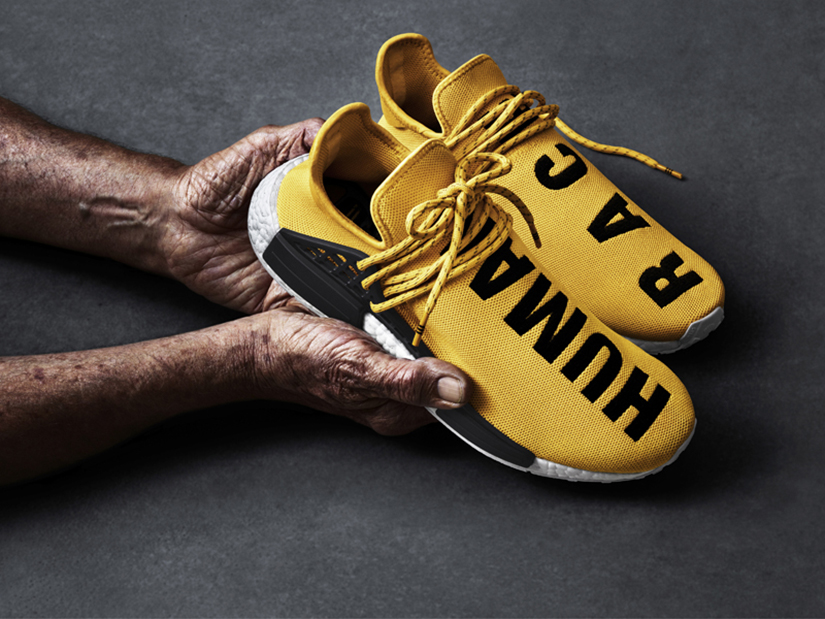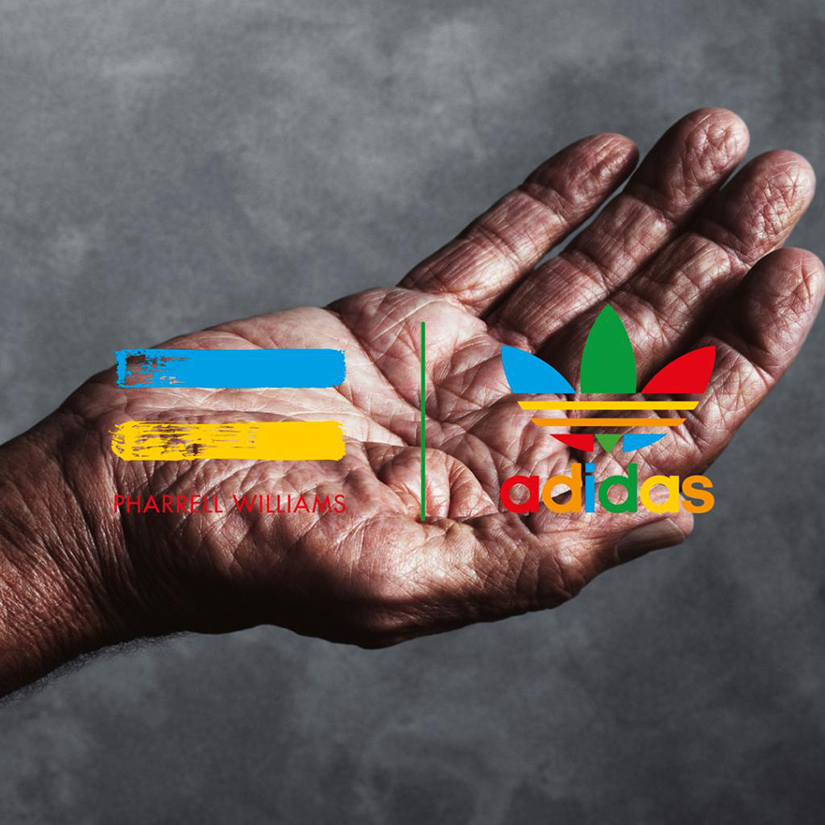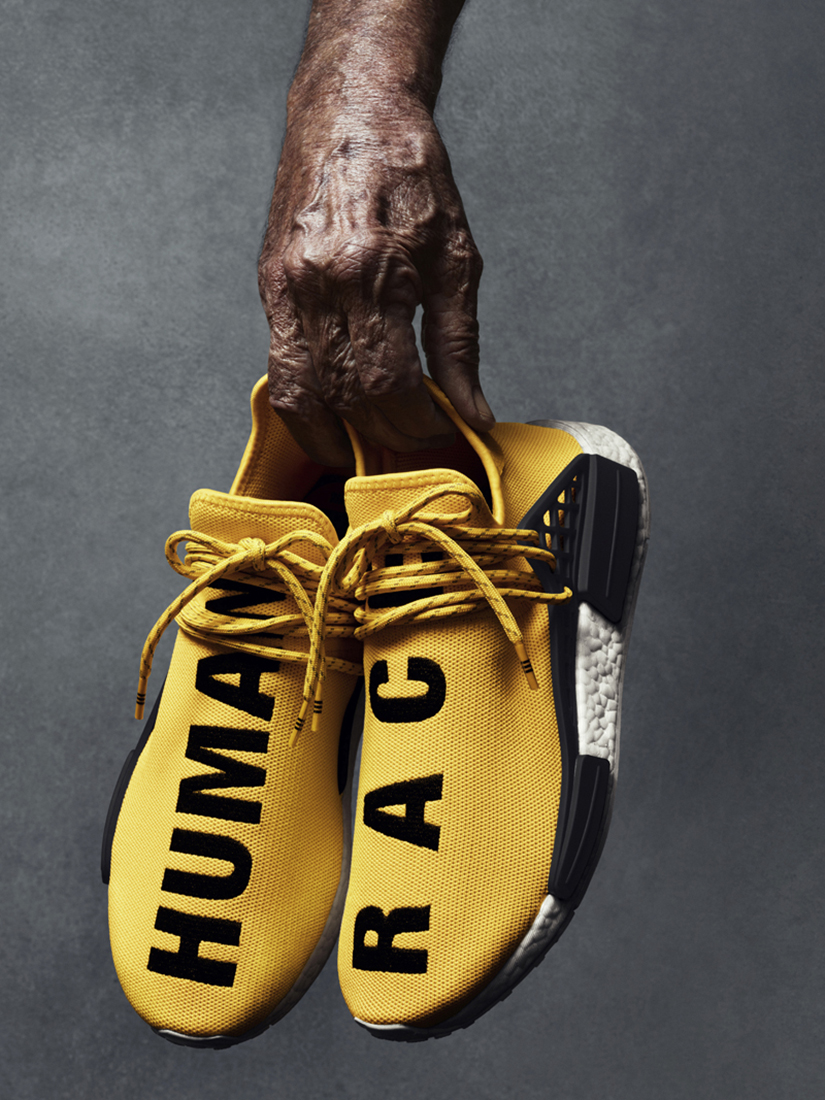 Asics Gel-Lyte Runner x Solebox "Blue Carpenter Bee"
Launch 23rd July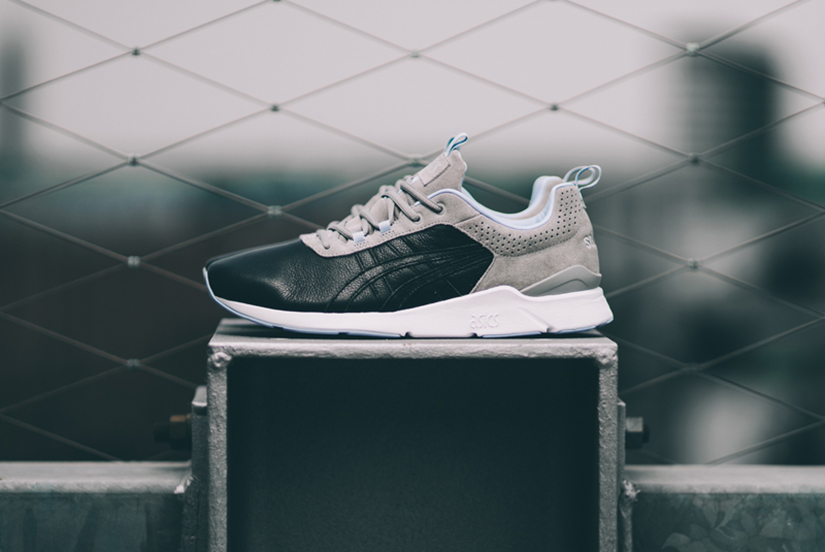 Asics and Solebox are looking forward to release the second part of the Blue Carpenter Bee-Pack, the Gel-Lyte Runner ´Blue Carpenter Bee` which is also based on a design from Hikmet Sugoer.
The Gel-Lyte Runner is the evolutionary shoe that links to the cool, clean Gel-Lyte III runner style of the `90s with an up-to-the-date look and tech detailing.
As well as with already released GEL-LYTE III the inspiration for this collaboration comes straight from Down Under. Australian Cape York Peninsula is the natural home of the blue carpenter bee.
Premium black full nubuck leather reflects the black shiny metallic body part of the bee while its' remarkable blue colouring is highlighted in various details such as the lining.
Subtle details including embossed Solebox logo in silver on both heel caps, perforated grey suede panels and additional pair of reflective, black rope complete the set up.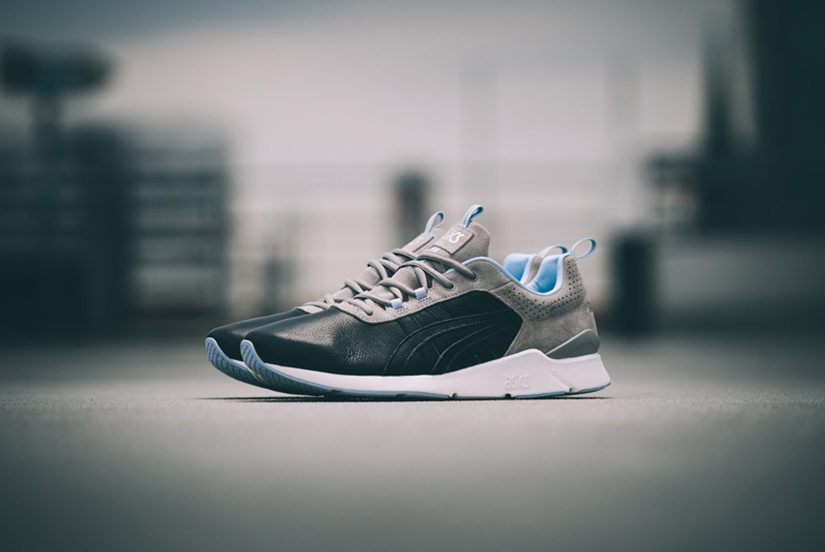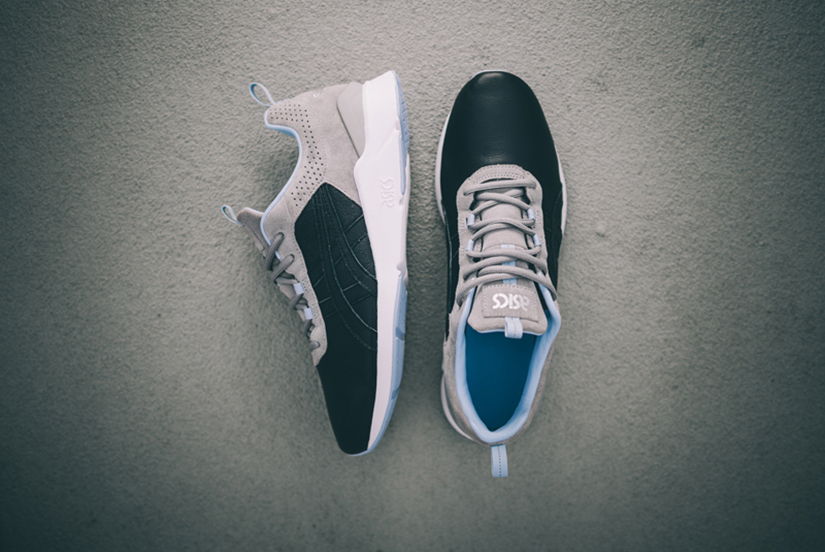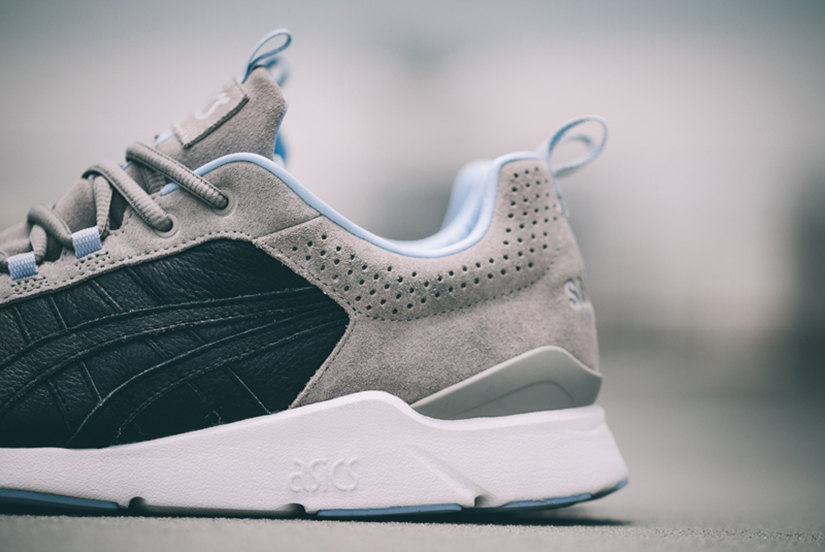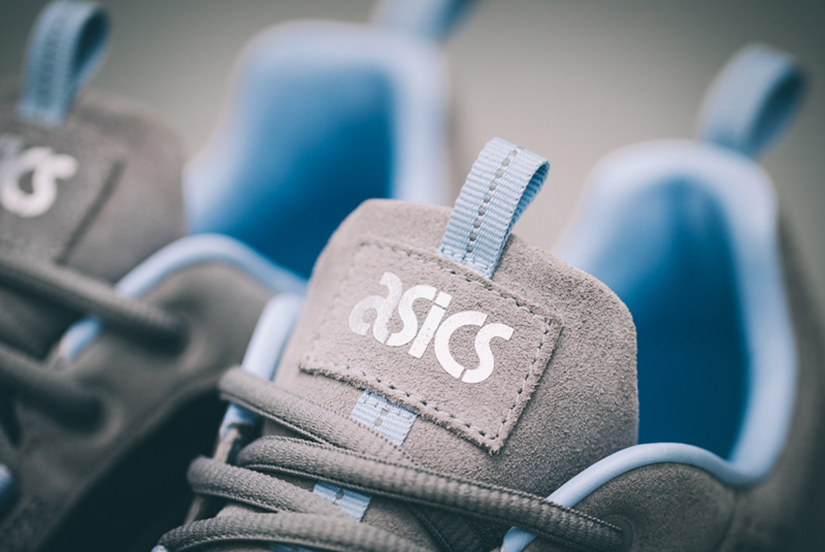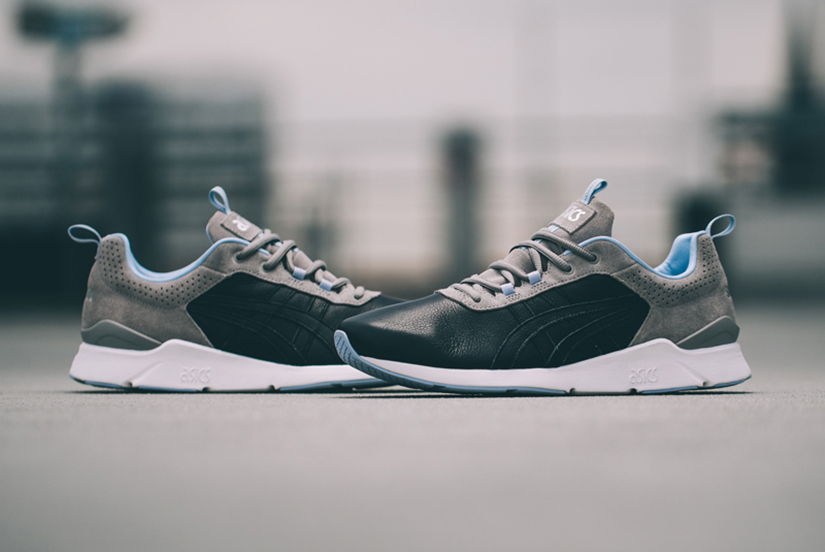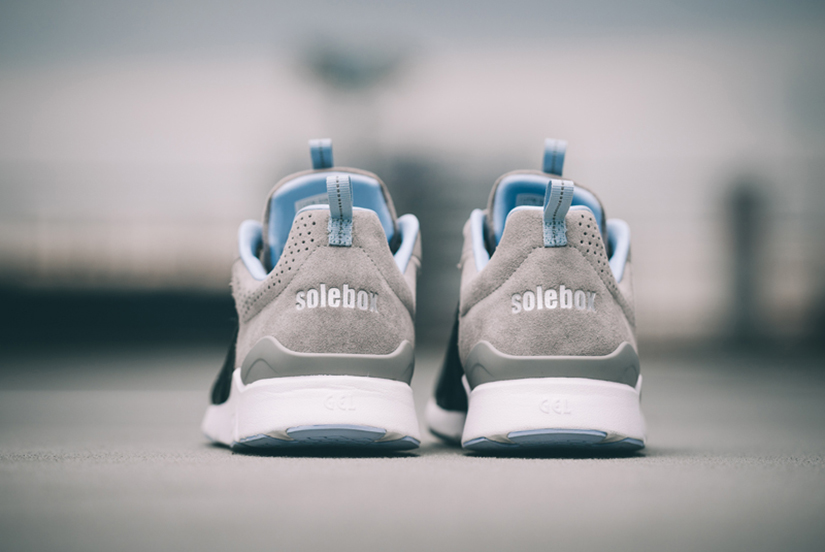 Nike Zoom Mercurial Flyknit
Launch 18th July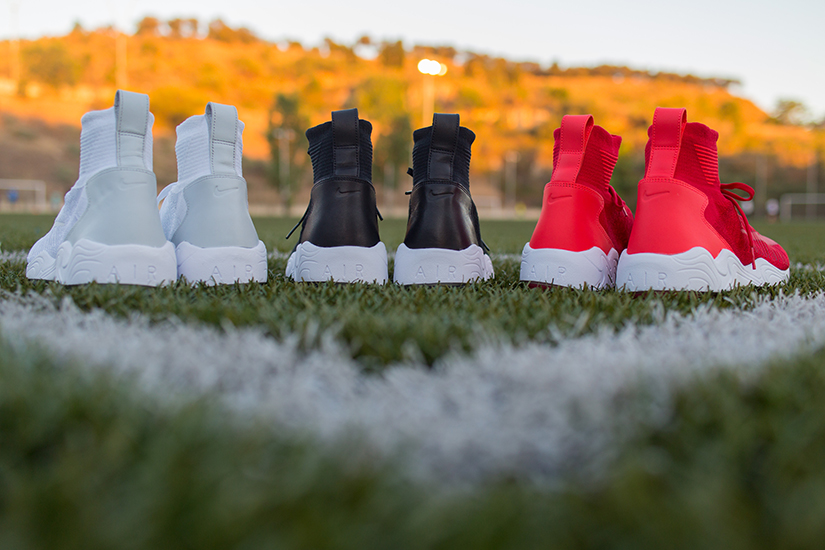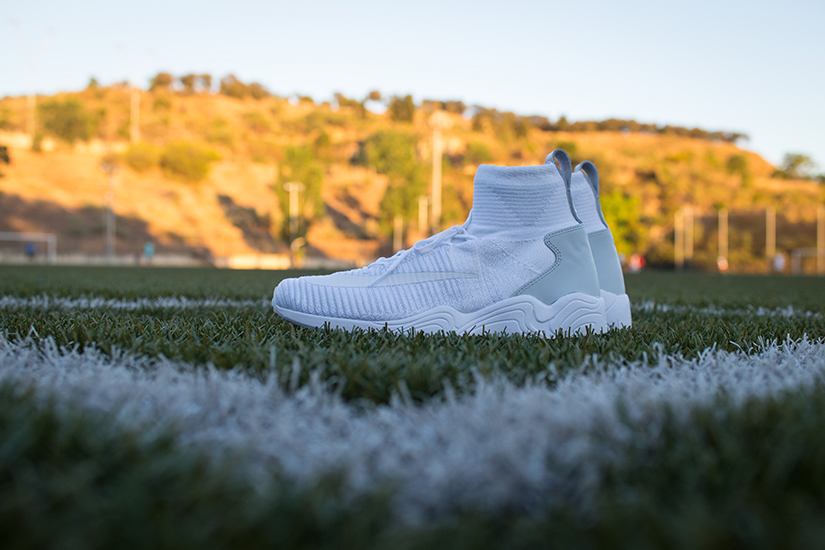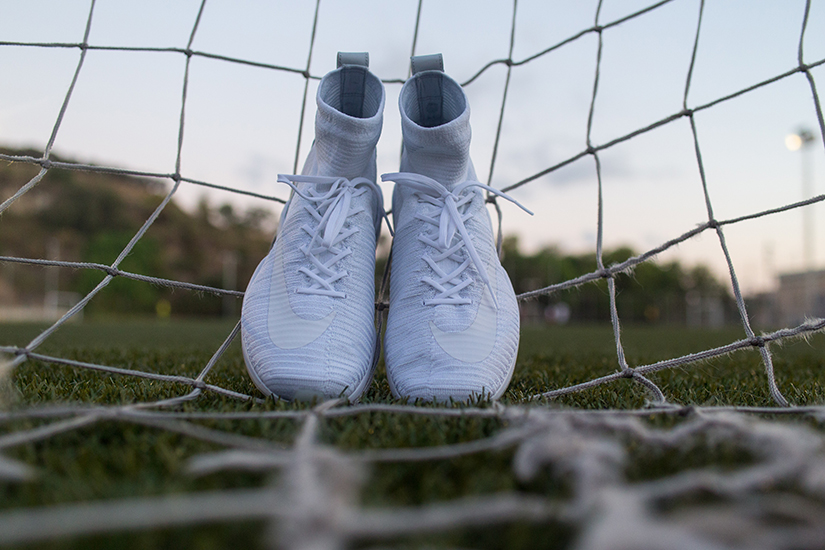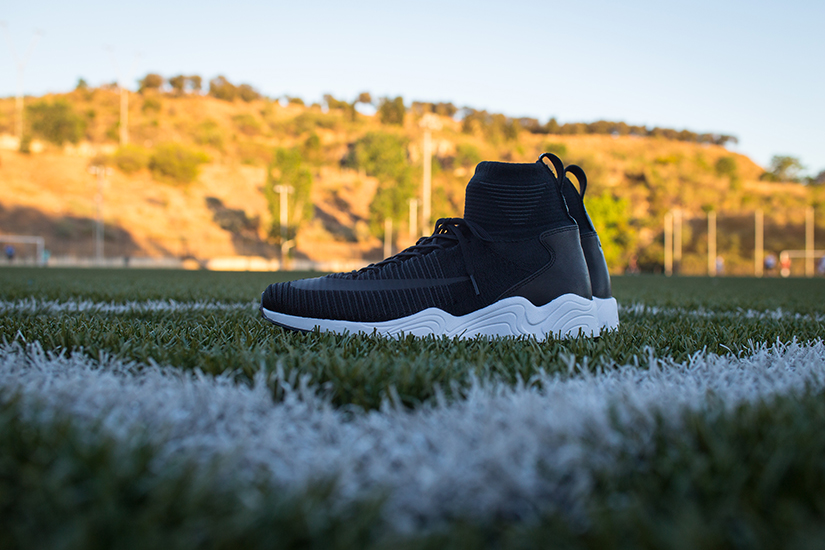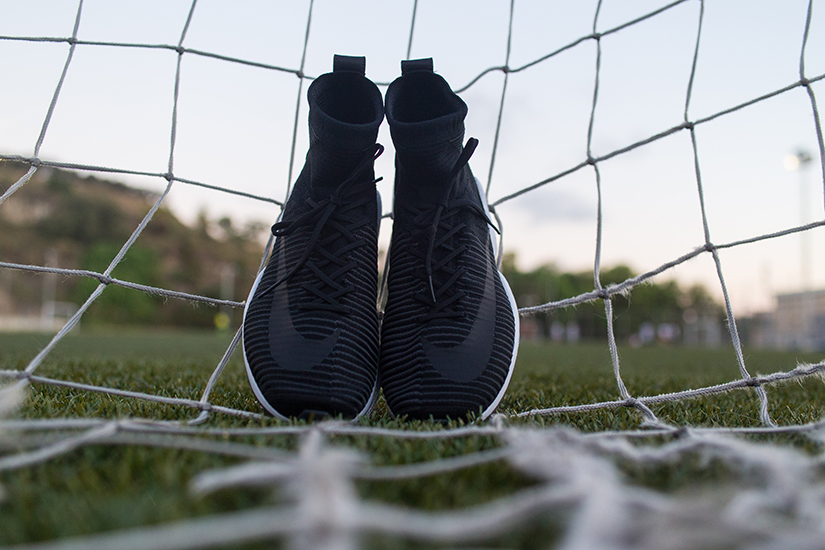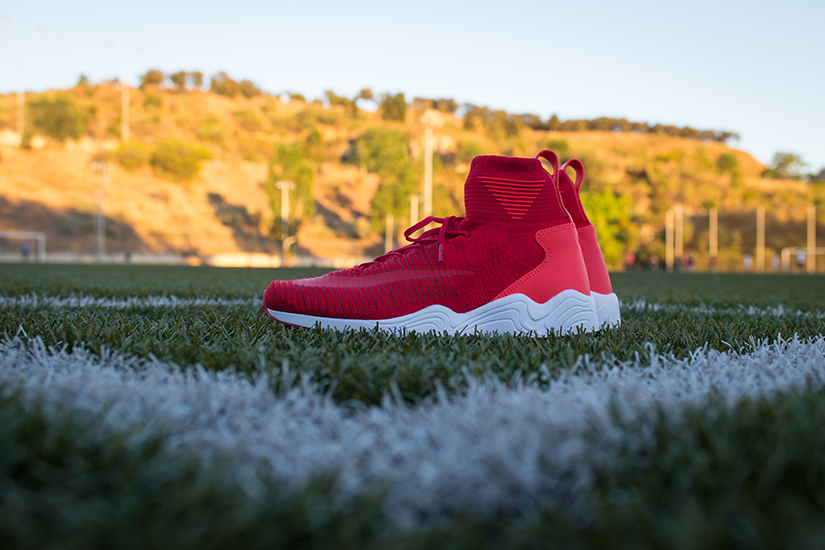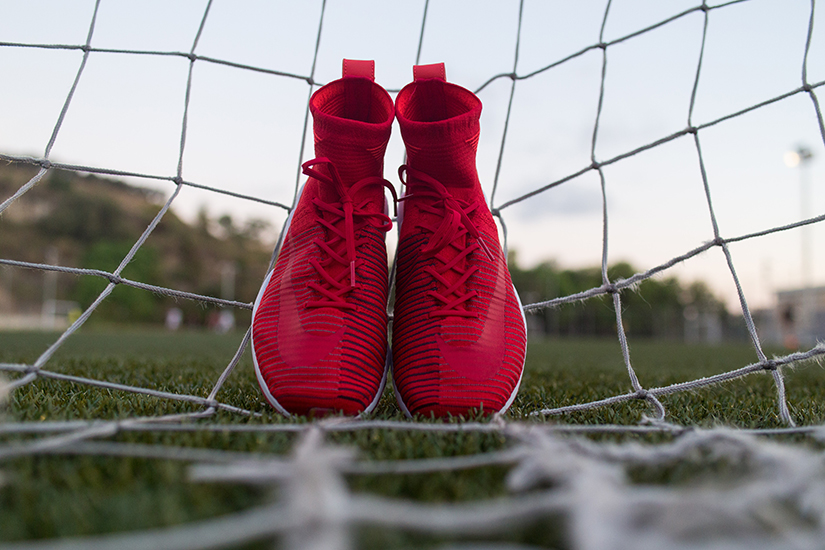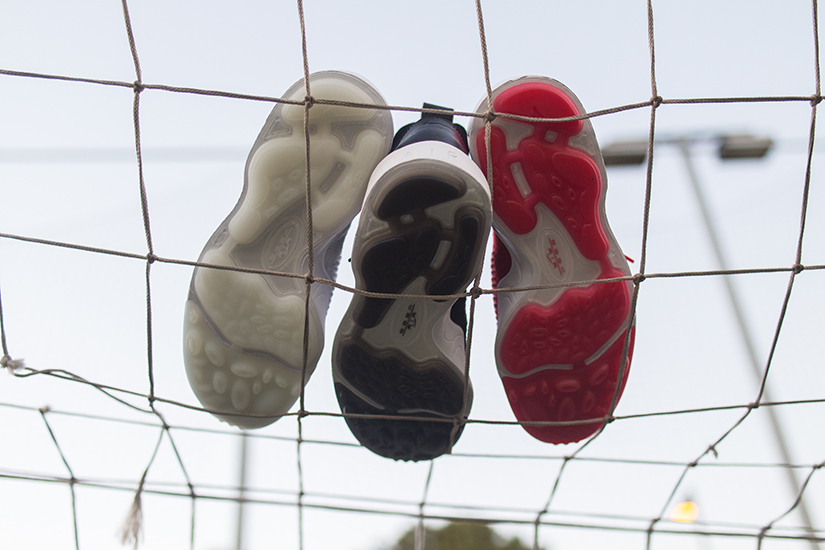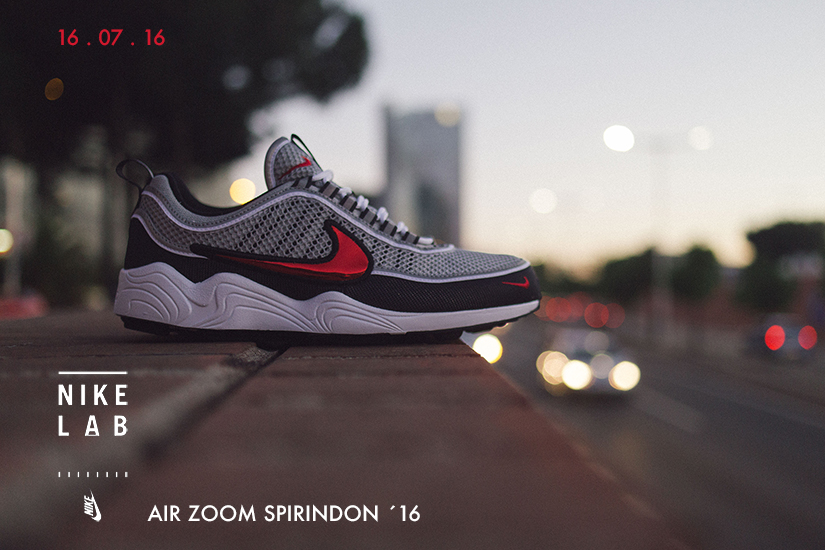 NikeLab is remastering the Nike Air Zoom Spiridon OG for 2016 that will come dressed in its original color scheme.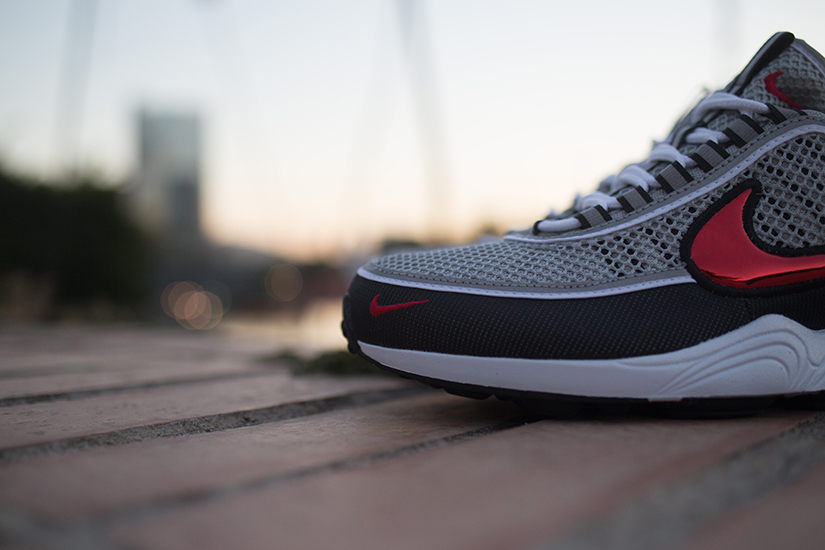 This classic Nike Air Zoom Spiridon features a full Silver Mesh upper that includes reflective detailing, Black and Sport Red contrasting accents. Finishing off the look is a shiny Red Nike Swoosh, White midsole and Black rubber outsole.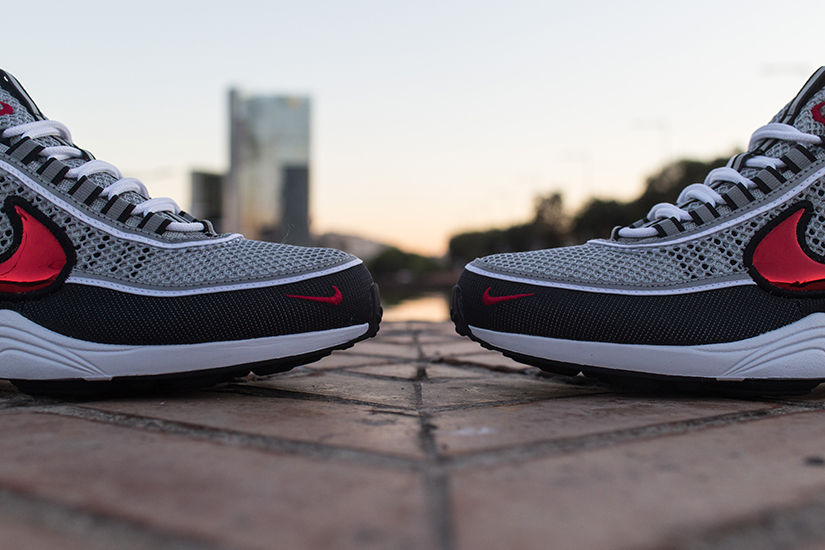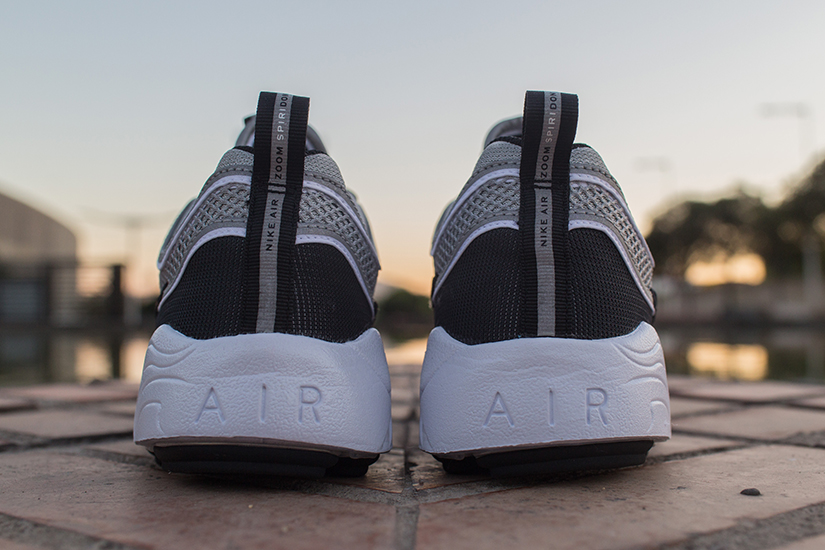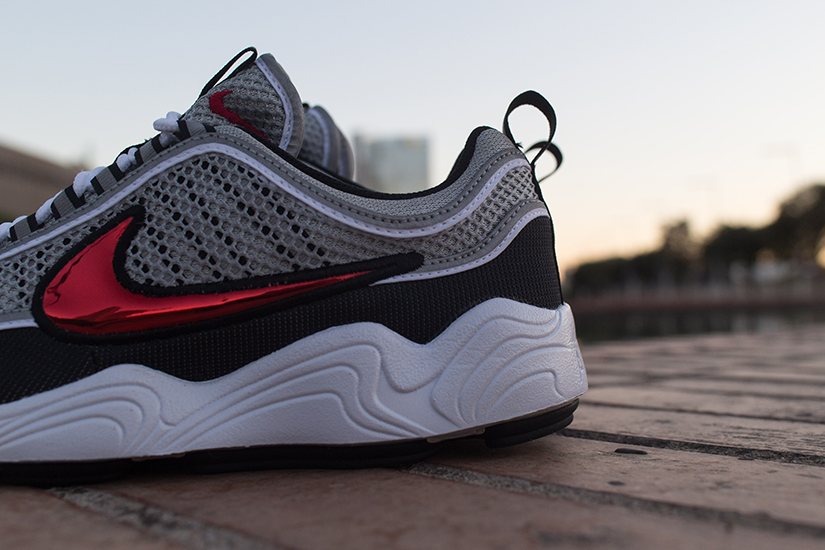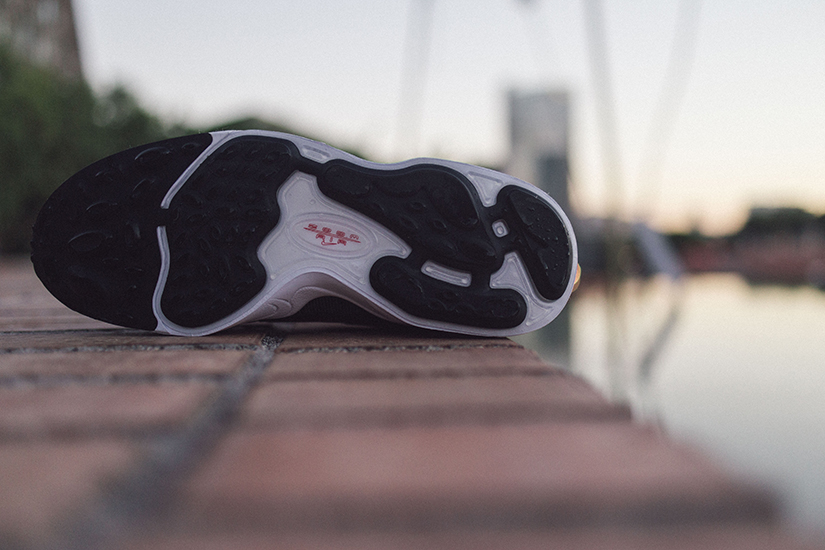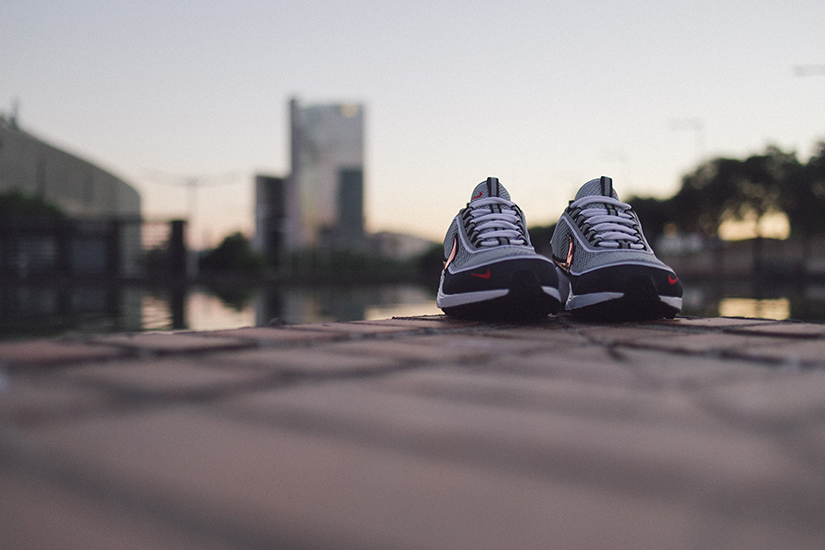 ADIDAS CONSORTIUM TOUR: SAMBA X STARCOW
16 . 07 . 16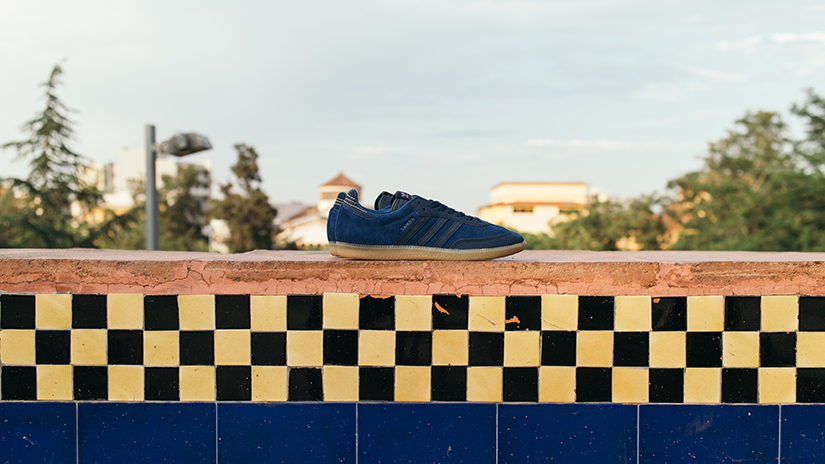 This month the Consortium Tour stays in Europe with July's stop being Starcow. After a football-fueled month, the influential and deep-rooted Parisian store reworks the vintage football sneaker – the adidas Samba – just in time for the EURO 2016 final.
Inner Paris is synonymous with sophistication and chic, but beyond the city's centre, its suburbs maintain a constant creative output. Operating beyond commercial restrictions and with truer creative freedom, the multi-culturally diverse banlieues are the areas of the metropolitan Paris where skate, football, hip hop, and wider street culture are all allowed to thrive, providing the city with its own unique grassroots culture.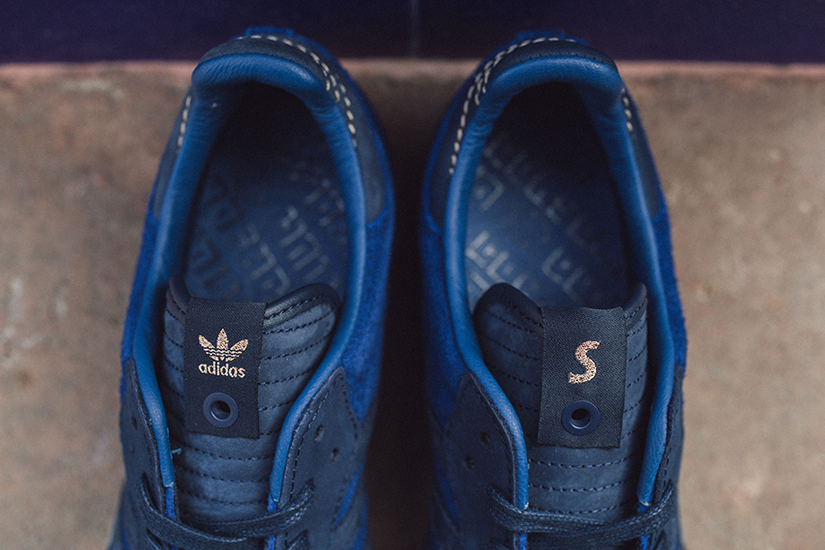 It is this kind of culture that is often fetishised and glamorised in cinema, but Starcow are true social realists, the team behind the store that originated in the city's northern suburbs have been repping Paris' urban culture for two decades. Even with their relocation to central Paris in 2001 they have maintained street credibility by staying true to their suburban roots. Starcow were there long before the hype and that is why we trust them to get it right. Here they have selected a model that sits at the crossroads of the city's suburban scenes.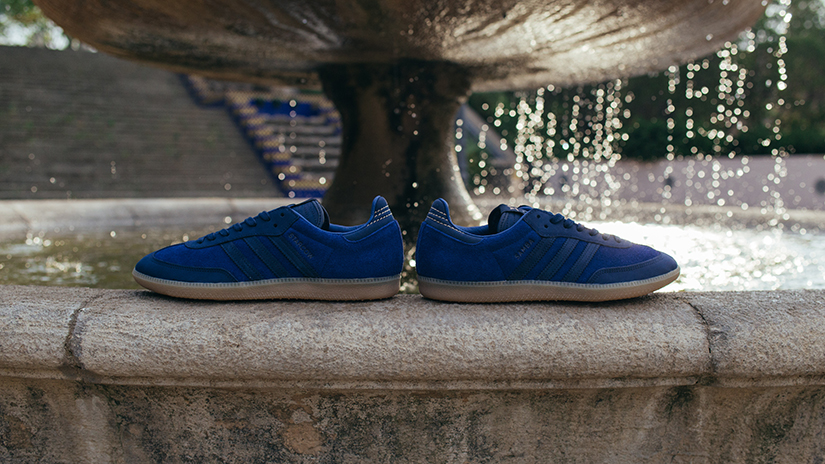 In 2016, more than at any other time, the goalposts concerning style are shifting, even in central Paris – long a high fashion stronghold – crossover is common, and Starcow, who know both inner and outer Paris well, present a stylish, refined sneaker designed for every district. A gum sole, with a deep blue leather and suede combination on the upper, on a model which has journeyed from indoor football to the street, been championed by skaters, and is now firmly in style.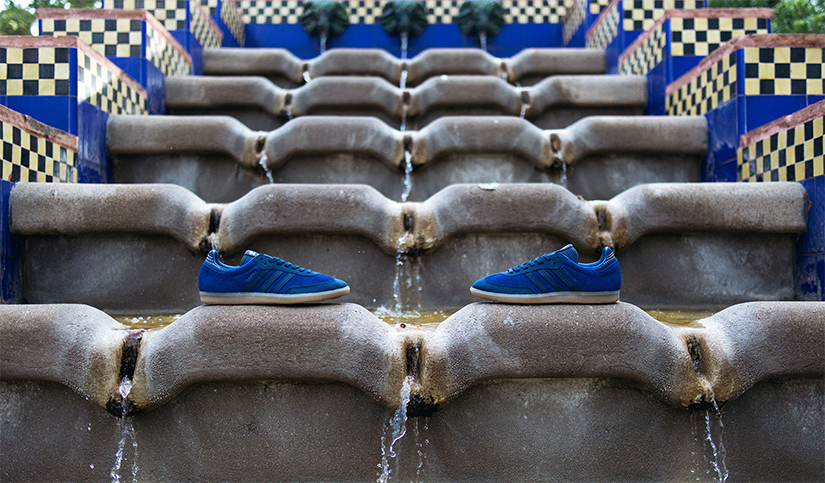 While the picture postcard version of the city often hogs the limelights, it is the Parisian suburbs where subcultures blossom.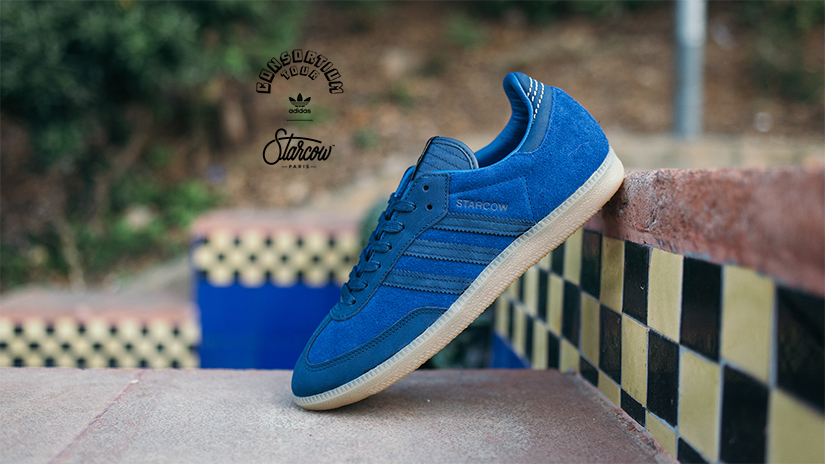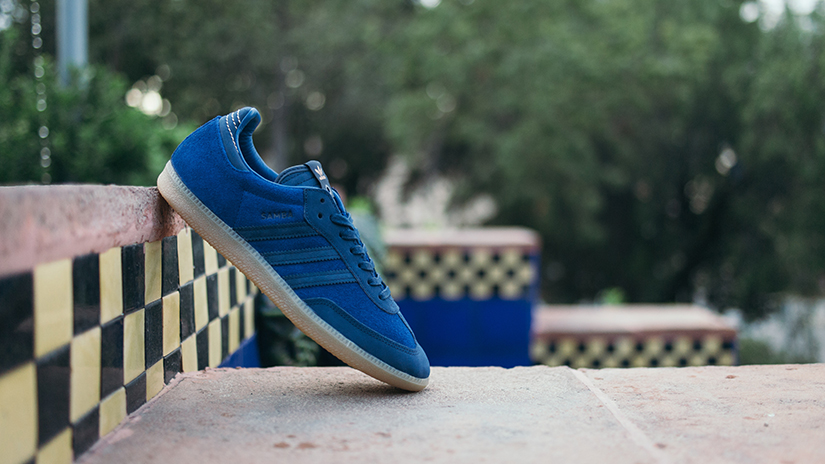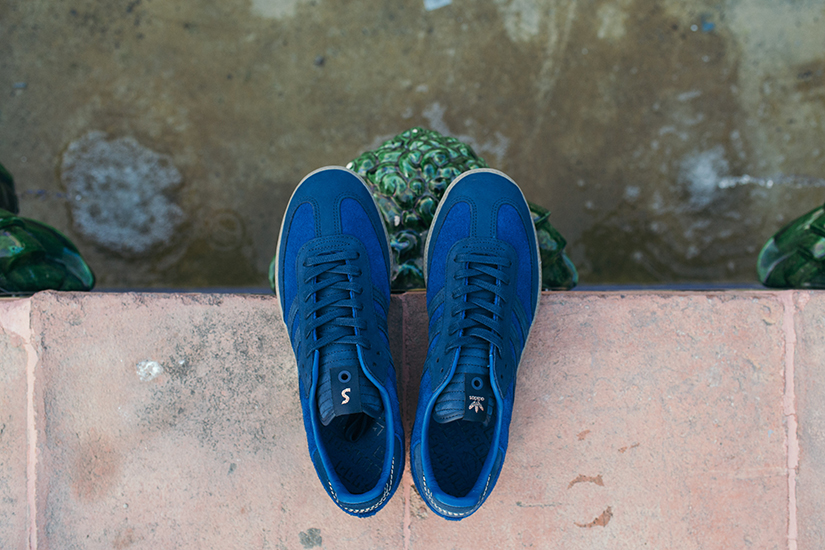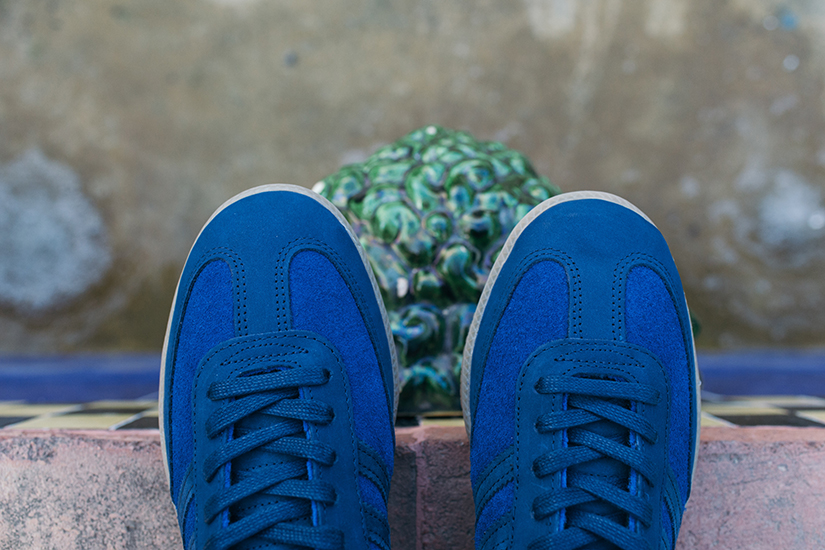 ADIDAS ORIGINALS – 999 NOBLE METALS PACK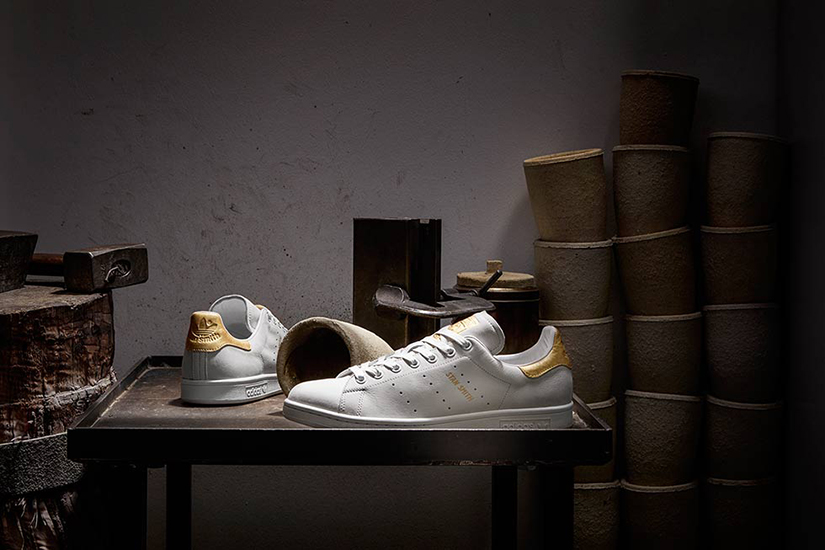 In a special release that truly embodies luxury, adidas Originals transforms two of its most iconic models with precious metal details for the limited 999 Noble Metals Pack.
In collaboration with the oldest and renowned German gold-beating manufacturer 'Eytzinger', a company based in the "Gold Leave" town of Schwabach, each pack feature 167 years of craftsmanship experience and excellence. The first in a series of releases featuring precious metals, the 999 Pack features exclusive editions of the Stan Smith and Rod Laver models. Each shoe is elevated with 999 gold details on the tongue and heel-tab. Blending two classic 3-stripes silhouettes with generations of manufacturing tradition, the 999 Pack encapsulates the adidas Originals philosophy — everyday icons with unparalleled elegance.
The Adidas Stan Smith 999 & Rod Laver Pack is now available at LimitEDitions.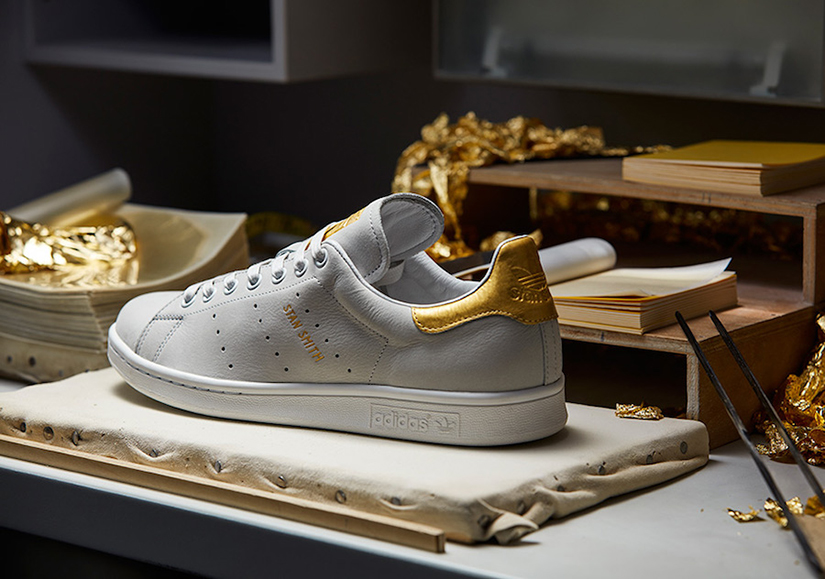 Adidas Stan Smith 24K
S80506
Vintage white S15 - Matte Gold
Launch Friday 15th July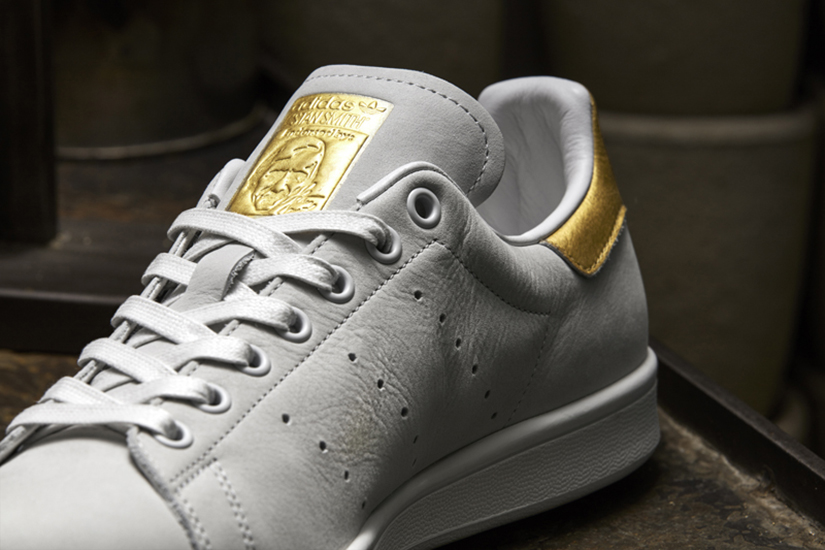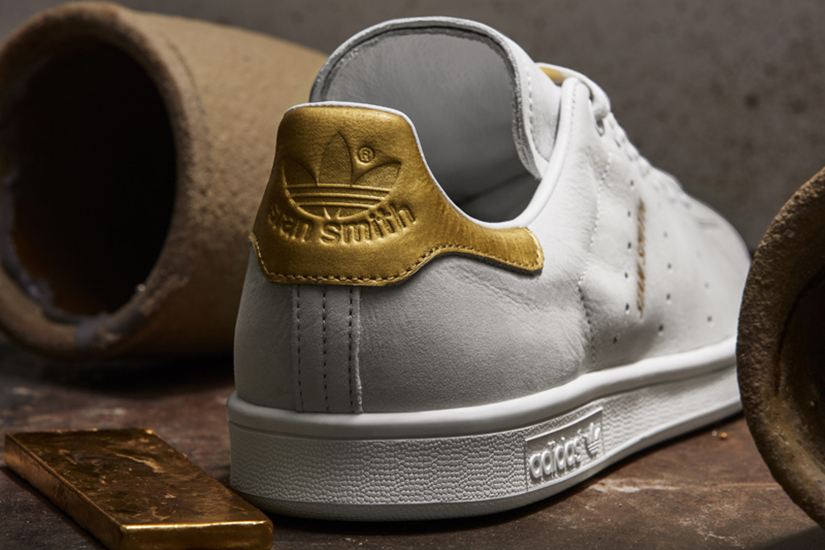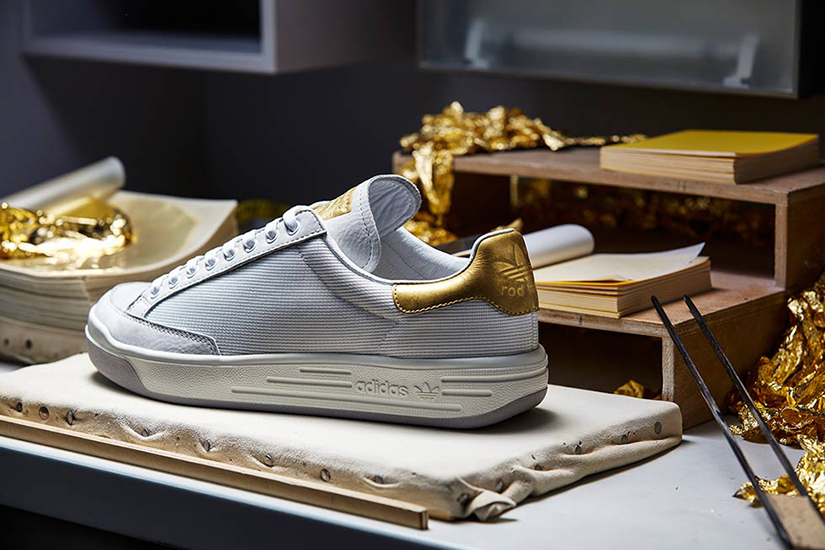 Adidas Rod Laver Super 24K
S80511
Vintage white S15 - Gold Met.
Launch Friday 15th July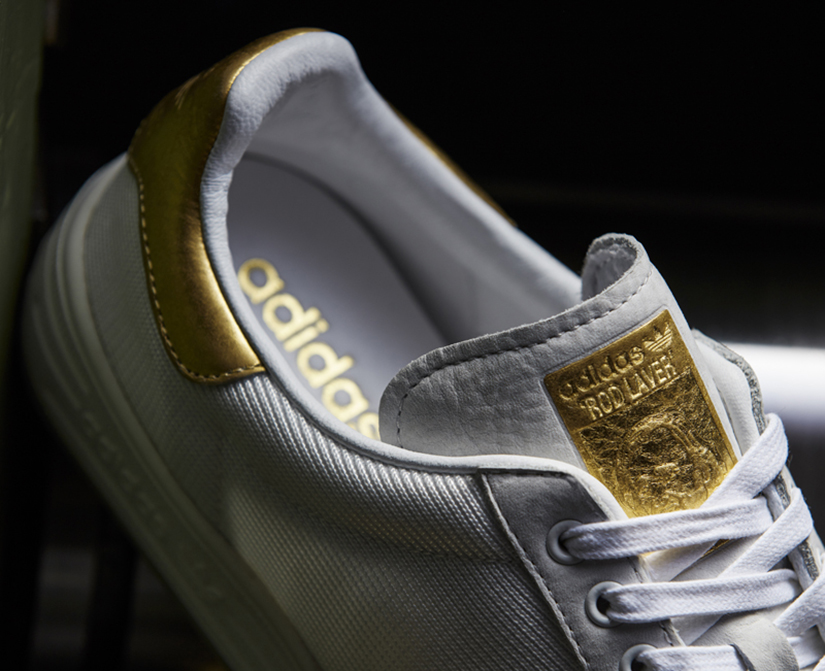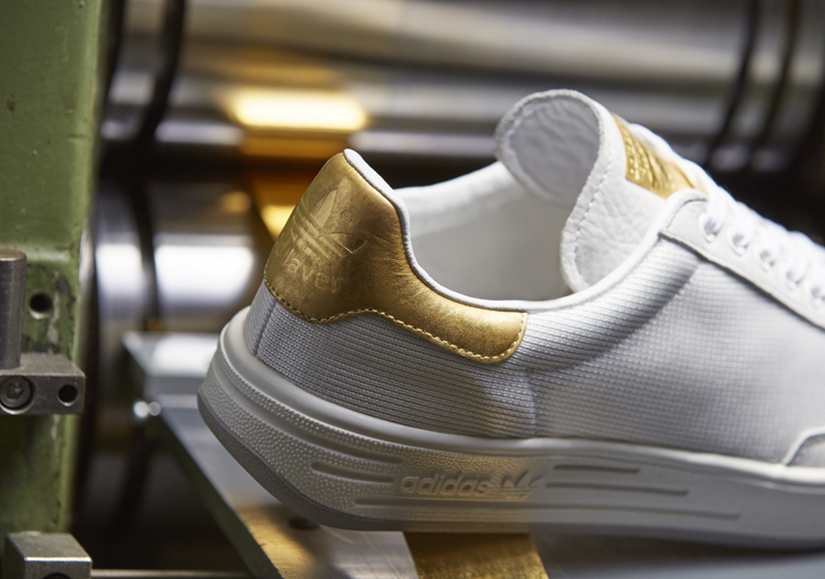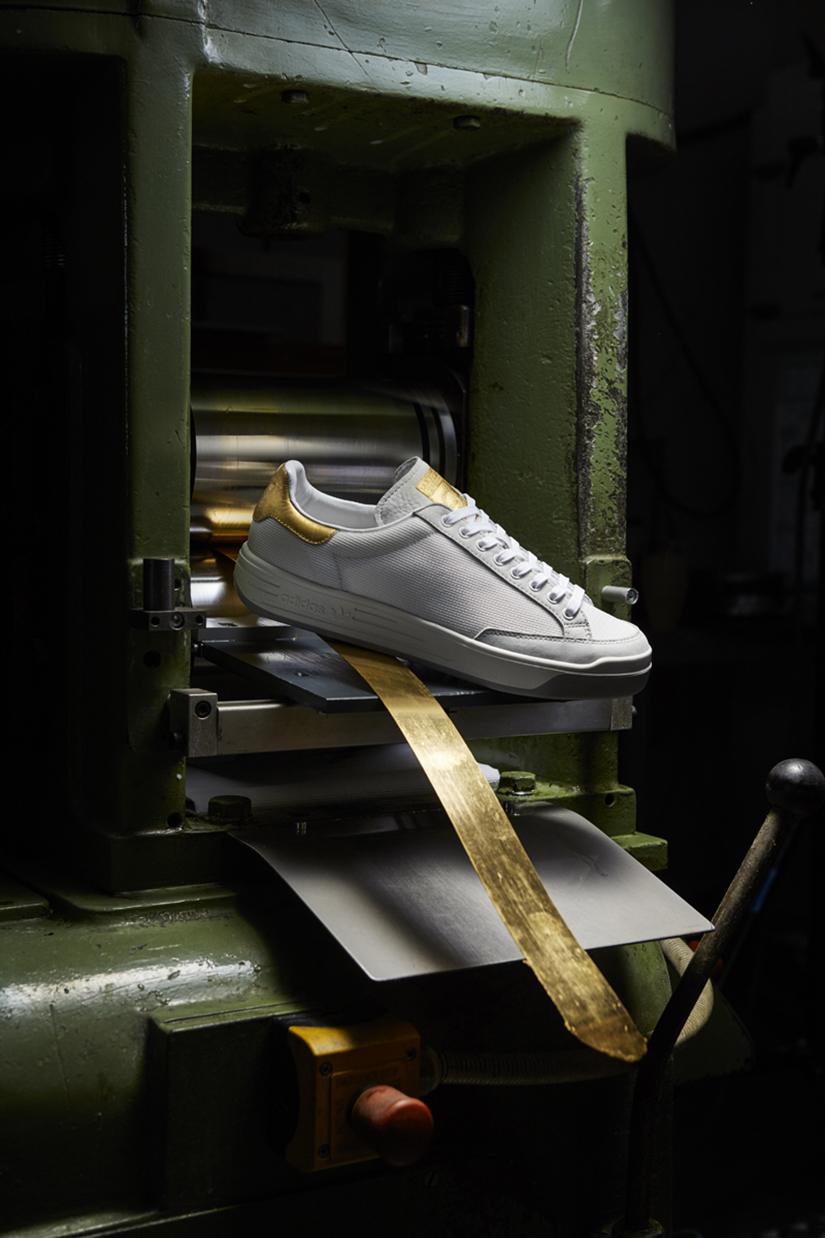 Nike Sock Dart KJCRD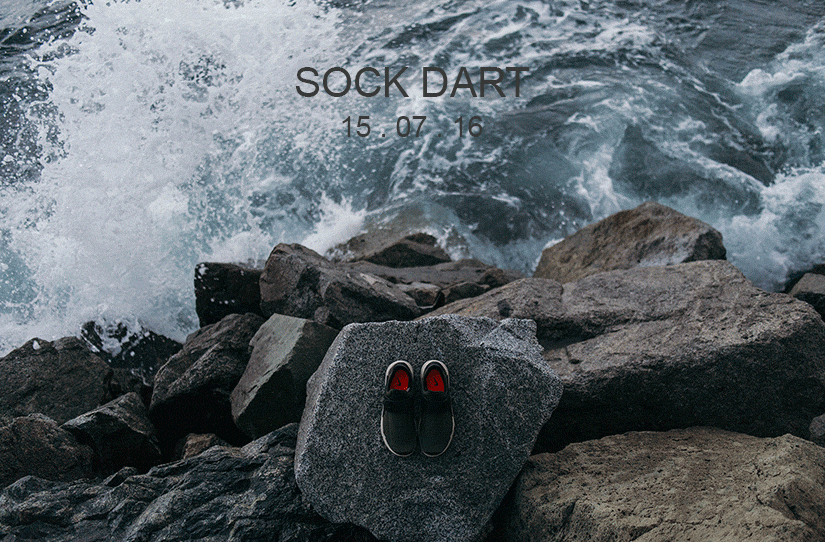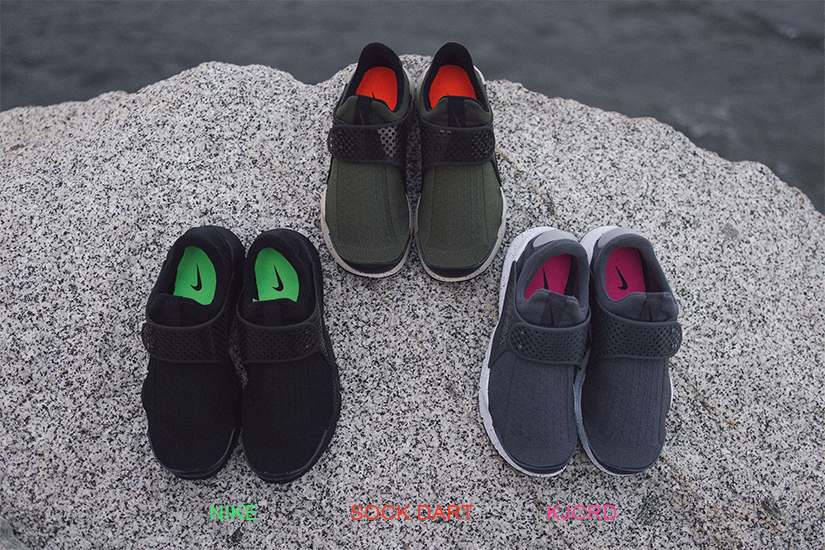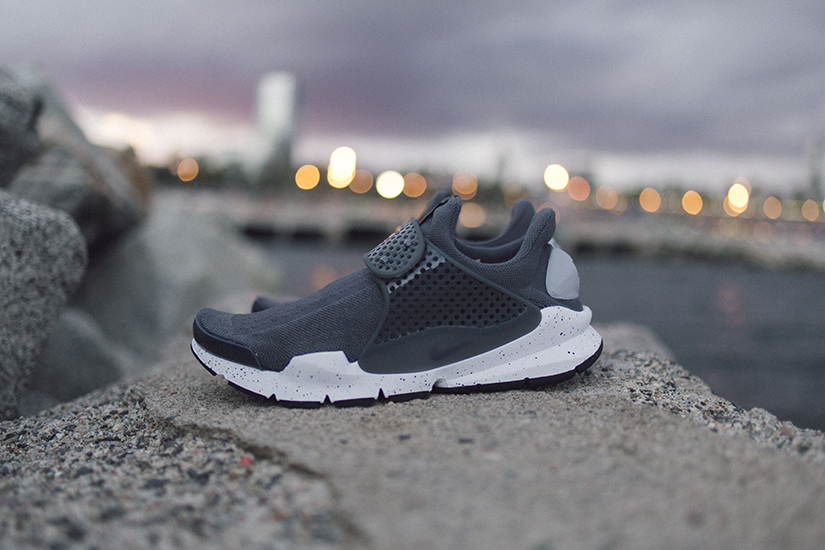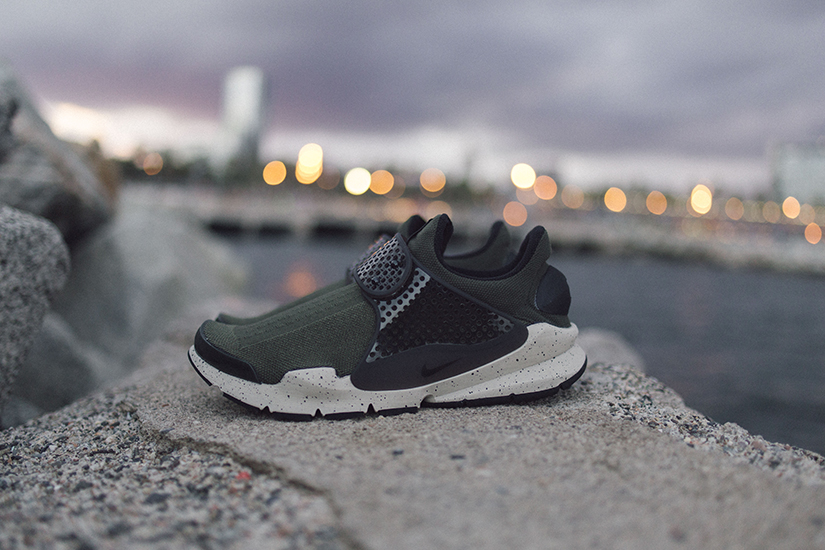 NIKELAB AIR SAFARI ROYAL
14 . 07 . 16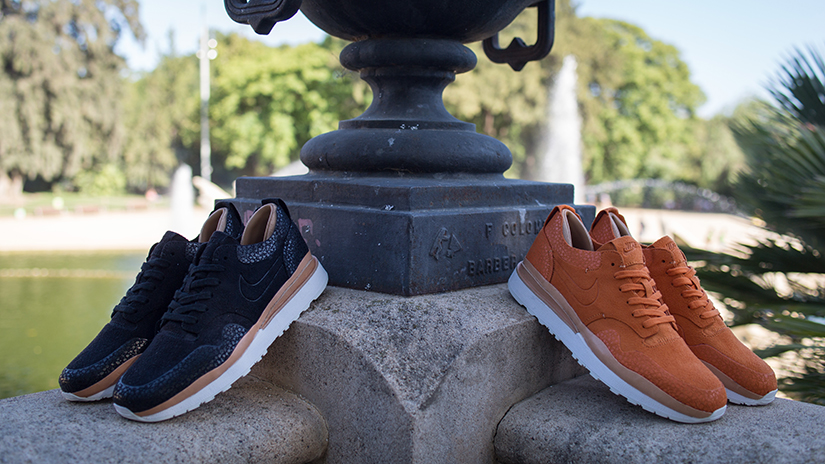 Nike has updated the 1987 era Air Safari with a Royal build that it describes as "remastered and modernised". The contemporary aesthetic for for the retro sneaker actually has a very traditional shoe look. The blend of sporty, traditional and modern is done in synthetic layers of suede "with minimal seams" with safari detailing appearing on the ankle, heel and toe. Two colorways are offered at the moment with one coming in Black and the other in Russet (orange). Both have been completed with Vachetta Tan detailing on the inner liner and midsole as well.Mounted on a rubber sole, the sneaker is cushined with Nike Air and memory foam.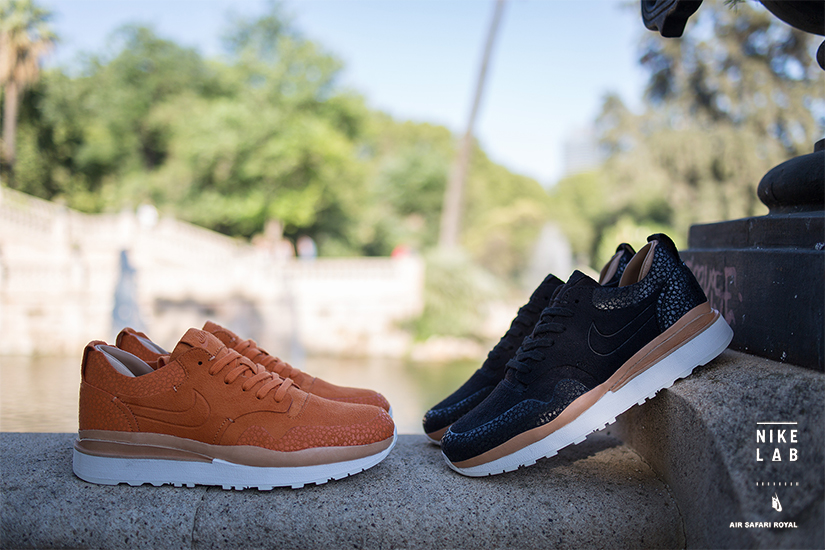 The kicks are now available in a choice of orange or black at limitEDitions.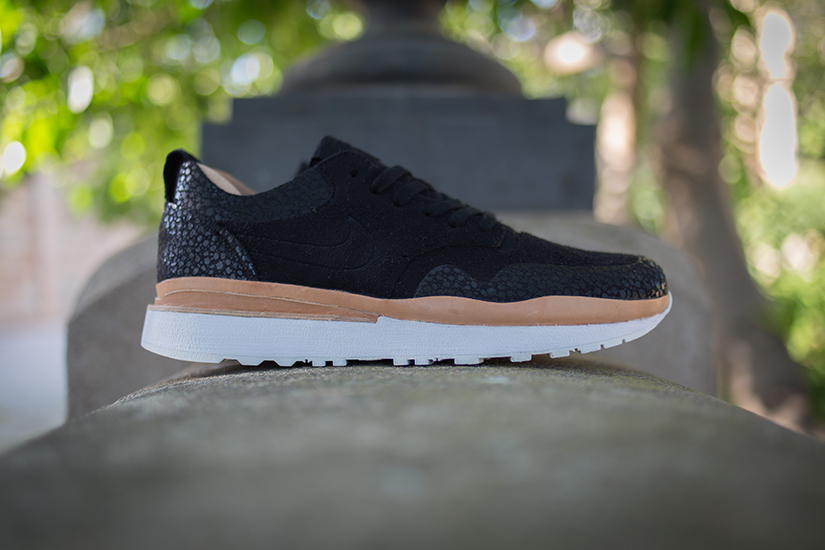 NikeLab Air Safari Royal
872633-001
BLACK/BLACK-VACHETTA TAN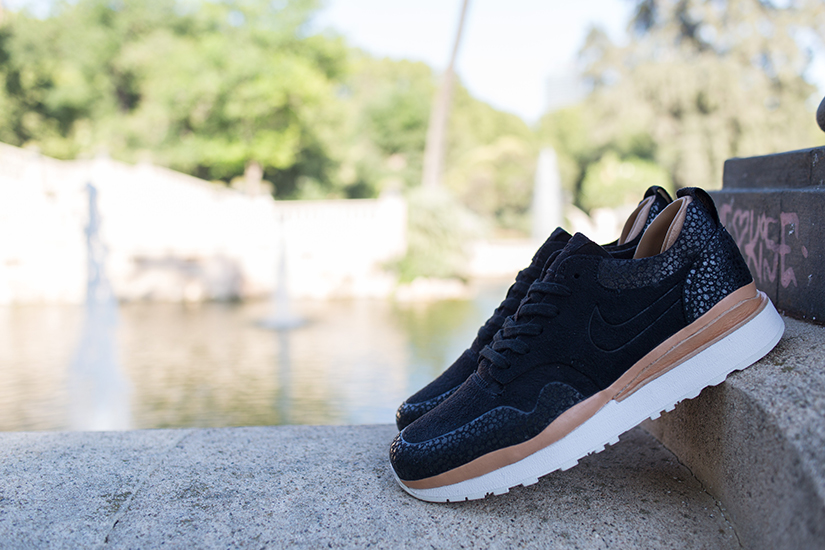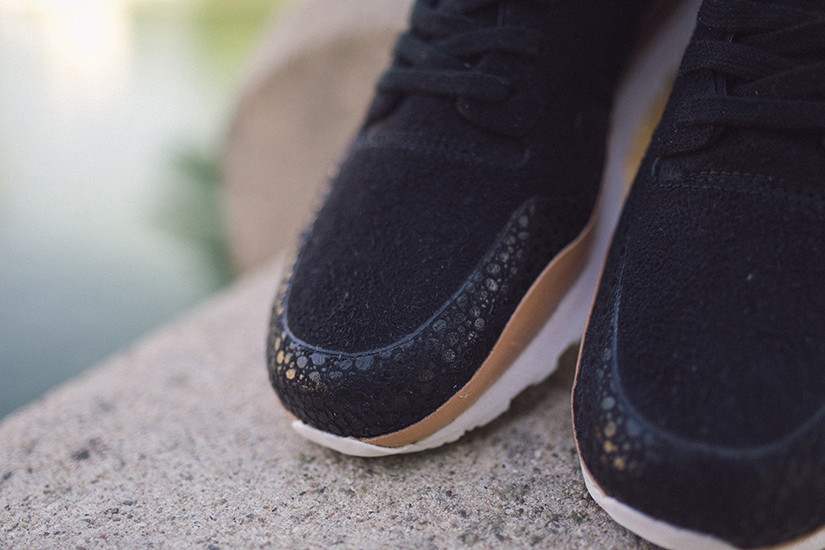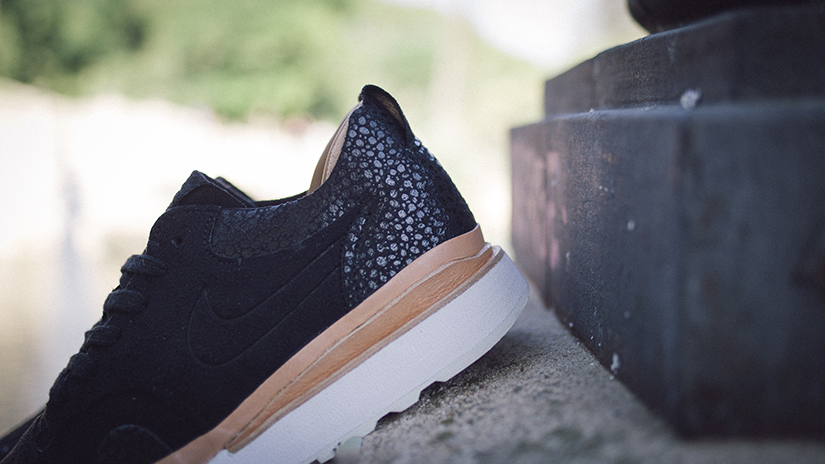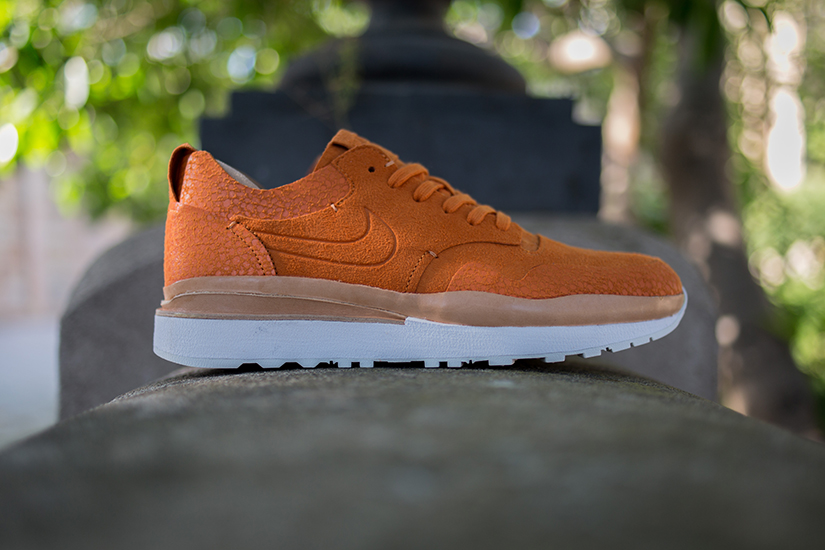 NikeLab Air Safari Royal
872633-200
RUSSET/RUSSET-VACHETTA TAN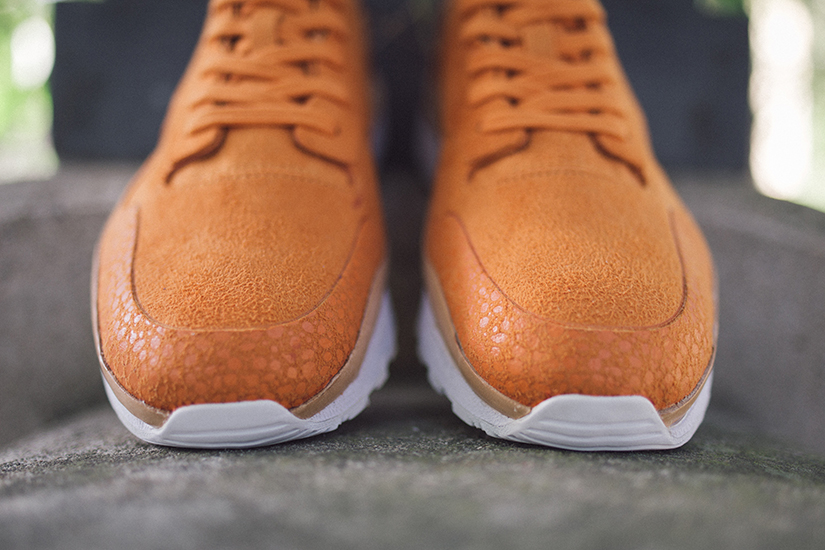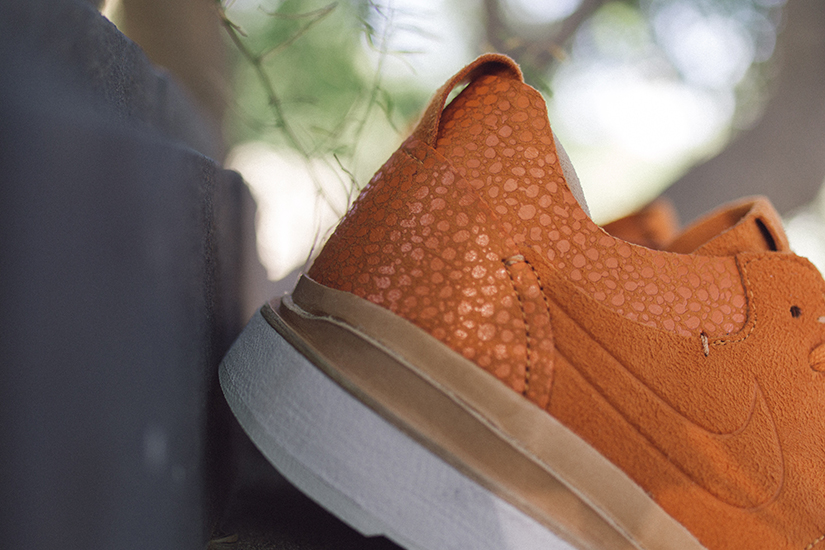 Diadora N.9000 x Extra Butter "Giallo"
Launch 9th July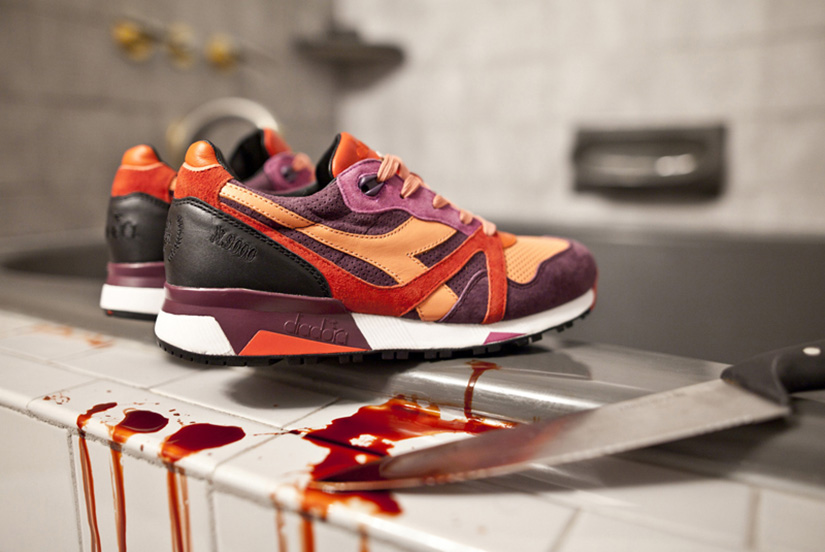 Extra Butter's first collaboration for Diadora saw them pay homage to one of their favourite movie genre's, the Italian directed spaghetti western. Now for the sequel they've paid homage to another Italian film staple: Giallo.
The 20th century film genre is known for its slasher and horror themes, which translate well on this Diadora N9000. The entire silhouette is covered in varying hues, mixing shades like persimmon, sangria, and blood red on a premium suede and leather base.
These made in Italy sneakers will come packaged in a special box with a hangtag and two extra sets of laces.
The Extra Butter x Diadora N9000 "Giallo" will be released next Saturday, July 9th at limitEDitions .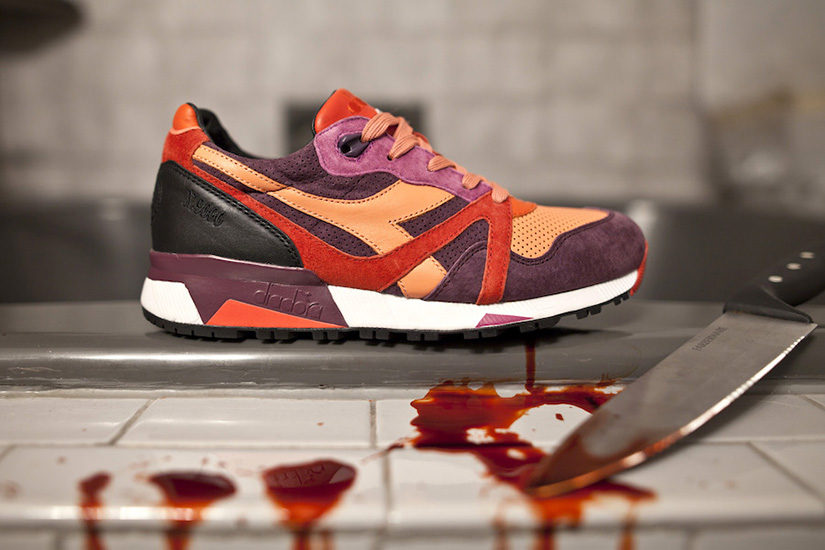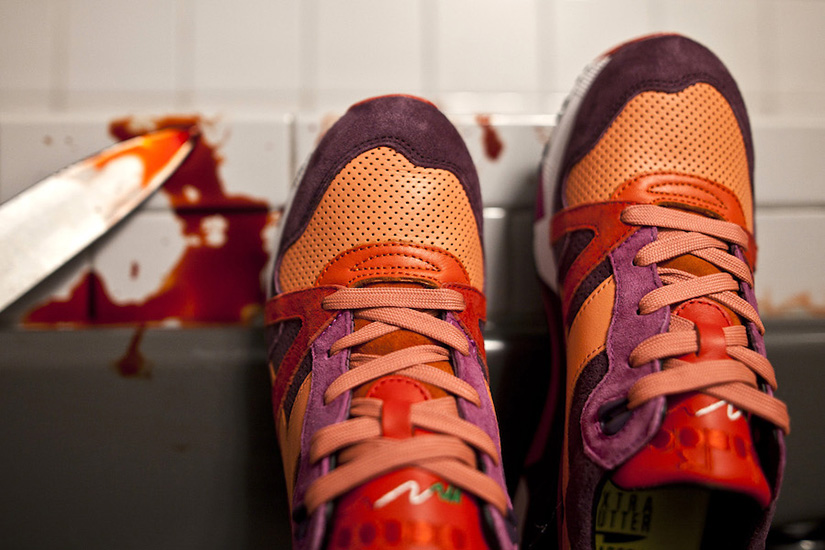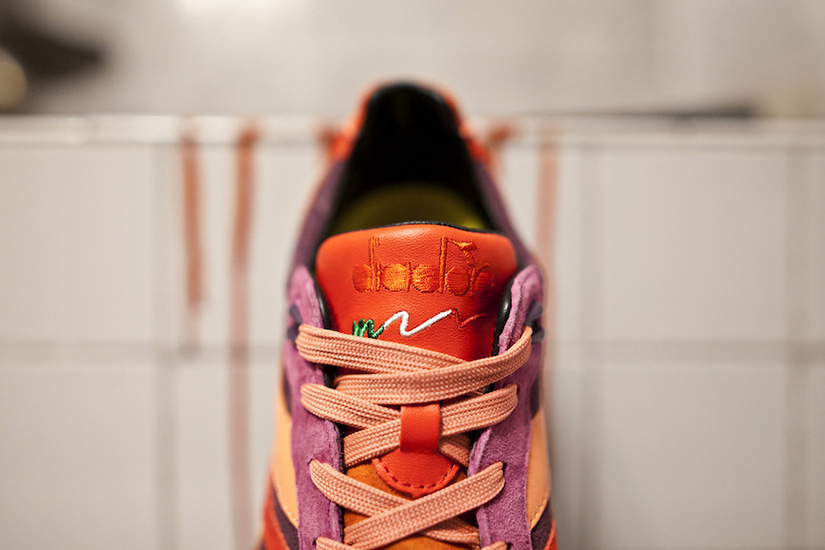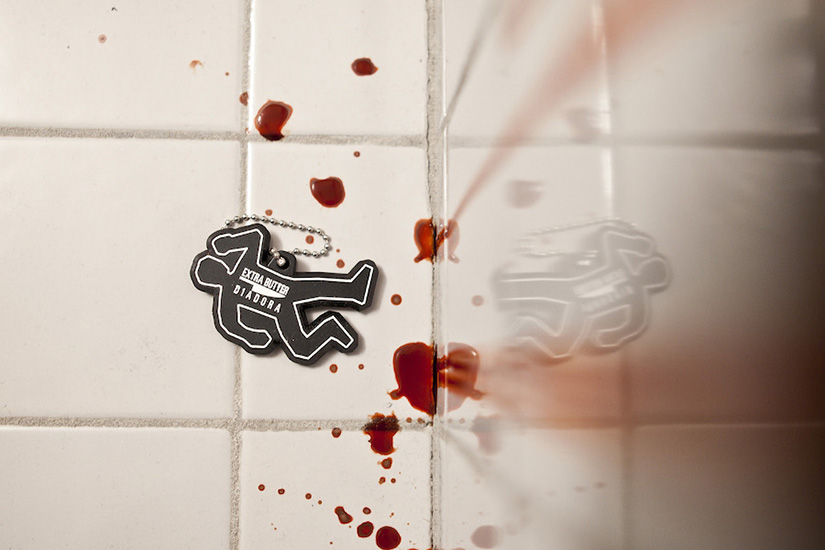 Asics Gel "Tanabata" Pack
Launch 7th July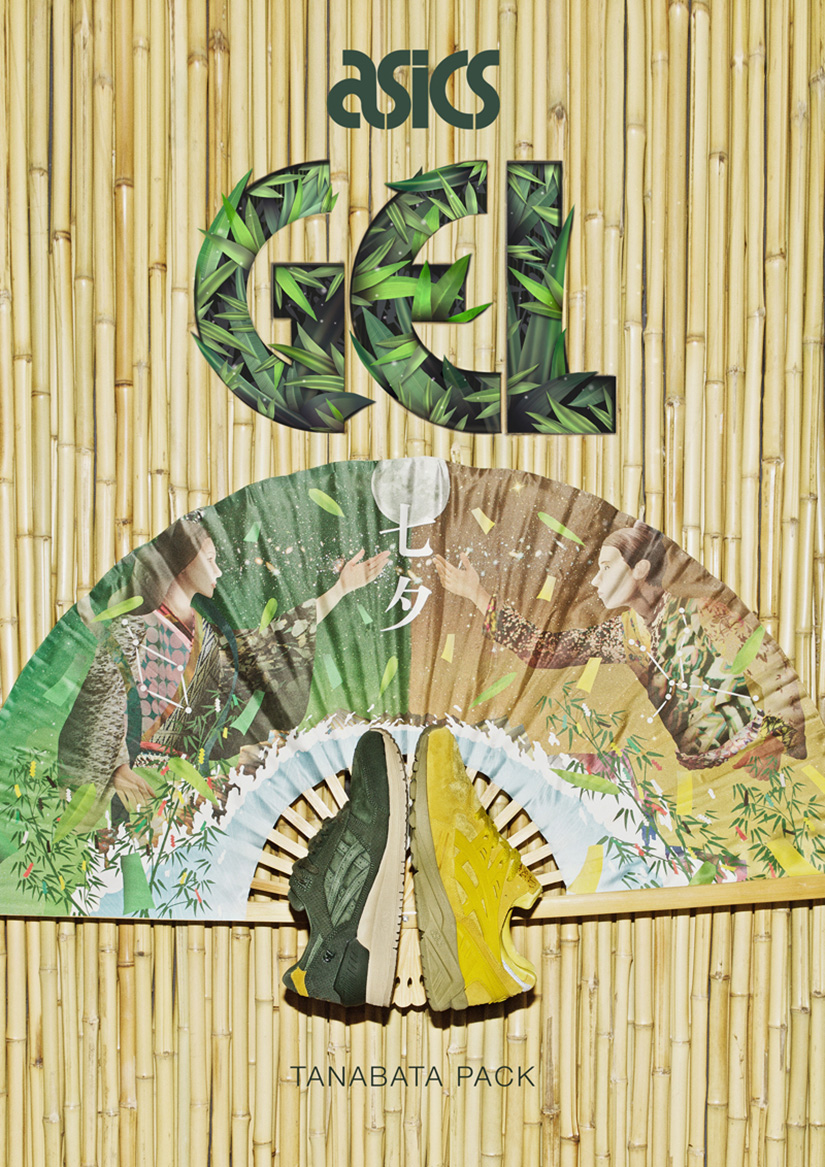 The traditional Japanese story of Tanabata tells of a forbidden love between a princess, named Orihime, and a cow herder called Hikoboshi. Eventually the two were separated and only allowed to see each other on the seventh day of the seventh month. Nowadays on July 7 people around Japan celebrate Tanabata, also known as the Festival of Stars.
To celebrate this year, Asics have put together a release containing a Gel-Kayano Trainer and a Gel-Respector. The Gel-Kayano features a mustard coloured upper, with a woven texture added its suede panels, to represent the expert weaving of Orihime. The Gel-Respector has a moss green upper adorned with hairy suede as a nod towards the Hikoboshi and
his cows. Both feature custom insoles, Tanabata is written in Japanese on that of the Gel-Kayano, while a stylised image is featured on the Gel-Respector.
The Asics Gel "Tanabata" Pack will be available next Thursday, July 7th at Limiteditions.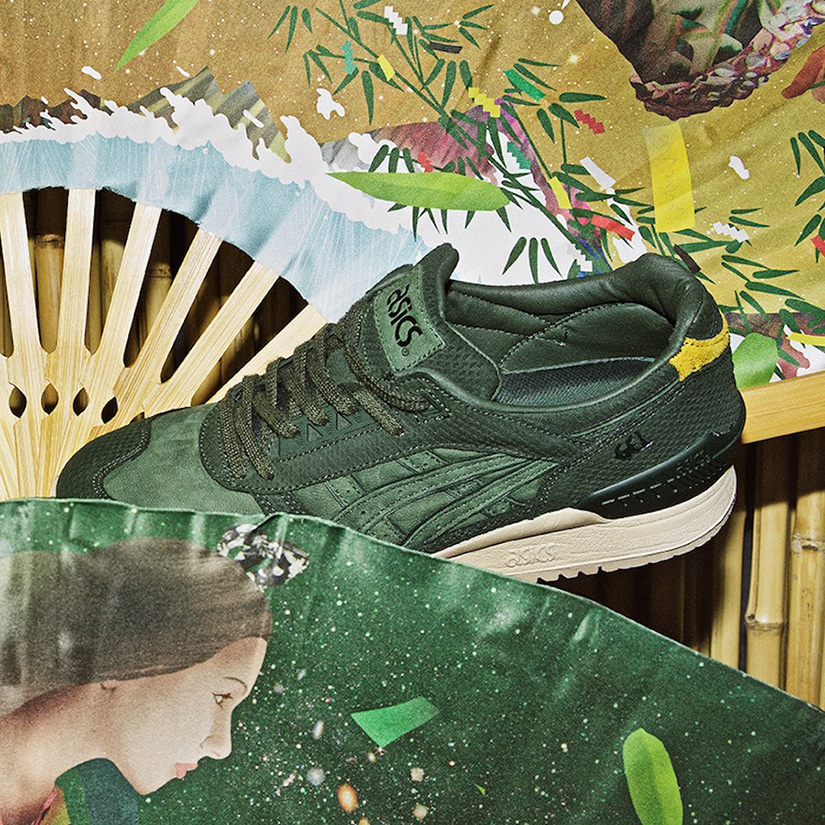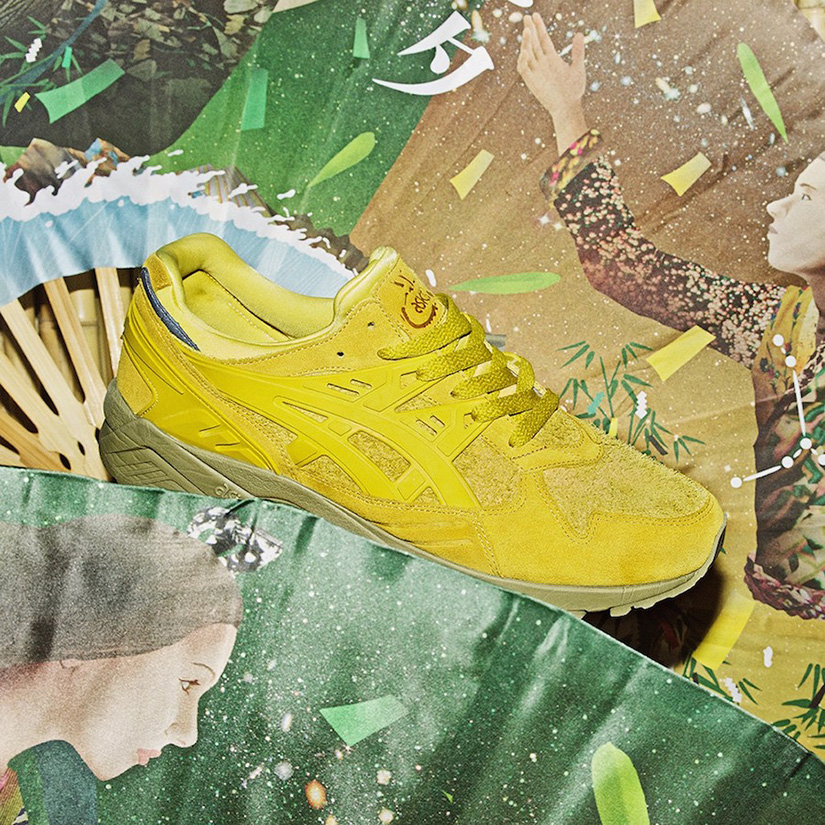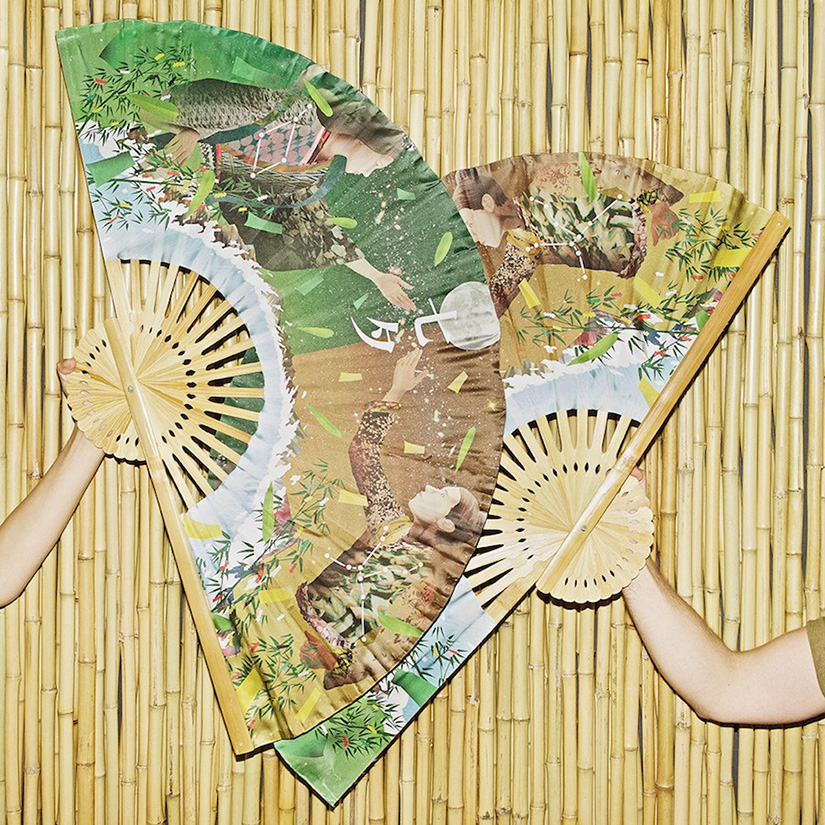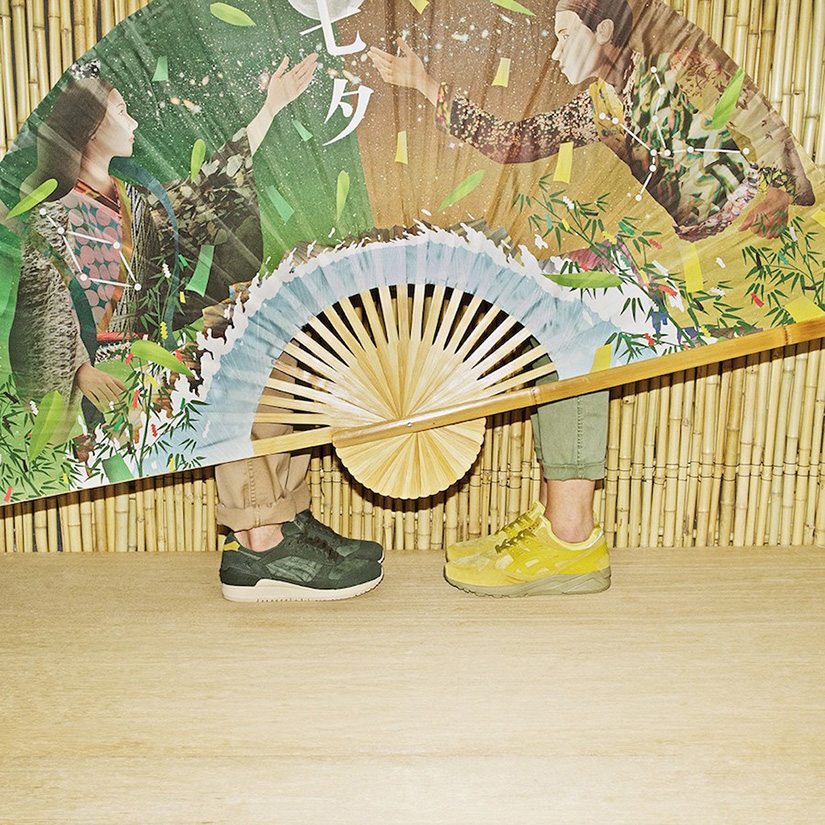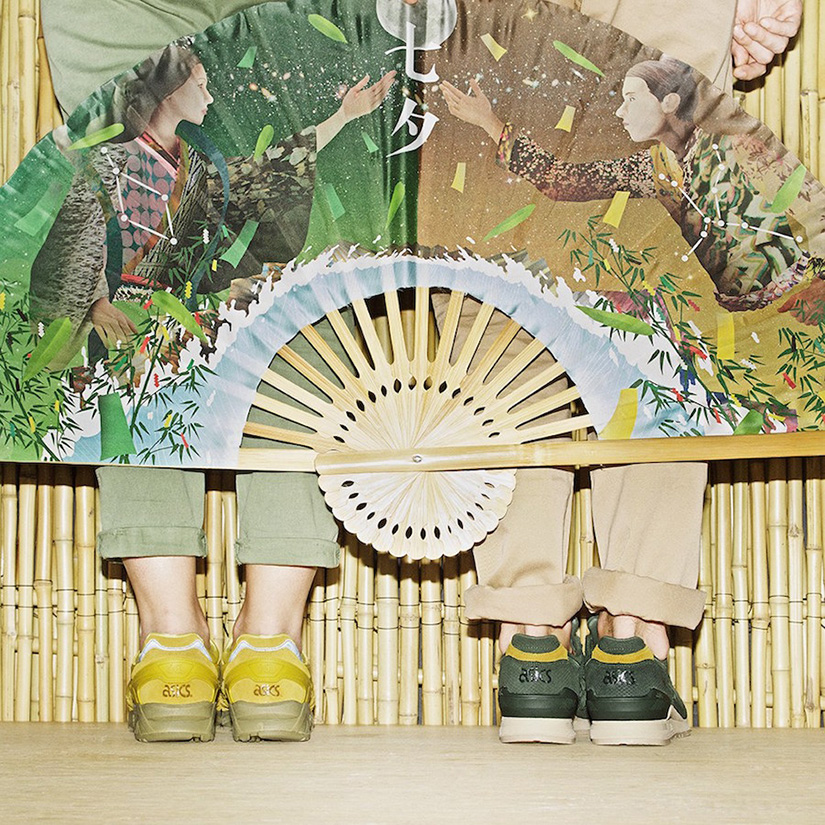 ADIDAS CONSORTIUM TOUR: TUBULAR NOVA X SLAM JAM
02 . 07 . 16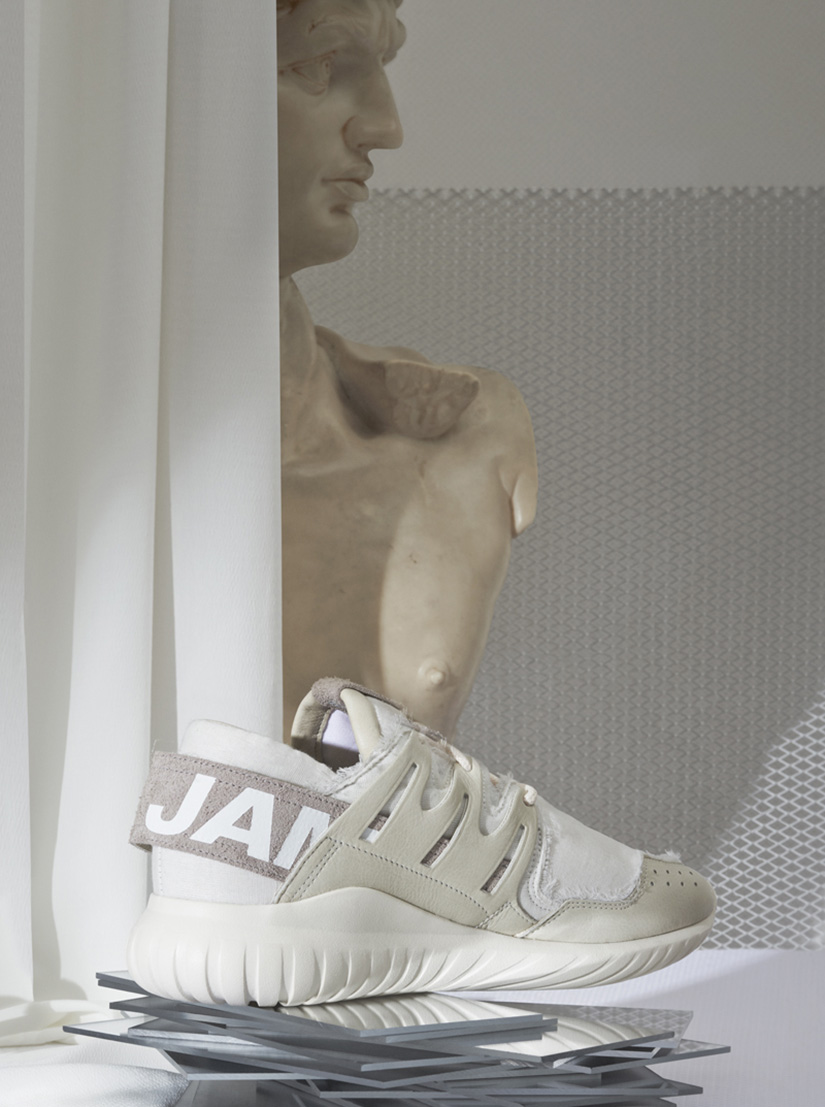 This June, the Consortium Tour returns to Europe with Italian streetwear royalty Slam Jam reworking an adidas model. Its twist on the Tubular Nova plays with the relationship between old and new in a refreshing way.

Slam Jam was founded in Ferrara, Northern Italy, in 1989. Since then the company has boldly championed urban clothing and footwear. While fashion retailers are sometimes been lured towards streetwear during peaks in popularity, and other streetwear retailers have drifted away from their roots, Slam Jam have remained consistent and stuck to its guns. It has paid off, 27 years on from its conception, Slam Jam remains one of Europe's respected names.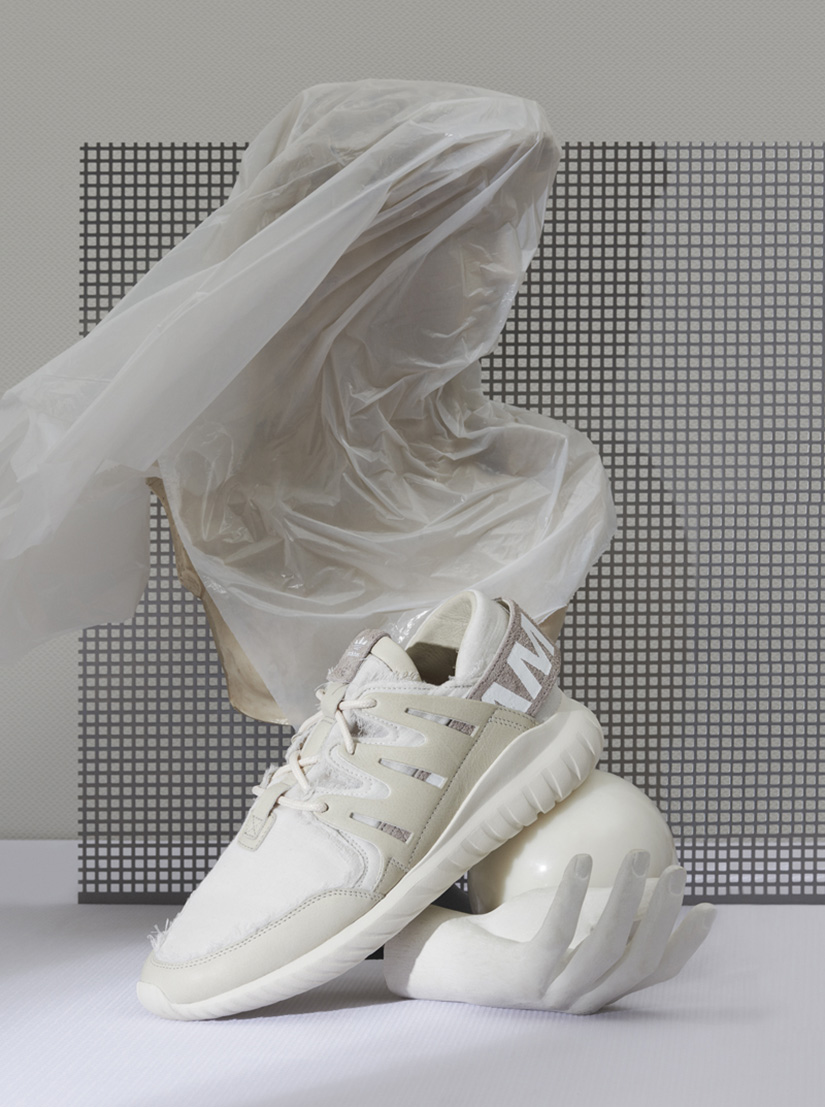 Slam Jam's home city Ferrara dates back to the Italian Renaissance and is still surrounded by 16th century city walls. Ferrara has UNESCO World Heritage status, protecting and preserving it from change. During the 20th century, the city was subjected to industrial development and urban transformation. With its roots in an ancient city and an ultra-modern retail presence in Milan, one of Europe's leading fashion capitals, Slam Jam was always going to deliver something interesting, aligning the best from both worlds.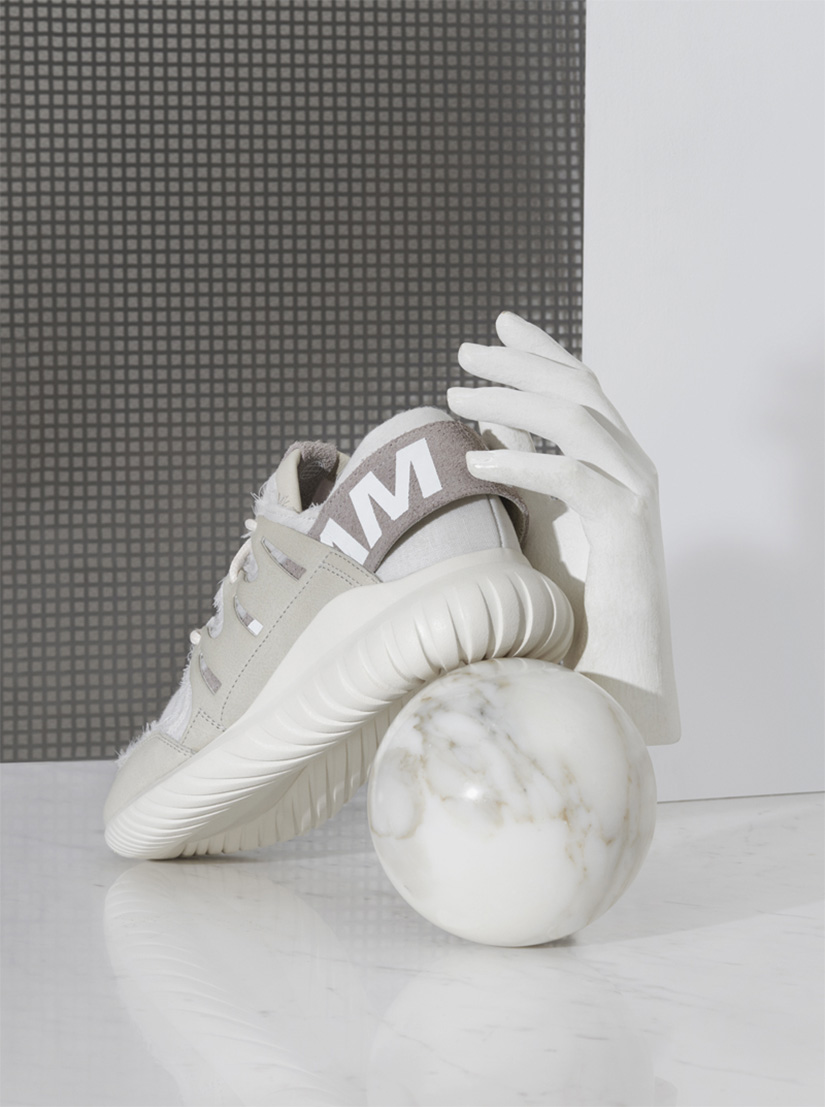 While collaborators often pluck a model from the past and propel it into the present via contemporary construction and materials, the team at Slam Jam has opted to subvert the method. Instead, it has selected the Tubular Nova, a shoe first released in 2016, and through materials have distressed it, aged it; toying with the principles of the Originals line.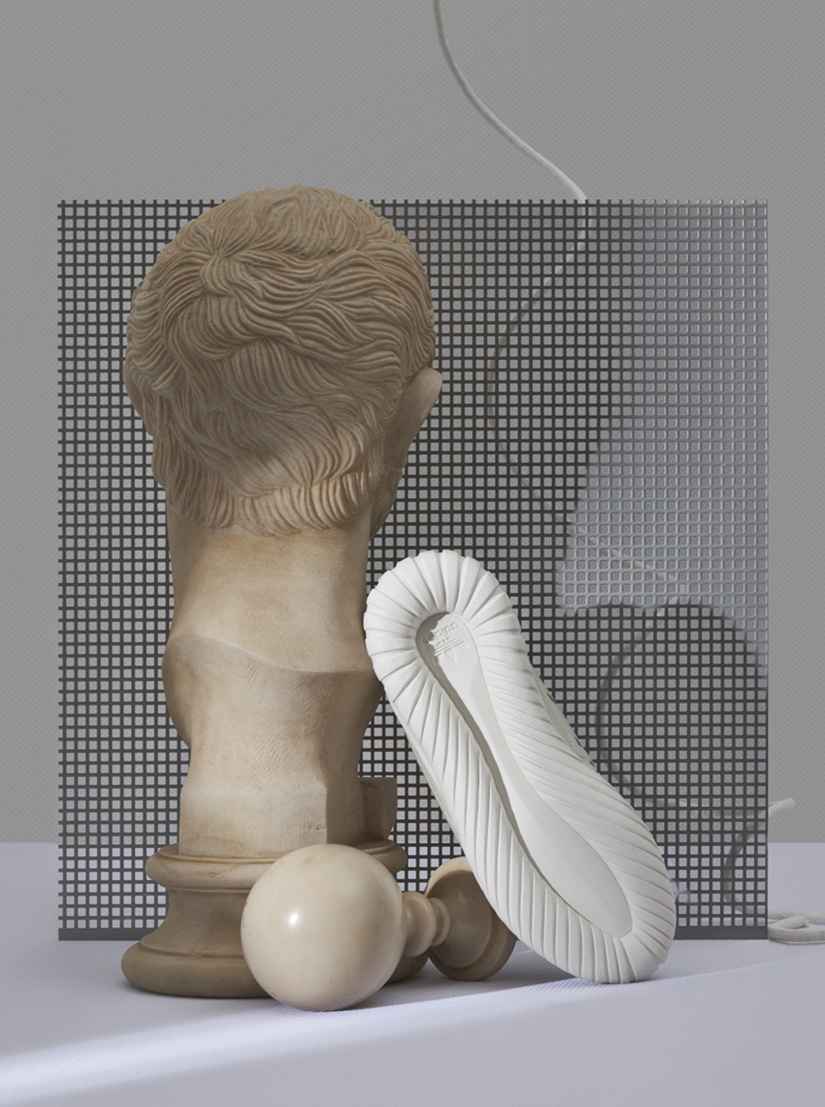 From a distance, the light colorway sits slickly alongside other clean, contemporary models, but closer inspection reveals the subtle detailing. Rather than a hyper modern synthetic they have gone for a traditional muslin and premium leather. Through slight distress around the shoe's front panelling and deliberate creasing to the leather at the tip of the tongue, Slam Jam are having fun with the concept of the heritage sneaker. Unafraid to be flaunting, the shoe's heel strap roars their name in block capitals.
Often streetwear is forward-oriented, concerned with the exuberance of the future rather than the weight of the past. The Slam Jam Tubular Nova explores the relationship between heritage and reinvention through a new, and unconventional lens.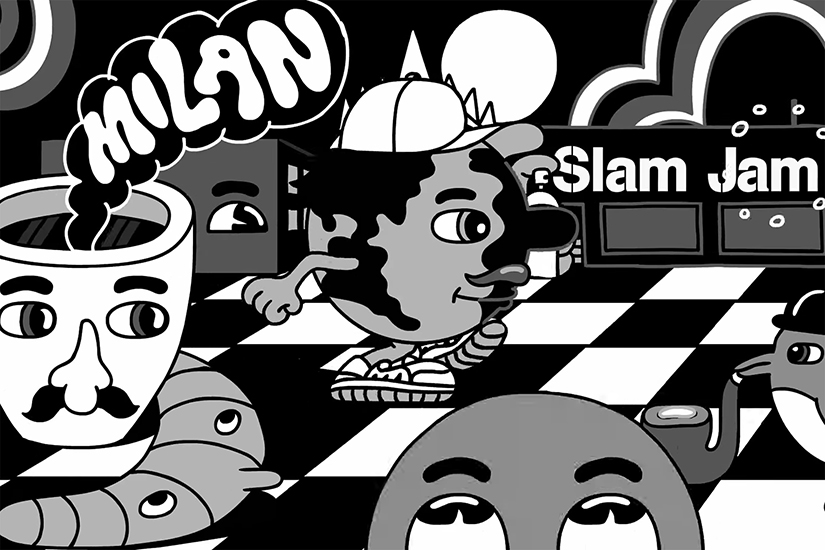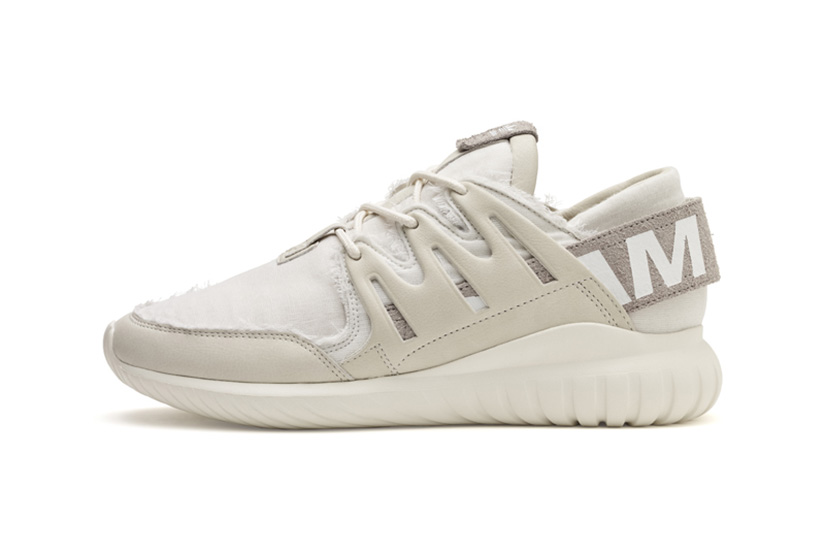 Adidas Tubular Nova x Slam Jam
BB5749
CREAM WHITE / CHALK WHITE / CLEAR GRANITE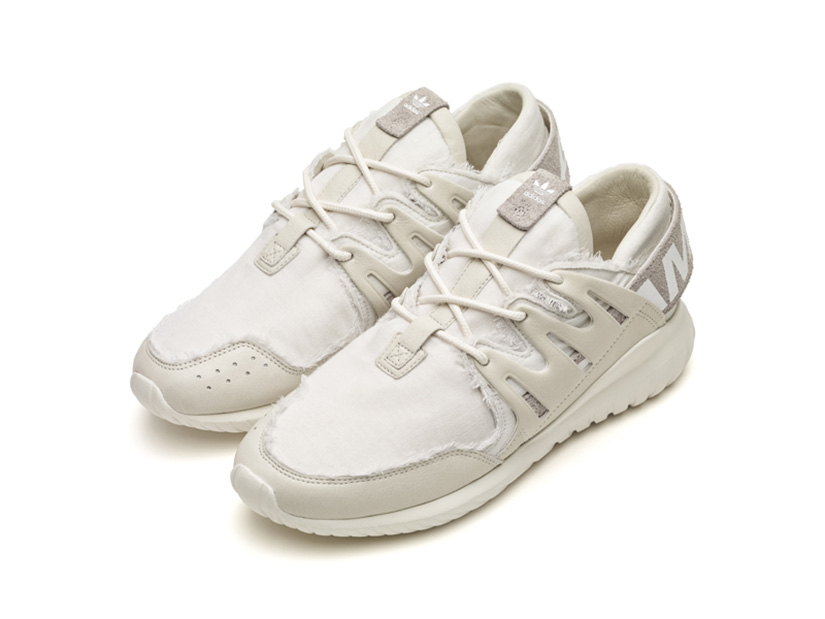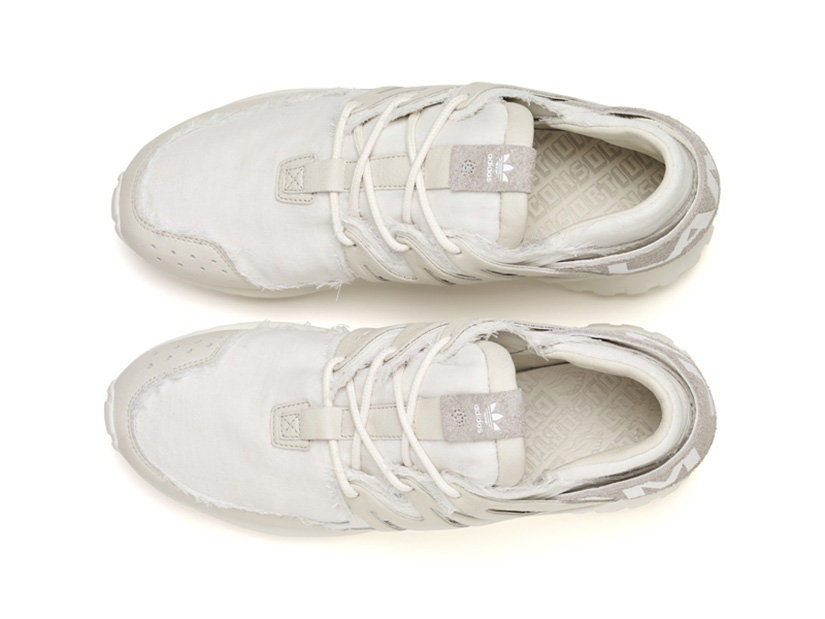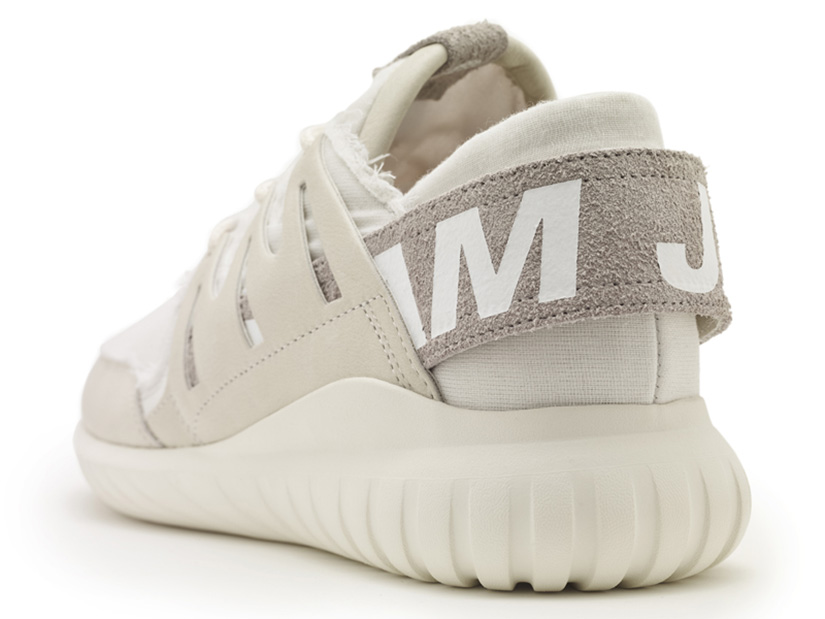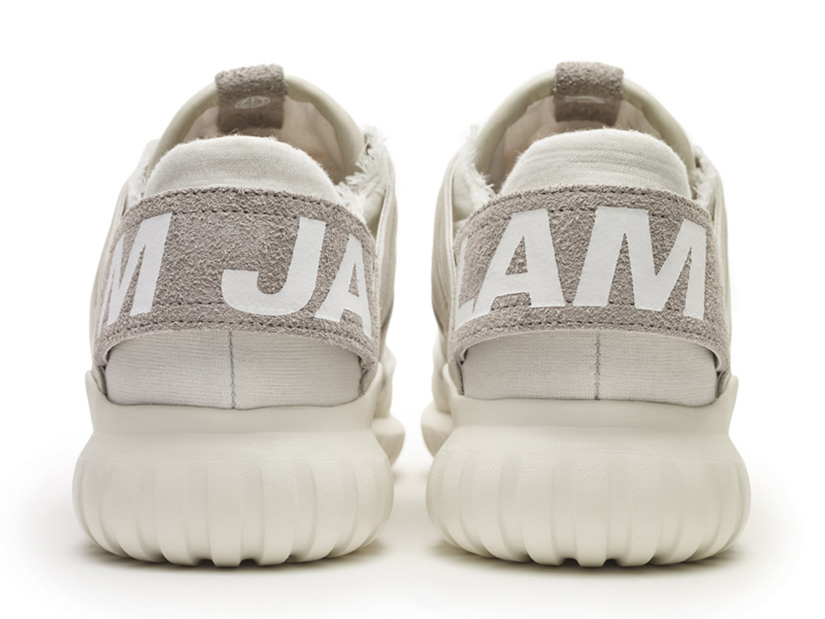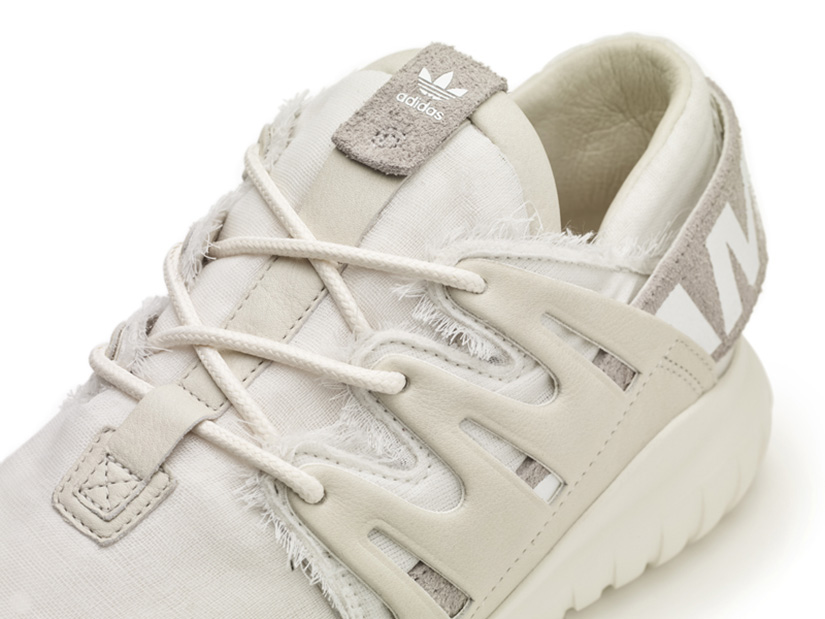 KENDRICK LAMAR X REEBOK CLASSIC LEATHER
01 . 07 . 16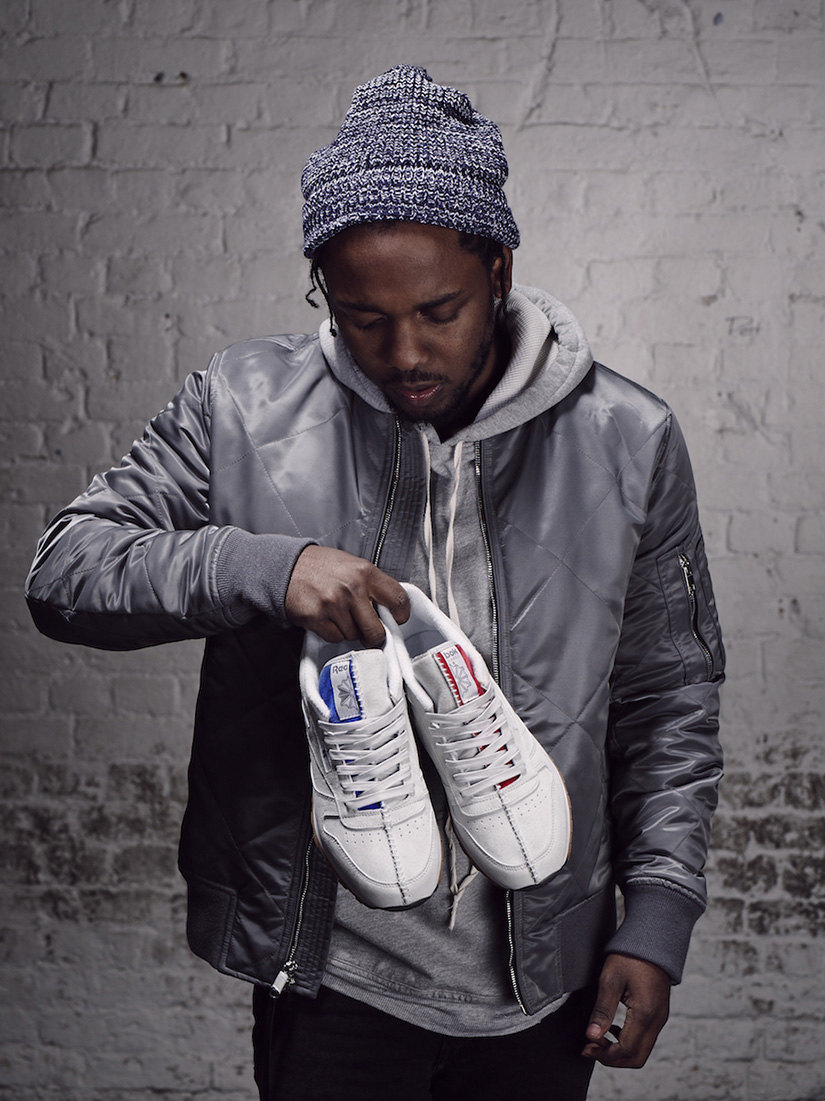 Reebok has just unveiled their forthcoming third capsule collection with TDE's Kendrick Lamar.
Teaming up with designer Ian Paley – of Garbstore fame – the duo has honed in on the Classic Leather which features a deconstructed aesthetic that is highlighted by a longitudinal seam that runs down the shoe separating blue and red, while the split seam continues to speak to the unity and gang neutrality themes that Lamar explored with his past two Reebok Capsule collections.
The Kendrick Lamar x Reebok Classic Leather will be available next Friday, July 1st at limitEDitions.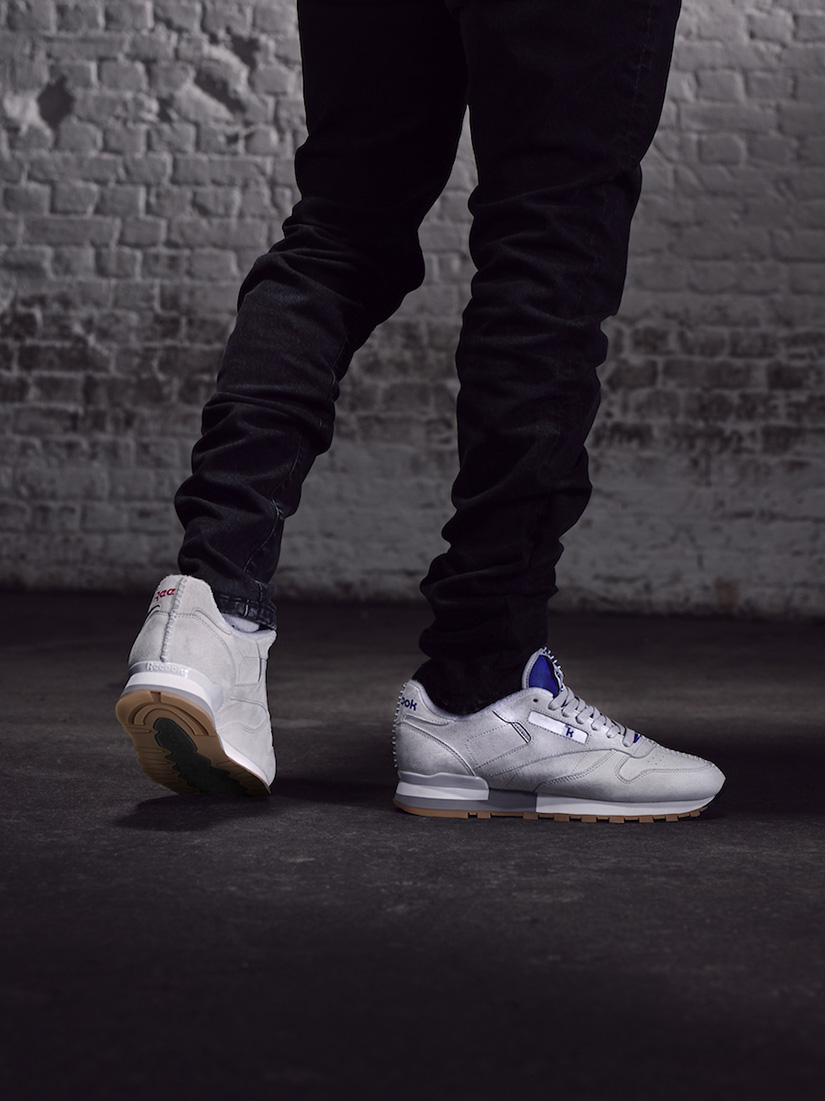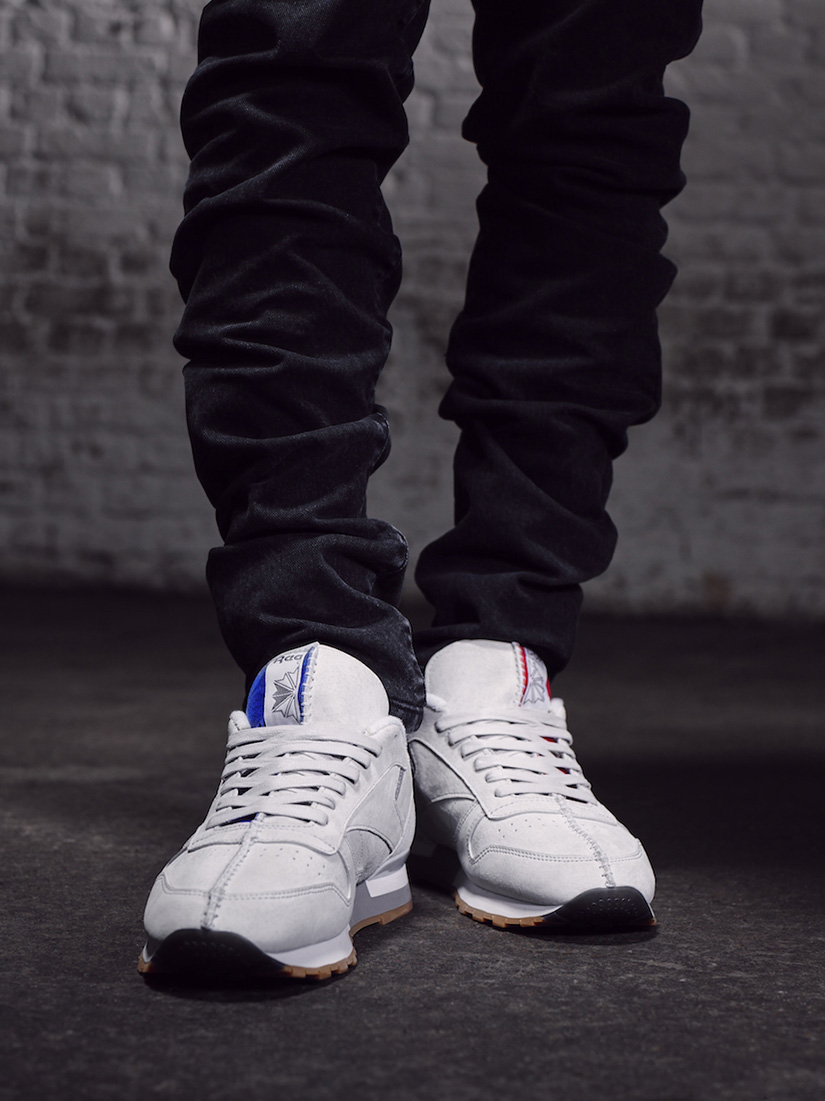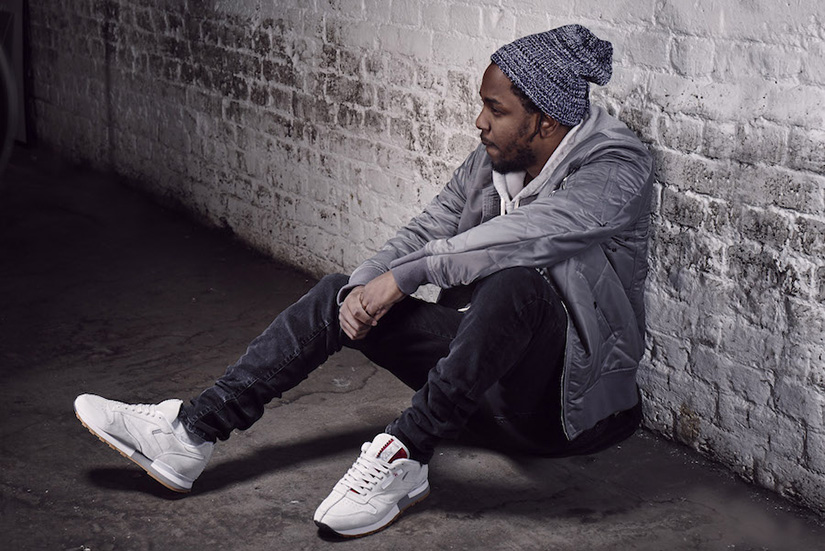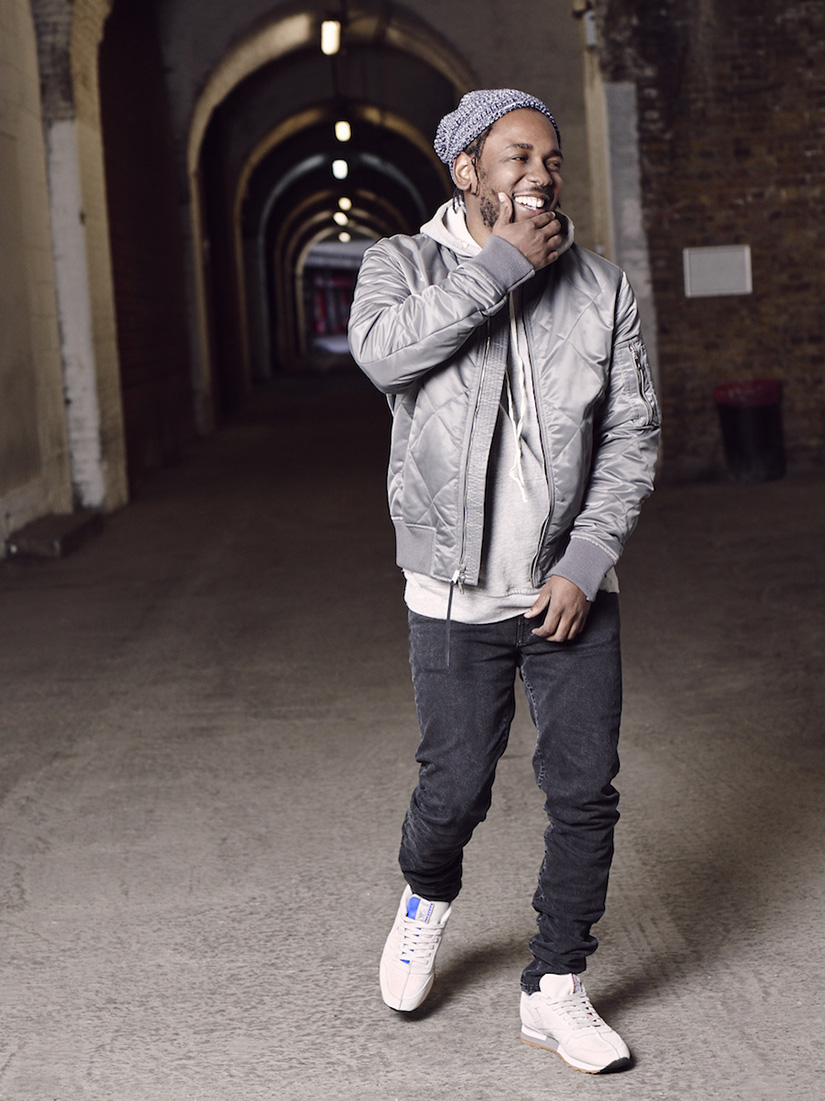 The Kendrick Lamar x Reebok Classic Leather will be available next Friday, July 1st at limitEDitions.