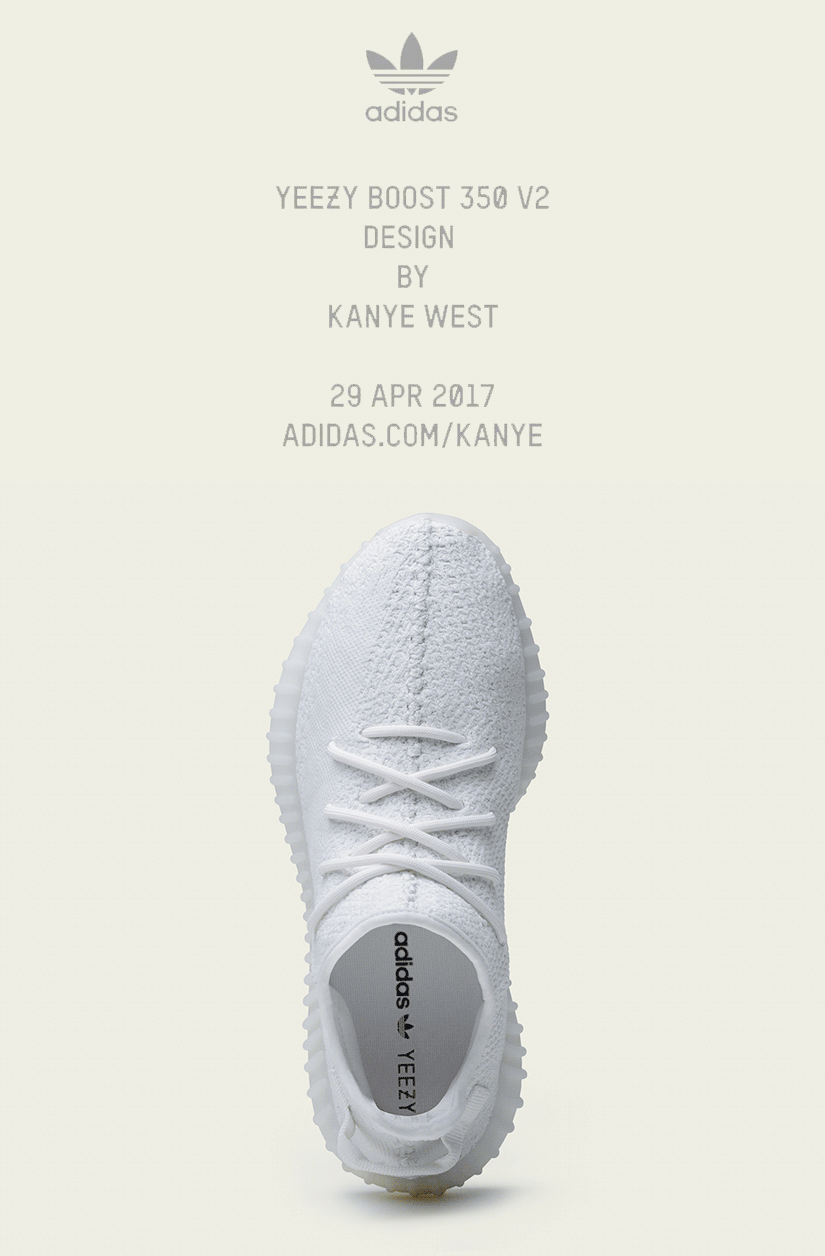 ADIDAS ORIGINALS YEEZY 350 V2 "CREAM WHITE"
LAUNCHING 29TH APRIL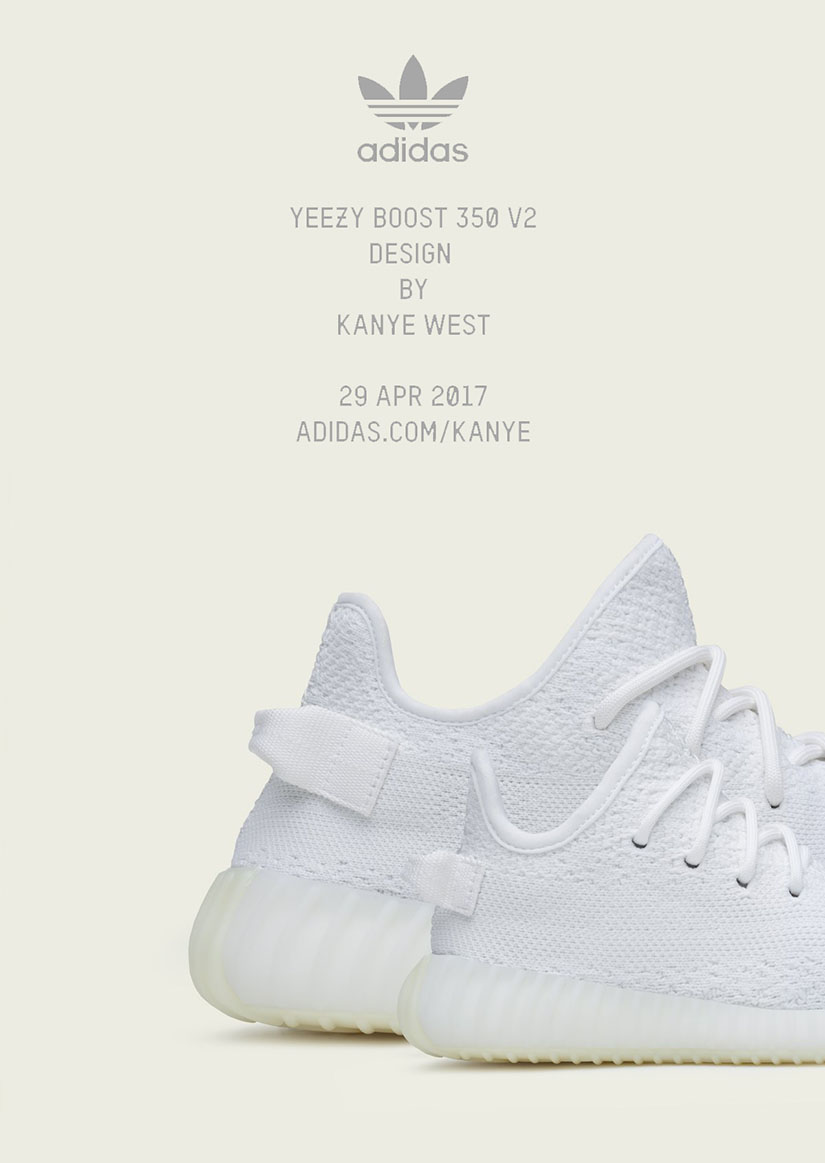 KANYE WEST and adidas announce the YEEZY BOOST 350 Cream White, releasing globally on April 29th, 2017 in adult and infant sizing.

The YEEZY BOOST 350 V2 features a cream white Primeknit upper, distinct center stitching, and heel tab.
On the adult shoe, a semi-translucent rubber outsole and TPU sidewalls create a striking effect while providing superior traction, while the YEEZY BOOST 350 V2 midsole utilizes adidas' innovative BOOST technology to create a durable, shock-resistant, responsive sole.
The infant shoe features a responsive all-rubber outsole, and a BOOST midsole, delivering superior traction and comfort.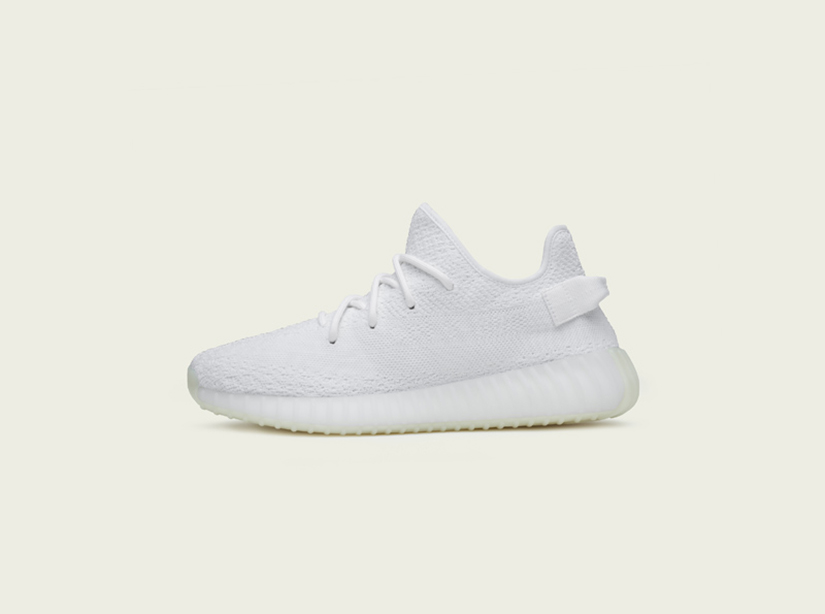 Adidas Yeezy Boost 350 V2 "Cream White"
CP9366
WHITE/WHITE/WHITE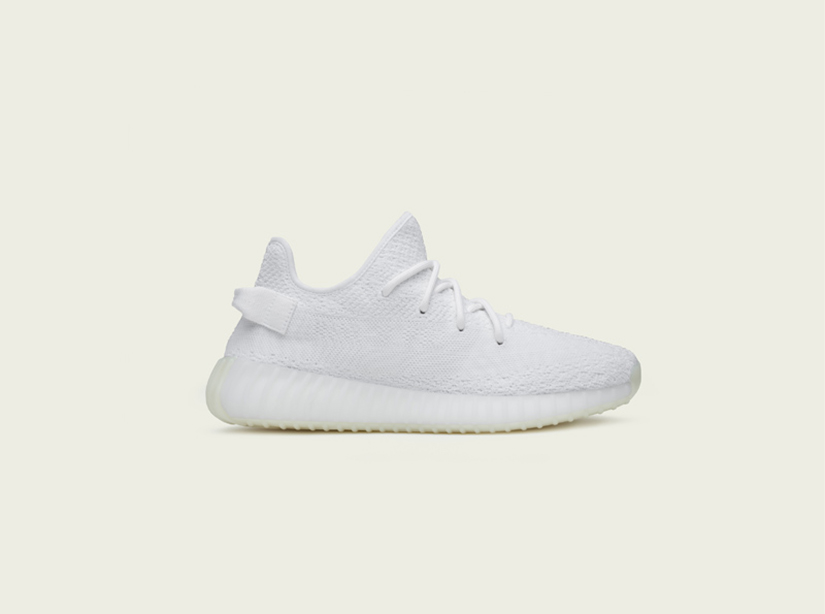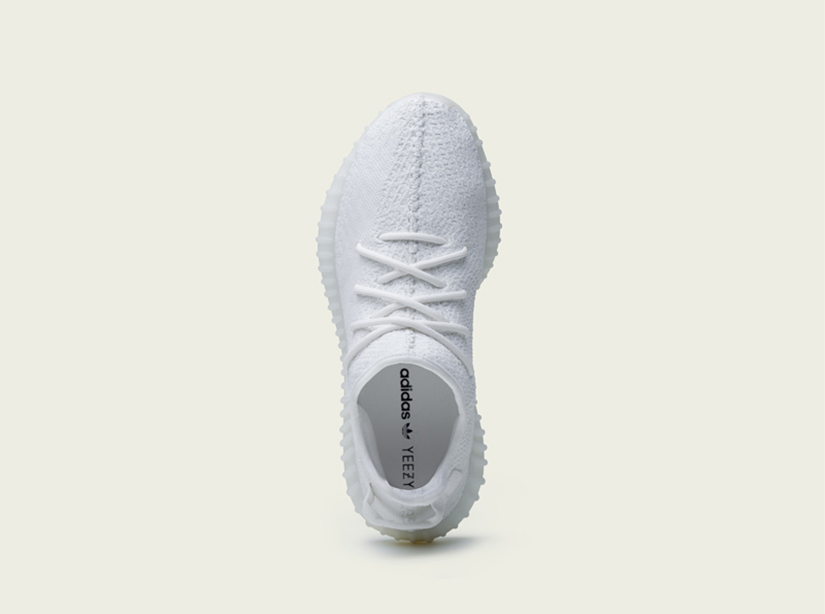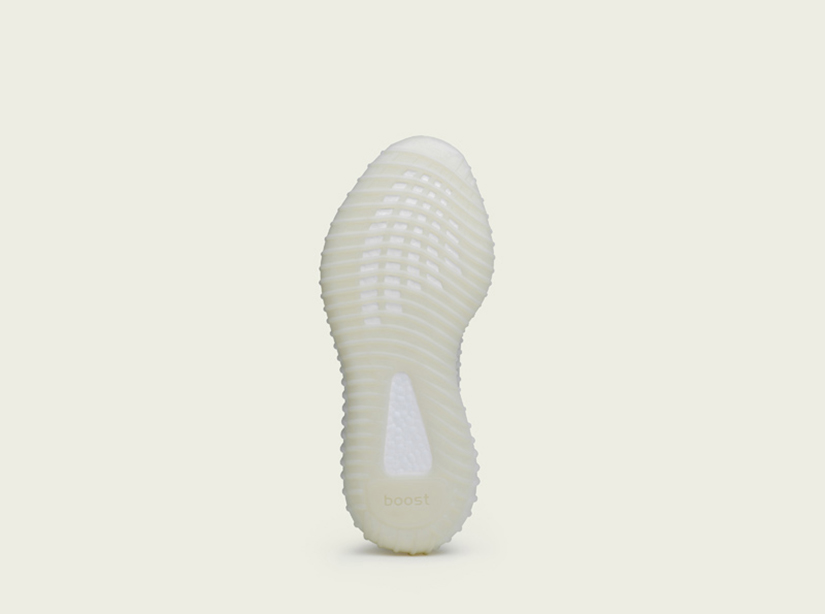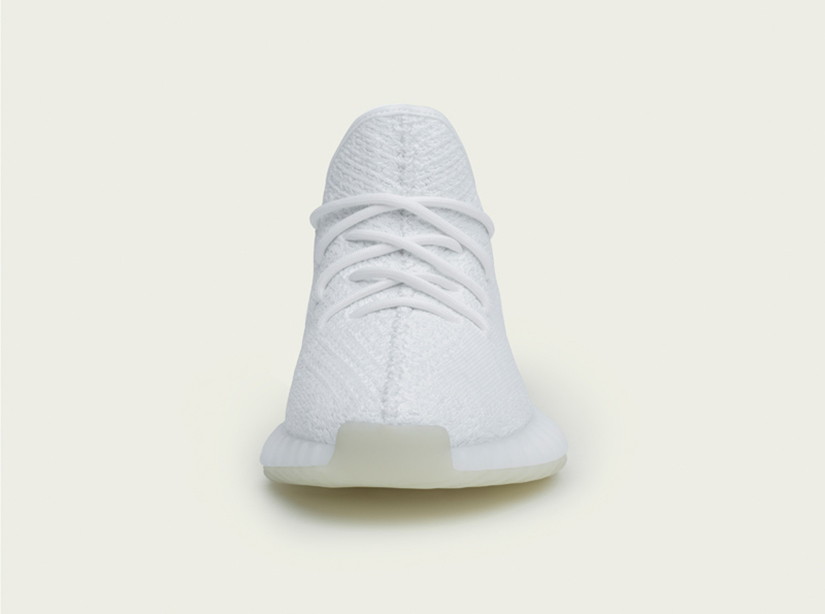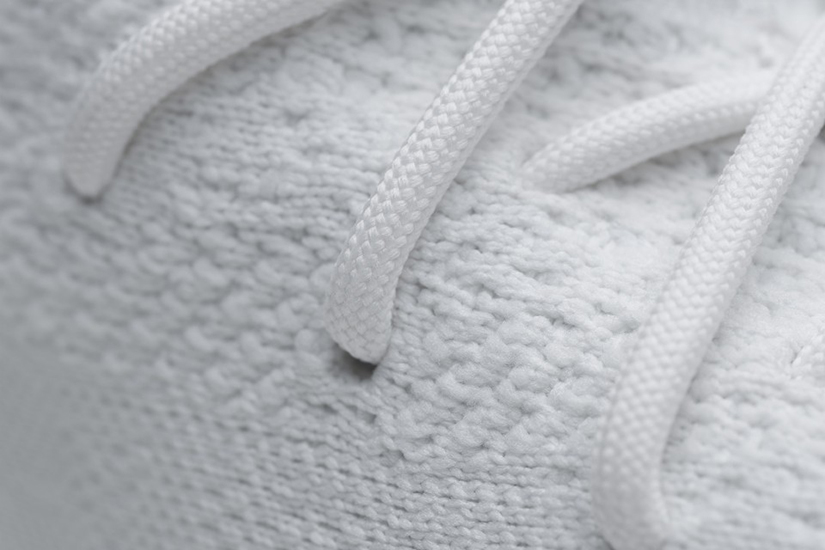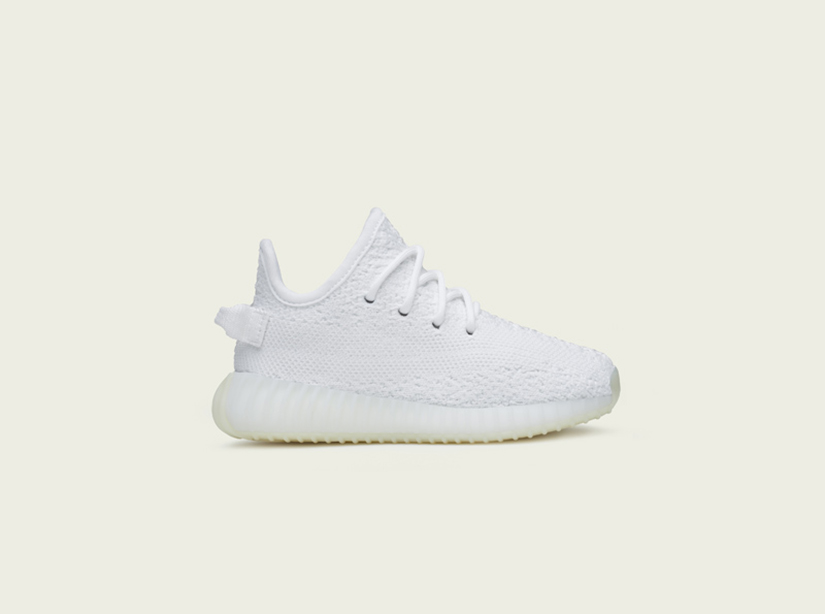 Adidas Yeezy Boost 350 V2 "Cream White" Infant
BB6373
WHITE/WHITE/WHITE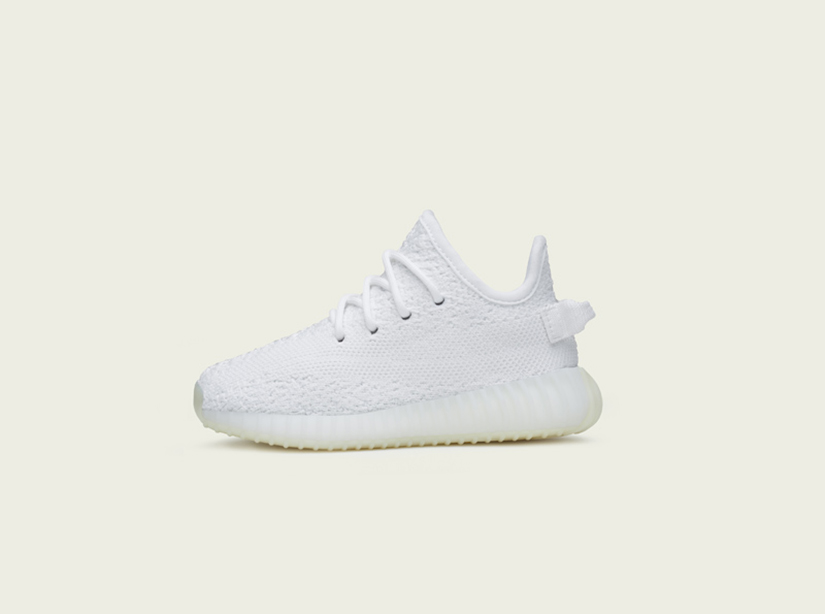 ADIDAS NMD PRIMEKNIT WHITE ´´ GUM PACK ``
27 . 04 . 17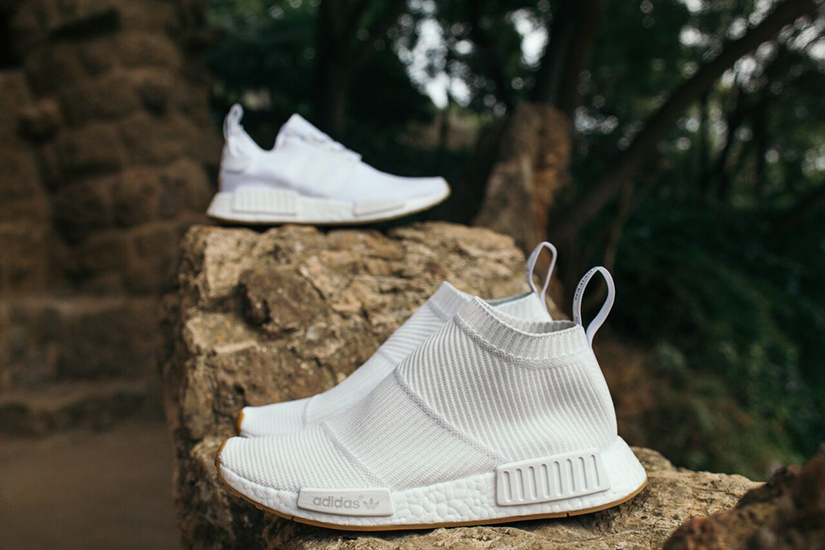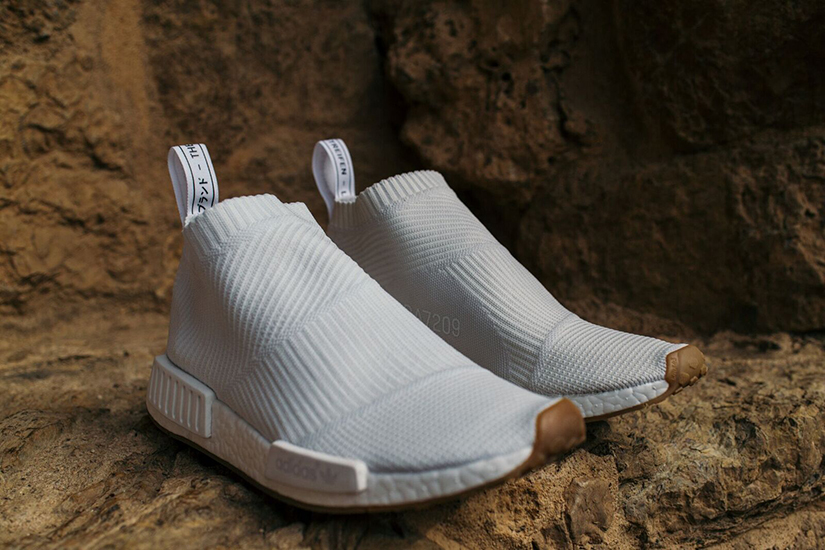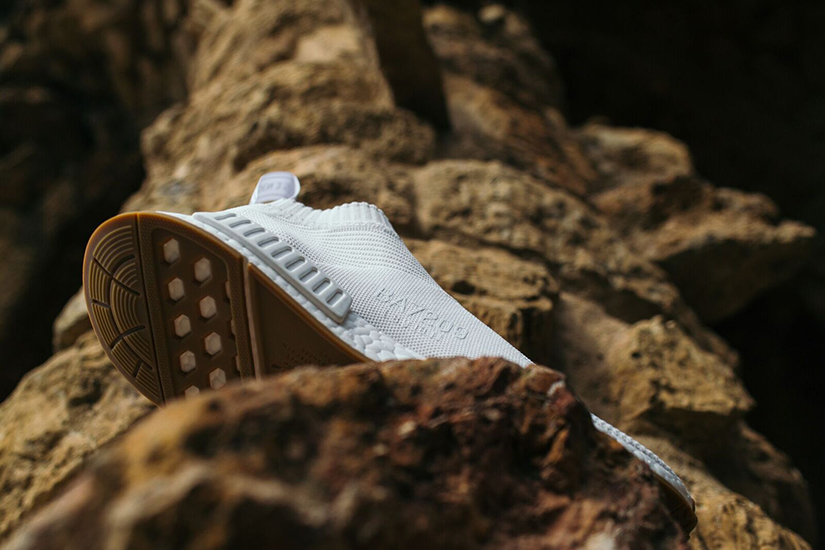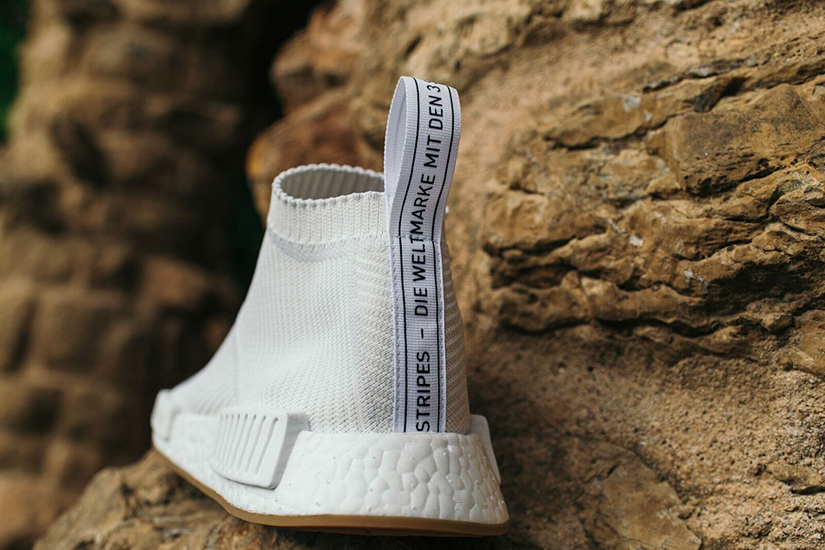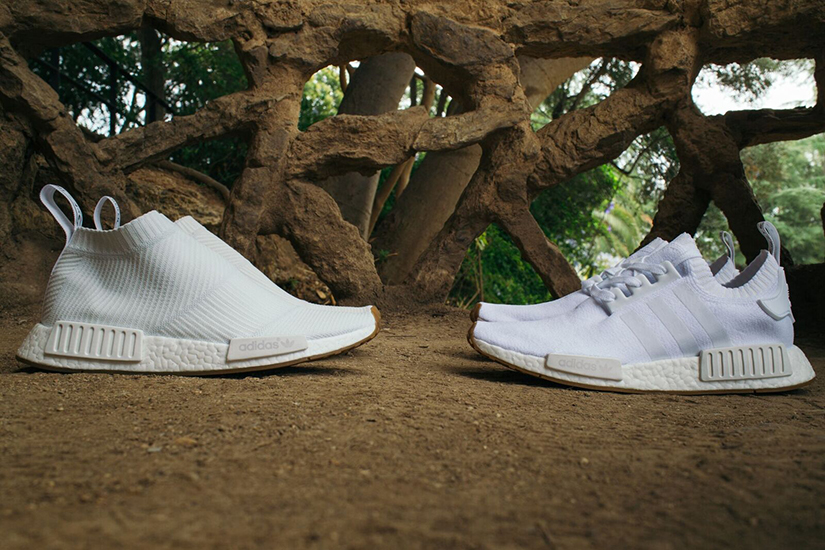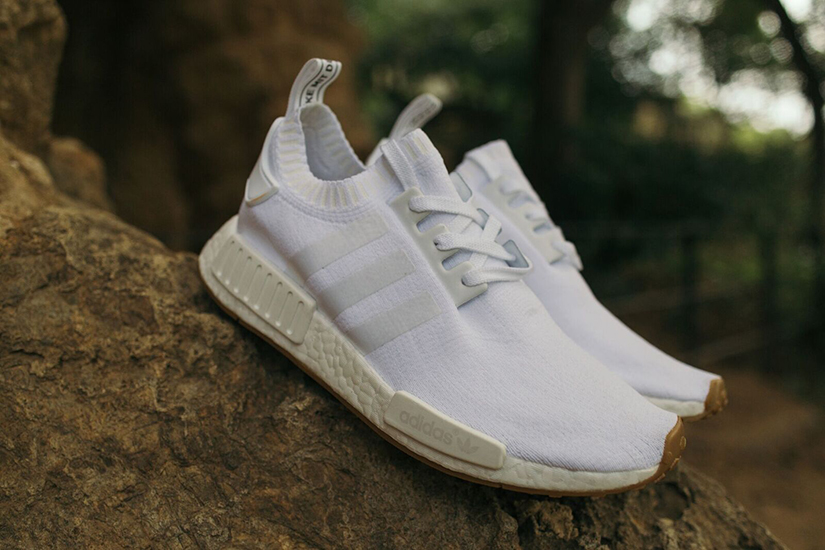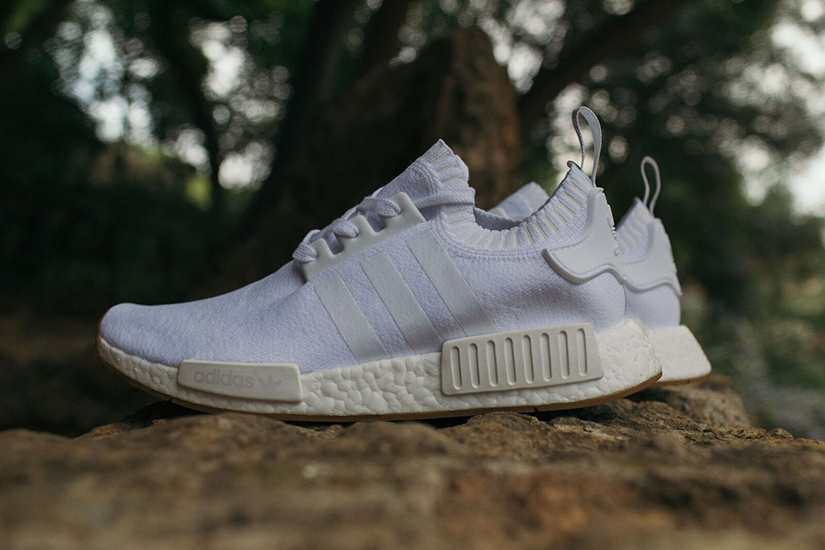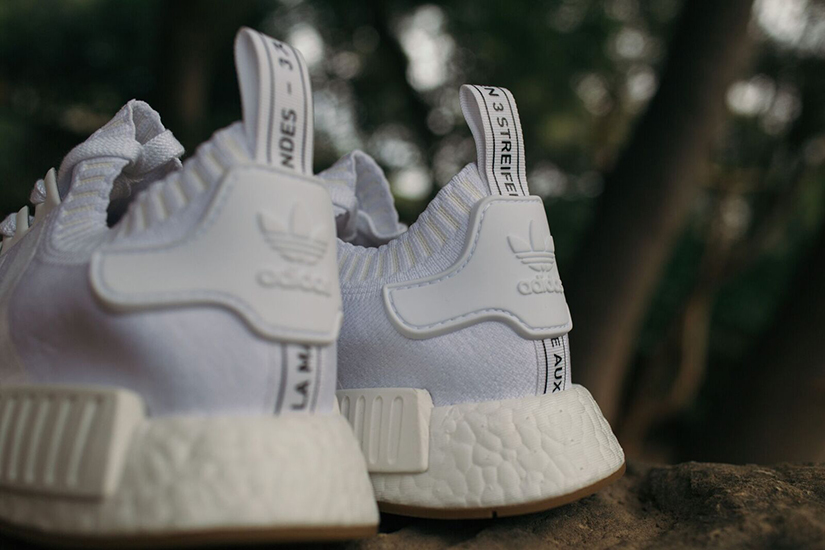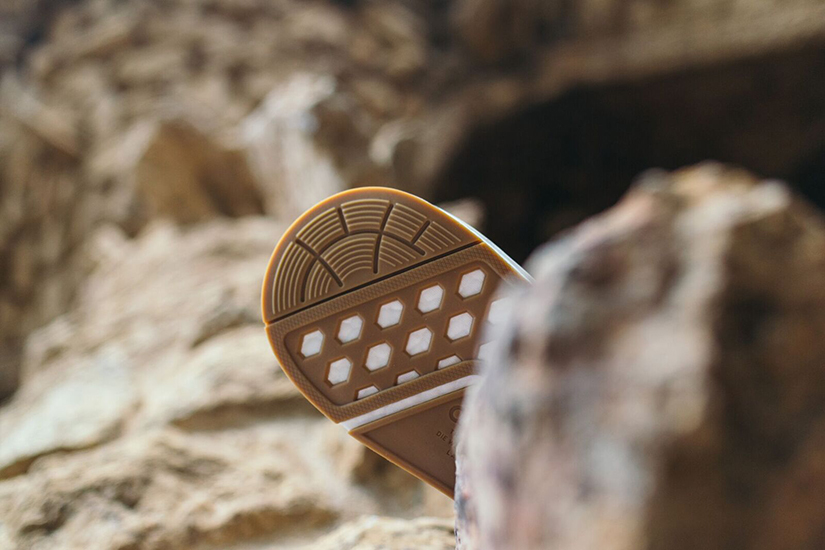 ADIDAS ORIGINALS BY WINGS+HORNS SPRING/SUMMER 2017 COLLECTION
LAUNCHING 27TH APRIL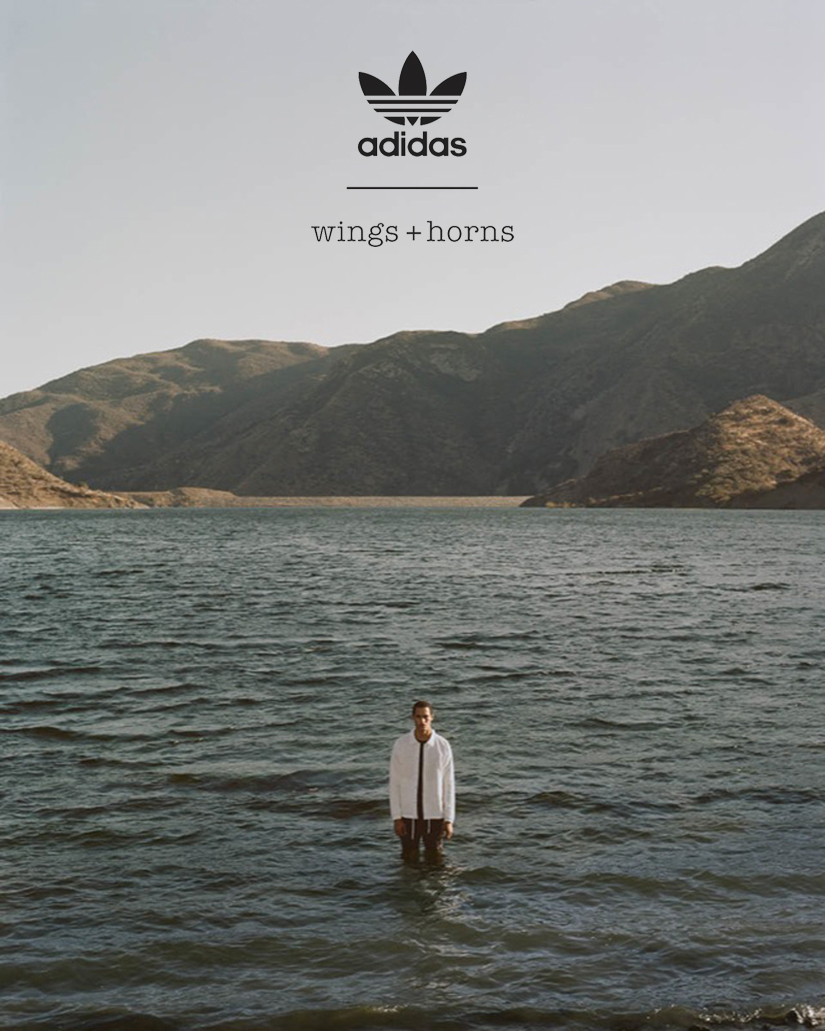 adidas Originals has collaborated with Canadian menswear label wings+horns on a brand new collection for SS17, reworking the iconic design language of the German sportswear giant to create a classic sportswear collection that blends traditional tailoring, contemporary fabrics and progressive design into a single visual model.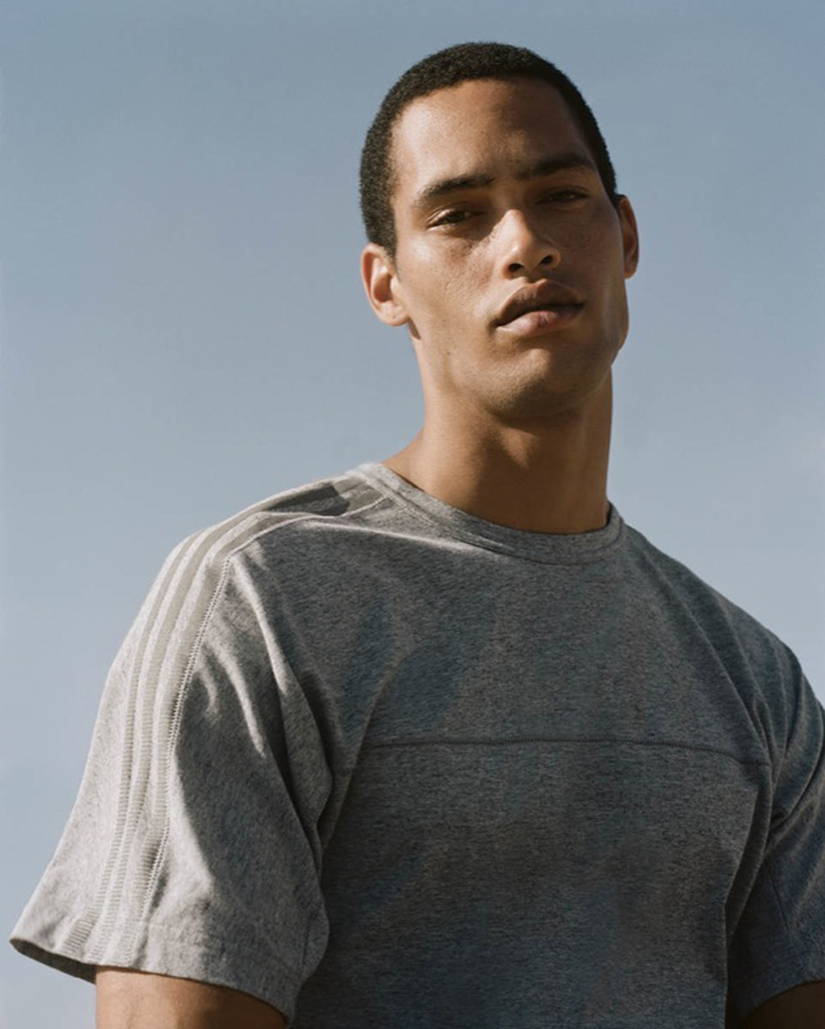 Inspired by the enduring concept of clothing as a second skin, the collection is a practice of form and function, creating lightweight, weather-ready apparel and footwear with striking visual appeal with credible practical applications, whilst a subdued colour palette of heather greys and blues reference the duality and diversity of the Arctic summer, a world made equally of dark and light, brooding and beautiful.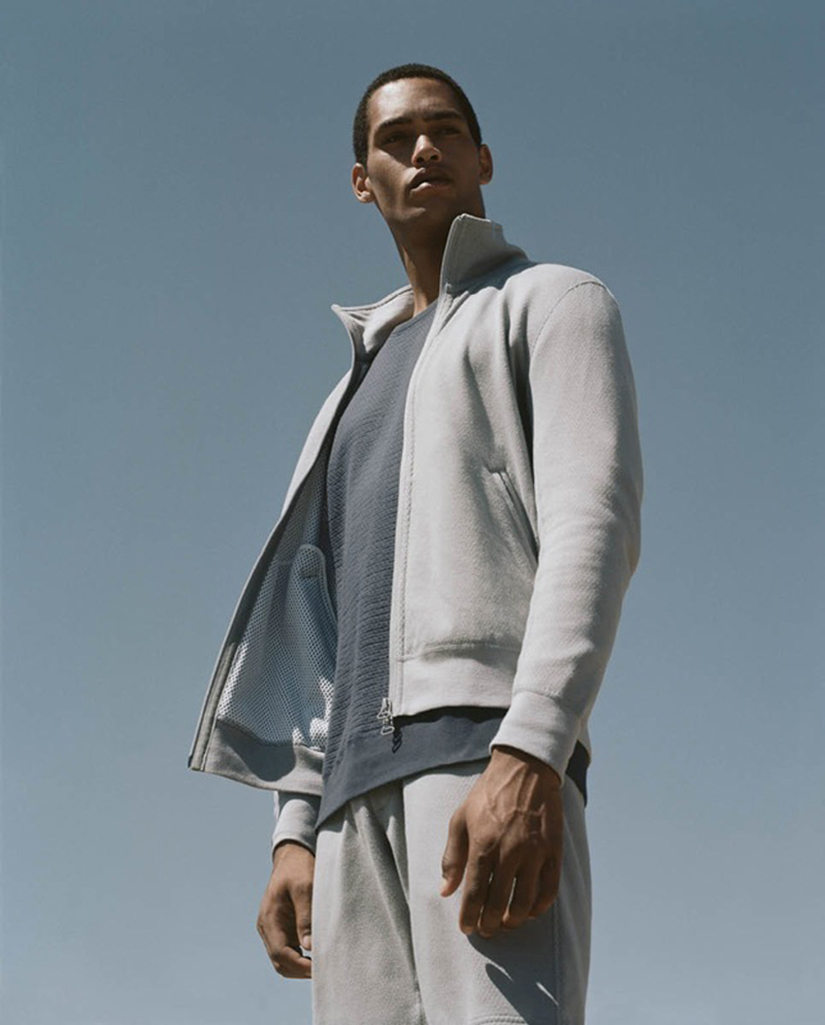 The collection's apparel offers a comprehensive take on a classic-meets-contemporary wardrobe, presenting tees, jersey, outerwear, bottoms and accessories with progressive design adjustments. Highlights include the panelled construction of the WH Tee, the WH Patch Crew and WH Patch Tee's striking geometric graphic motif and the made in Canada WH Pullover Hoodie, Firebird Field Jacket and Sweat Short, presenting the pinnacle of elevated construction techniques. The entire range culminates as a symbiotic relationship between the inimitable adidas archive and the limitless creativity of wings+horns.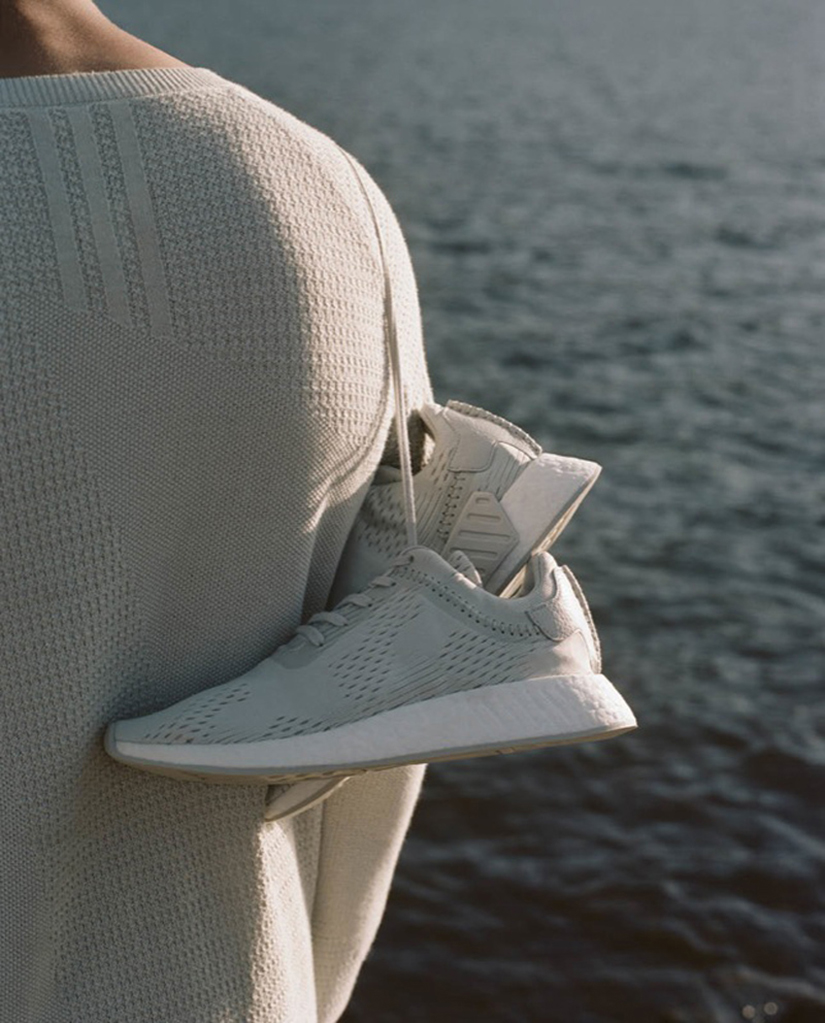 Accompanying footwear applies this same philosophy of Progression. The NMD_R2 assumes the visual mode of the collaboration, adorning a Primeknit iteration of the latest generation of NMD with the range's signature geometric motif alongside a model constructed from a single piece of premium leather, finished with the shoe's essential technical details.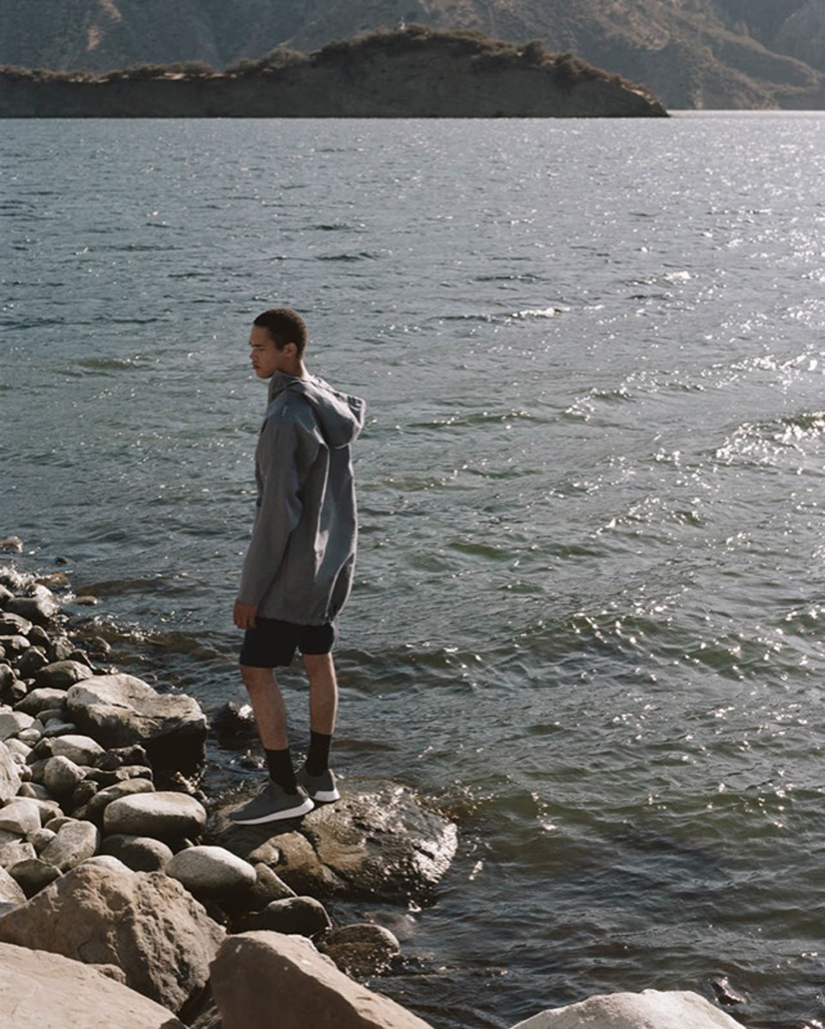 The result of a co-operative approach to every stage of production, adidas Originals by wings+horns' SS17 encapsulates the spirit of dichotomy that informs the collection, creating seamless unity of classic and contemporary; light and dark; aesthetic and application; form and function.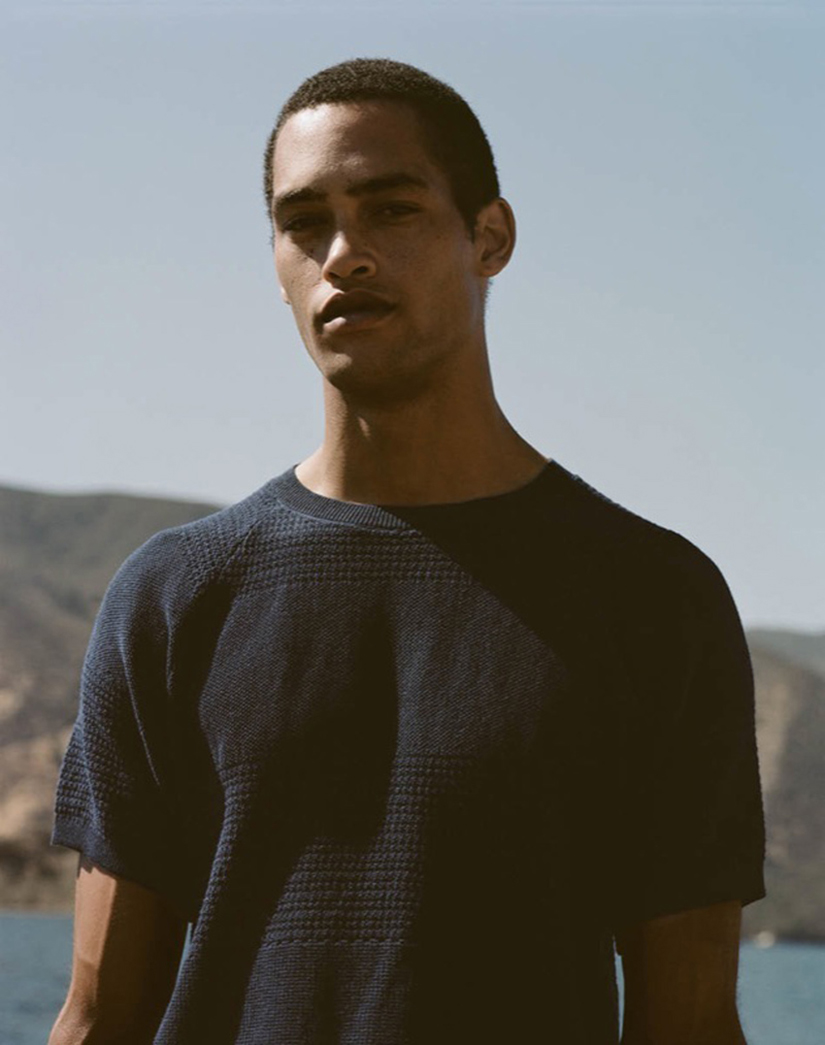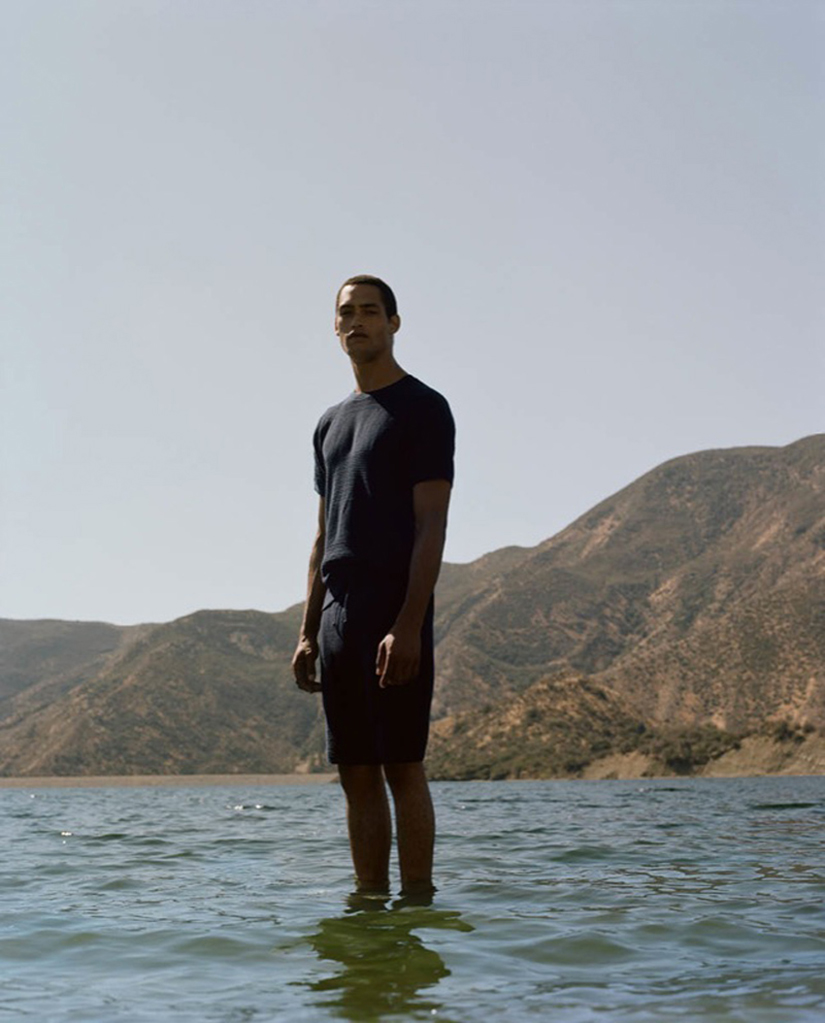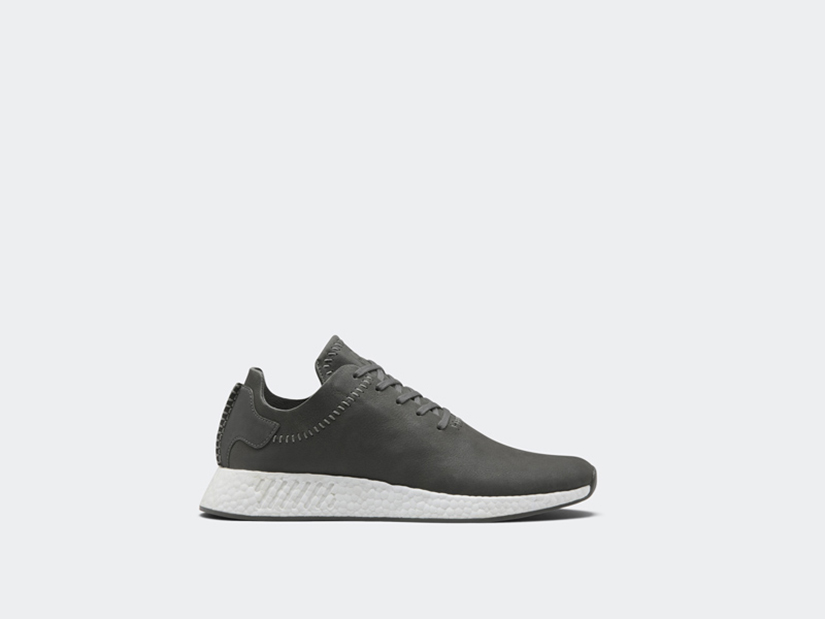 Adidas WH NMD_R2 Leather
BB3117
ASH/ OFF WHITE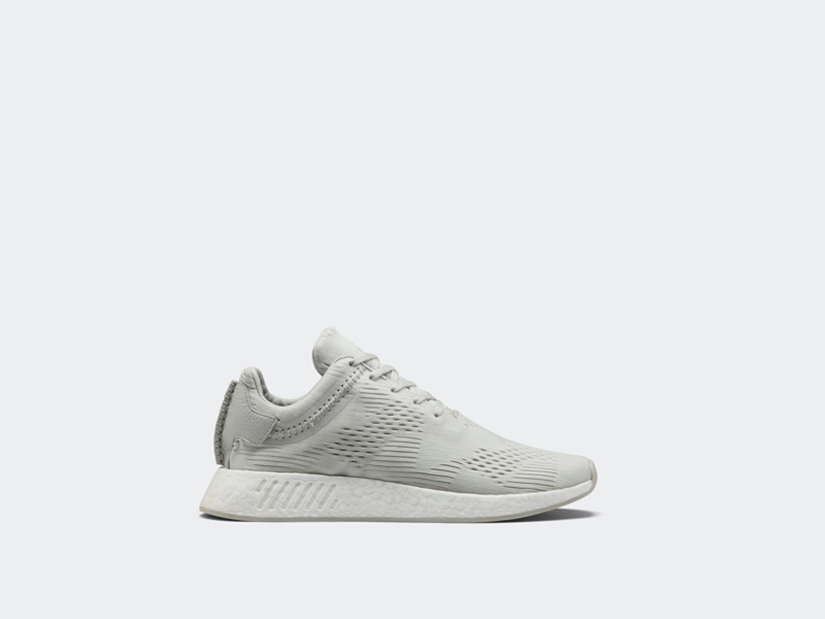 Adidas WH NMD_R2 Primeknit
BB3118
HINT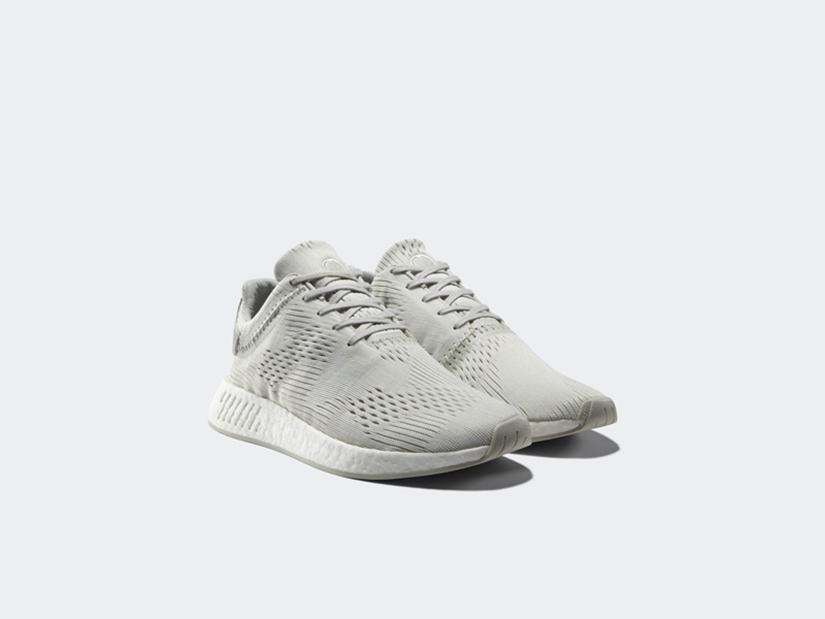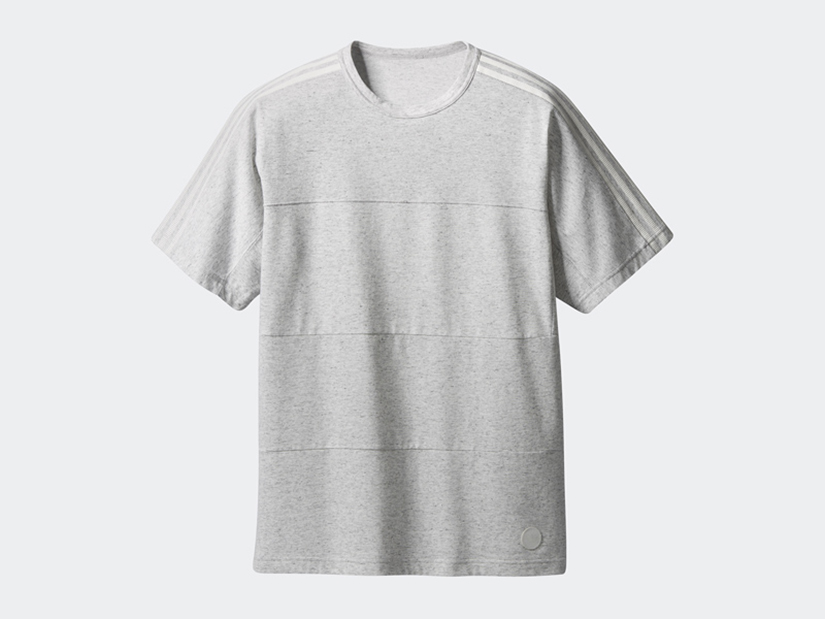 Adidas WH Tee
BK0207
Off White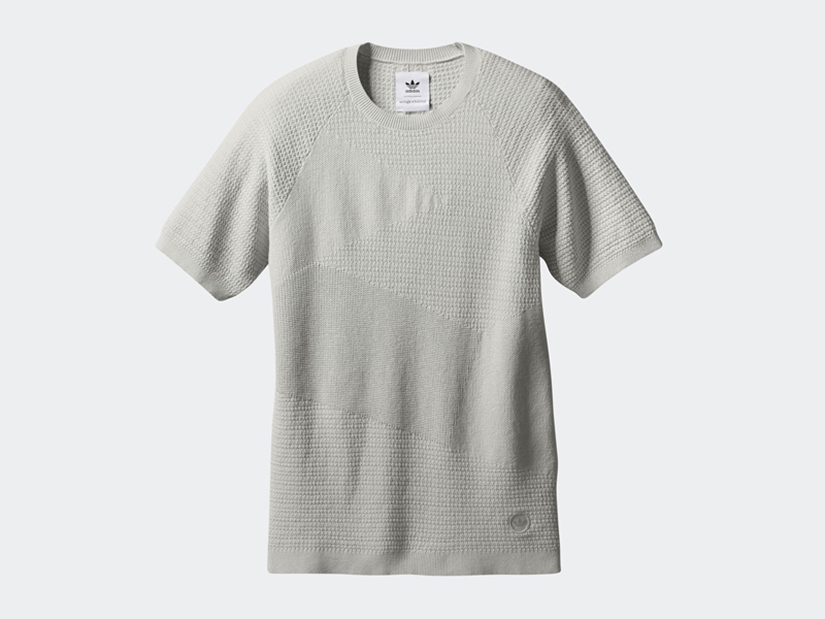 Adidas WH Patch Tee
BK0228
Hint Fog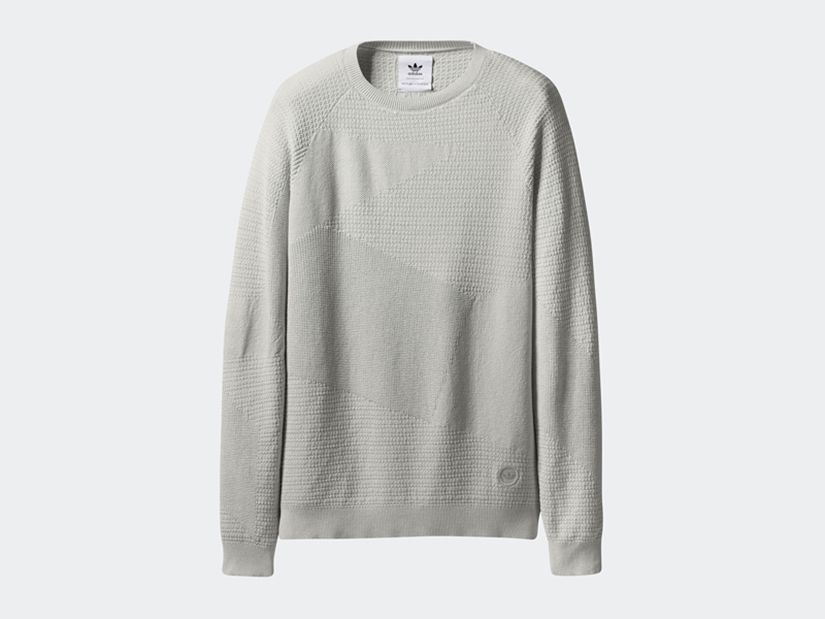 Adidas WH Patch Crew
BK0233
Hint Fog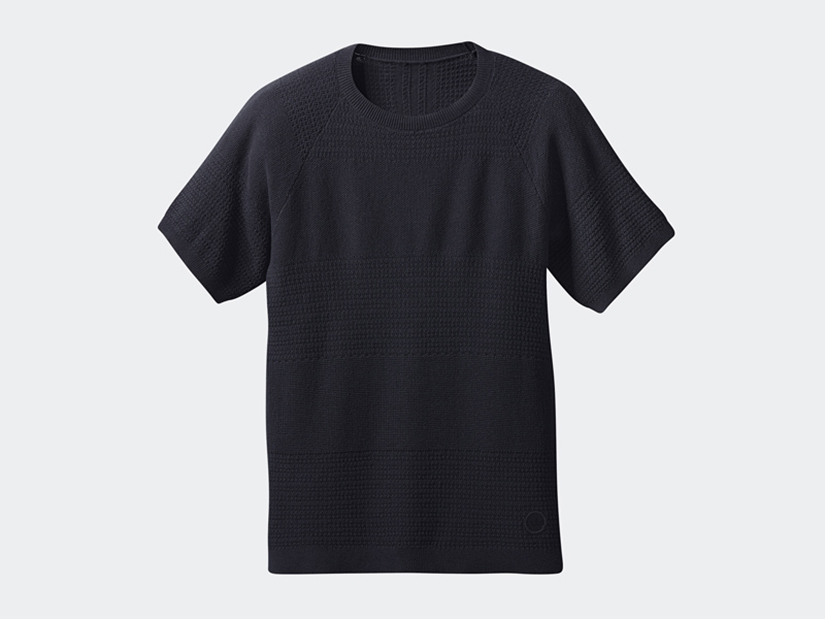 Adidas WH Linear Tee
BK0238
Night Navy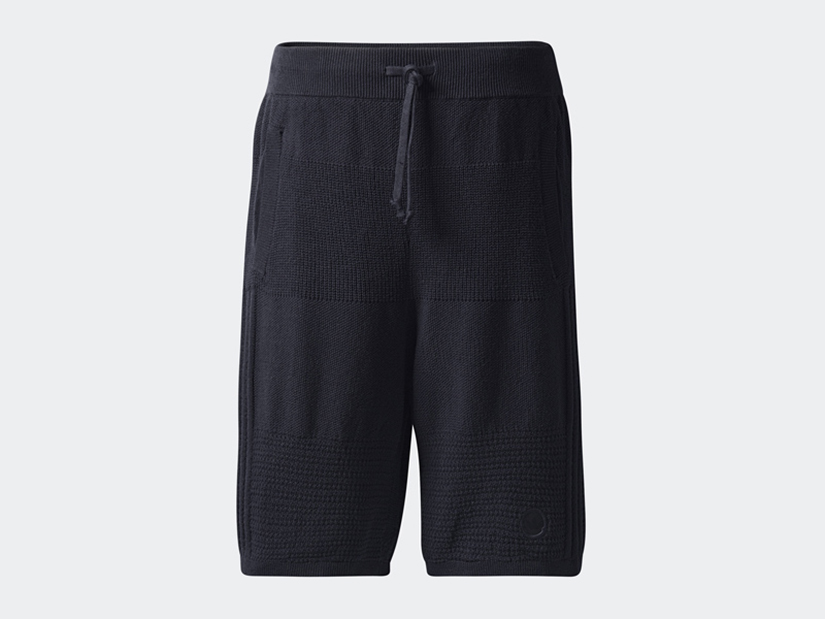 Adidas WH Linear Shorts
BK0244
Night Navy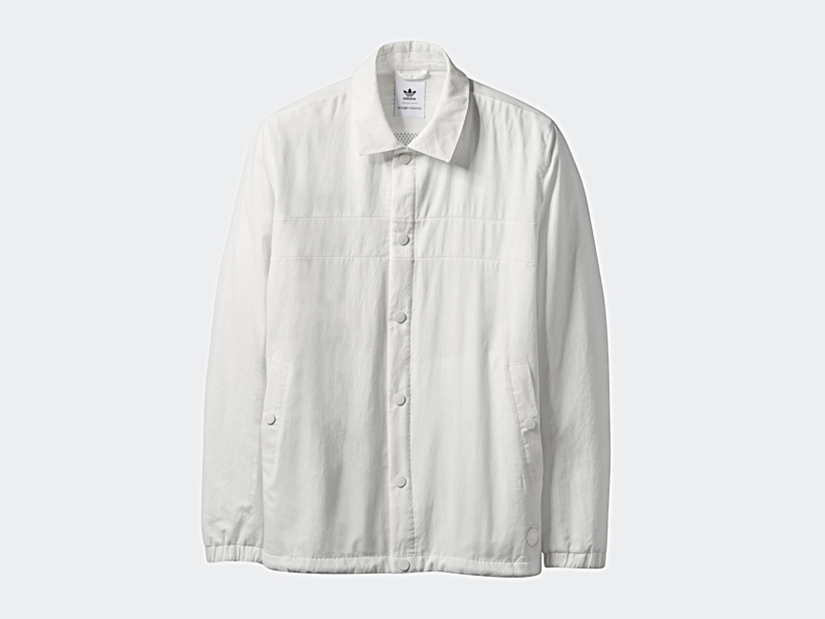 Adidas WH Coach Jacket
BR8696
Off White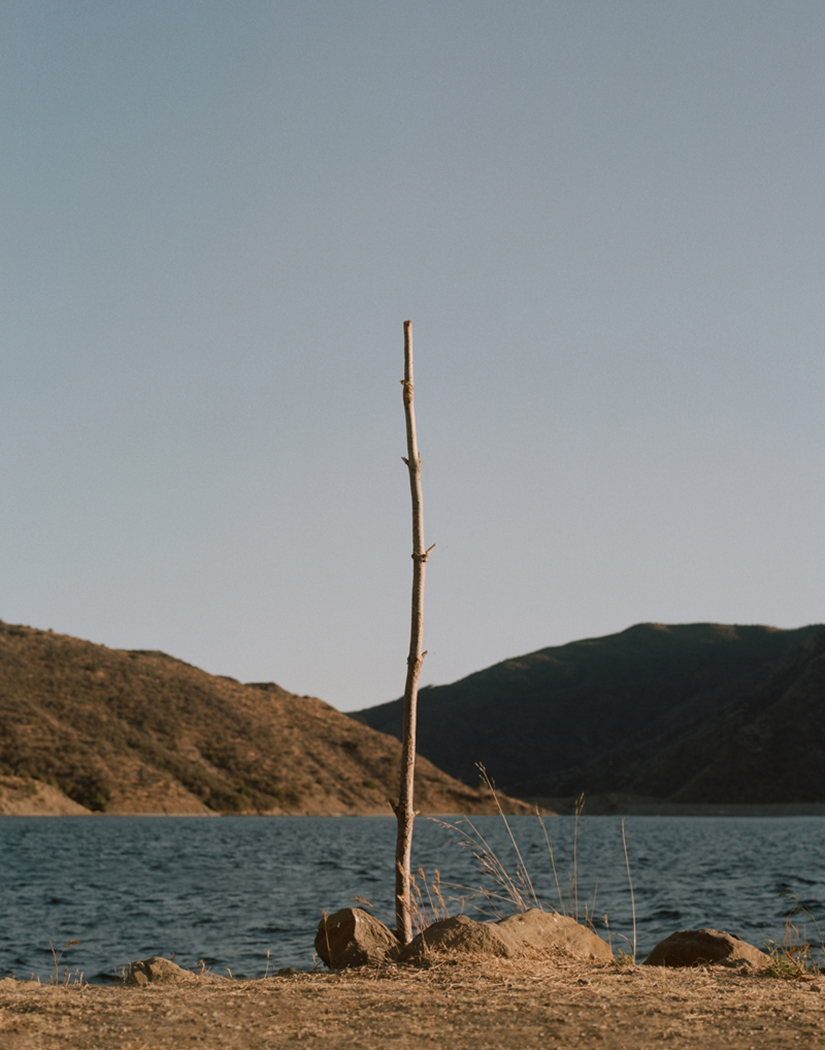 NIKE VAPORMAX FLYKNIT "PALE GREY"
LAUNCHING 27TH APRIL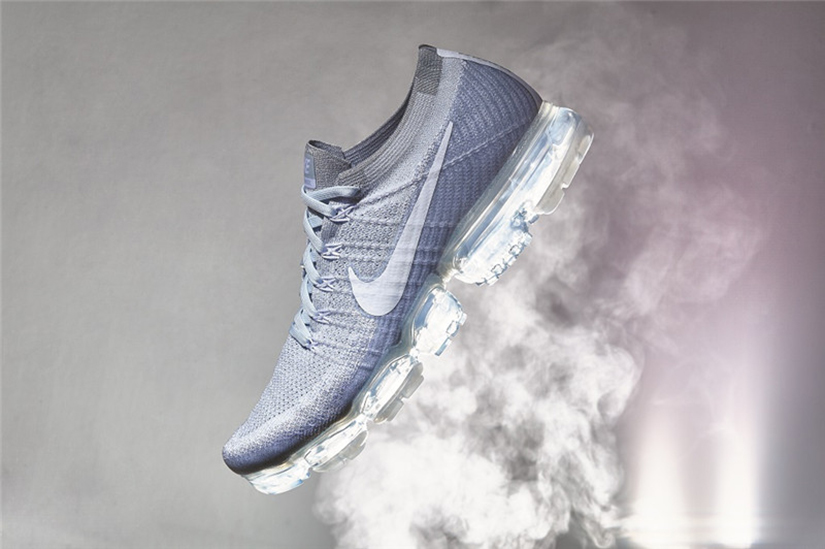 The Air VaporMax reignites the Air revolution with completely visible cushioning and a Nike Flyknit upper for the lightest, most flexible Air Max ever. The innovative design eliminates a midsole, allowing your foot to rest directly on air for a buoyant feel underfoot. With the Air VaporMax, the original idea behind Air becomes a reality three decades later.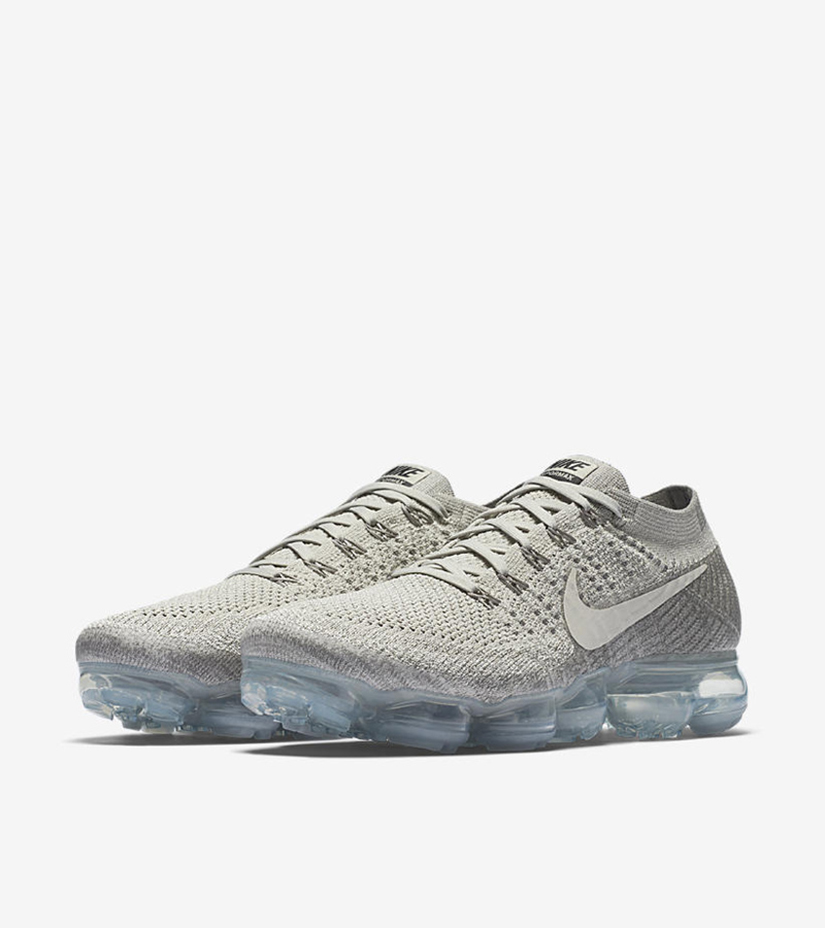 The Nike VaporMax Pale Grey is a perfect alternative to those of you that missed out on the debut "Pure Platinum" look, as the new shade works perfectly through a monochromatic Flyknit base complete with a contrasting icy blue outsole unit full of visible air.
Nike Air VaporMax Flyknit "Pale Grey"
849558-005
PALE GREY/BLACK-SAIL-LIGHT CHARCOAL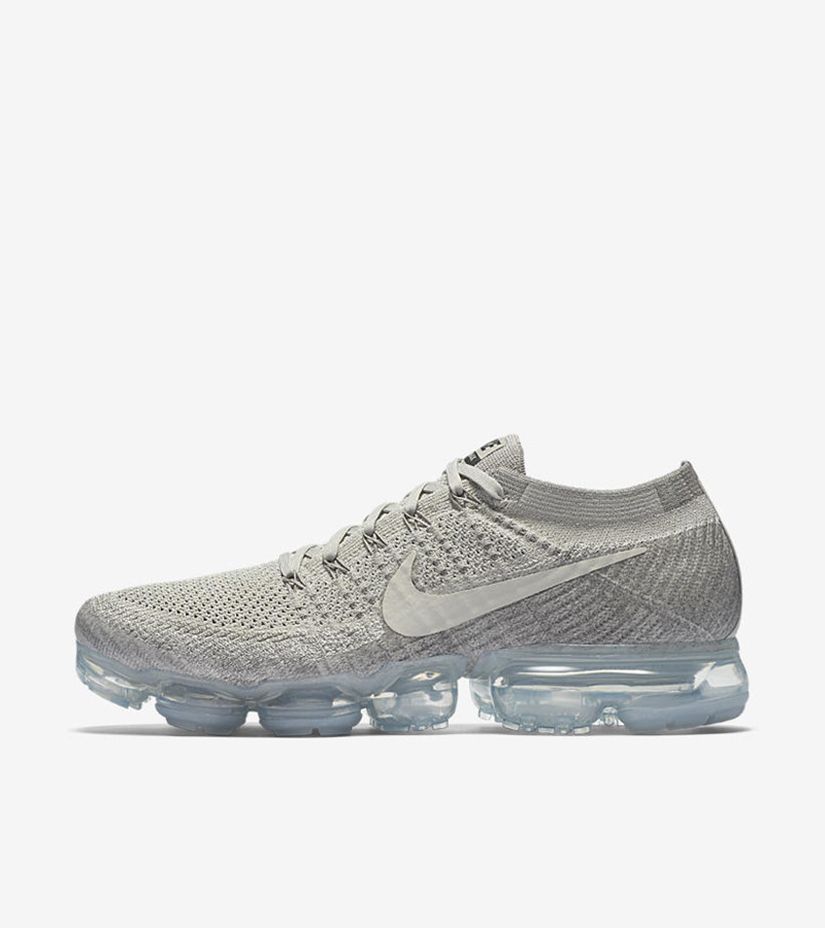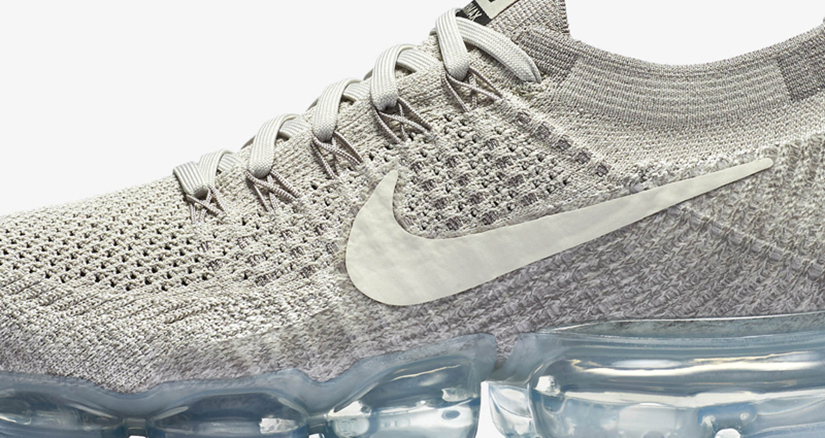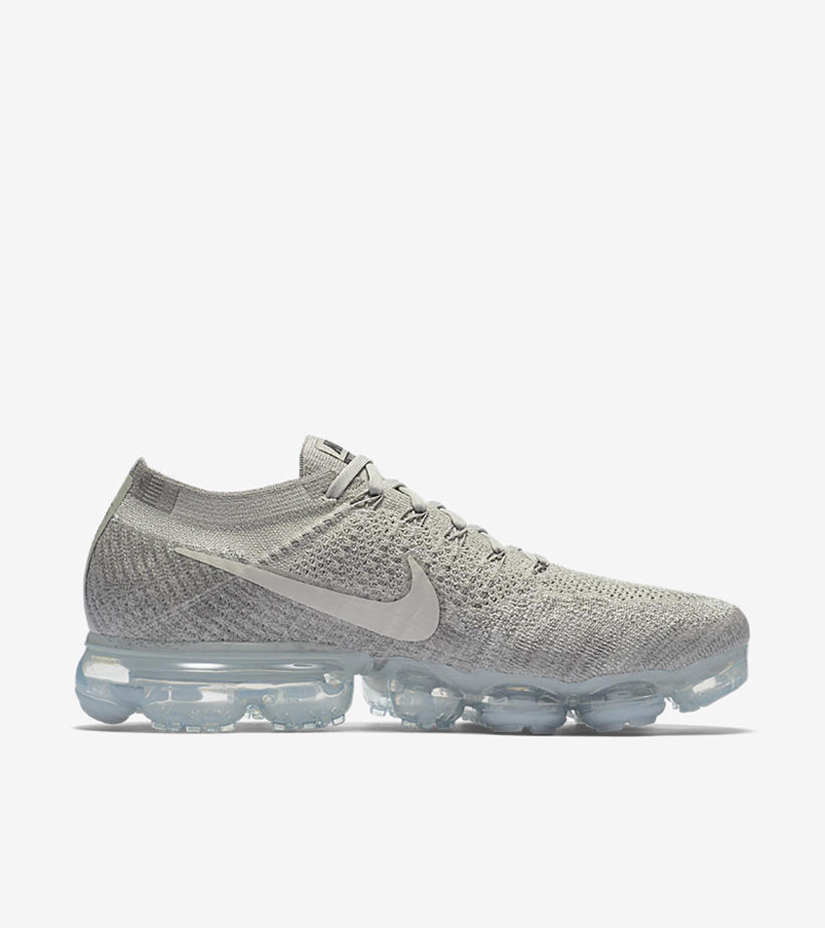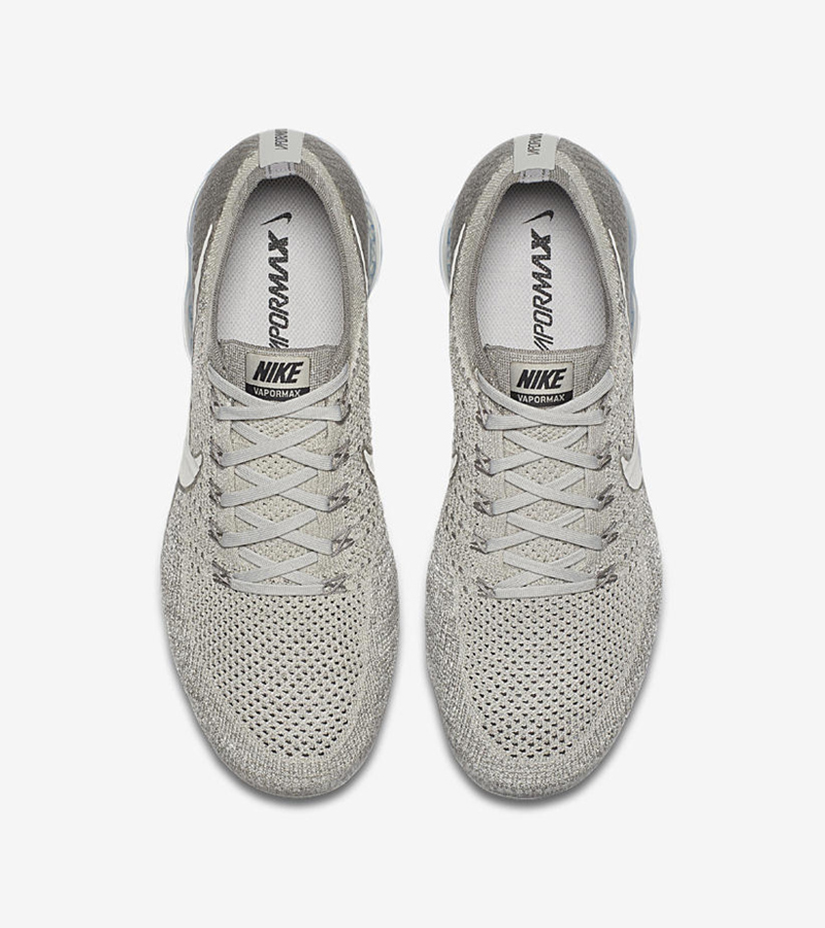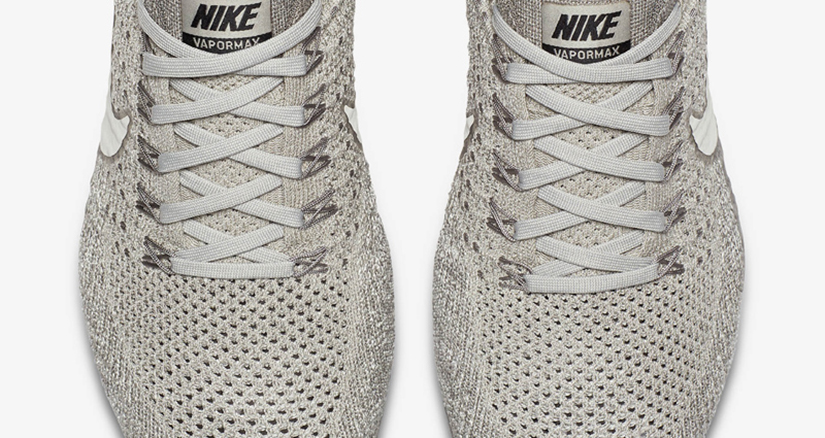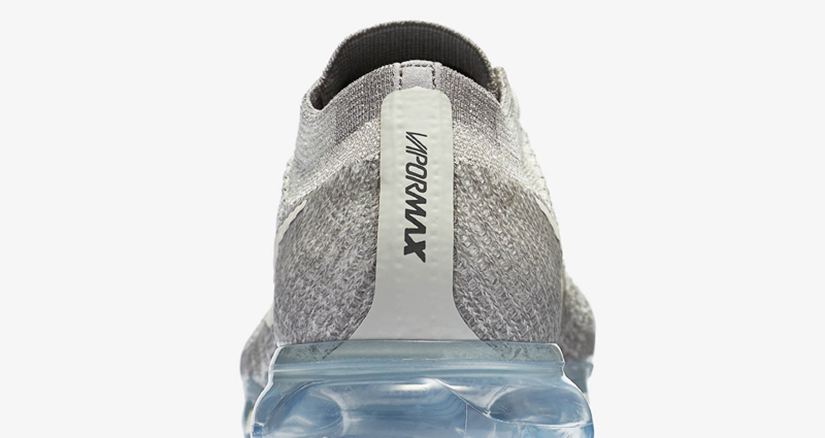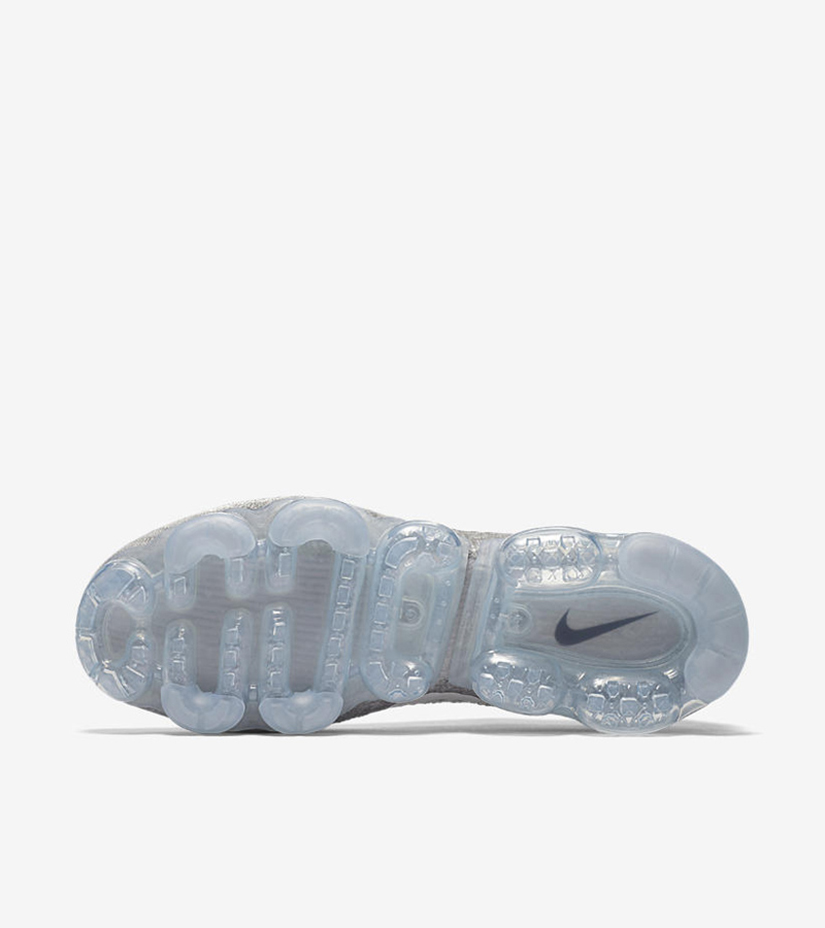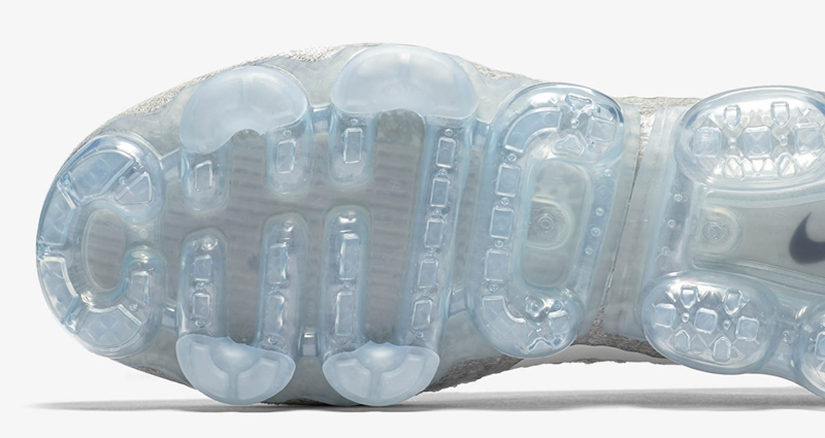 NIKELAB AIR MAX PLUS PACK
LAUNCHING 25TH APRIL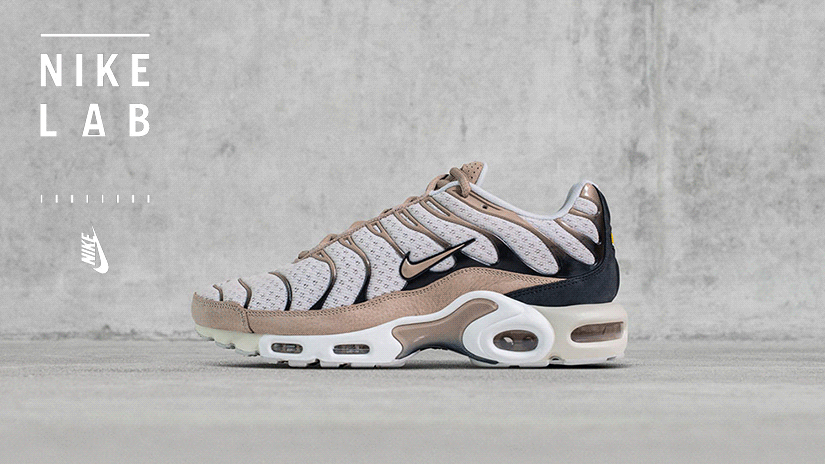 The Nike Air Max Plus gets some of its most refined makeovers ever with this latest set of colorways compliments of NikeLab, featuring tech-mesh bases with full-grain nubuck leather overlays in toned-down shades of black, tan, off-white, and light pink. And it couldn't be an Air Max Plus without some of the signature faded detailing, which we find on the TPU stripes across the upper. You can check out each of the four premium looks for the classic Air Max model here in detail.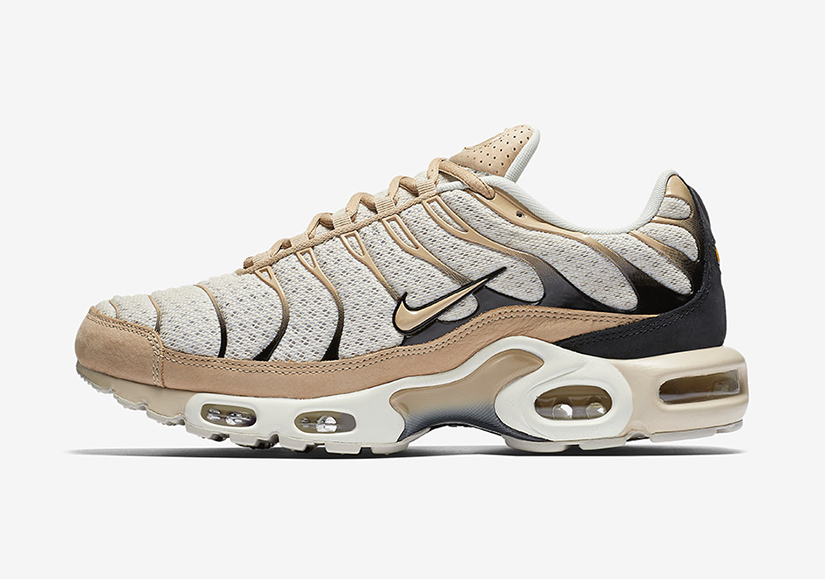 Nikelab Air Max Plus
898018-002
Light Bone/Black-Sail-Oatmeal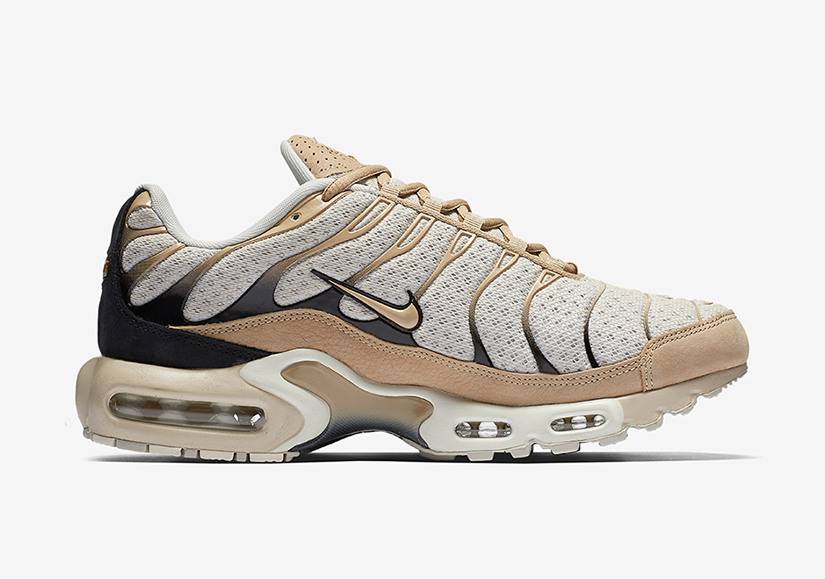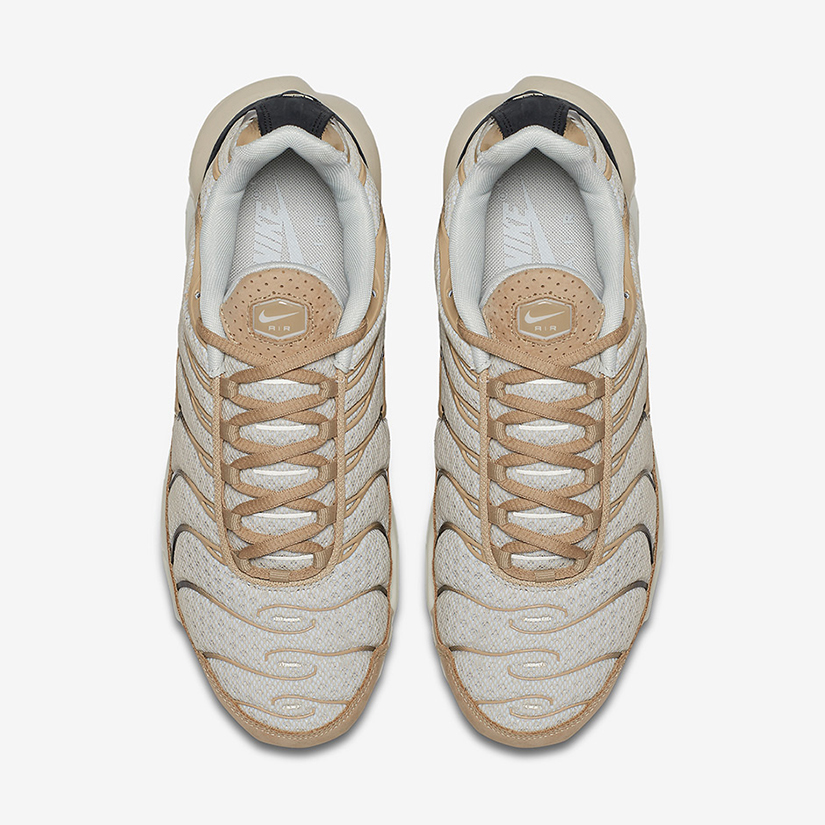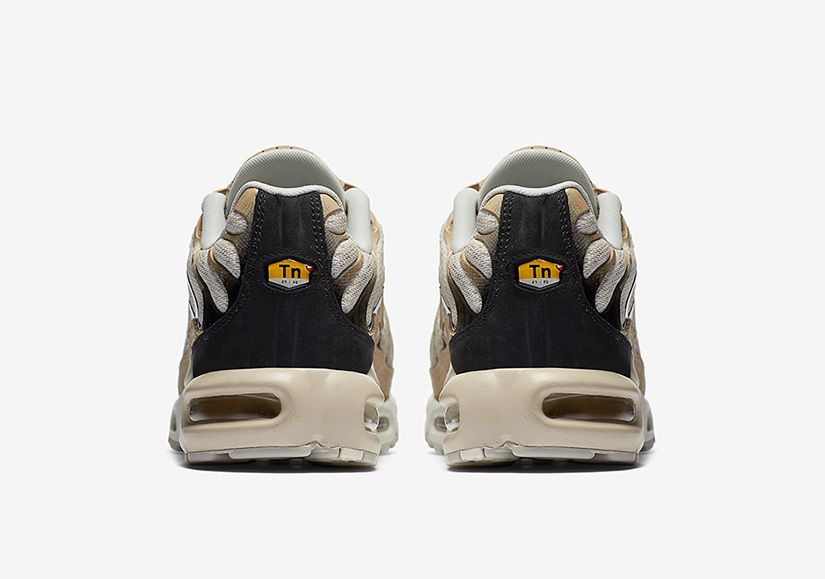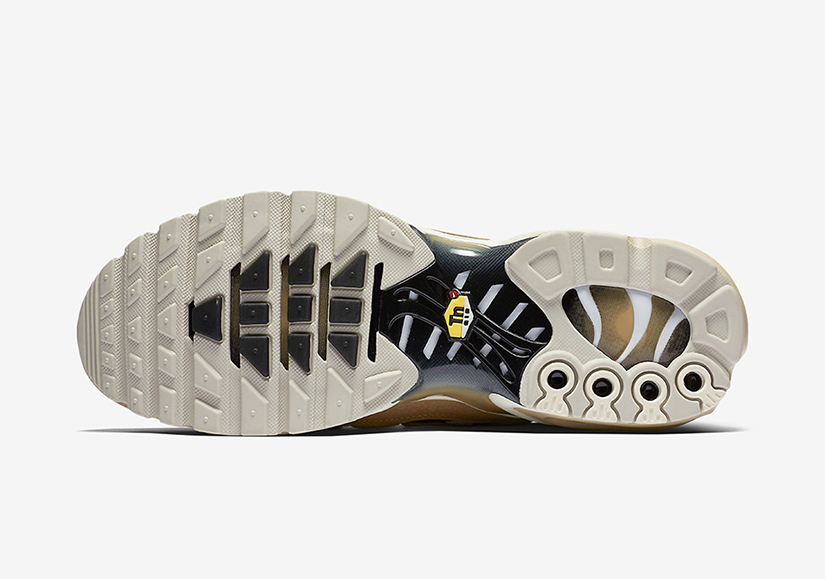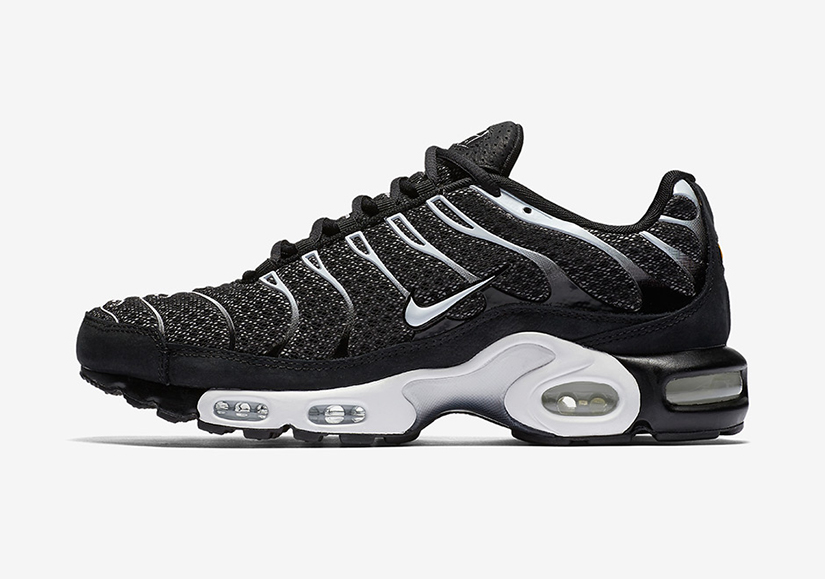 Nikelab Air Max Plus
898018-001
Black/Sail-Salsa Red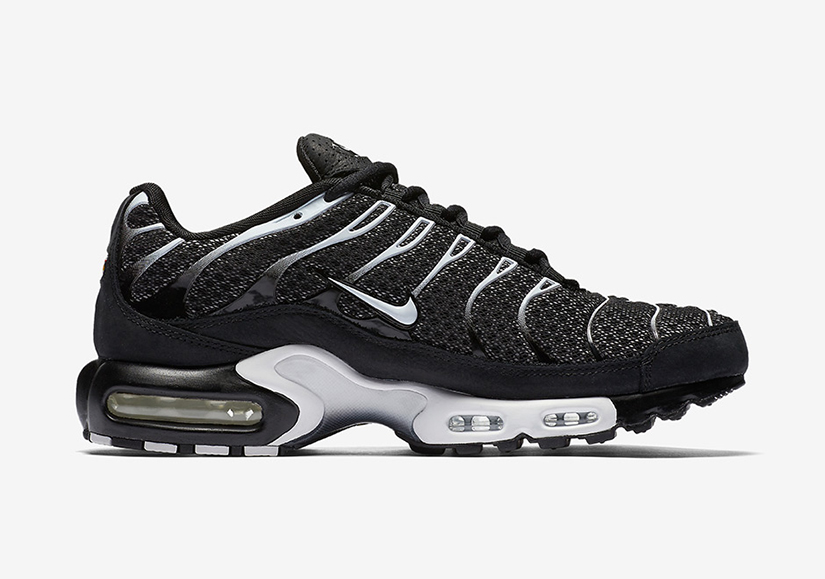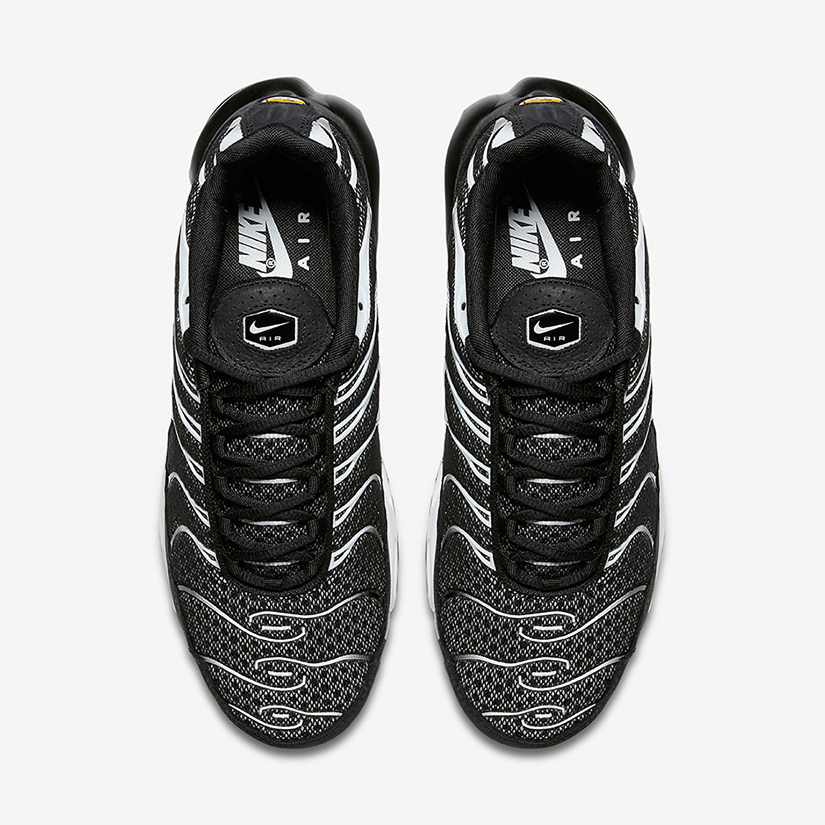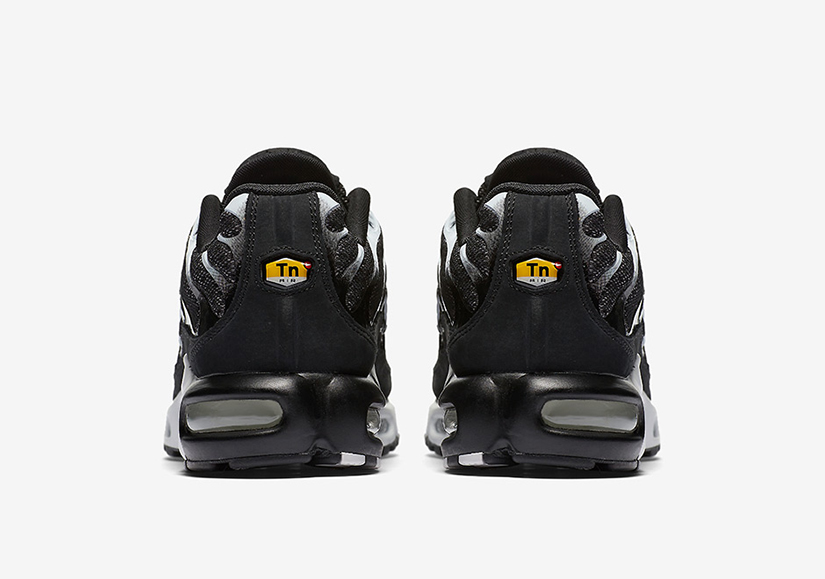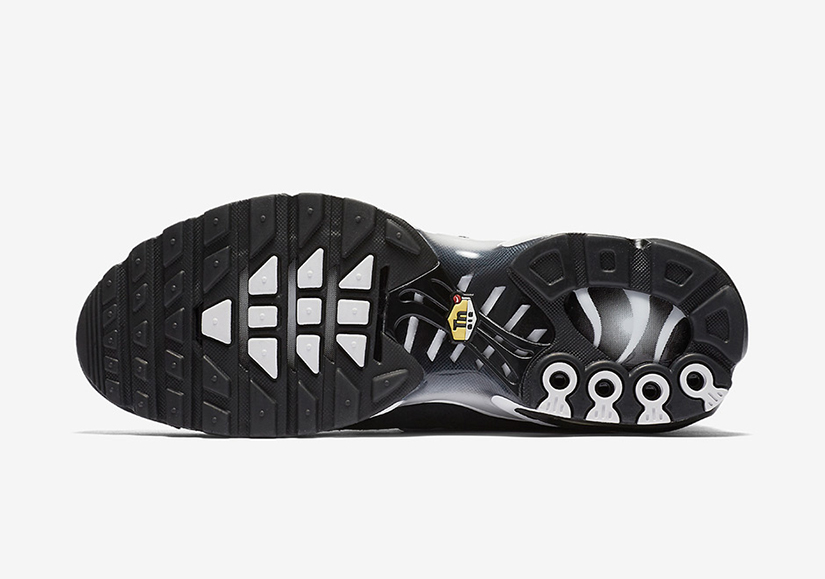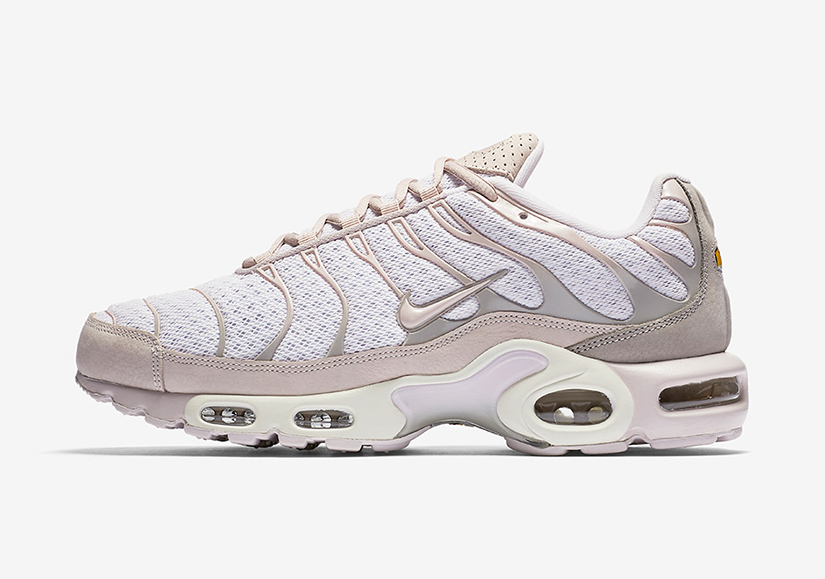 Nikelab Air Max Plus
898018-600
Pearl Pink/Cobblestone-Sail-Silt Red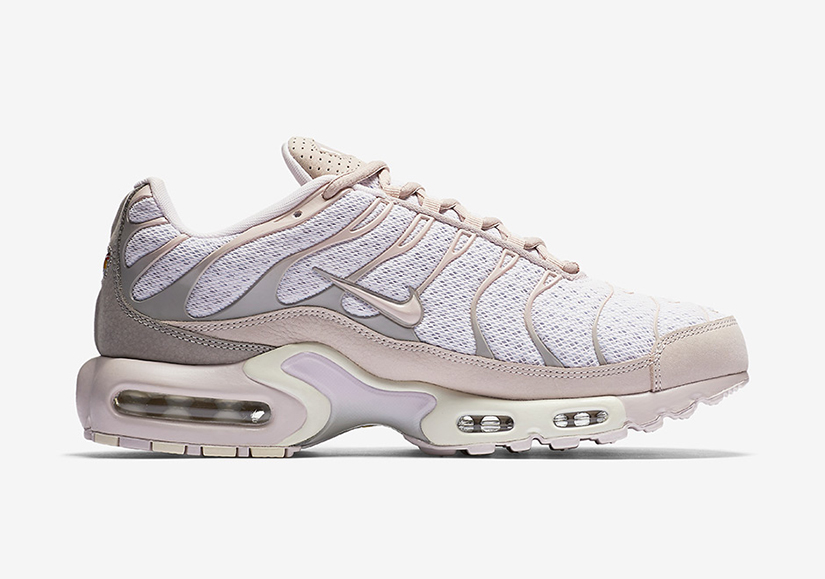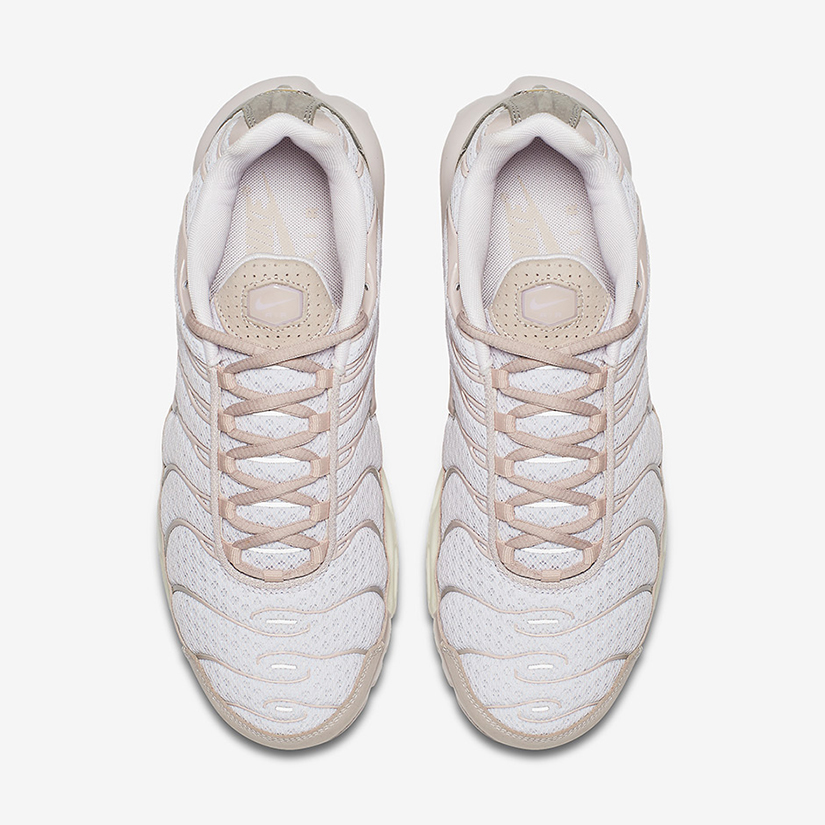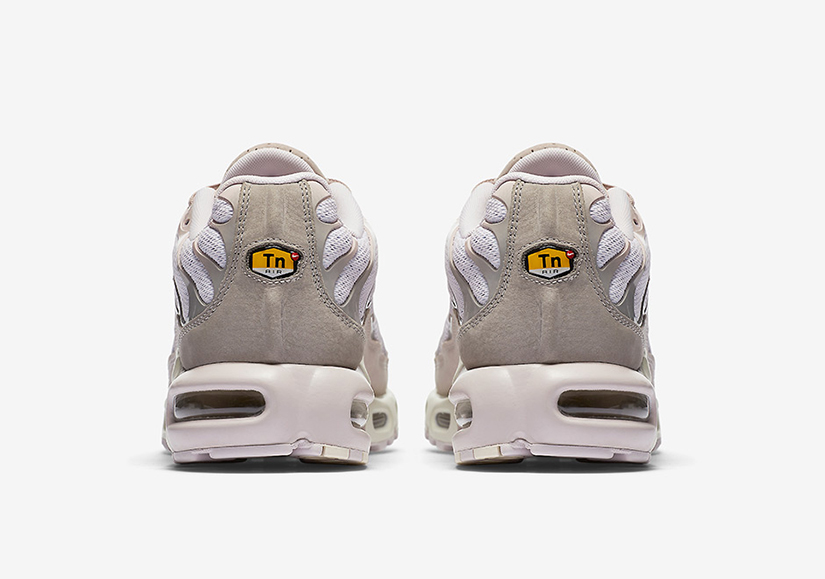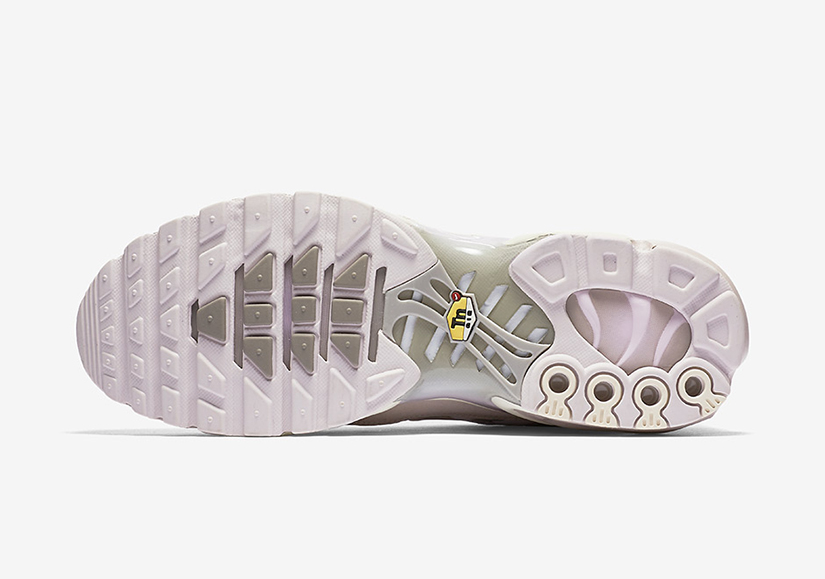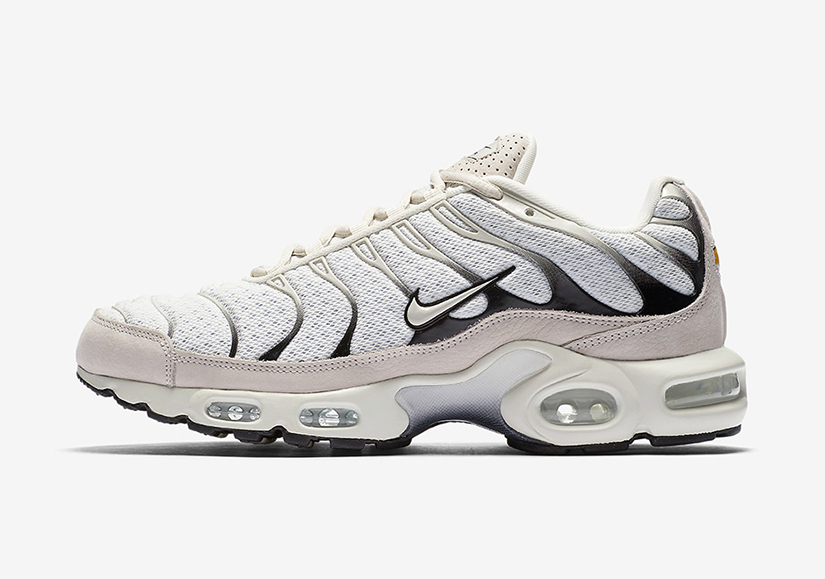 Nikelab Air Max Plus
898018-100
Sail/Black-Salsa Red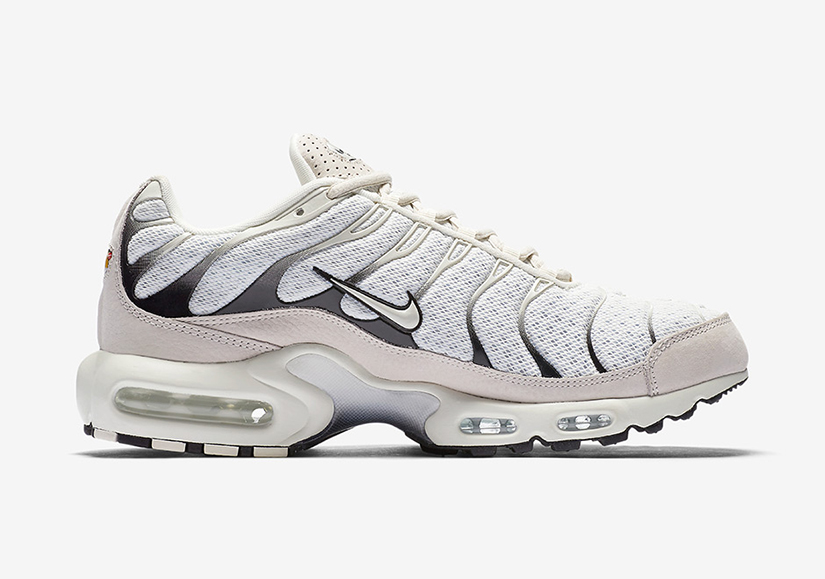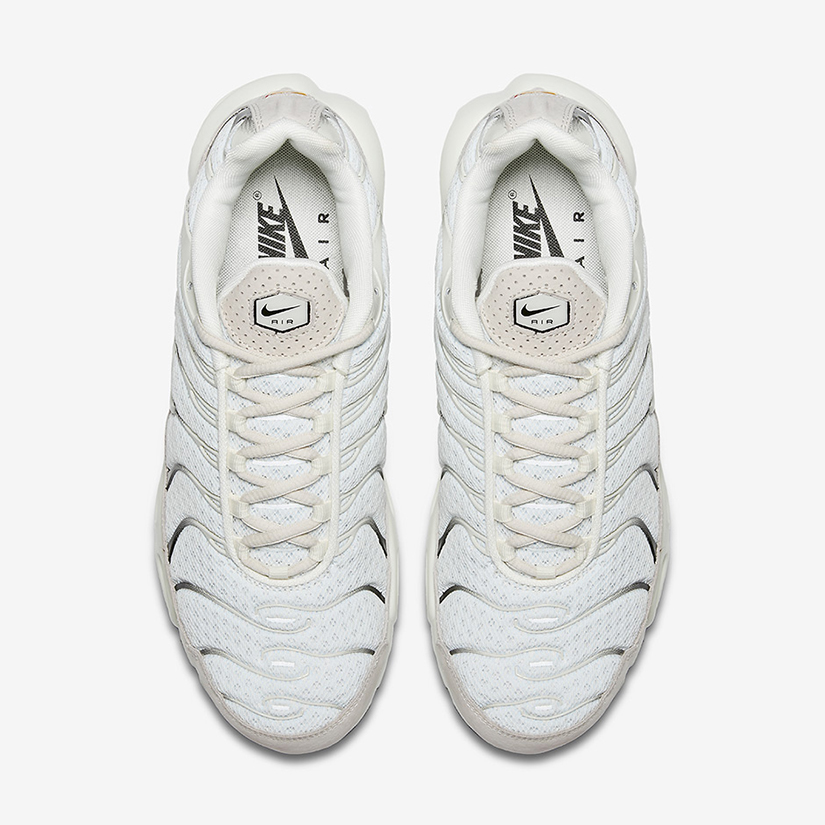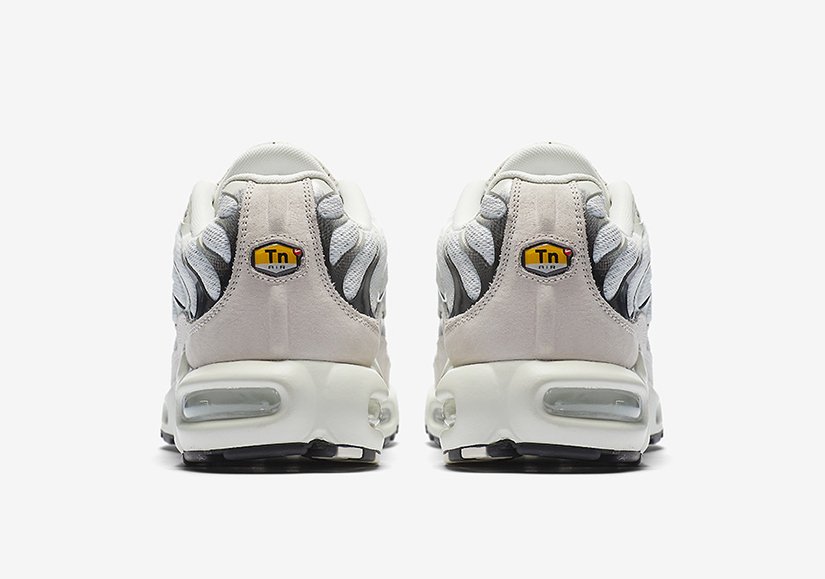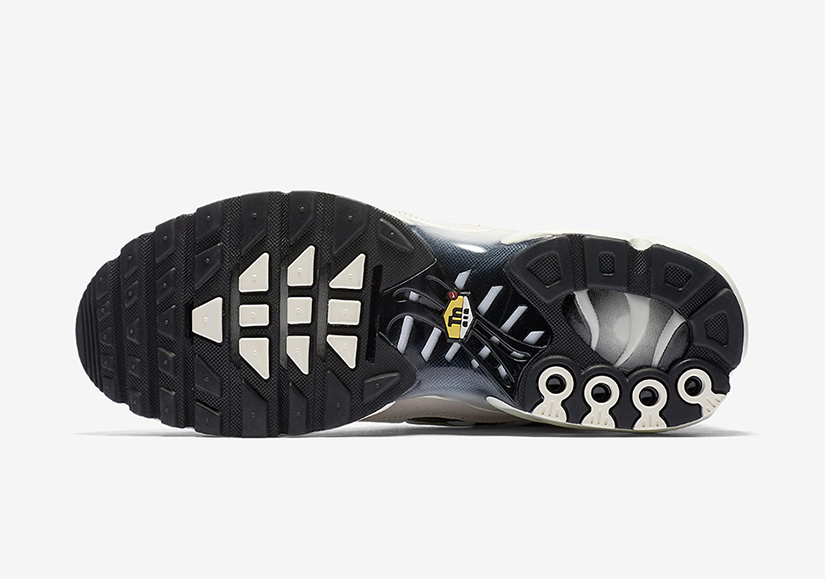 ASICS GEL-LYTE V X COMMONWEALTH "KULTURA"
LAUNCHING 15TH APRIL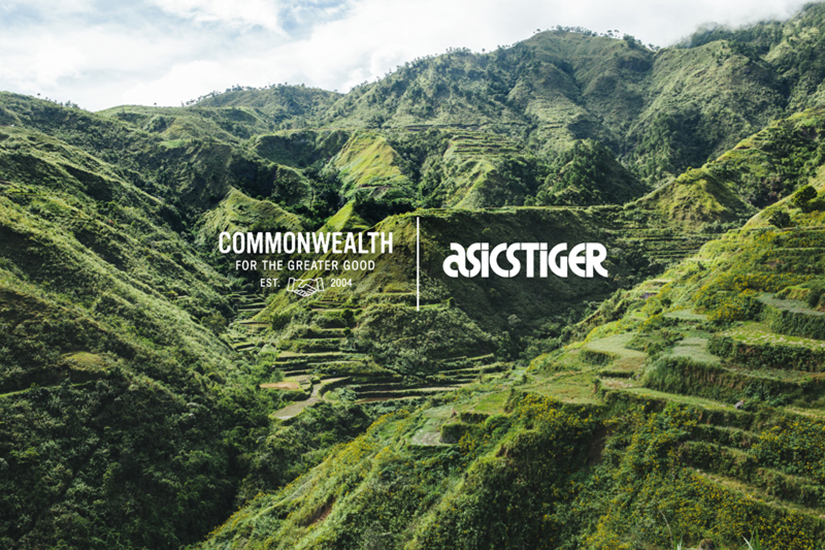 Commonwealth and ASICS Tiger look to preserve Filipino culture through our latest collaboration on the GEL- Lyte V. Although, having stores in Washington, DC, and Virginia Beach, Commonwealth has looked to its store in Manila, Philippines and the Kalinga to create a sneaker that pays homage to one of the country's preserved traditions.
The Kalinga are an ethnic group in the Philippines who inhabit the mountains of Luzon. Due to the mountainous terrain and warrior-culture of the people, the Kalinga were able to preserve their culture despite centuries of occupation in the lowlands by the Spaniards, Americans, and the Japanese.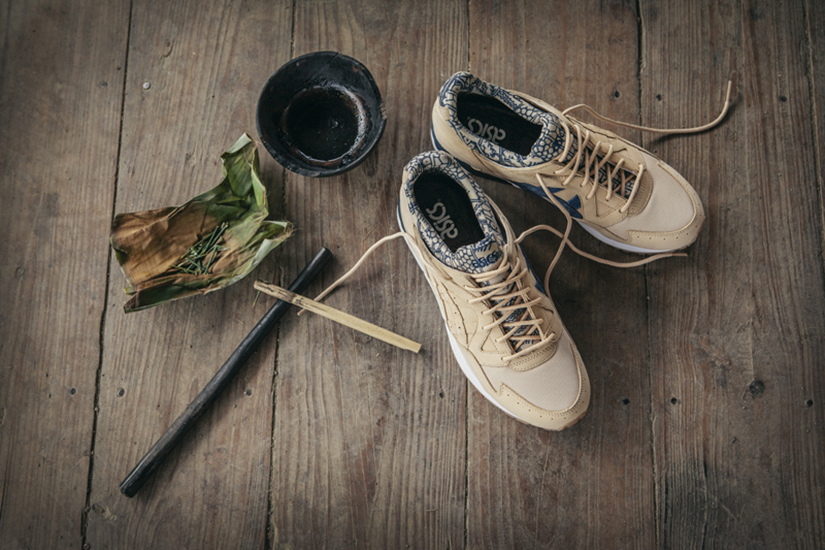 That includes the intricate tribal art of body adornment, drawing on basic geometric shapes and nature-inspired designs. This ancient technique of adornment is called "batok" that dates back a thousand years. These designs were used to communicate with one another for generations. They represented who they were, where they came from, and what they stood for, therein revealing an insight to the people's philosophy and social standards.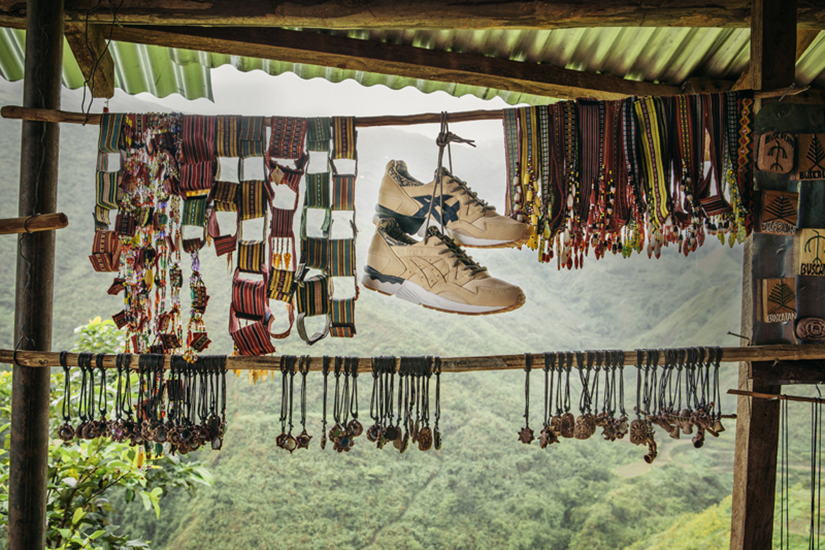 Inspired by that sacred tradition, dubbed the "Kultura" GEL-Lyte V, ASICS Tiger and Commonwealth pay respect in sneaker form. A velvet touch nubuck, premium suede, and breathable mesh upper meets Kalinga inspired art on the s GEL-Lyte V's signature mono sock-liner, bridging the gap between a reverence for the past and a foot towards the future.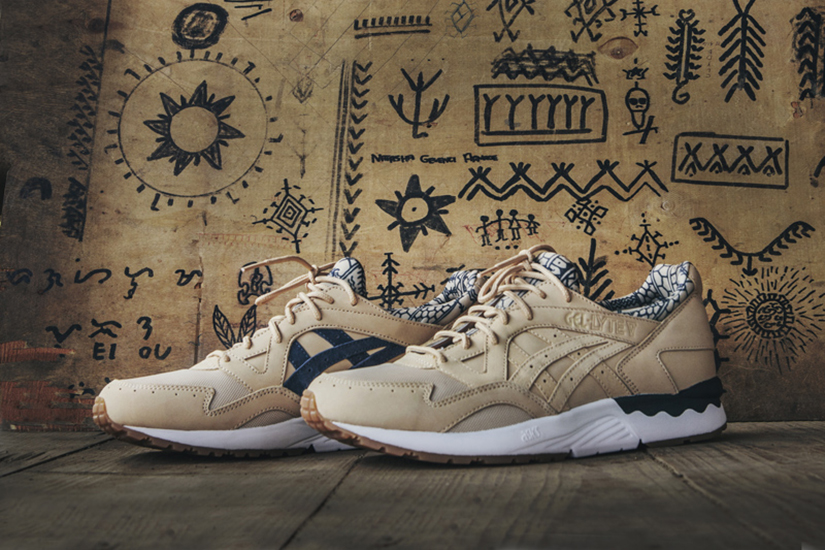 The GEL-Lyte V originally released in 1993 as a marathon sneaker, the "Kultura" represents the need to preserve Filipino culture and traditions as a race that's worth running.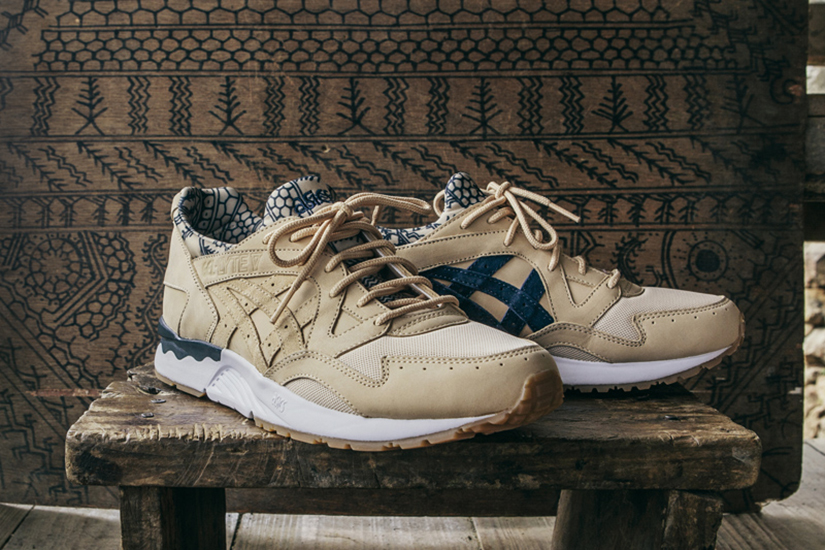 Asics Gel-Lyte V x Commonwealth "Kultura"
HK6M1-0505
Colour: TBC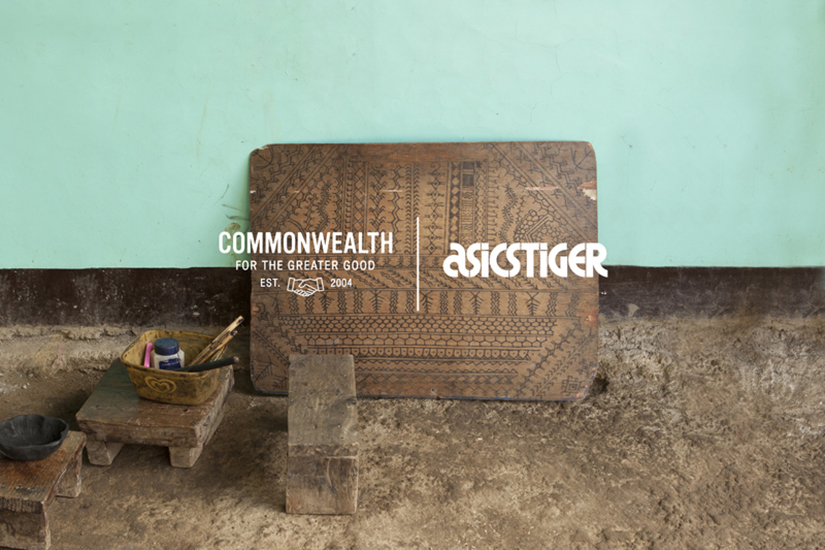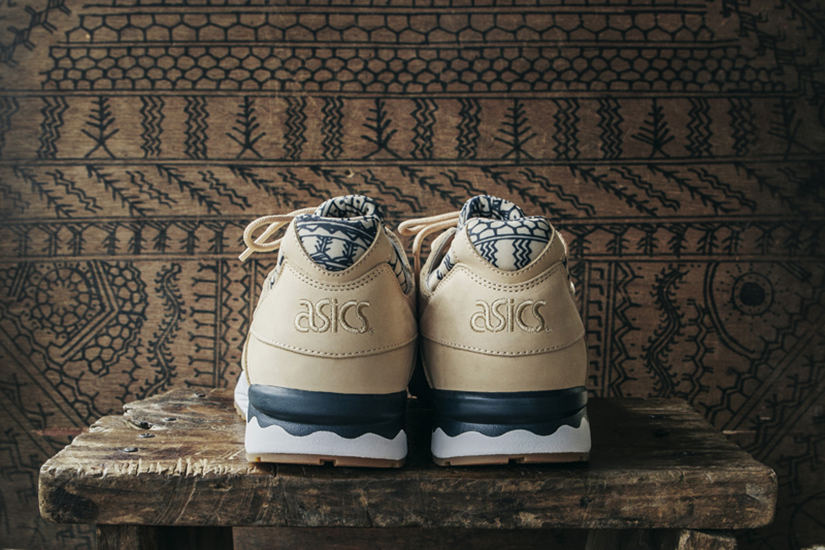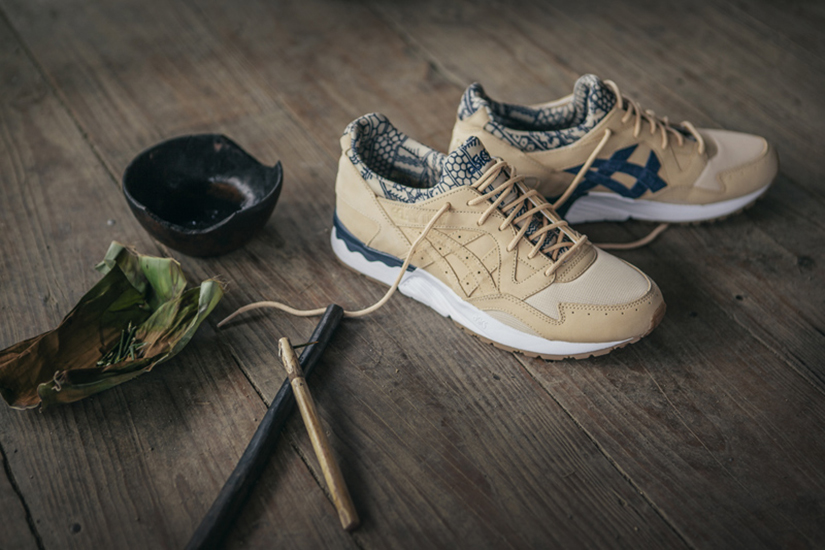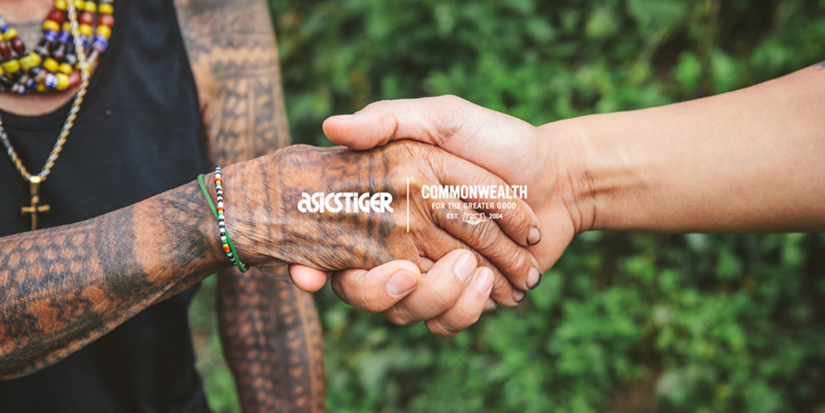 NIKELAB AIR MAX 1 FK ROYAL X ARTHUR HUANG
LAUNCHING 13TH APRIL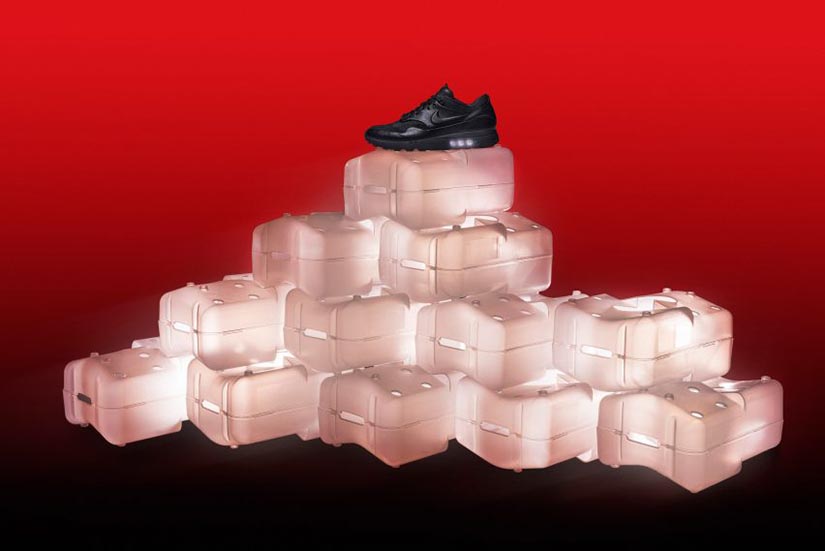 NikeLab Air Max 1 Ultra 2.0 x Arthur Huang was designed by the Taiwanese architect and engineer who co-founded eco-design firm Miniwiz, and also created a colourful web of Flyknit material in a rusting gas tower during Beijing Design Week 2012.
Arthur Huang used only recycled materials to produce the NikeLab Air Max 1 Ultra 2.0 FK x Arthur Huang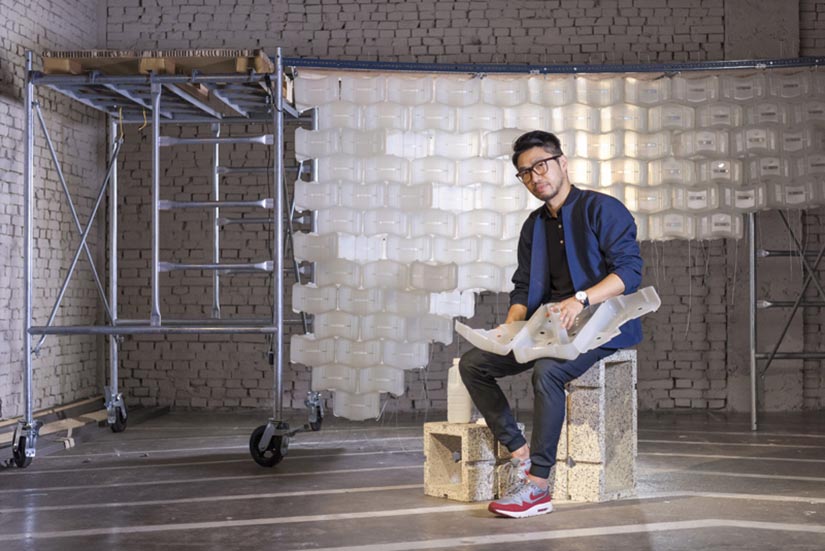 Honouring the idea of encapsulated innovation, Miniwiz CEO and architect Arthur Huang has created a lightweight package made entirely of post-consumer materials, complementing the Air Max and helping to redefine the possibilities of modern innovation.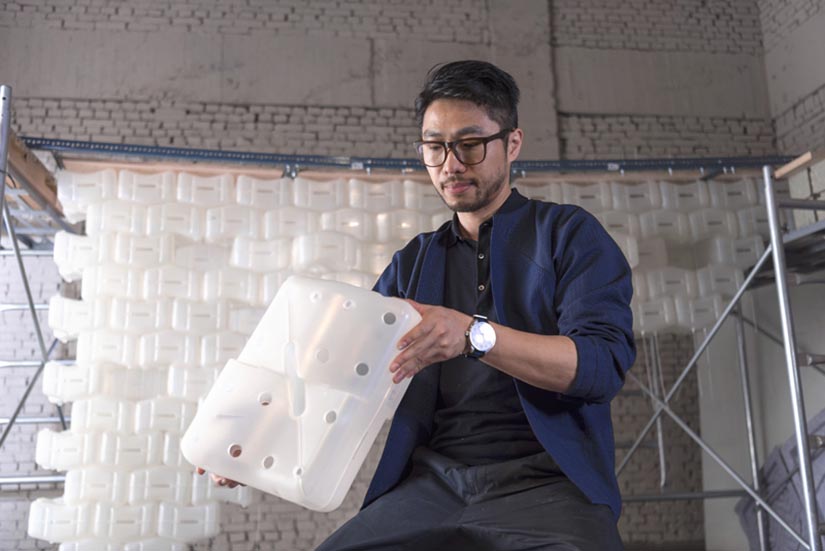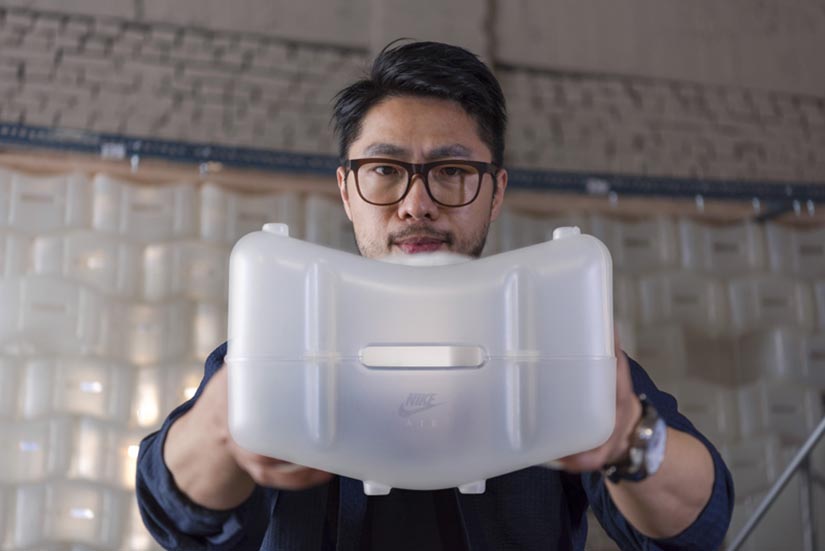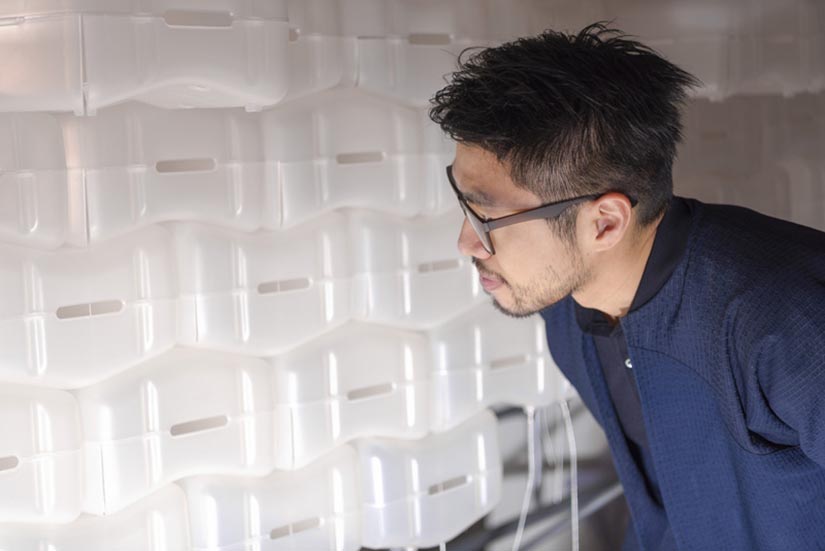 For Arthur Huang, the visionary CEO of Miniwiz, Nike Air demonstrates a perfect balance of performance and sustainability. "It cushions while at the same time reducing material usage."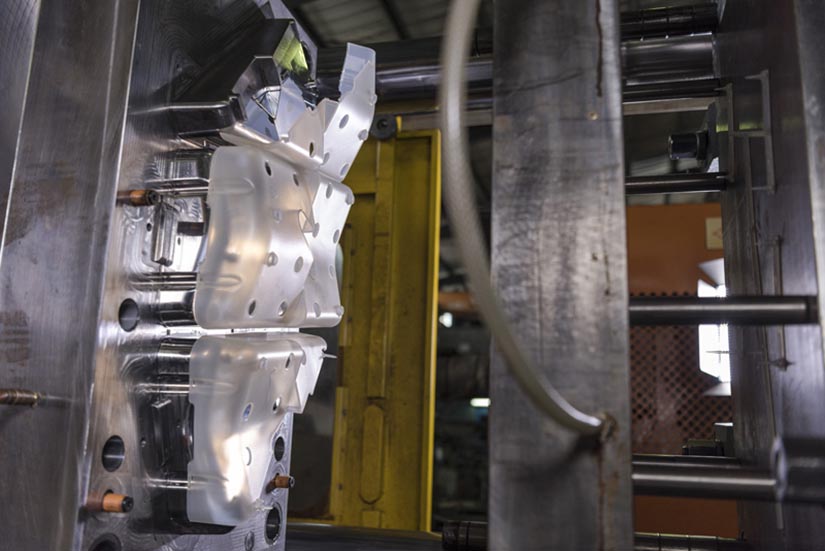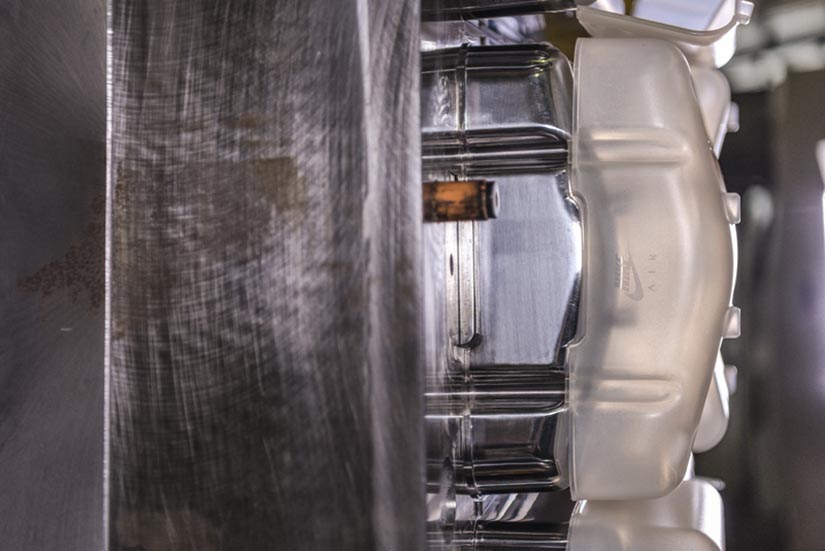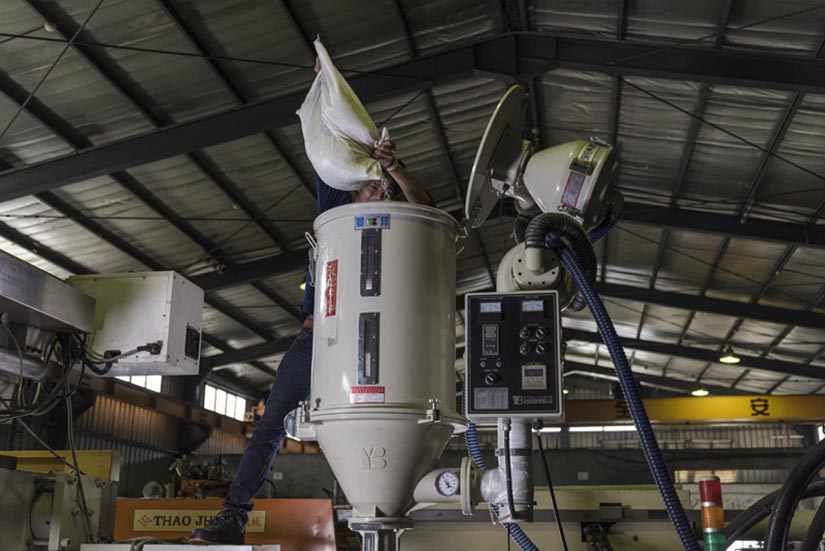 The equilibrium between responsible manufacture and function forms the backbone of Huang's NikeLab Air Max Day collaboration. Huang, who is both an architect and structural engineer, has created a lightweight package made entirely of post-consumer materials (milk and orange juice containers, morning coffee lids).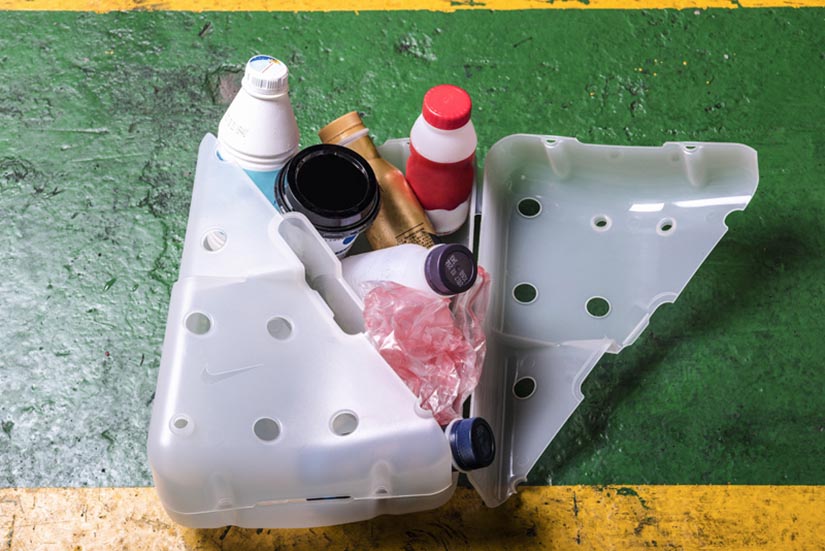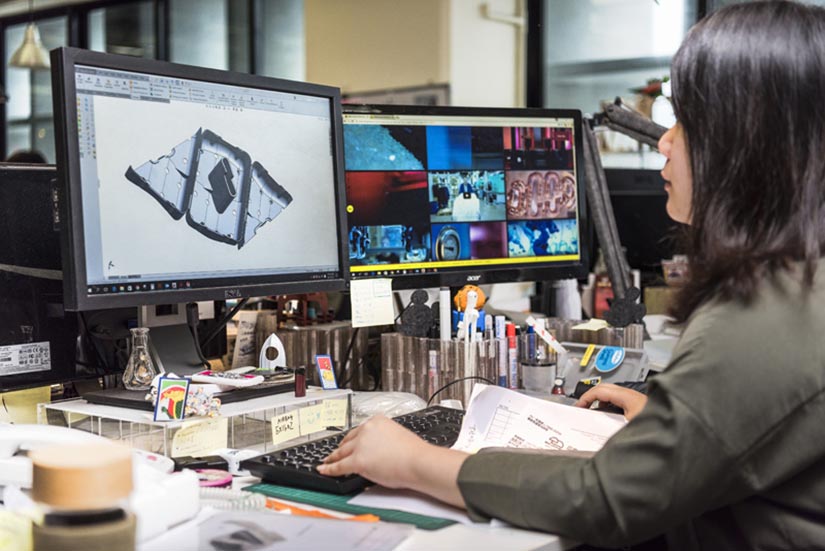 Specifically, the box is produced from a single process Polypropylene with no added chemicals. The modular design allows it to be used as a stackable, interlocking component of a product display or storage system.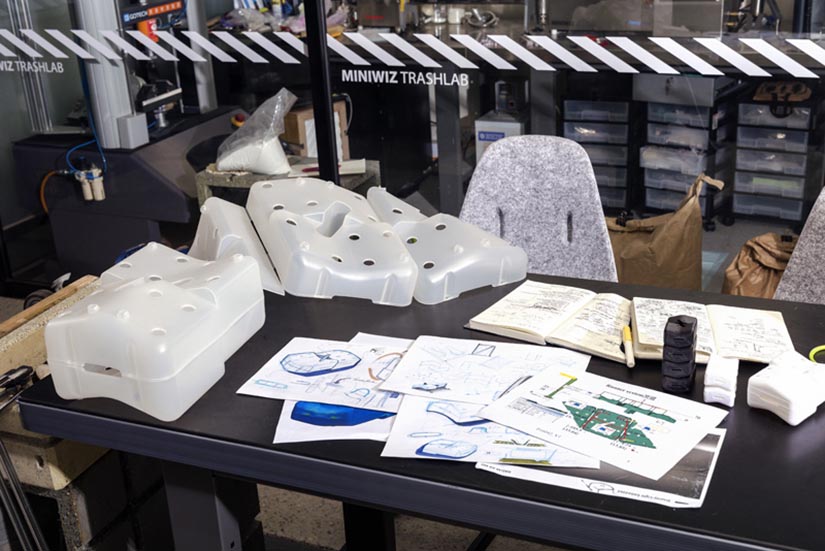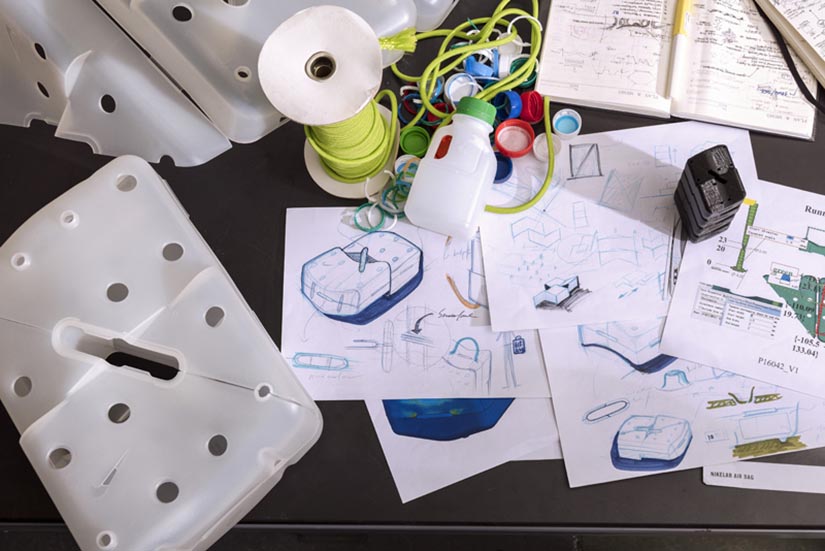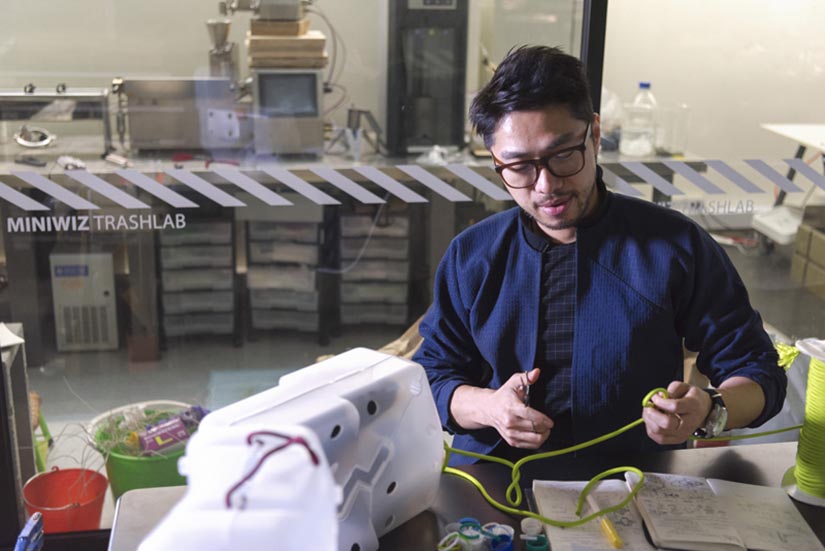 "These are all intentional features and qualities which revolve around the intent of every Miniwiz product — reducing the impact on the environment in every way it can," notes Huang. "In this case, we're adding features and efficiency to an existing product (shoe boxes) and by re-using non-virgin materials in a sustainable and responsible way."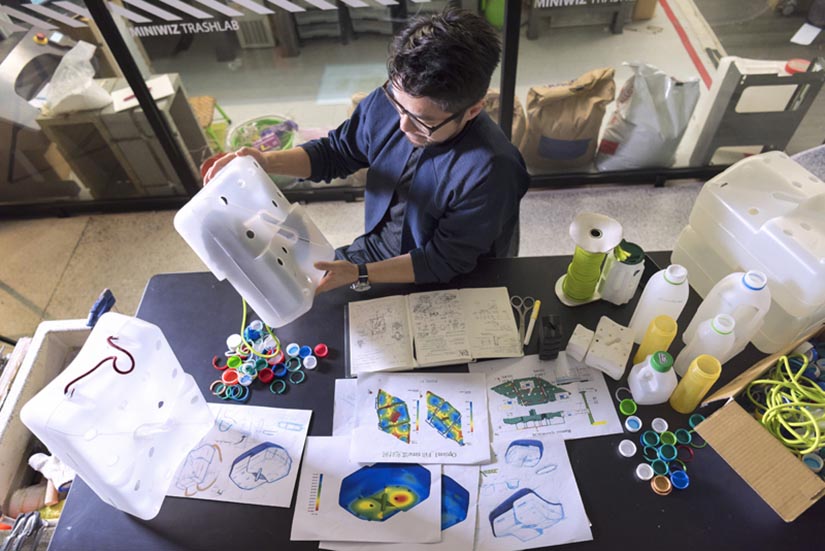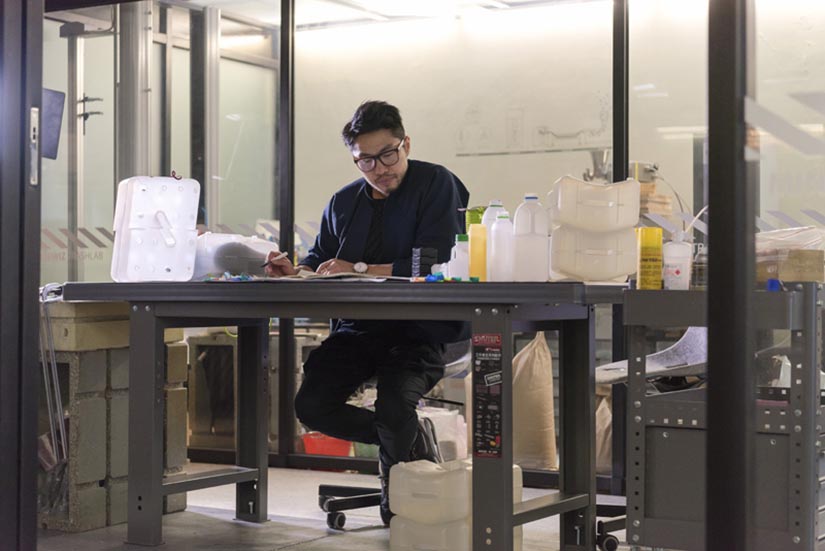 The package can also be used as a backpack and, should ideas about other forms of reuse sputter, it can be recycled. Furthermore, the shoe it was built to support, the NikeLab Air Max 1 Royal, a silhouette with its own application of sustainable production: Nike Flyknit.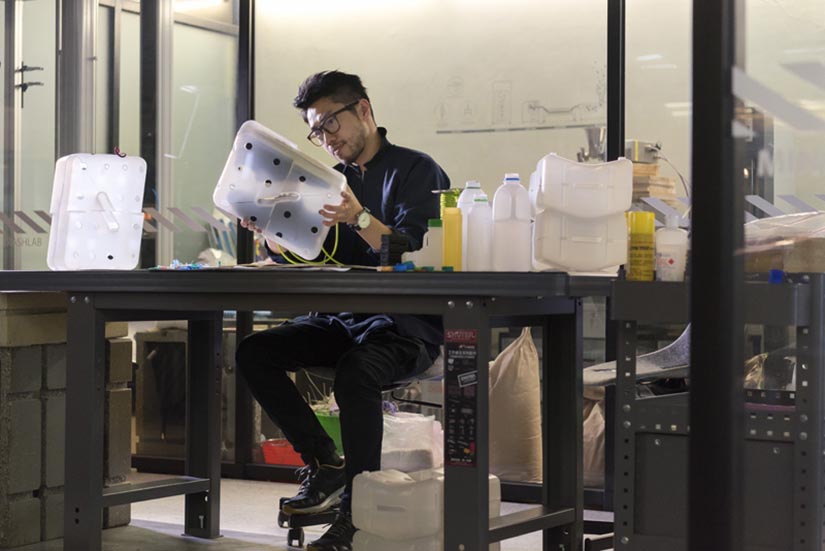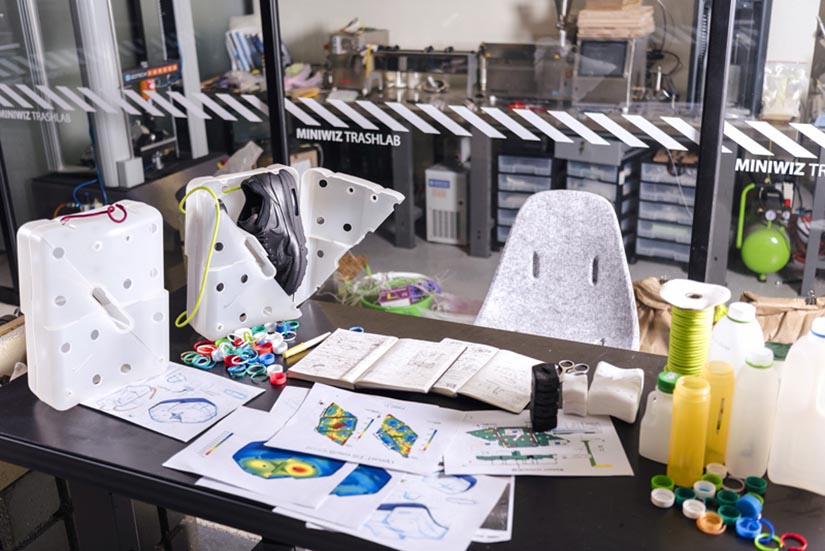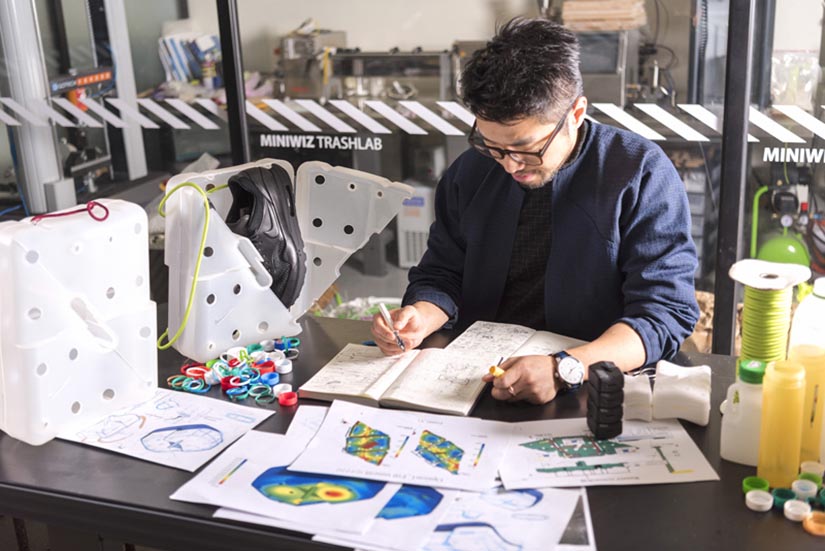 "We love Flyknit as a technology," says Huang. "It gives designers a new canvas to create cool, while lowering environmental impact. We want to be associated with that and are glad that we are a part of this revolution."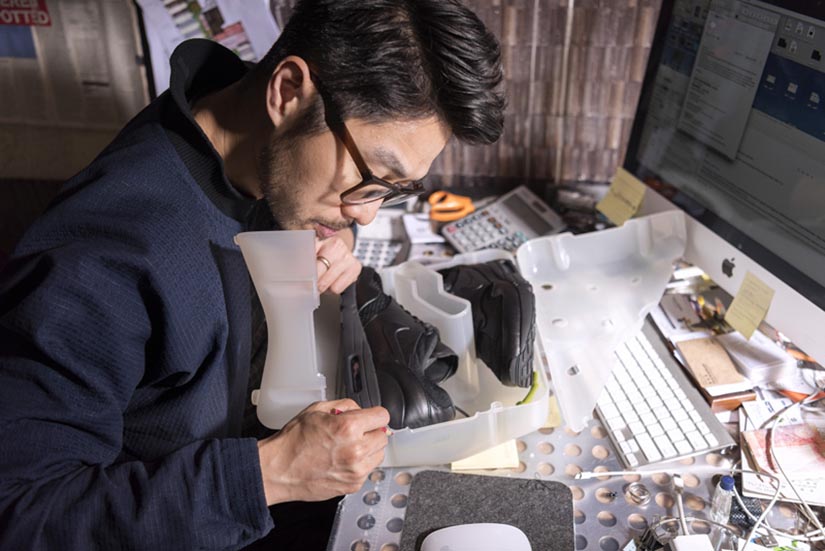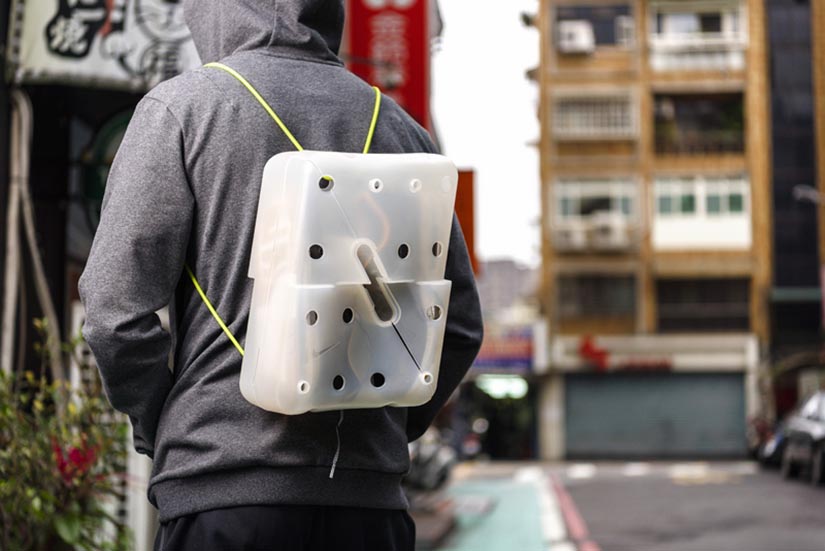 It's a revolution that also perfectly blends aesthetics and renewable materials. "The net result of this tech are some of Nike's lightest, high performance shoes launched into the market with an infinite possibility of being sexy," concludes Huang.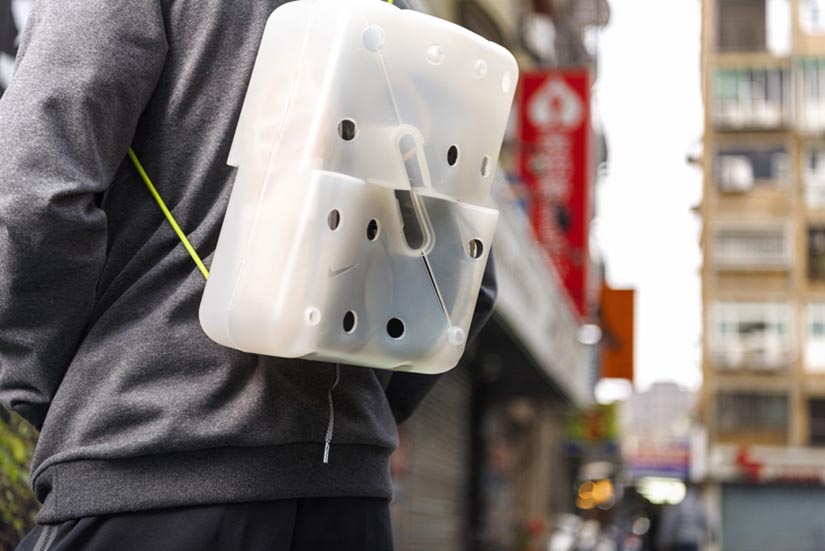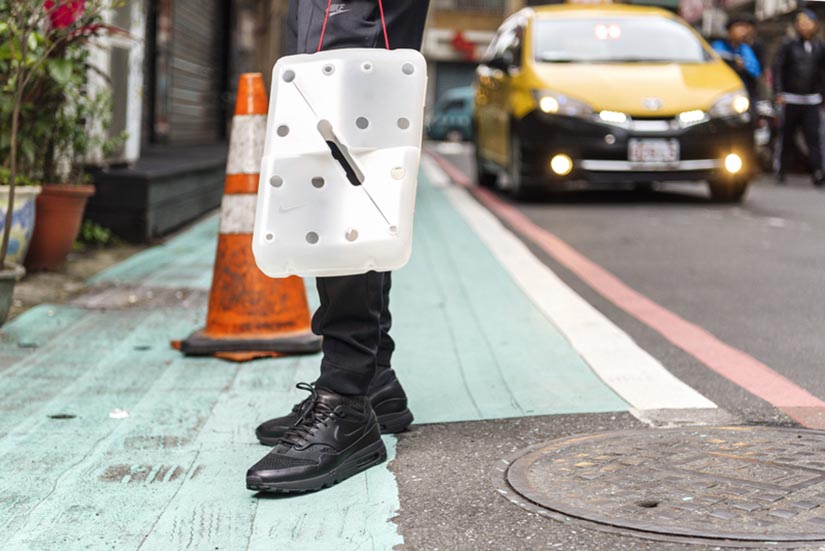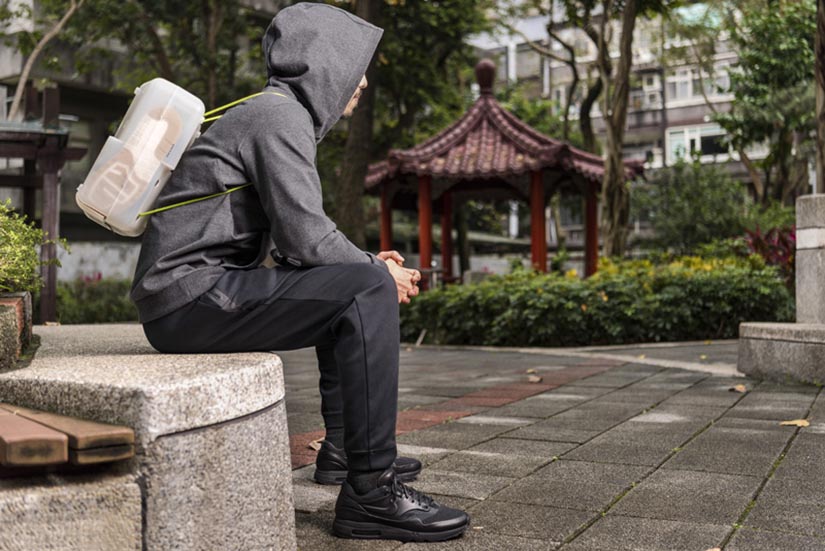 NIKELAB AIR MAX 1 FK ROYAL X ARTHUR HUANG
LAUNCHING 13TH APRIL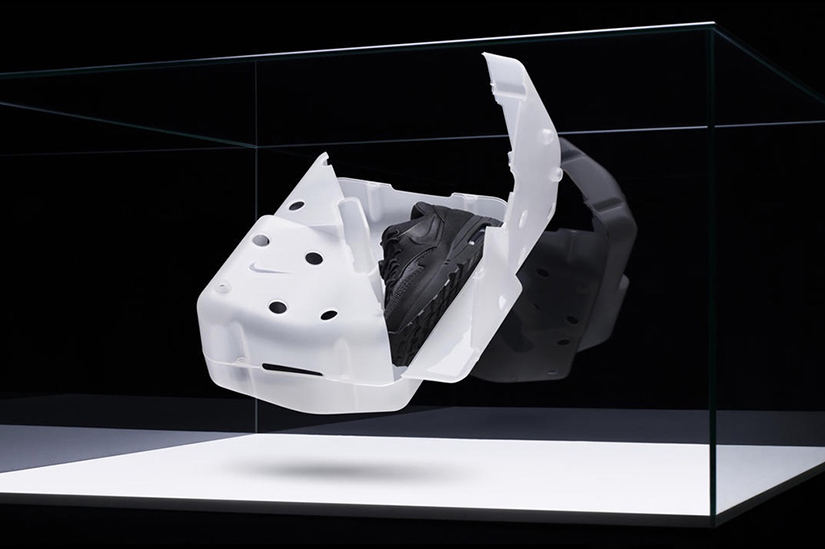 Featuring new tooling and materials, the Nike Air Max 1 Flyknit Royal is among the lightest Air Max 1 ever built. Premium, full-grain leather quarter panels float on a Nike Flyknit upper that rests on a cored-out, dual-density foam midsole.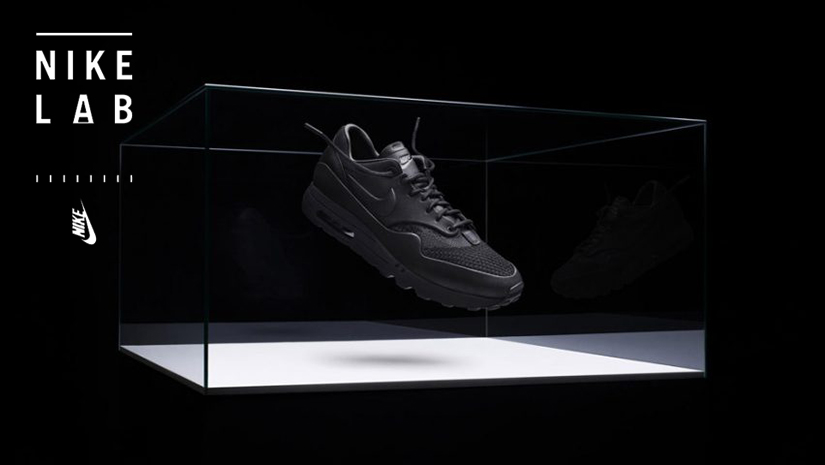 NikeLab Air Max 1 FK Royal x Arthur Huang
923005-001
BLACK/BLACK-ANTHRACITE-LIGHT SILVER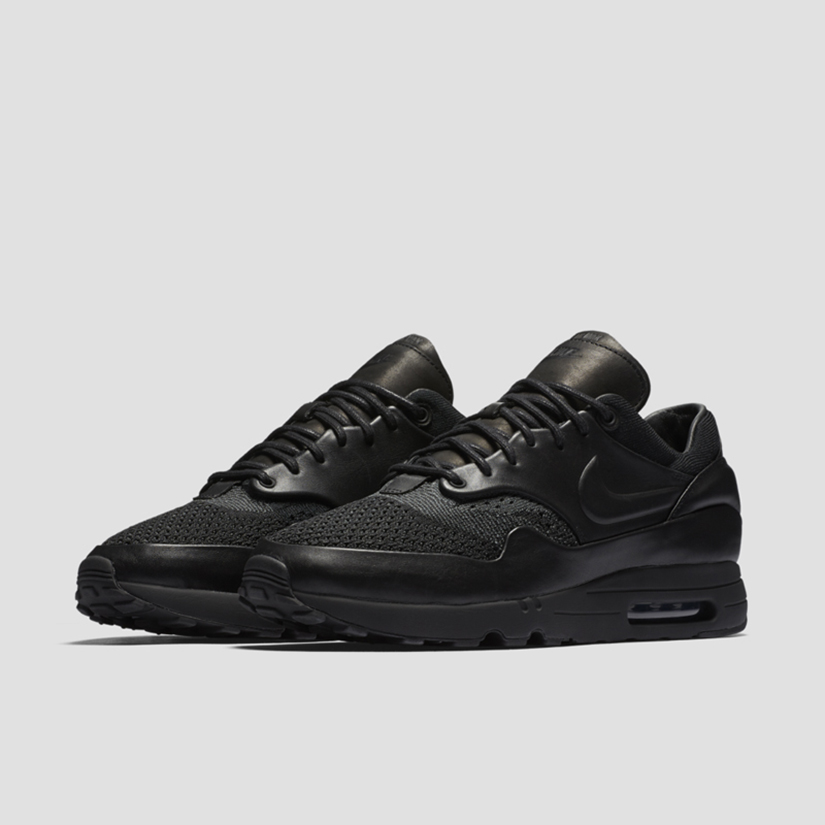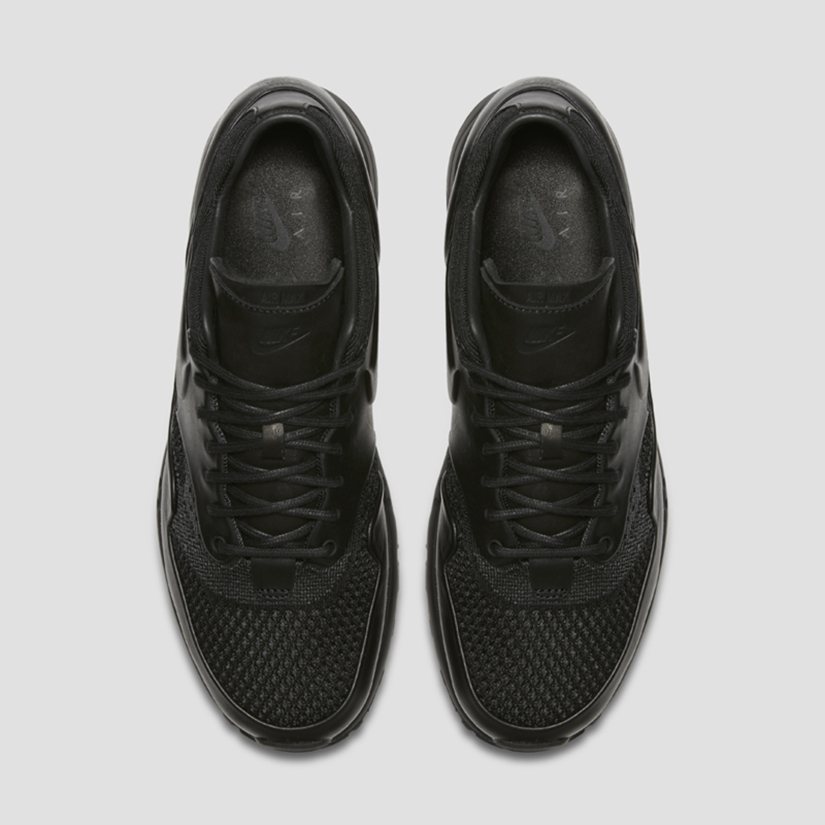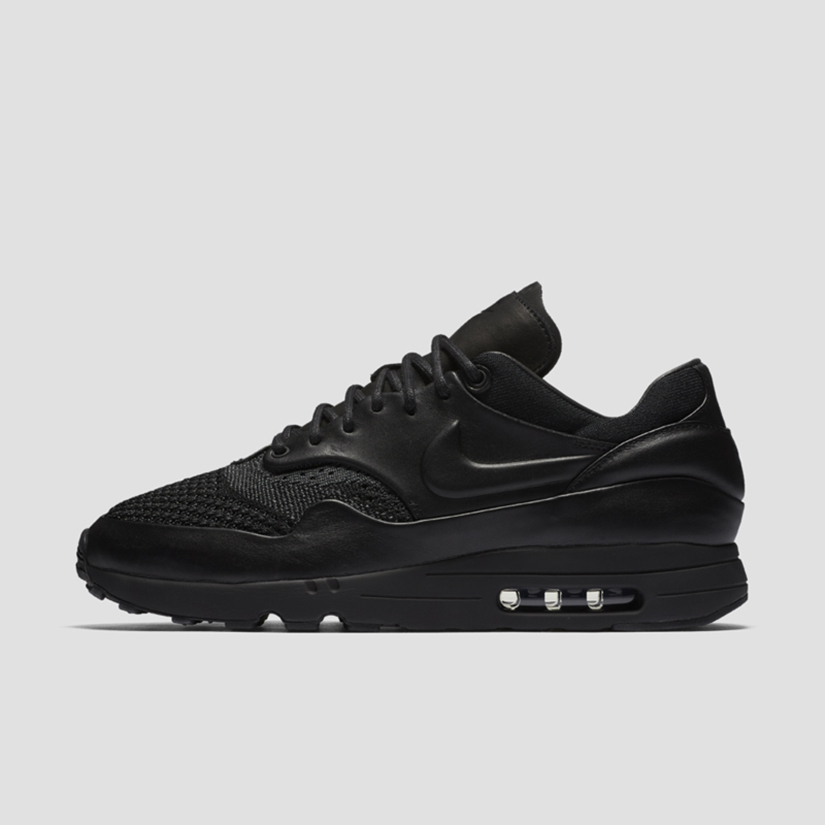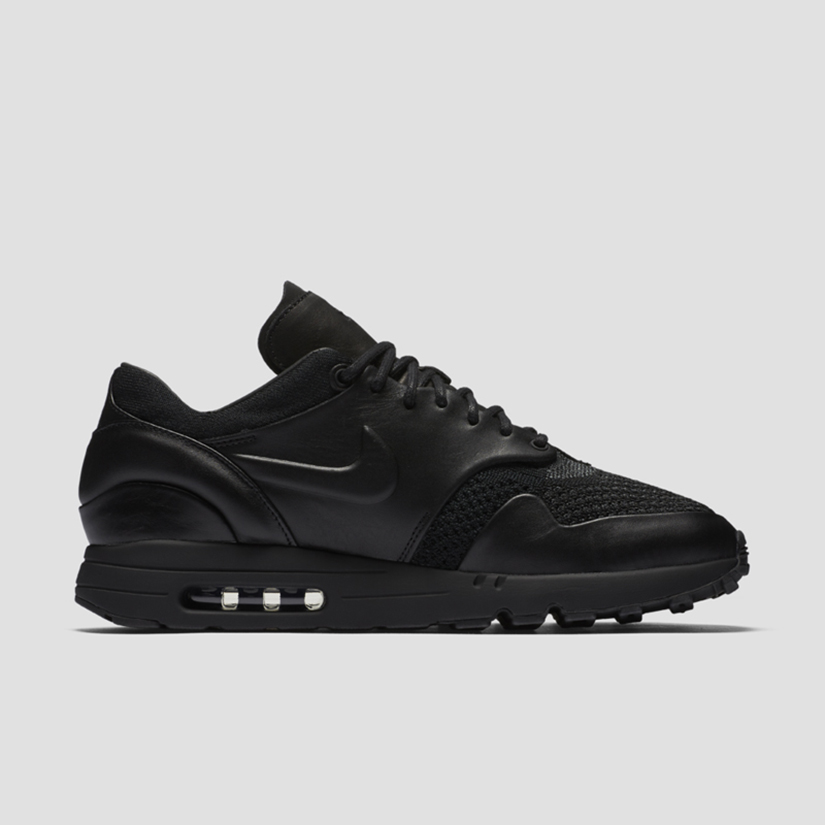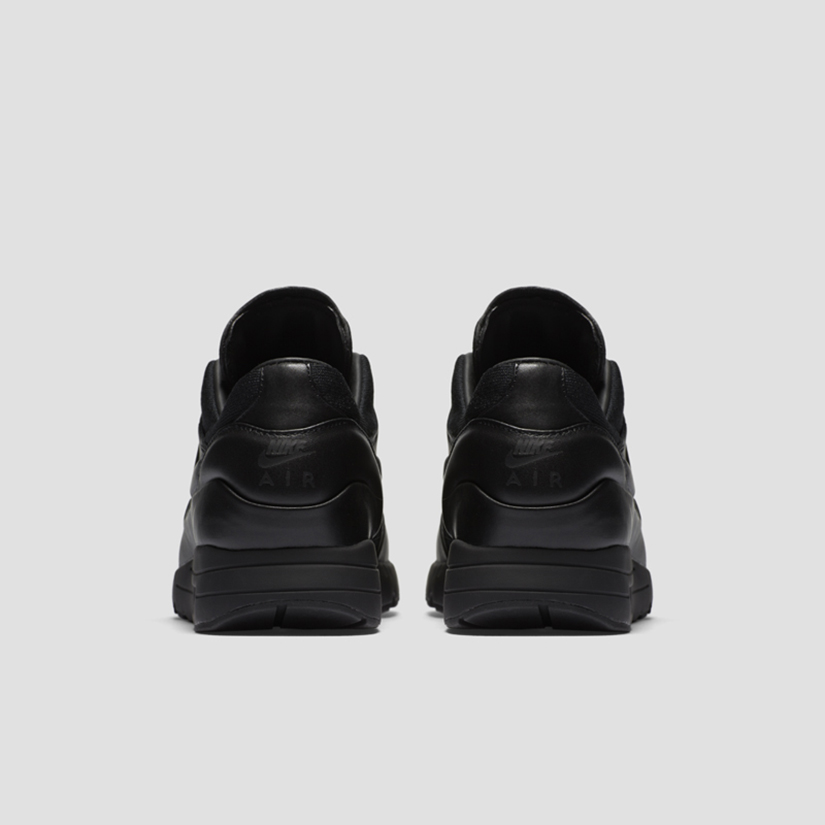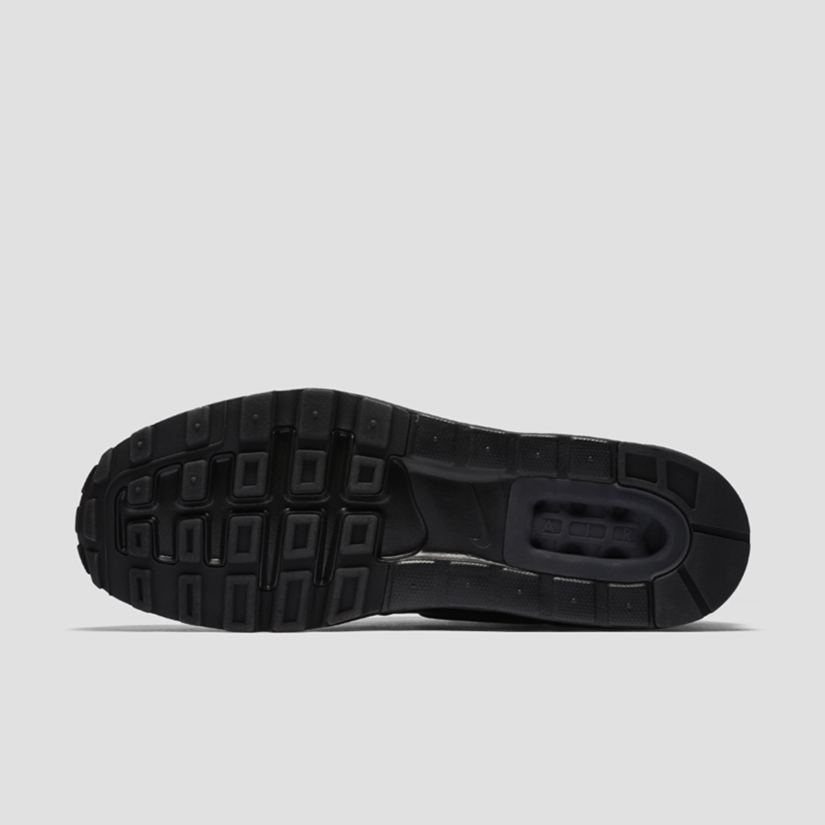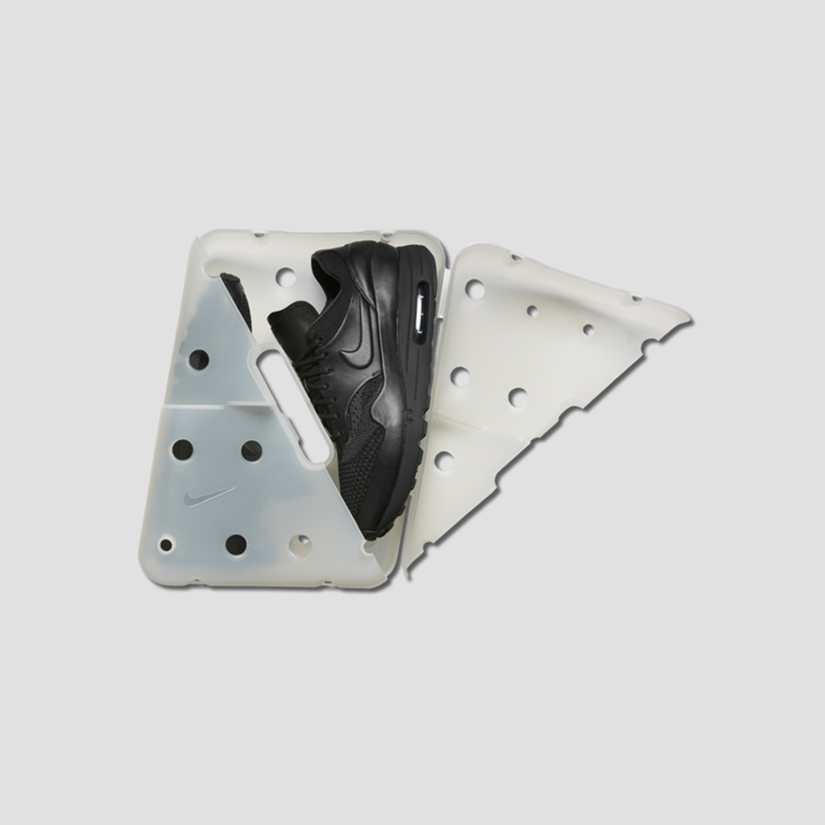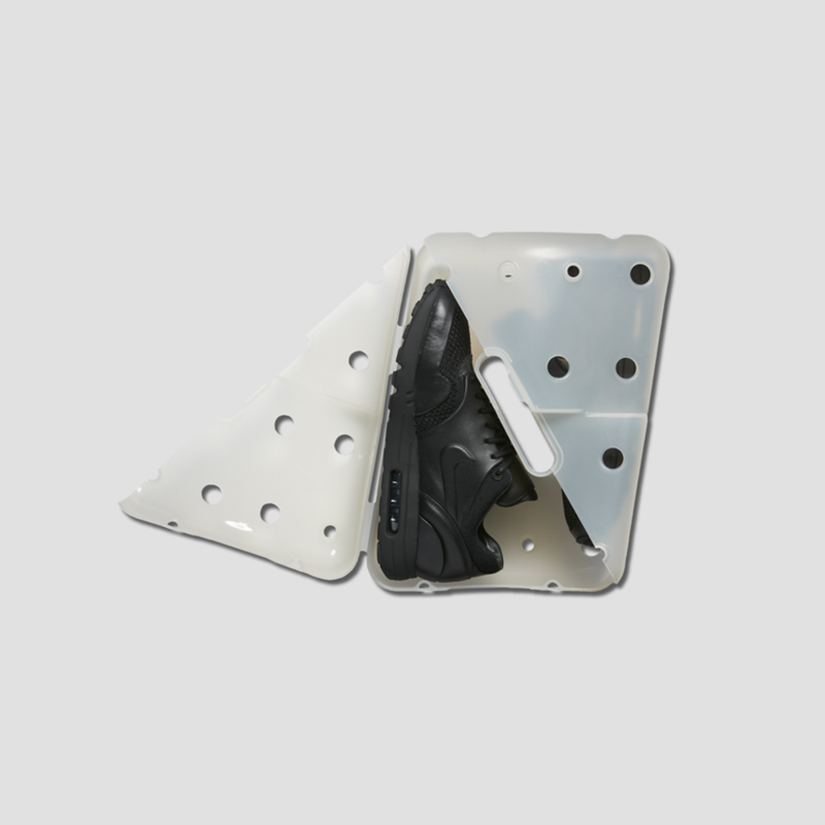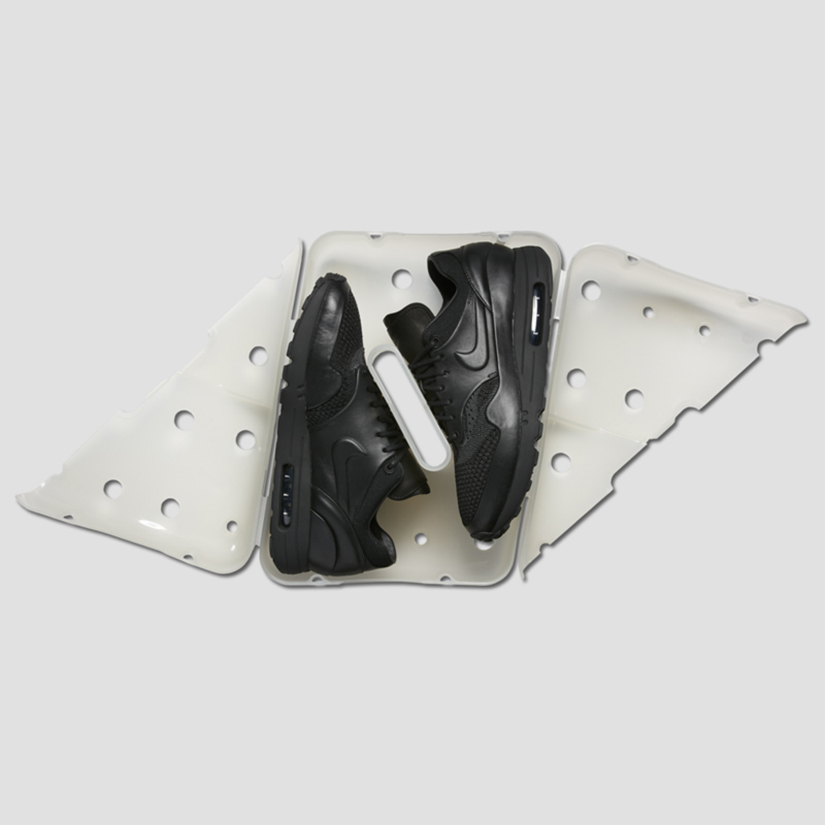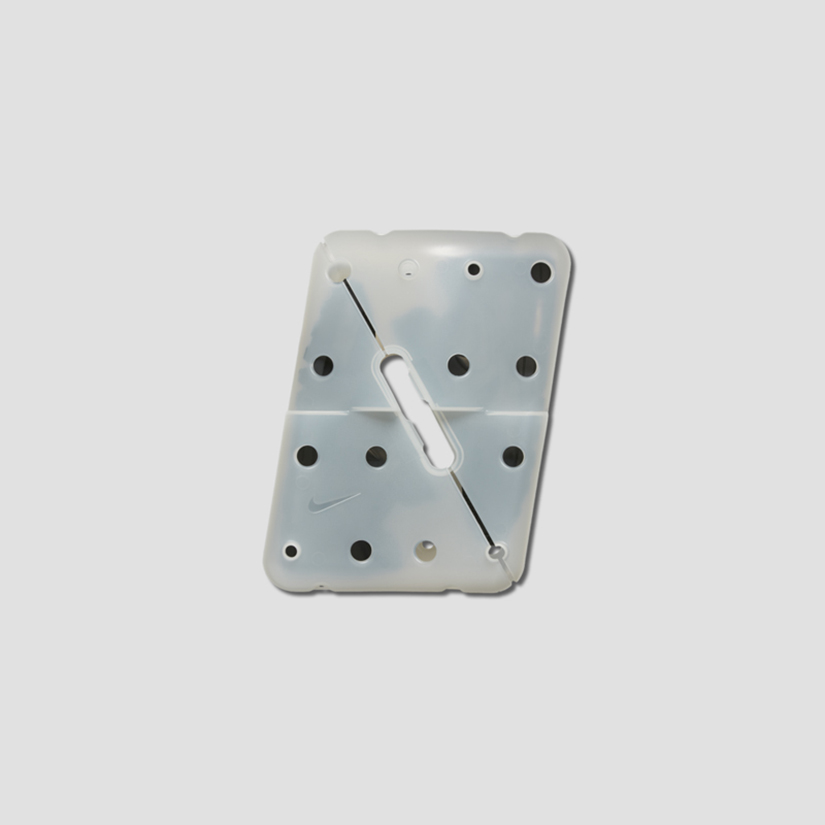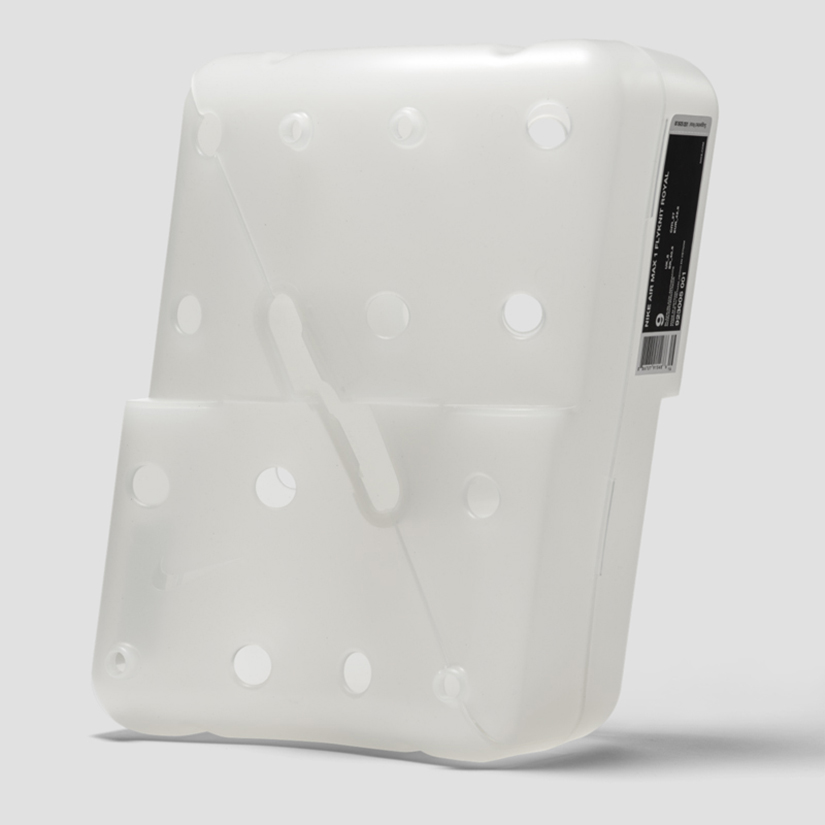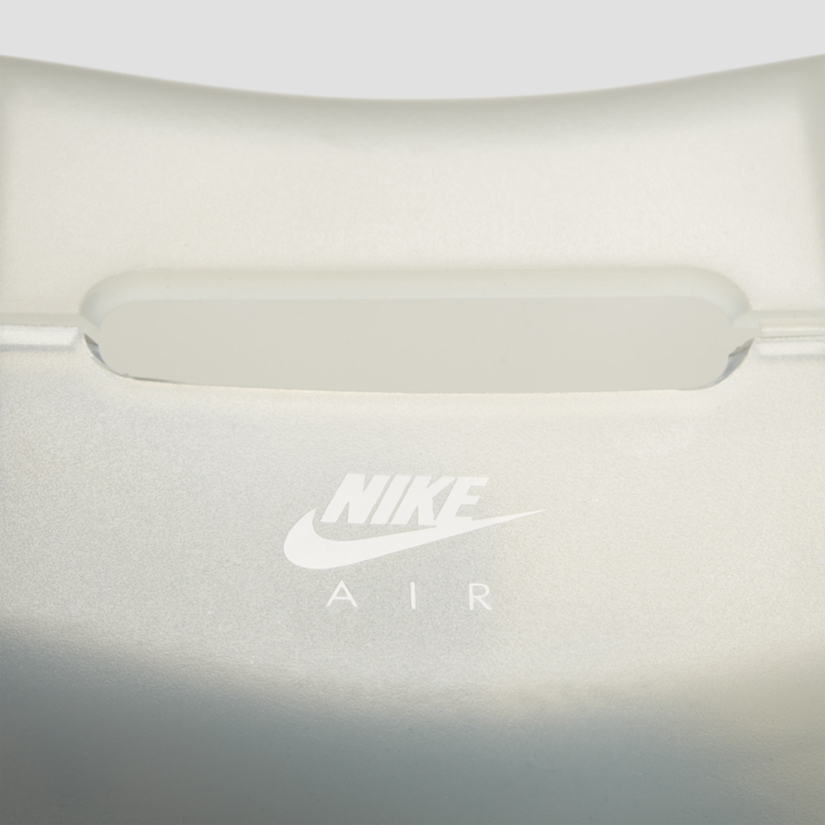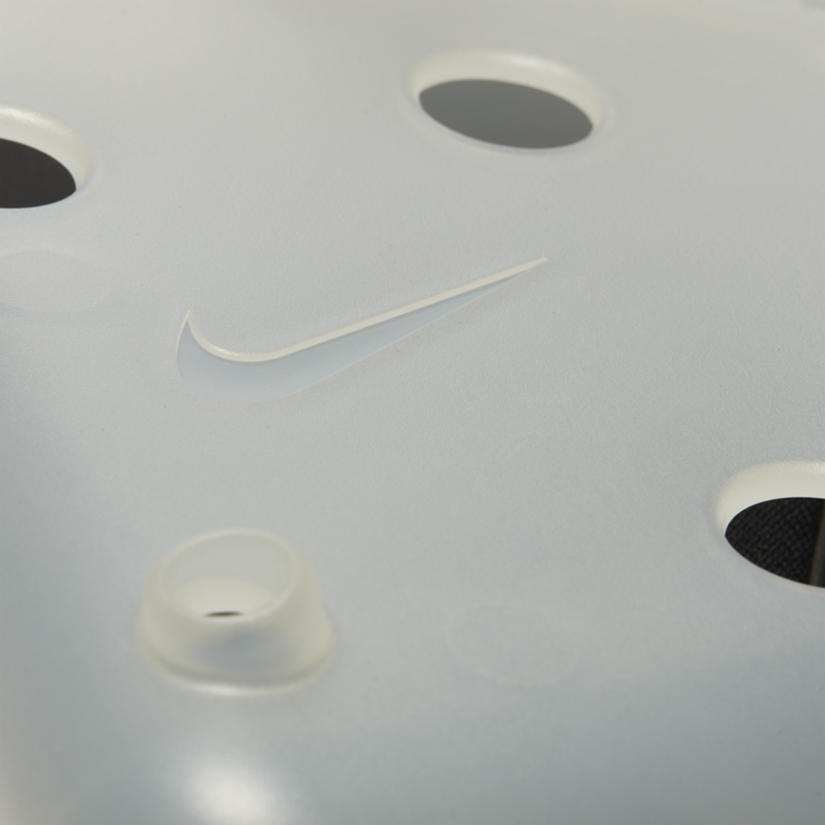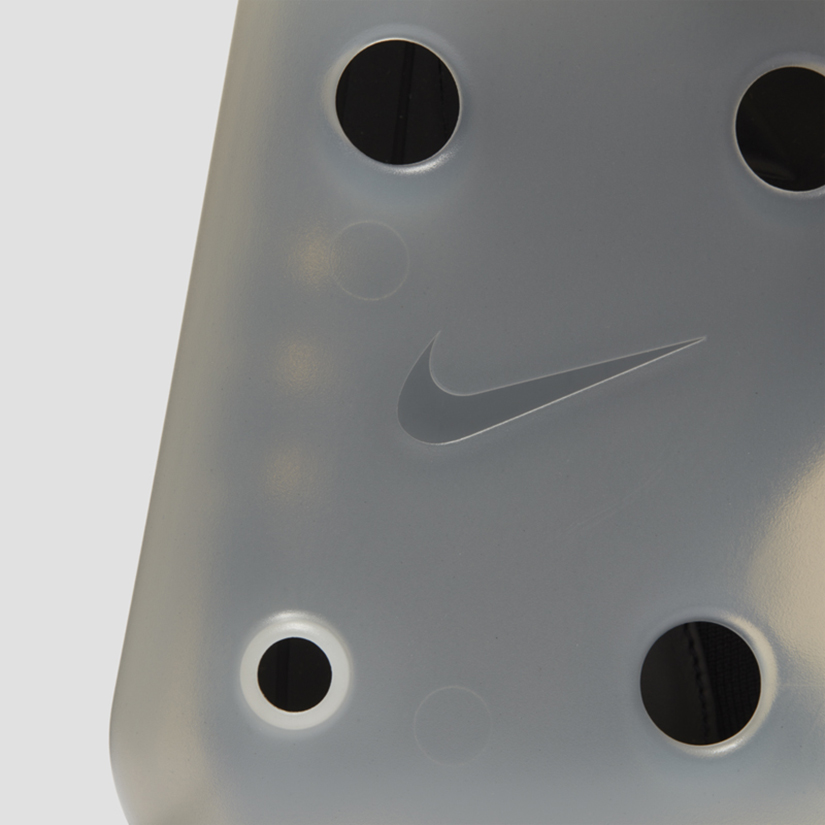 NIKE AIR MAX 97 OG QS "SILVER BULLET"
LAUNCHING 13TH APRIL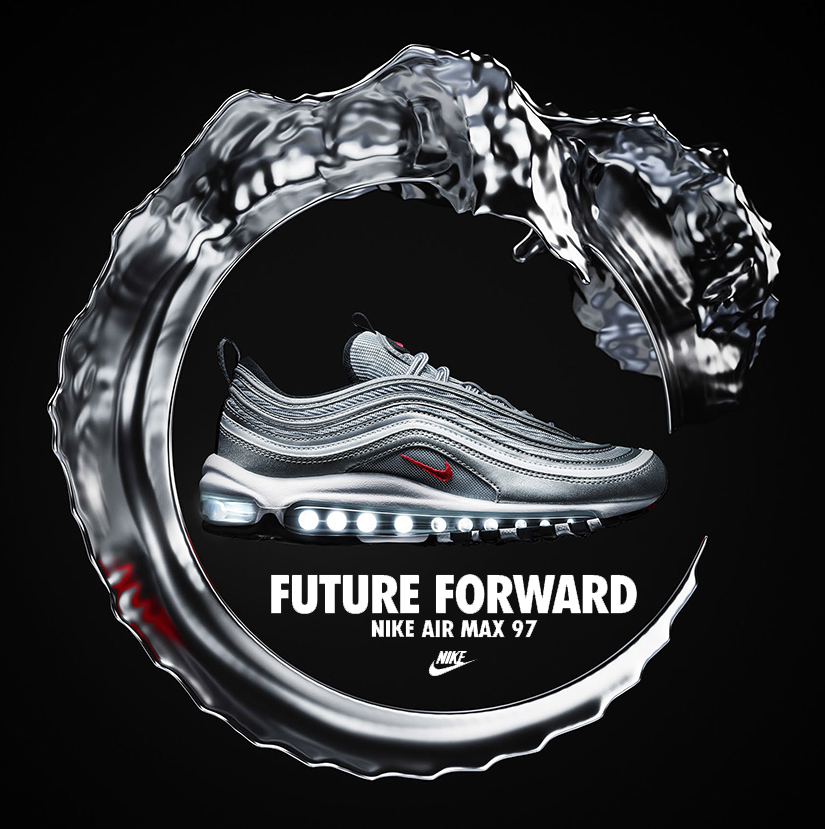 One of our favorite retros of the year, the Nike Air Max 97 "Silver Bullet" is finally getting a release on April 13th. Arrive the 20th-anniversary celebration of this iconic Air Max 97 colorway.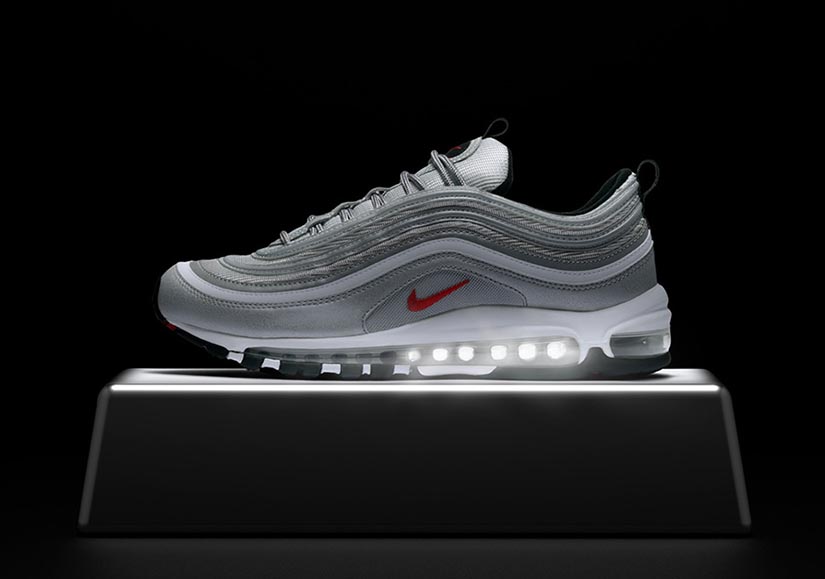 Inspired by Japan's aerodynamic bullet trains, this imaginative,conceptual design quickly became a
cultural icon, thanks to a smooth,flowing upper and full-length air unit.

No-sew mesh material at the uppers provides lightweight and breathable comfort and signature tape overlays offer additional support. With a visible Air Unit fitted to their full-length midsole, these sneakers are the epitome of a Nike icon. They are finished with hidden laces, a coloured mini swoosh and OG branding throughout.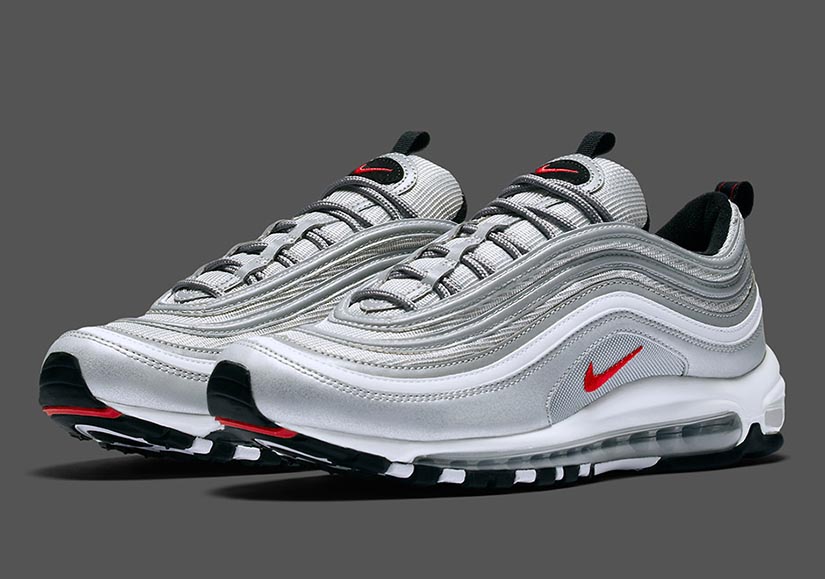 Nike Air Max 97 OG QS
884421-001
Metallic Silver/Varsity Red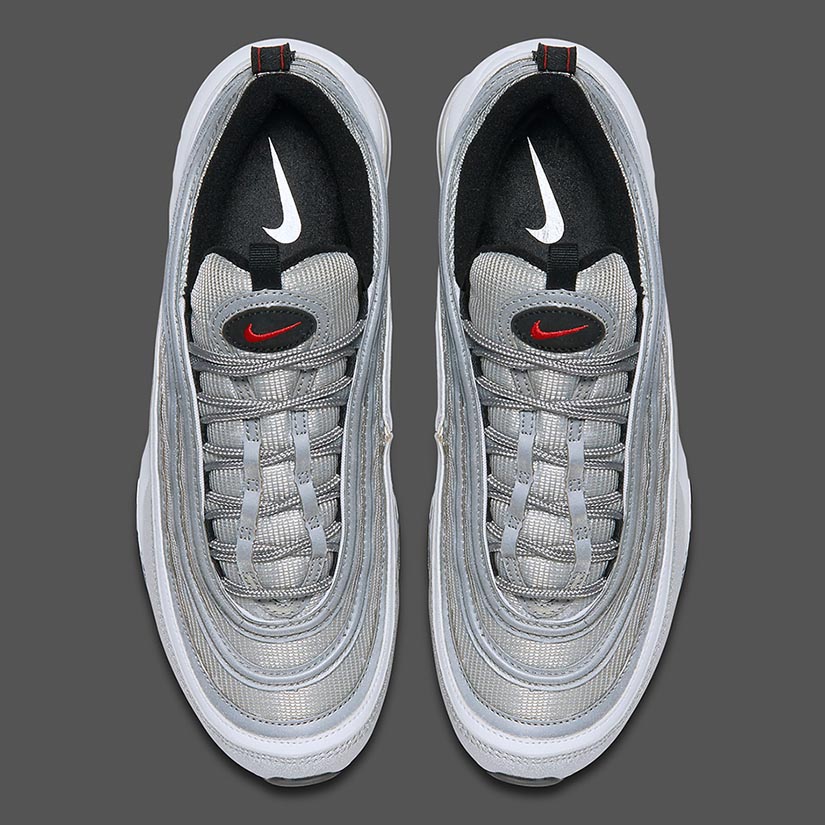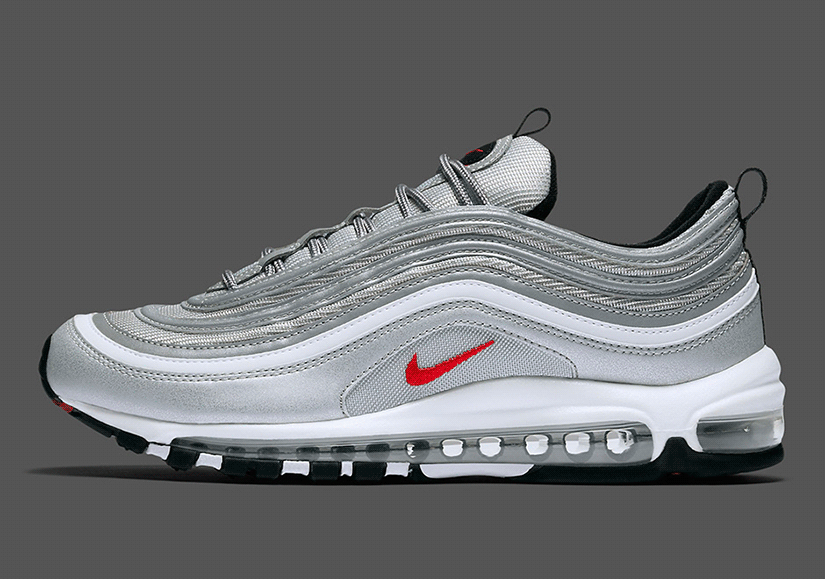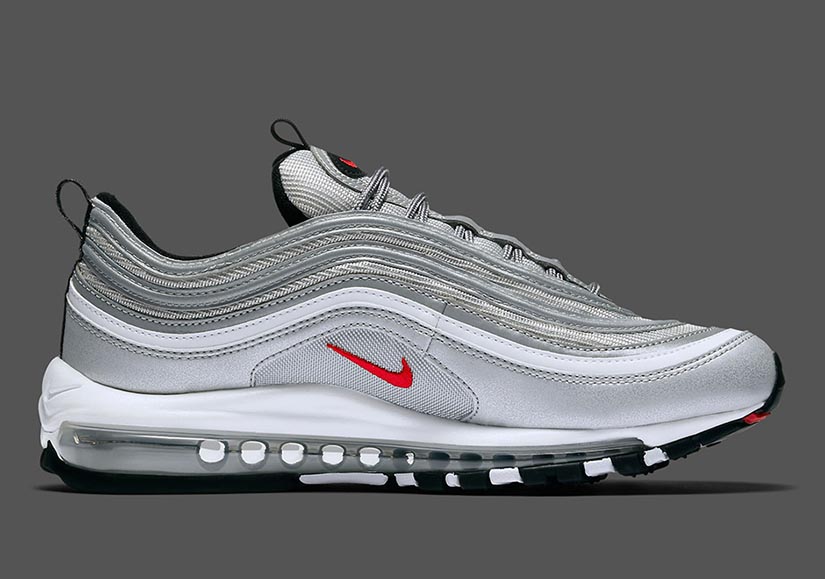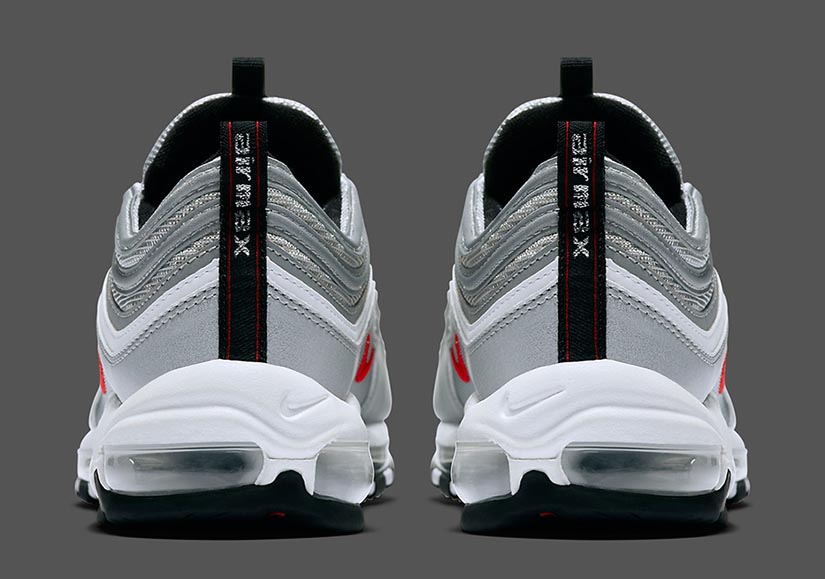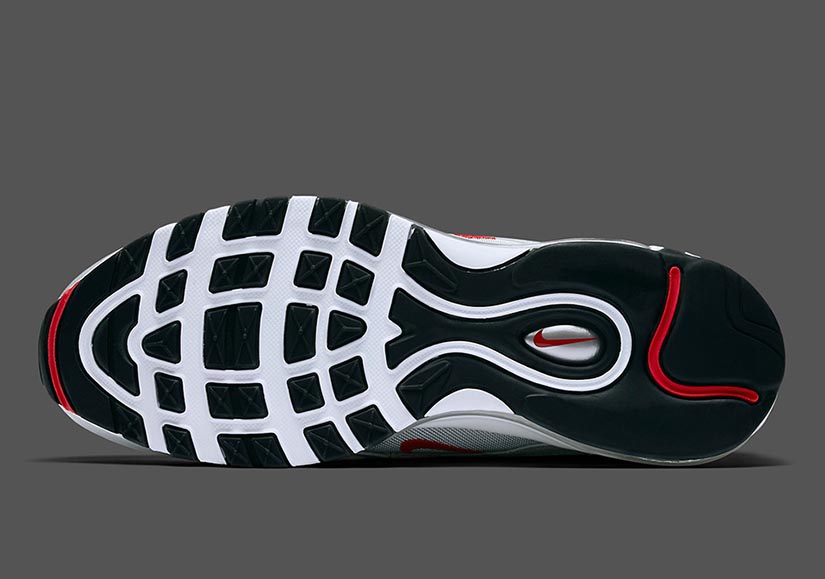 NIKE AIR MAX 95 PREMIUM QS "SILVER BULLET"
LAUNCHING 13TH APRIL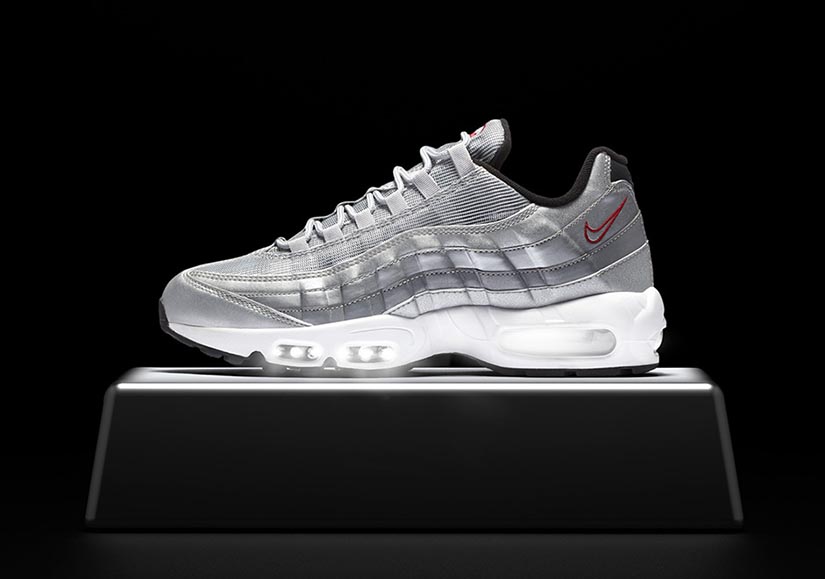 As the "Silver Bullet" Nike Air Max 97 celebrates its 20th Anniversary, the Air Max 95 is joining in on the fun.
From great silhouette to another, the Air Max 95 inherits the classic silver-based look, which looks right at home on the runner's flowing, paneled upper. Consistent with the theme, black works the lining and outsole, while red subtly appears on various logo hits.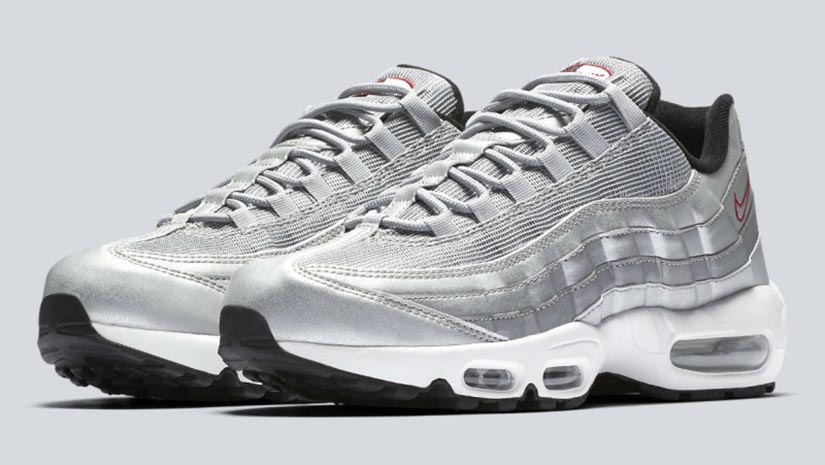 Nike Air Max 95 Premium QS "Silver Bullet"
918359-001
Metallic Silver/Varsity Red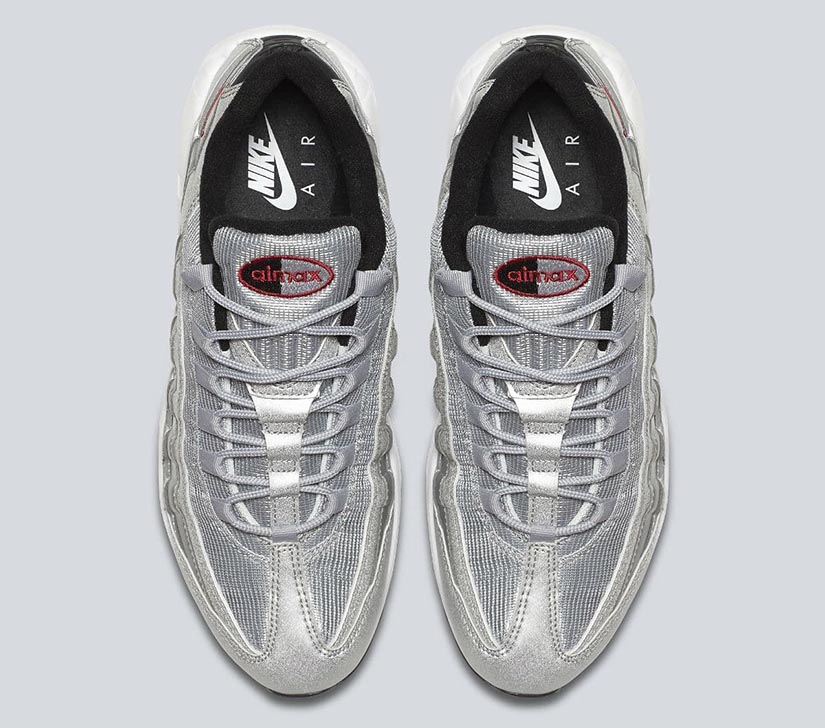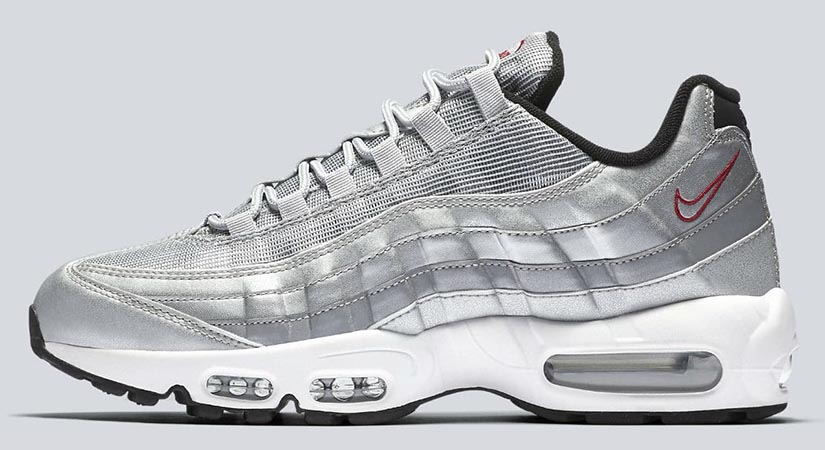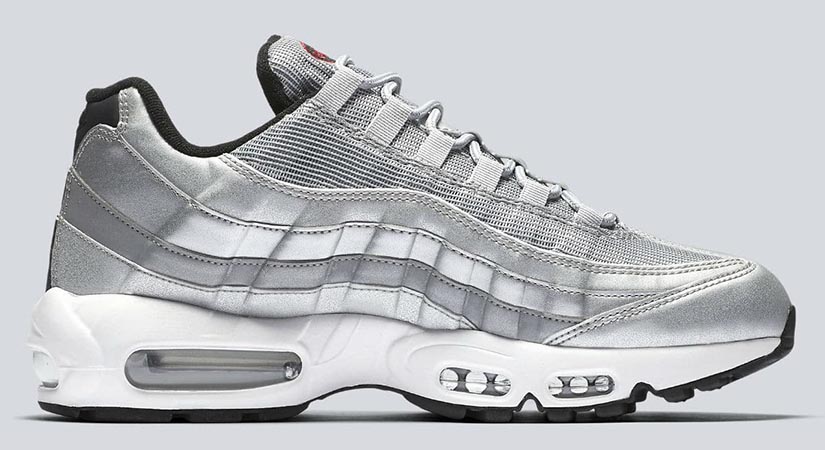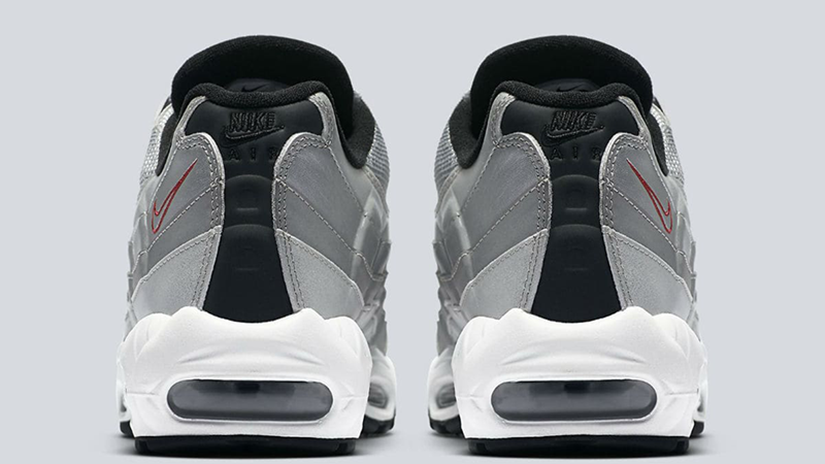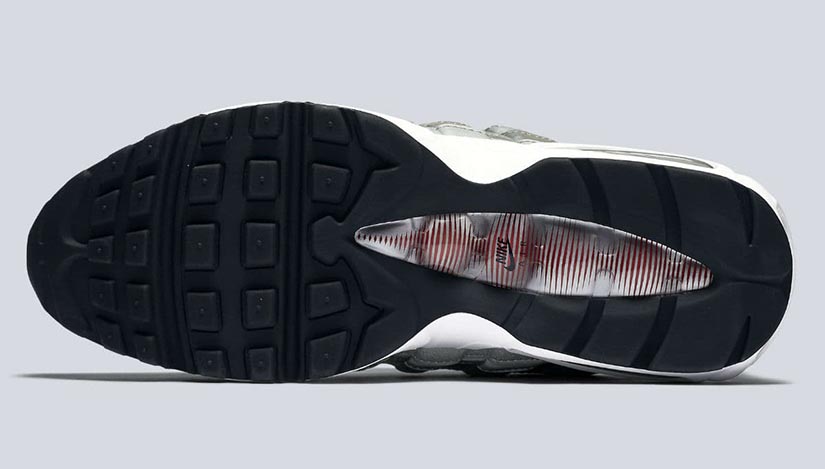 NIKE AIR ZOOM SPIRIDON QS
LAUNCHING 13TH APRIL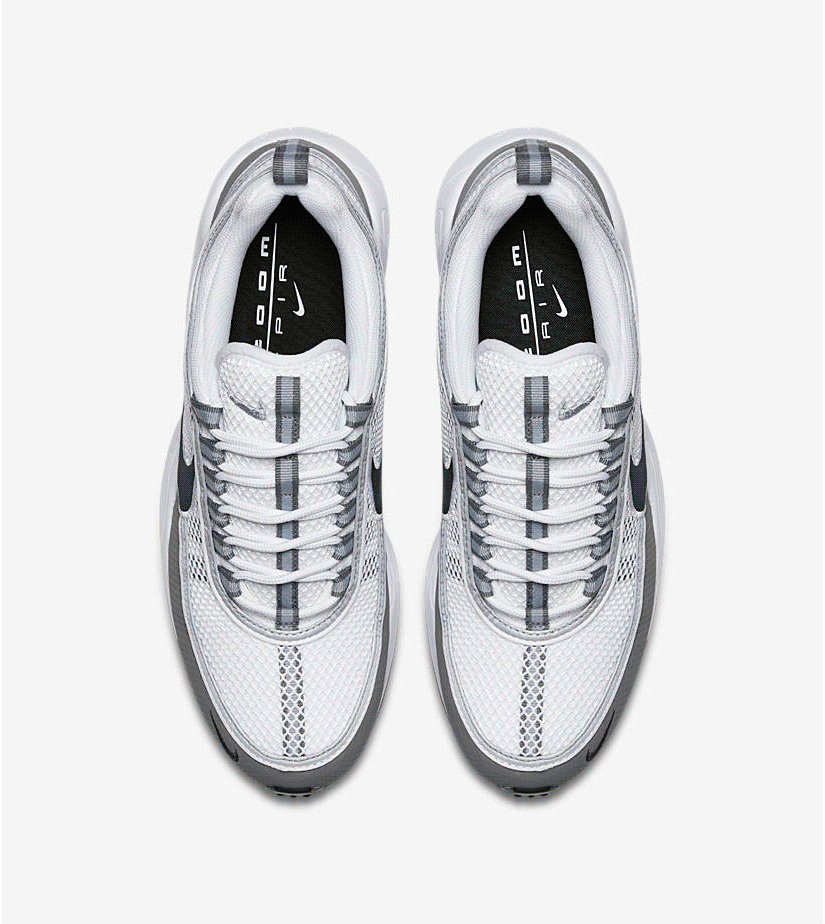 Nike recovers the '90s running profile that propelled Zoom Air technology to prominence. The innovative Air Zoom Spiridon returns in a light, cool colour tones, while retaining the pioneering pressure-mapped design that runners loved.
The Spiridon shoe told athletes "It's OK to be fast" with its anatomically placed Zoom unit for low-profile and resilient cushioning for a comfortable ride.
Propelling runners to a new level, this modern iteration showcases an aesthetic that helps make the Spiridon as popular on the street as it was on the track.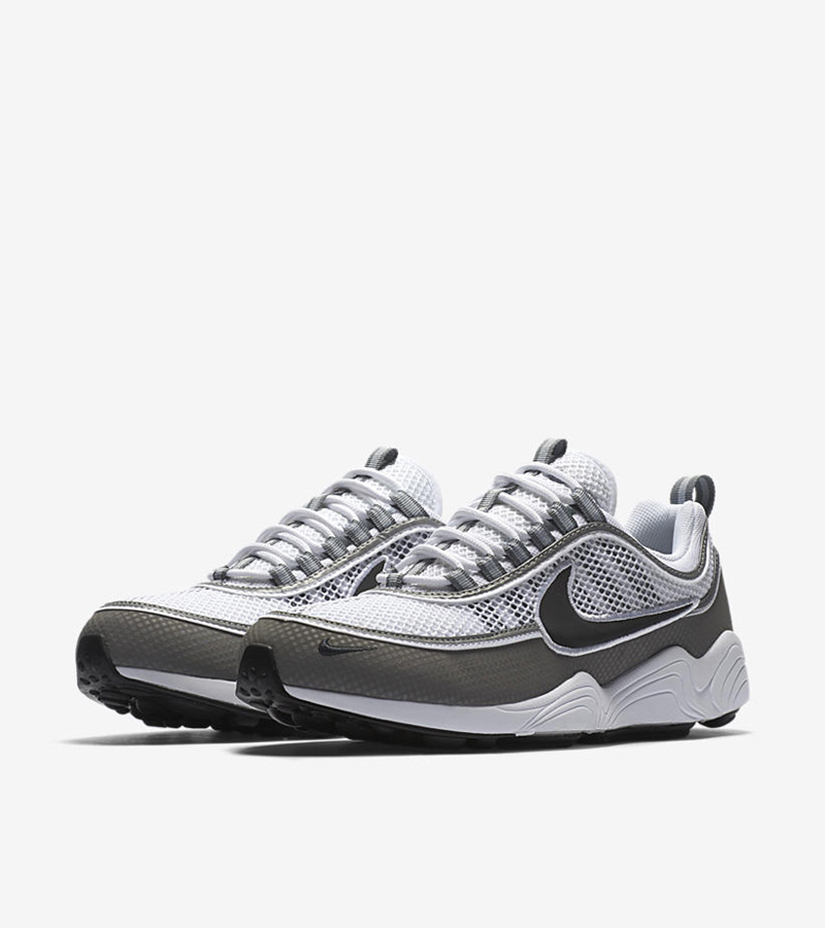 Nike Air Zoom Spiridon QS
849776-101
White / Black - Light Ash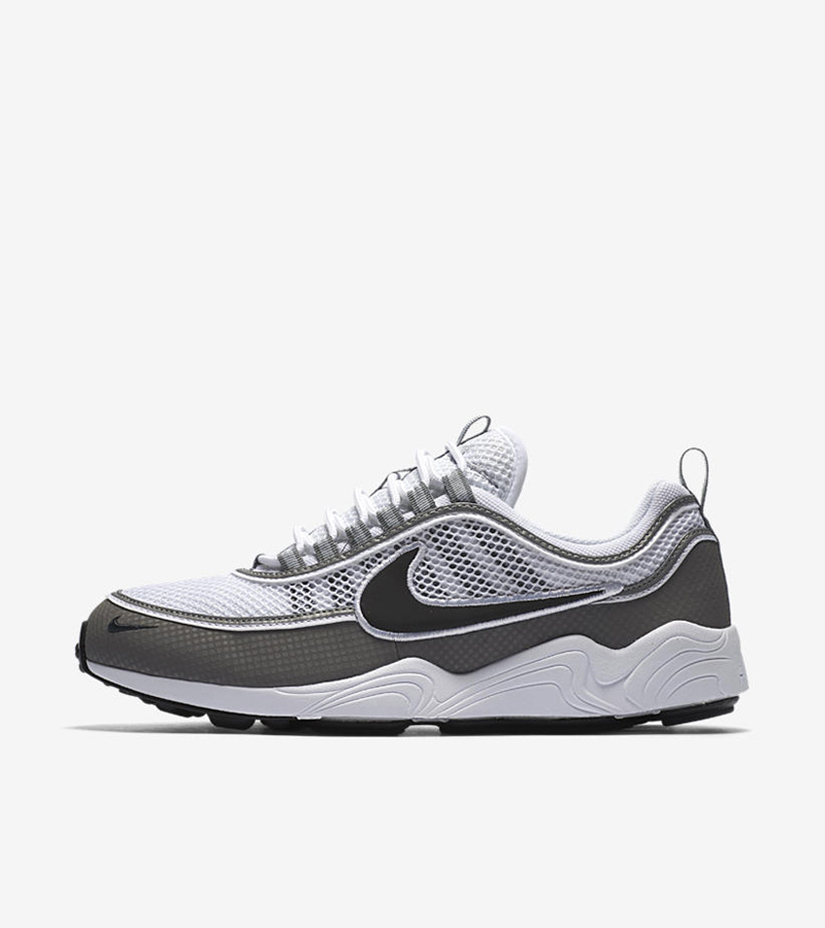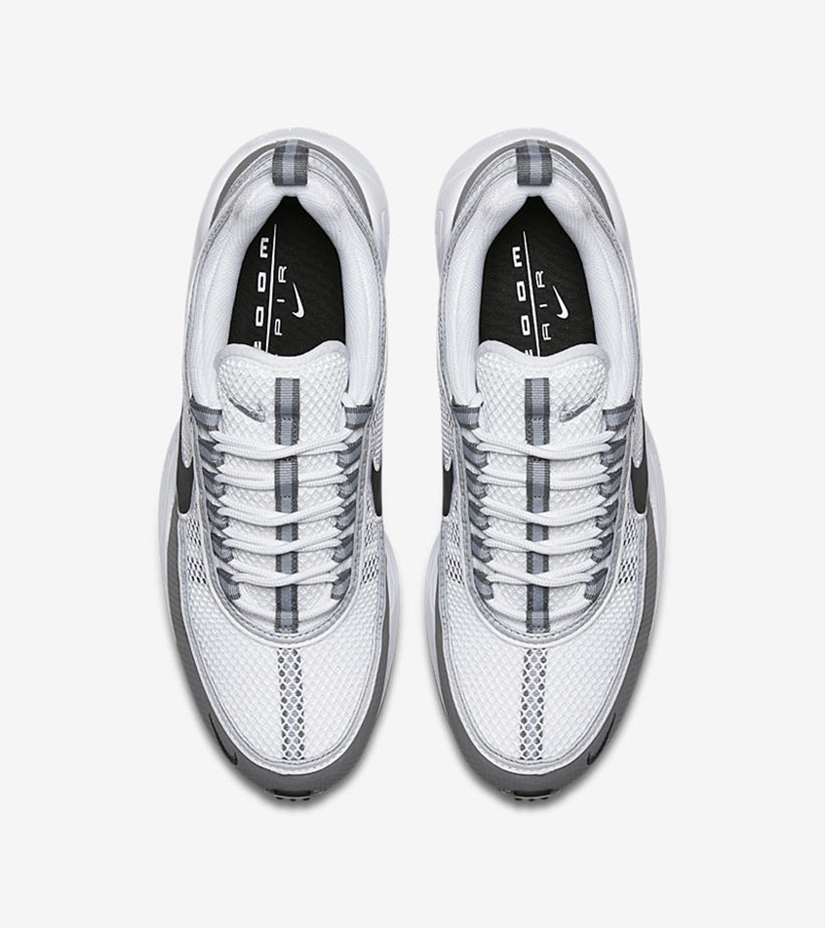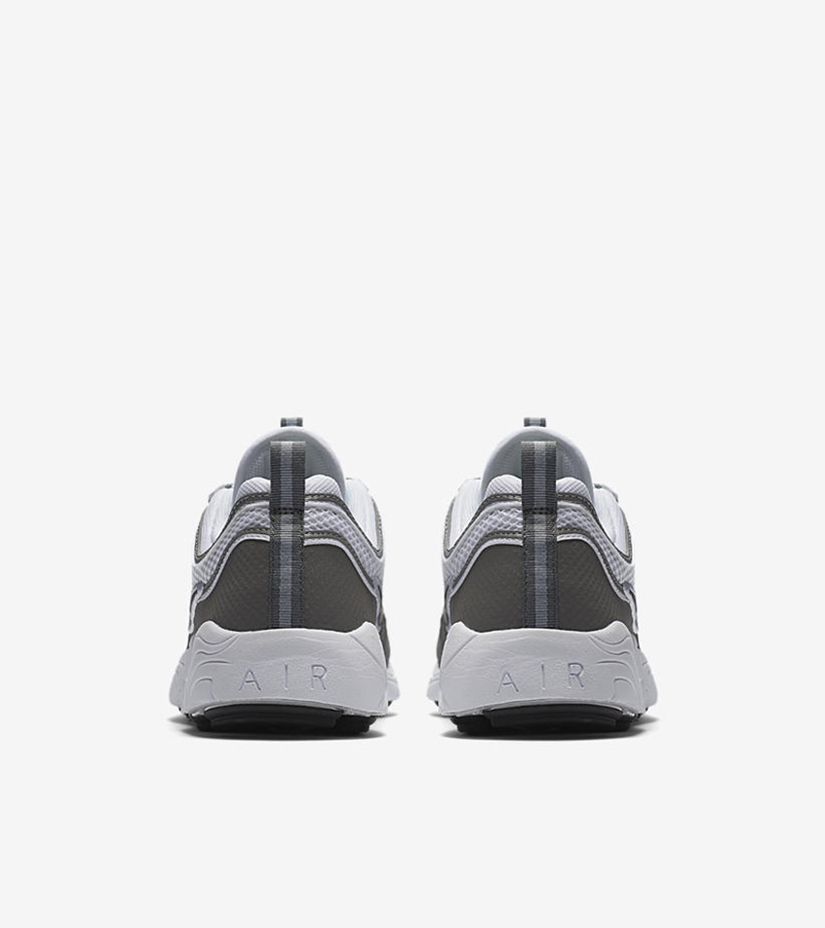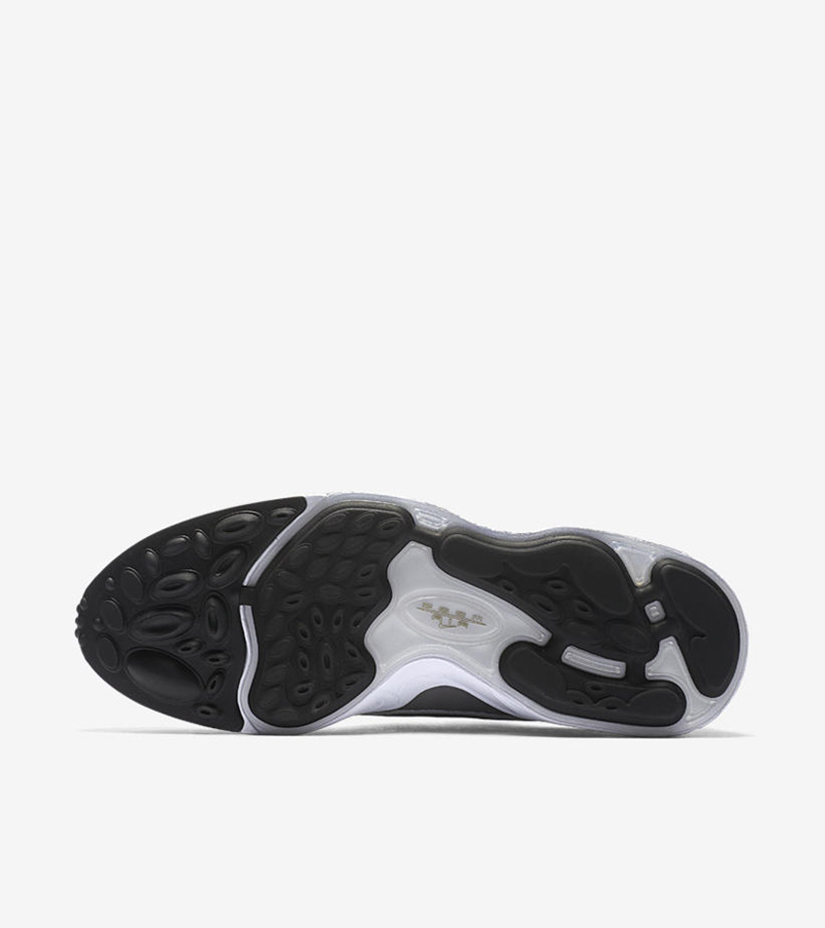 Nike Air Zoom Spiridon QS
849776-103
White / Silver - Light Midnight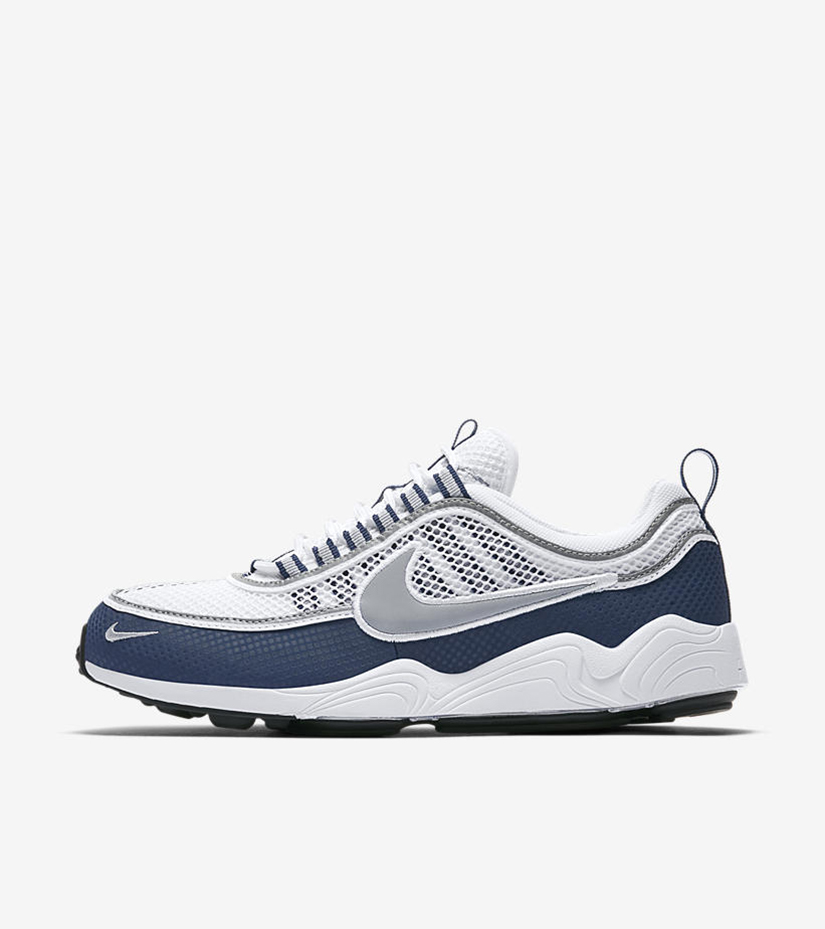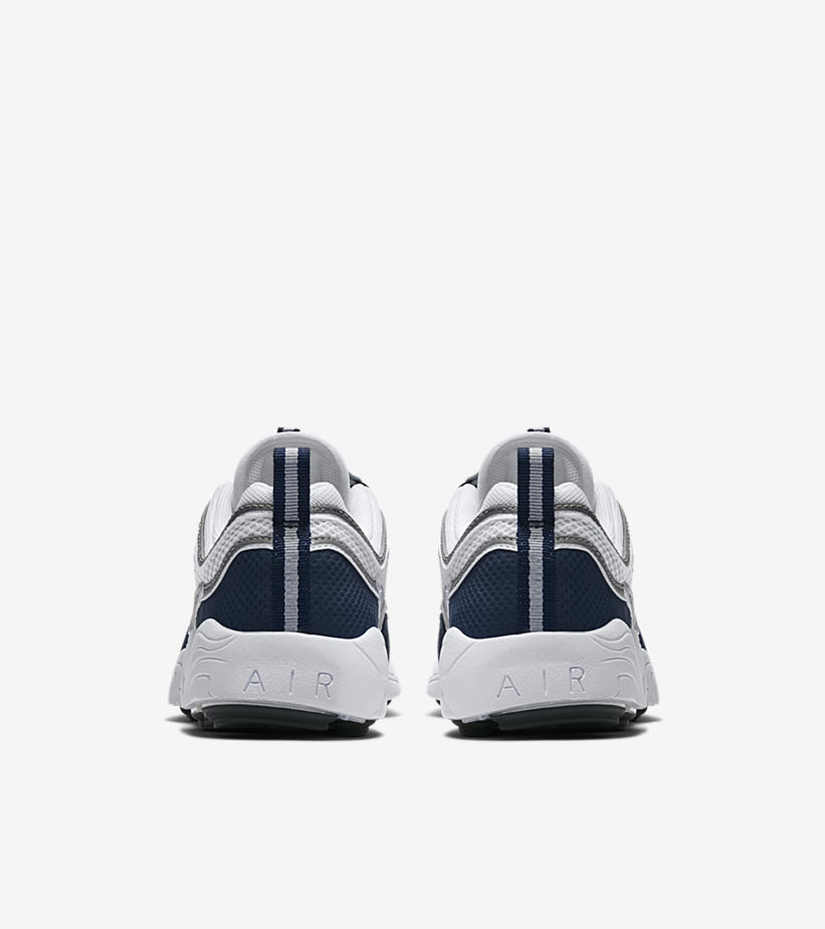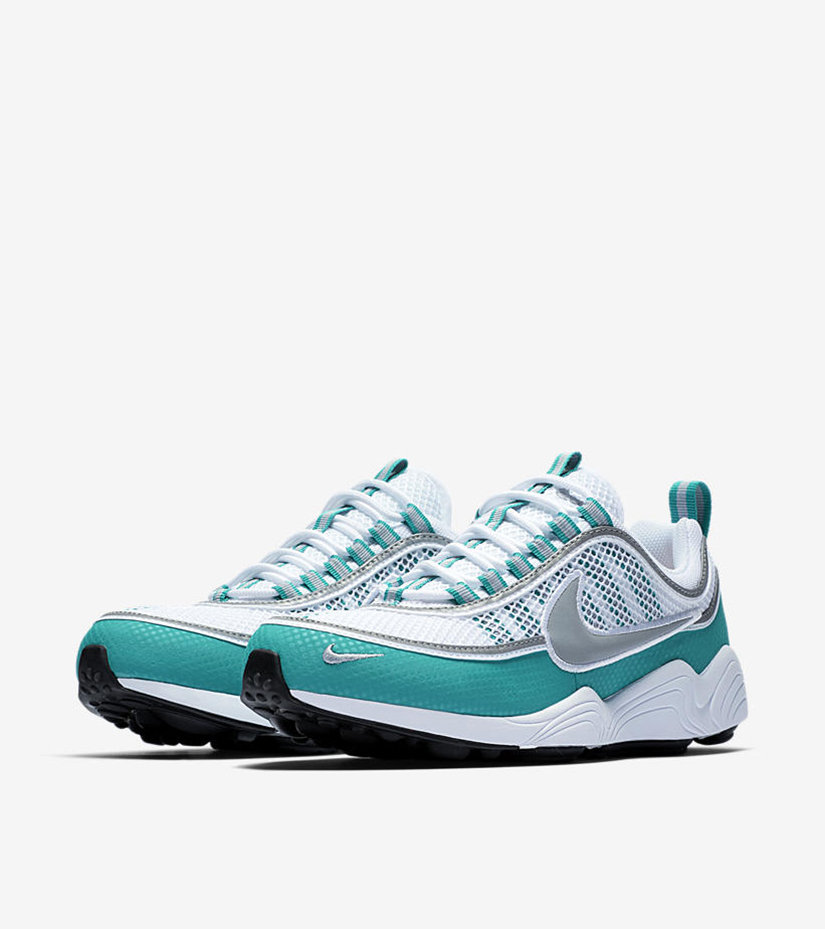 Nike Air Zoom Spiridon QS
849776-102
White / Silver - Turbo Green - Laser Orange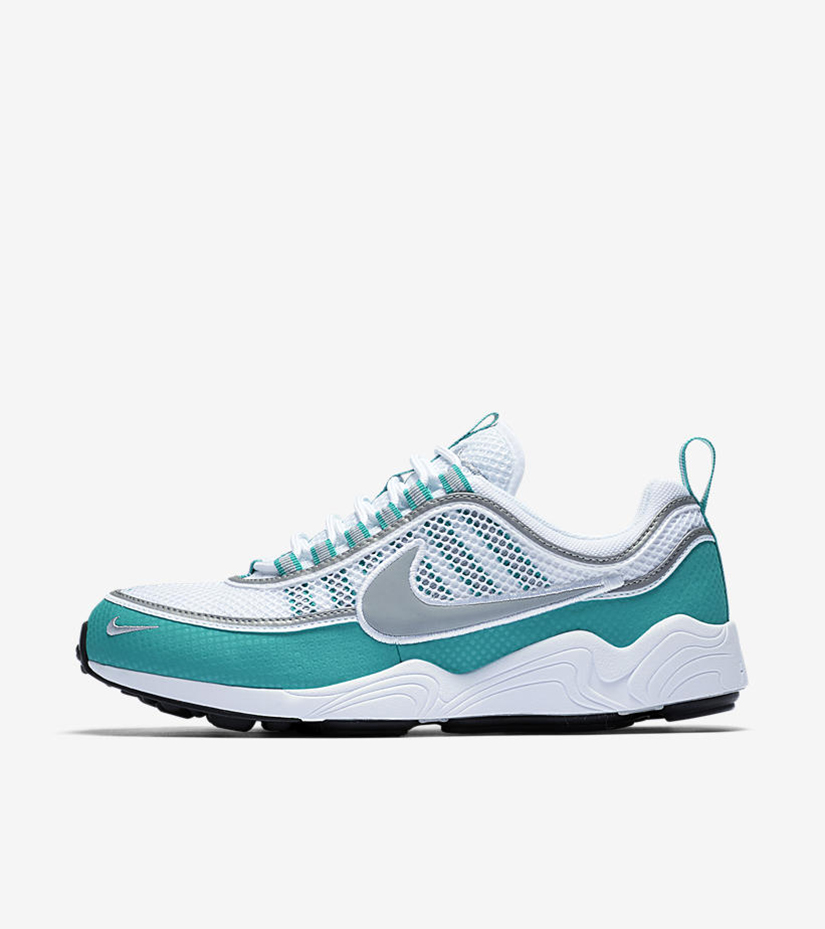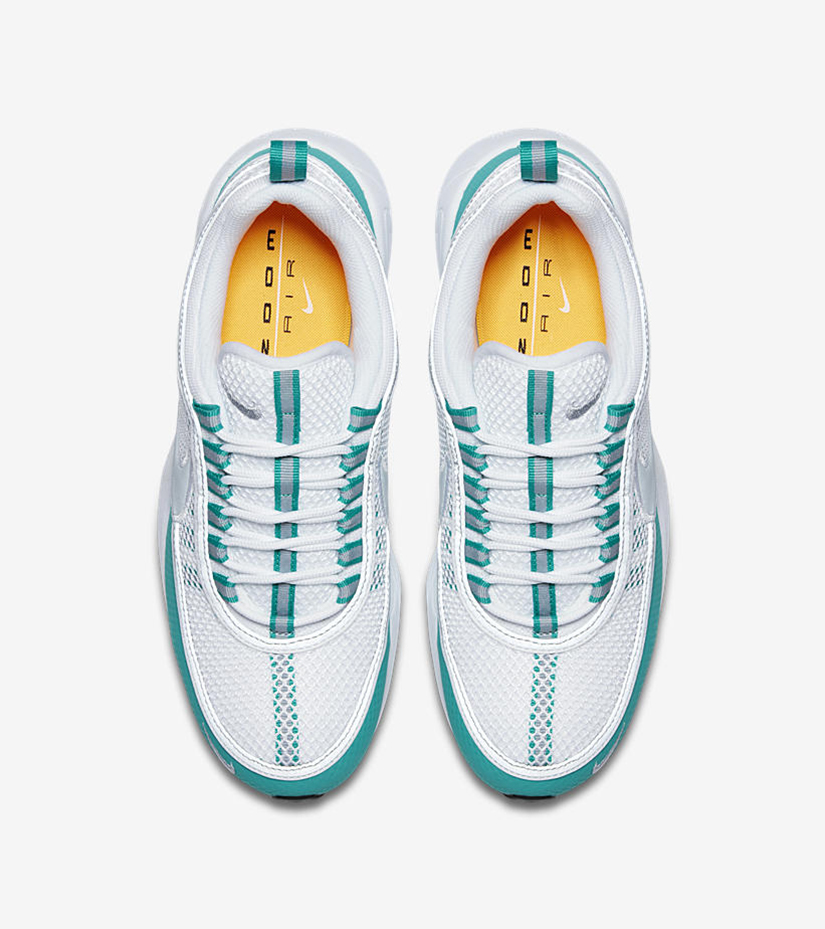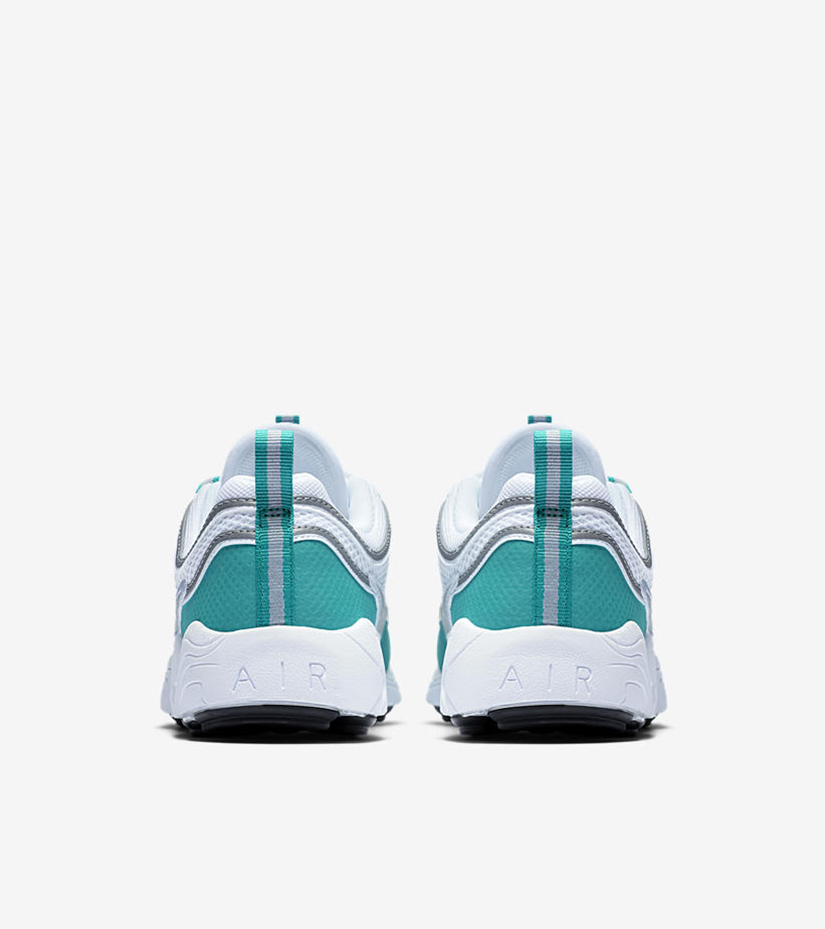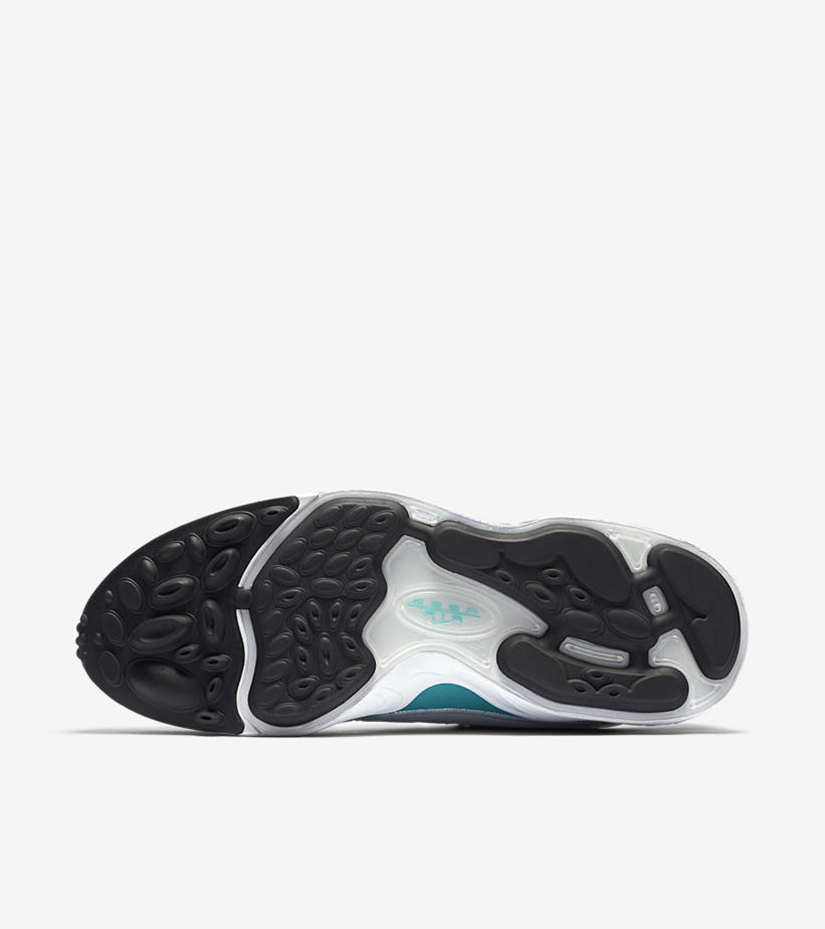 ADIDAS CONSORTIUM ULTRABOOST UNCAGED X HAVEN
LAUNCHING 8TH APRIL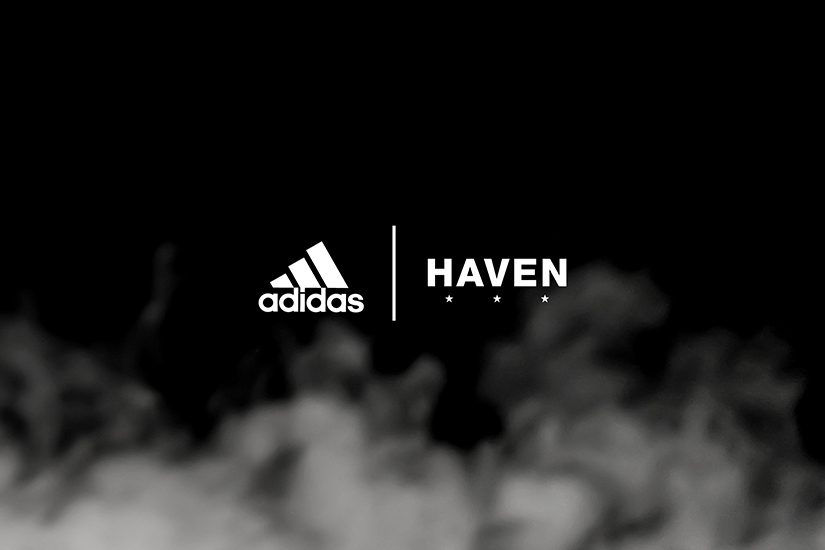 Opening in 2006, Canadian retailer HAVEN starting with physical stores in Vancouver and then Toronto, HAVEN has grown a truly international following. Its extensive online platform combines retail with elevated editorial and investigative features.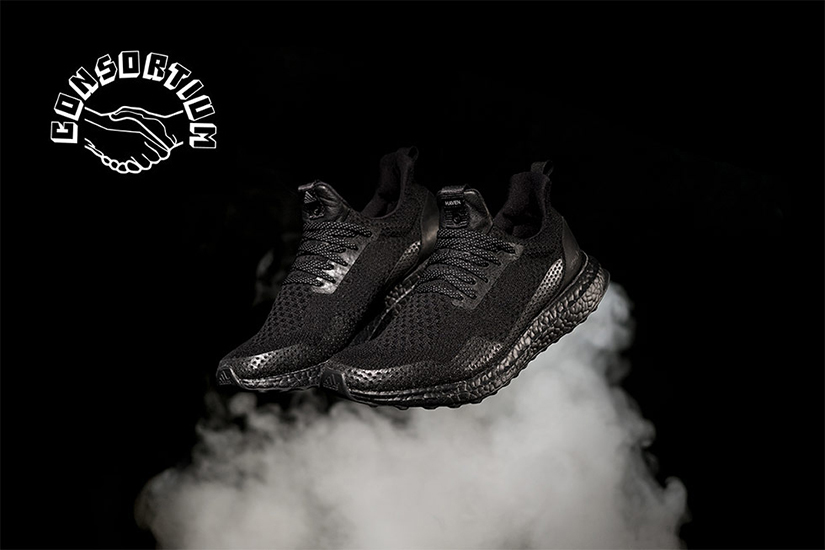 HAVEN has used its growing profile to represent life north of the border. While Canada is widely known for its cold winters and expansive wilderness, urban life is different and weather in the cities can be temperamental. Sitting close to the country's Pacific coast, dark rainclouds loom over Vancouver for much of the year. For months on end, contending with the rain is part and parcel of daily life in the city.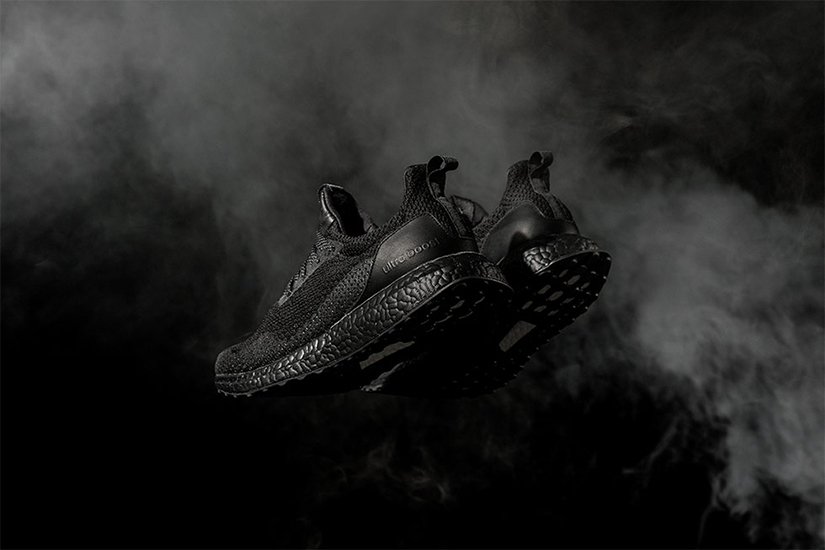 Heavy weather and ominous skies provide the inspiration, a decade's worth of experience with technical products the underlying know-how for this triple black UltraBOOST. HAVEN – always on point and full of fresh ideas – has opted for an uncaged, unstriped silhouette.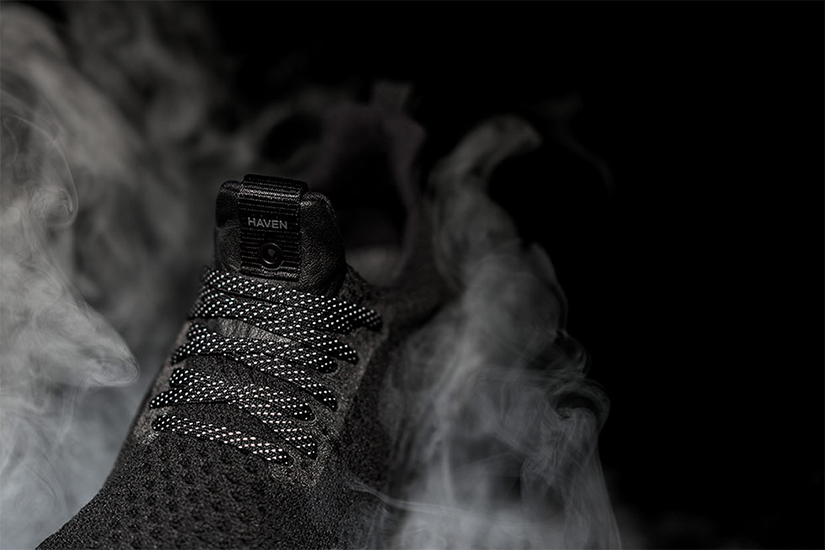 Out of the dark clouds emerges an elegant footwear model, practical in function and technical in appearance. The reflective strands running through the lacing plus the reflective, perforated paneling on the Primeknit upper provide a perfect utilitarian accent to adidas' nest runner.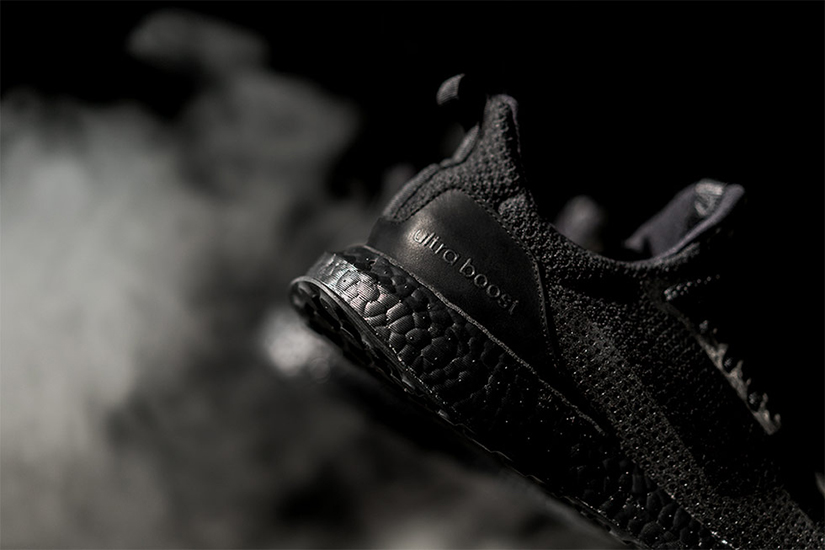 Optimal urban camouflage, designed to go almost undetected against slicked city tarmac, brand detailing is kept to a minimum. In absence of the hallmark UltraBOOST cage, this model uses subtle rubberized appliques for understated adidas branding. HAVEN's name is visible on small leather tabs on the shoes' tongue.
With every Consortium collaboration adidas look for a high-quality partner who can provide a strong narrative and together we create an outstanding product. HAVEN has found inspiration in an unlikely, but everyday, place and projected that inspiration onto their UltraBOOST with an outstanding result.
Adidas Ultraboost Uncaged x Haven
BY2638
CORE BLACK/GRANITE/WHITE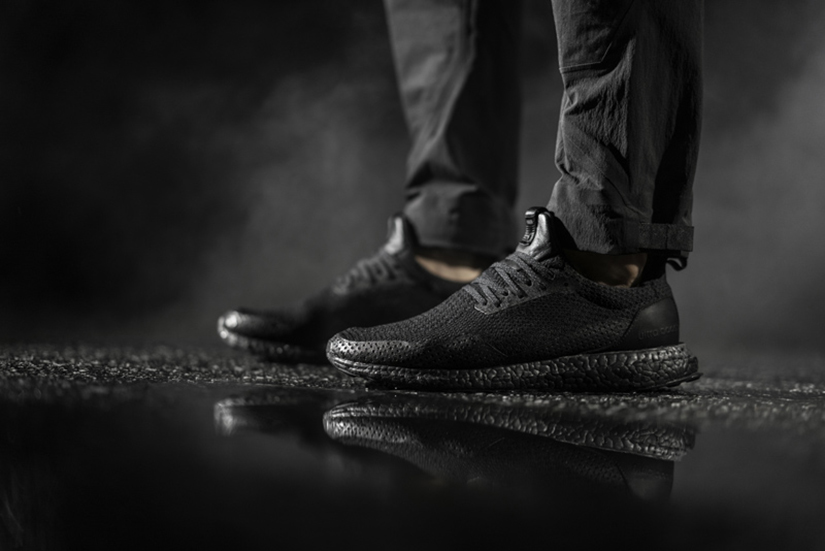 REEBOK WORKOUT LOW CN X SNEAKER POLITICS X HUMIDITY
LAUNCHING 8TH APRIL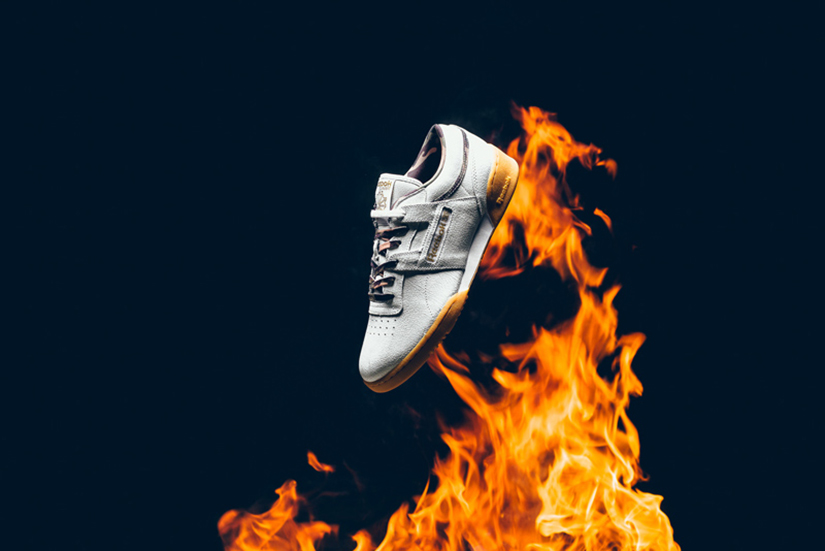 New Orleans based Sneaker Politics have teamed up with Humidity, a local skate shop, to produce a special-edition Workout Low CN.

Featuring a white cracked leather upper and gum sole, they also feature hits of woodland camo on the lining, collar trim and laces. The inner tongue is reppin' the New Orleans area code whilst the heel on the left shoe features the word "Soldier", reason being is that New Orleans natives Mannie Fresh and Juvenile were big fans of the shoe when they were on the come up and nicknamed them "Soldiers". Back in 1999 this inspired Reebok to release custom Workouts for Juvenile's "I Got That Fire" music video, ensuring that their popularity caught on pretty fast in the Big Easy.
Check out Juvenile in some of the shots below, flossing with the kicks and even mistaking them for a phone.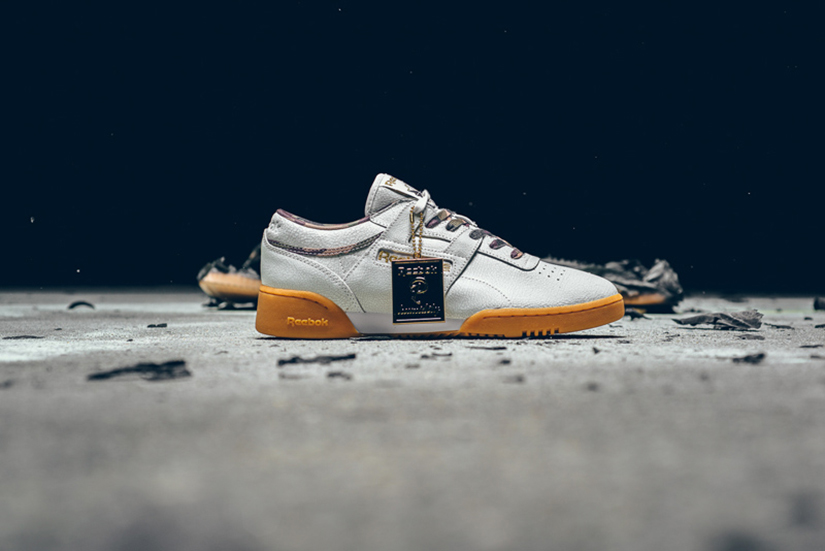 Reebok Workout Low CN x Sneaker Politics x Humidity
BS7594
WHITE/BLACK/GOLD MET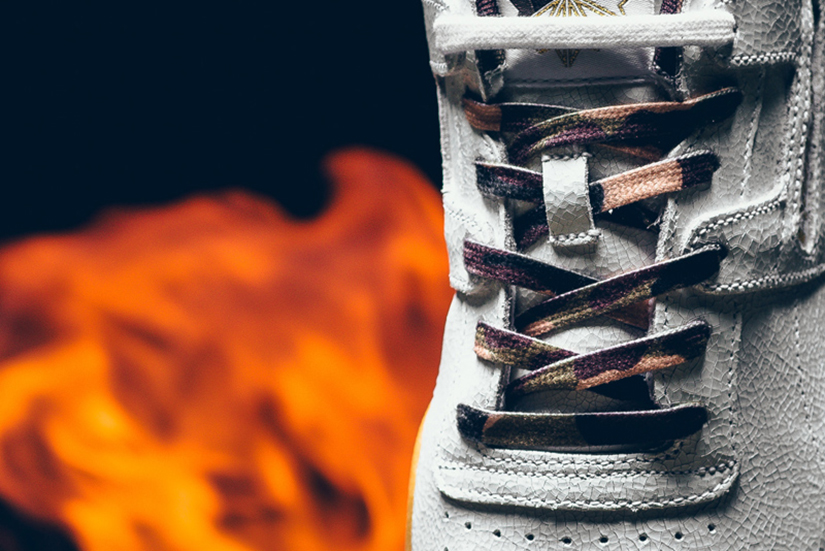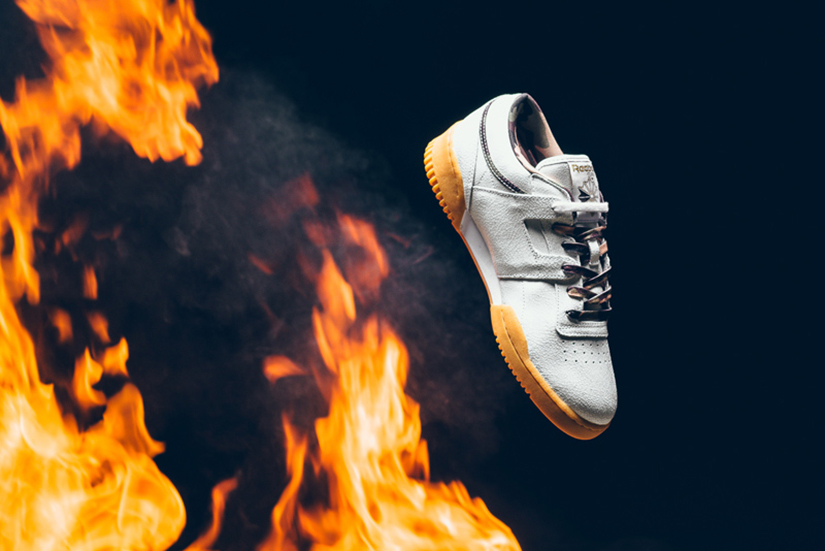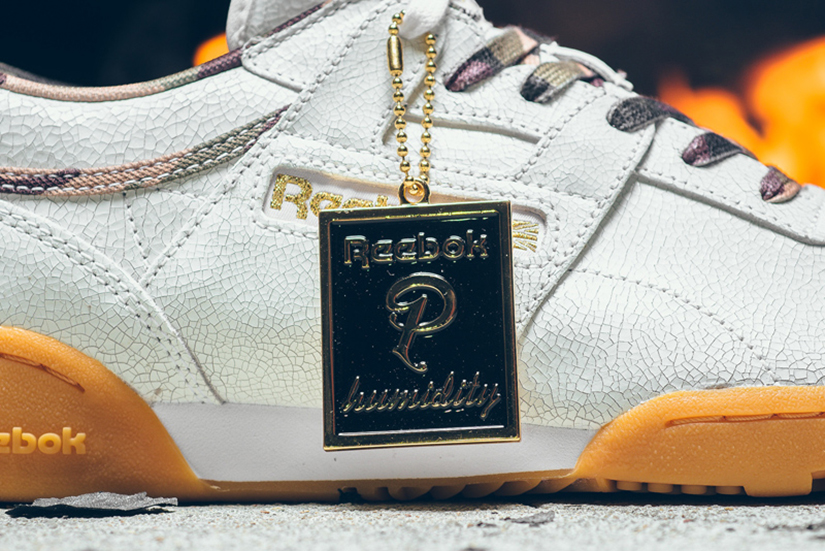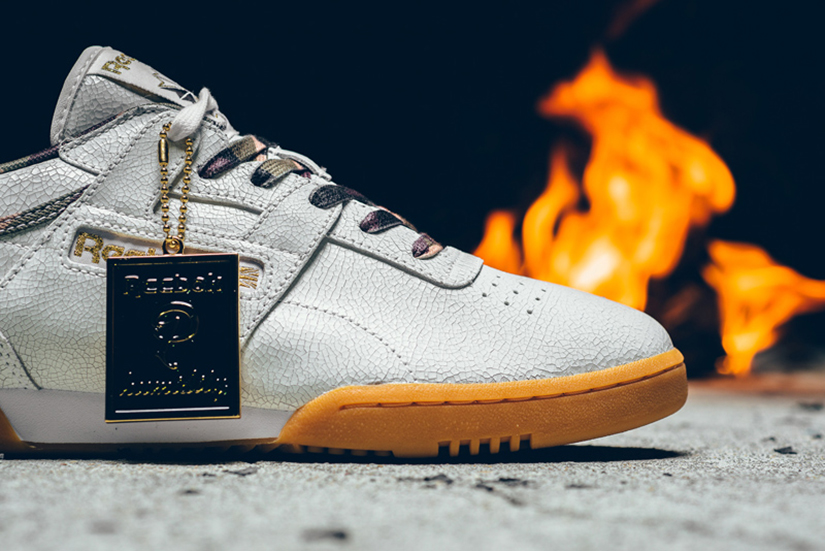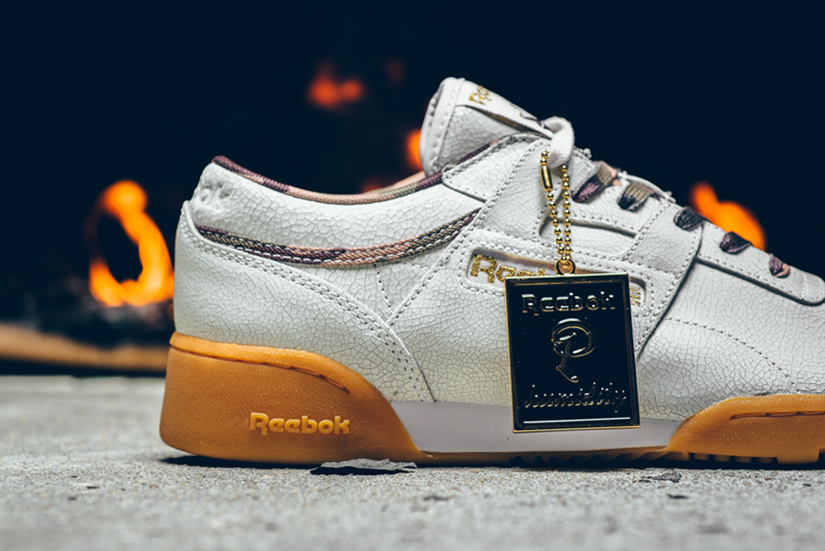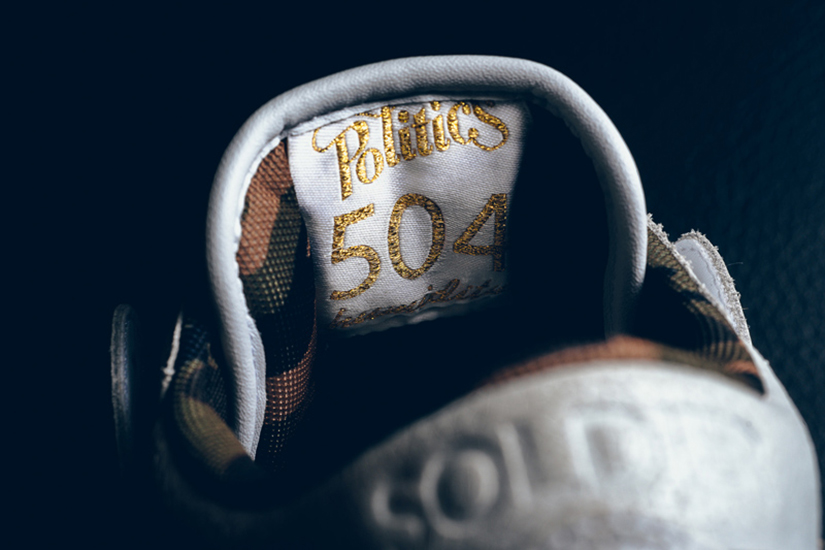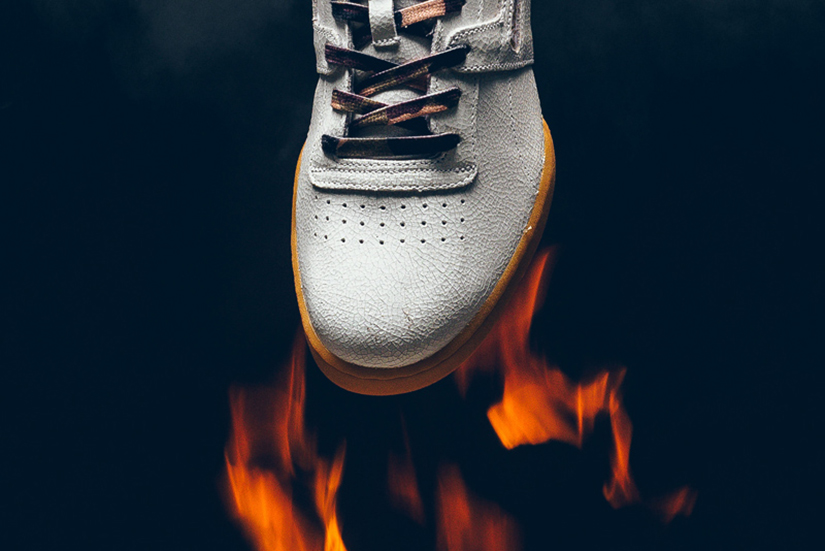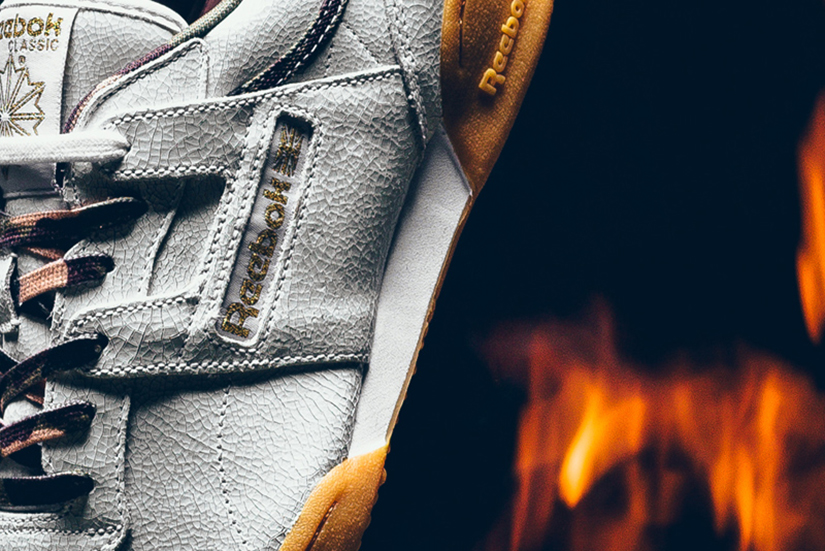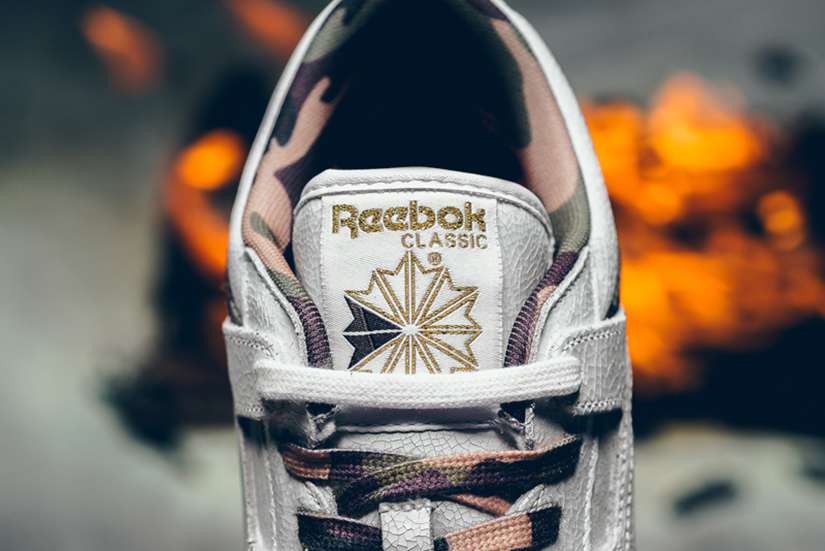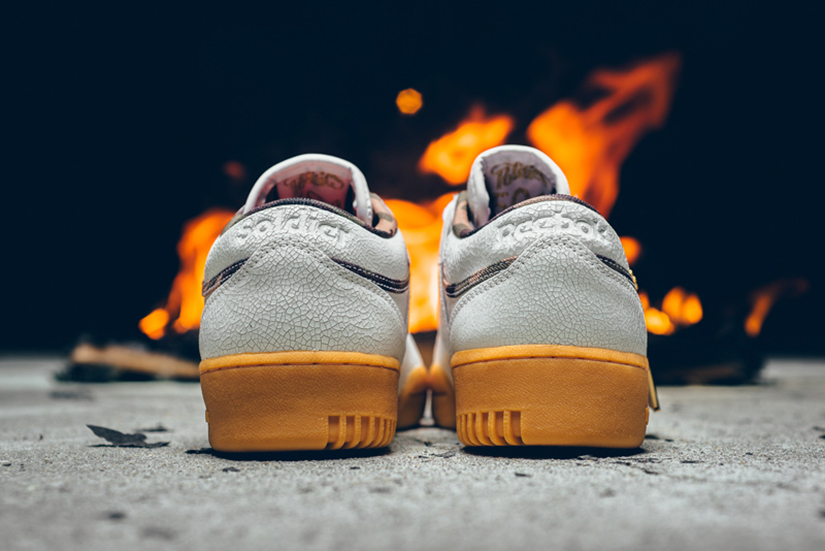 NIKE FLYKNIT RACER 'MULTICOLOR'
LAUNCHING 7TH APRIL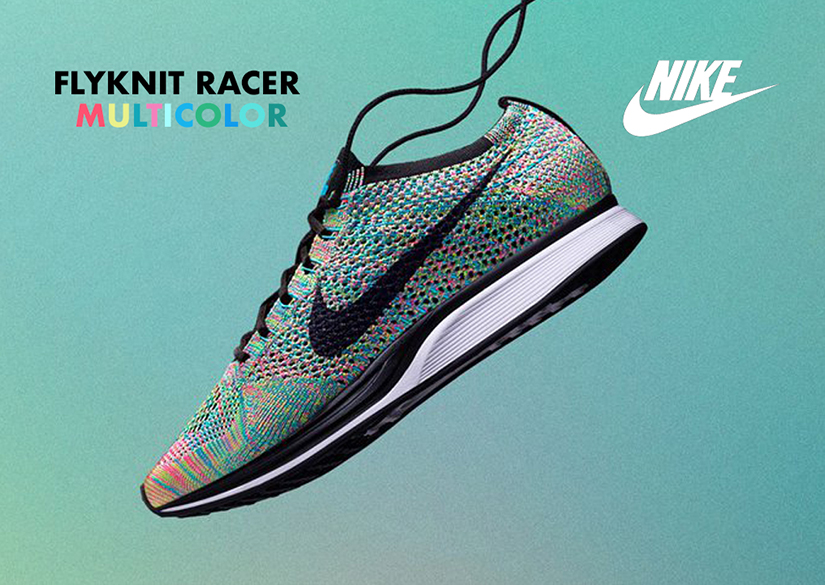 The one-piece Flyknit upper seamlessly integrates areas of high support, stretch and breathability where you need them most, without weight-adding overlays. For an adaptive fit, dynamic Flywire technology ensures close-quarter support, resulting in one of the most comfortable rides you'll ever find.
Nike kick off the spring with this fresh multicolour iteration of the most popular Flyknit Racer.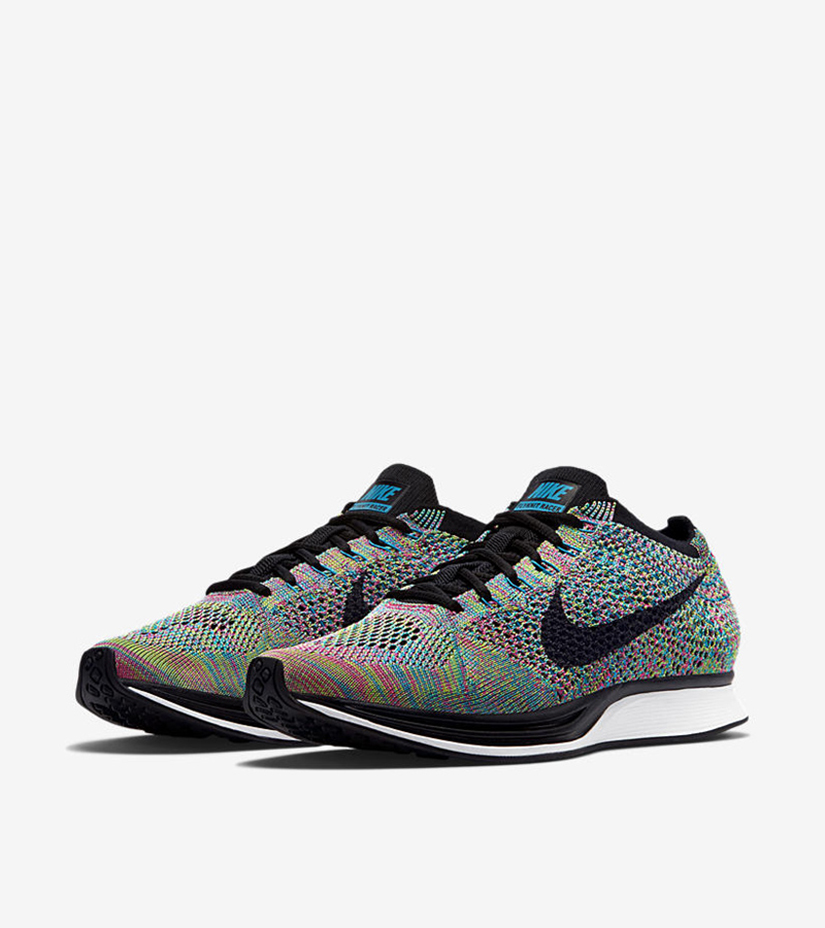 Nike Flyknit Racer
526628-304
GREEN STRIKE/BLACK-BLUE LAGOON-PINK POW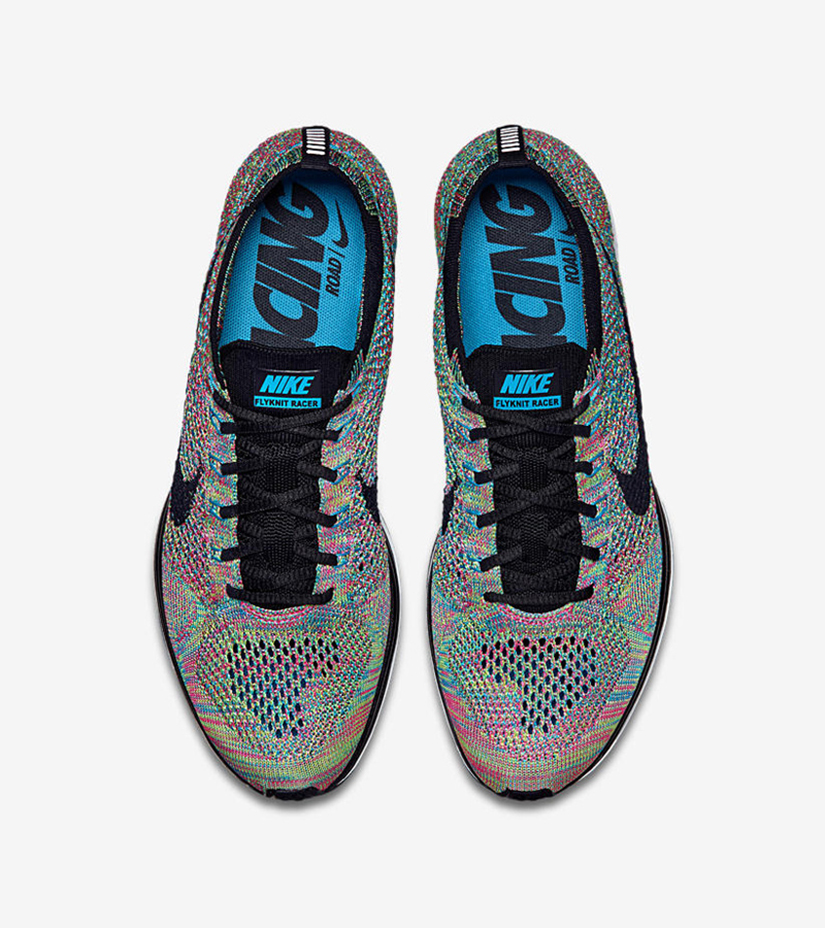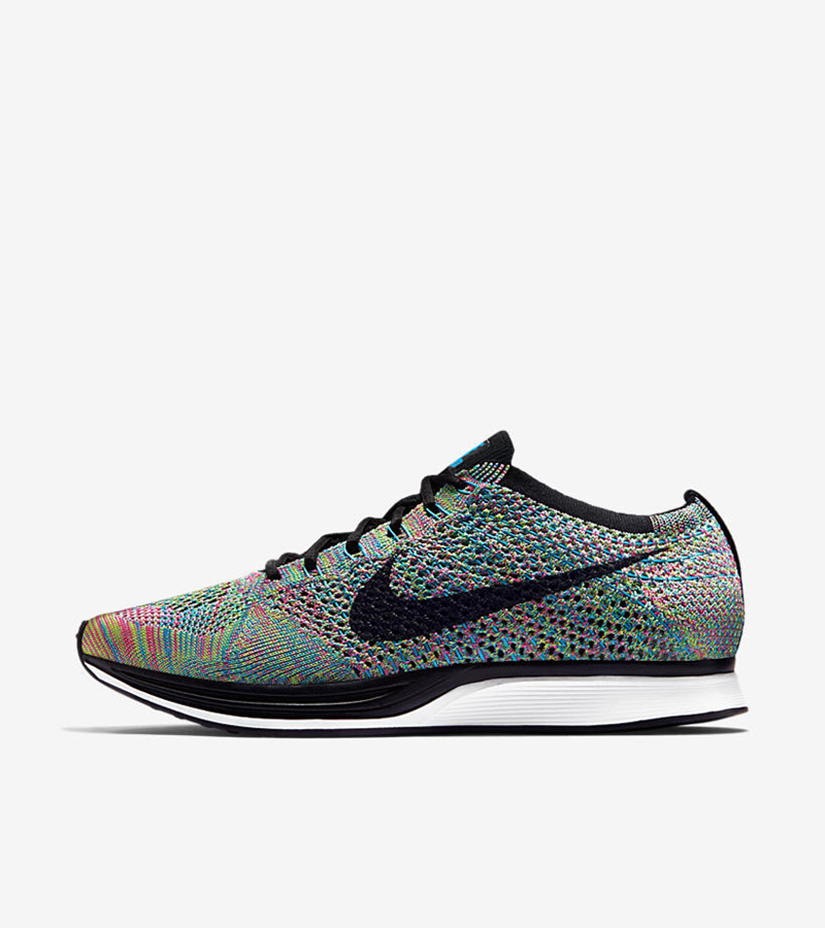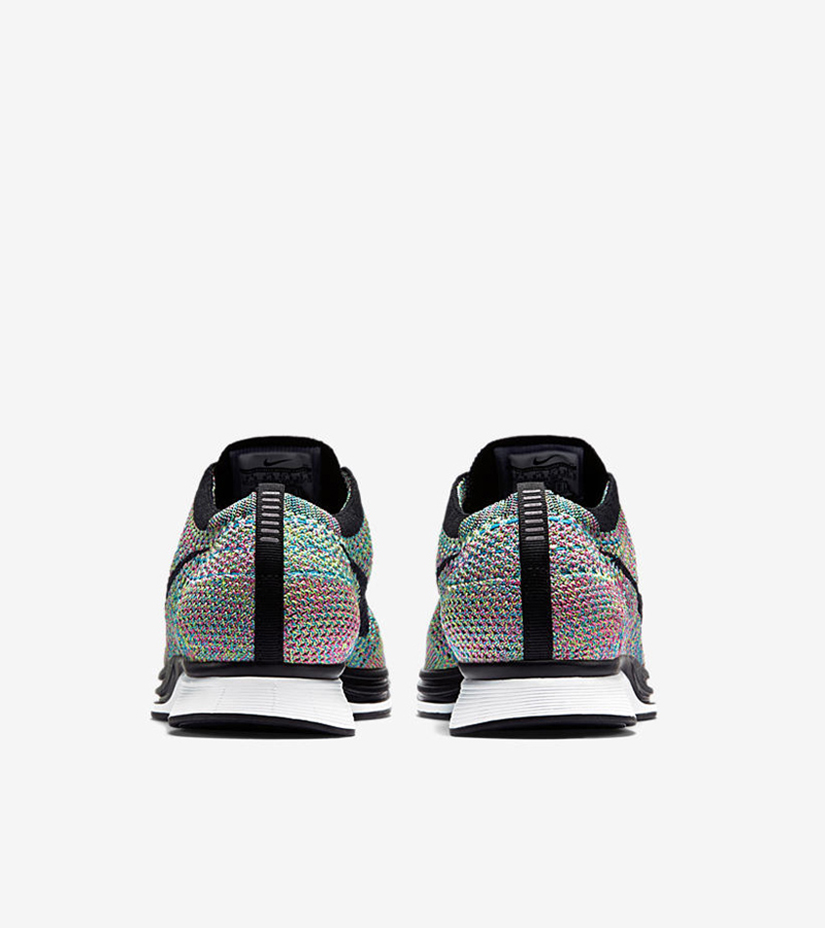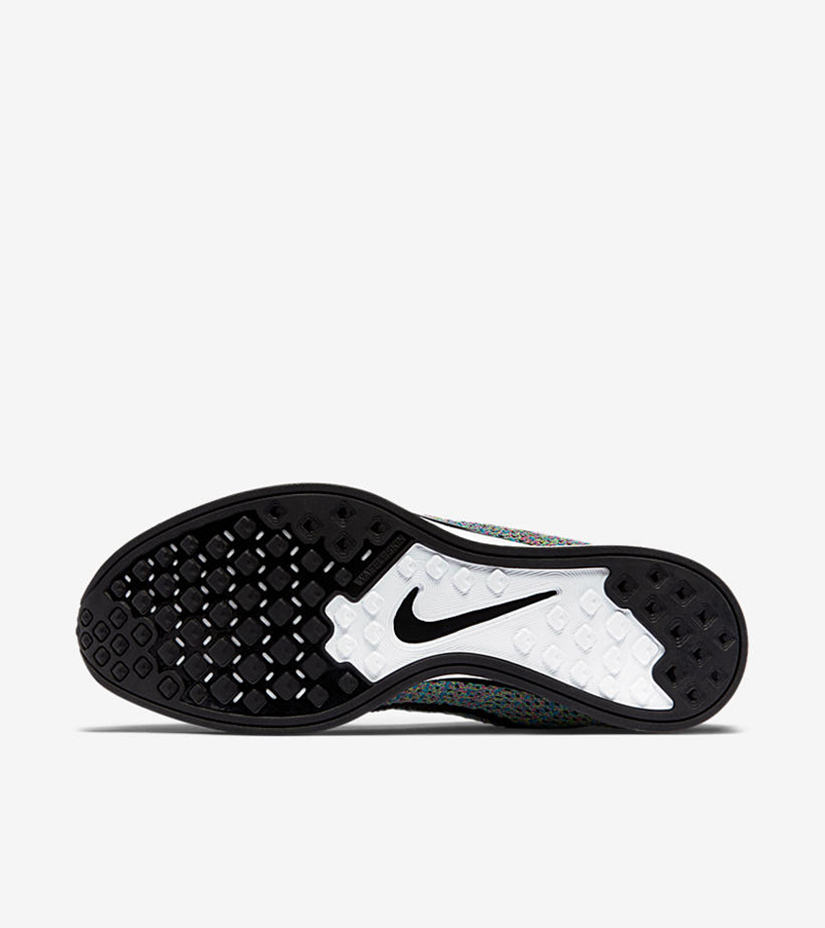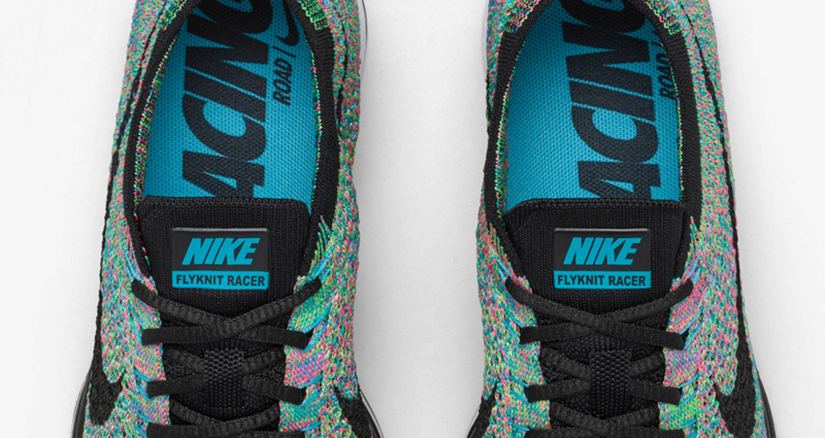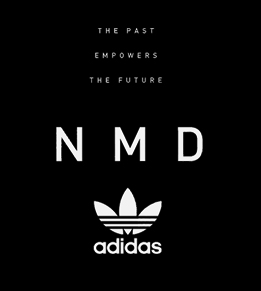 06 . 04 . 17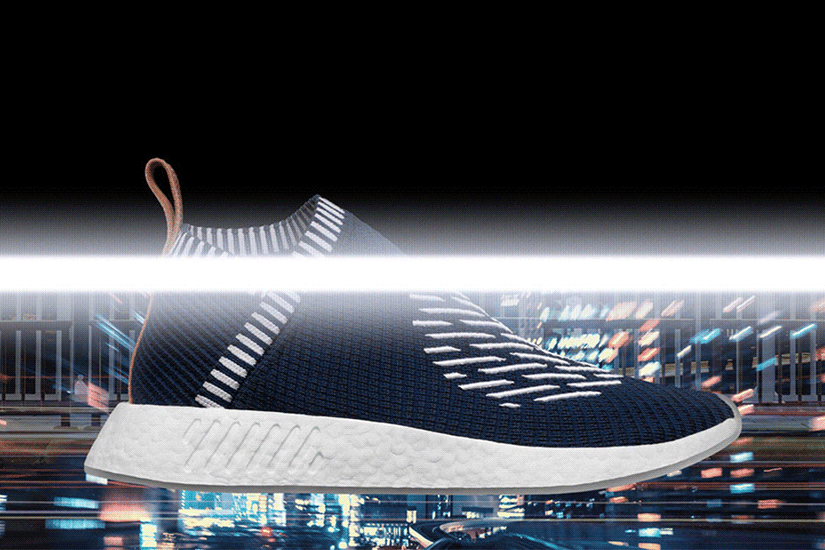 ADIDAS NMD CITY SOCK CS2 "RONIN PACK"
LAUNCHING 6TH APRIL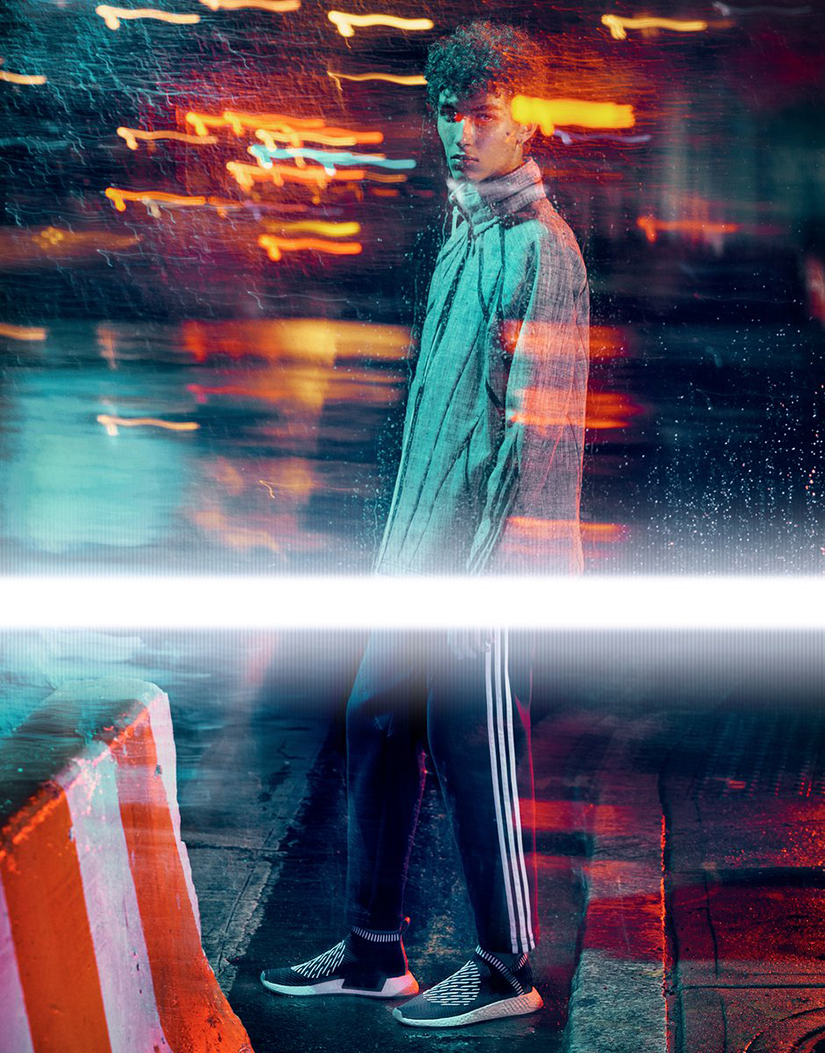 adidas Originals is expanding their adidas NMD line with this adidas NMD City Sock 2 CS2 Ronin Pack. This pack includes two different "Collegiate Navy" colorways.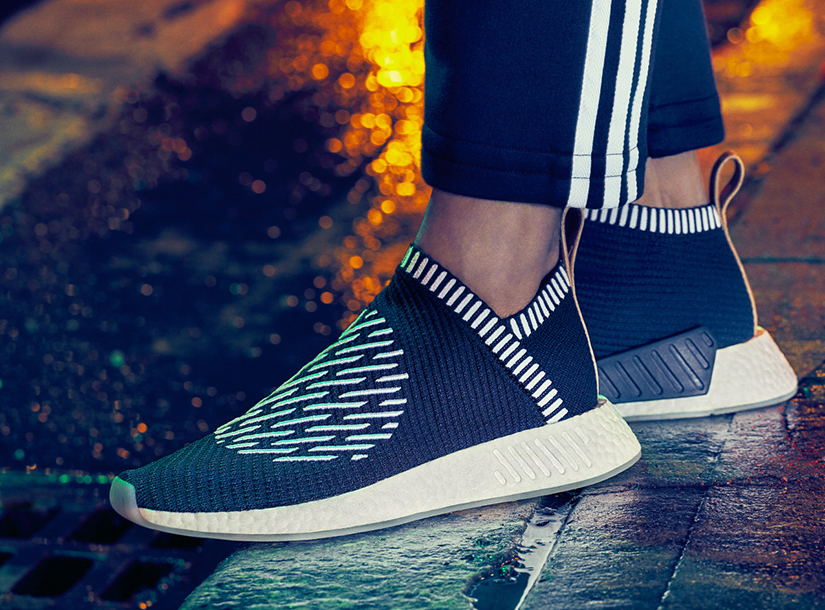 Both adidas NMD City Sock 2 releases are built with a single-piece Primeknit upper with a woven strip motif, accented with embroidered vamp details, a circular knit or polka dotted accents.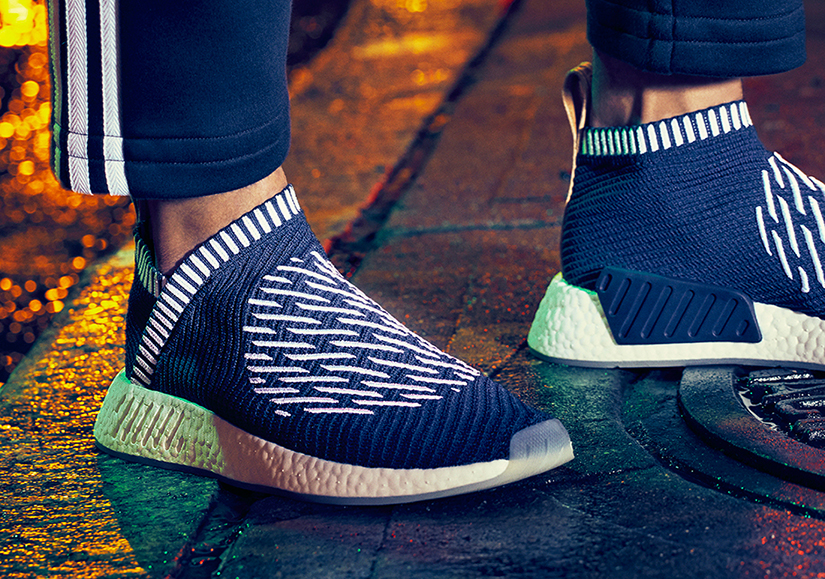 The restructured full-length Boost midsole unit even champions a new translucent outsole.The signature NMD midsole is then refined with a sharper profile and deconstructed EVA insert on the medial side and engraved details on the lateral side.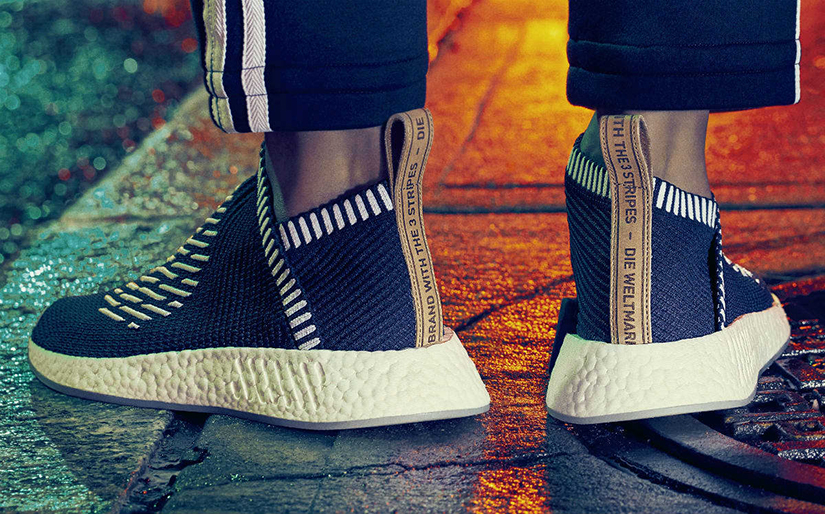 Rendered in Collegiate Navy and finished with a contrast collar.Premium brown leather accents hit the heel tab with the familiar international 'Brand With The Three Stripes' wordmark.
The release culminates as a pure expression of the power of NMD minimalism, stripping contemporary footwear design to its absolute core.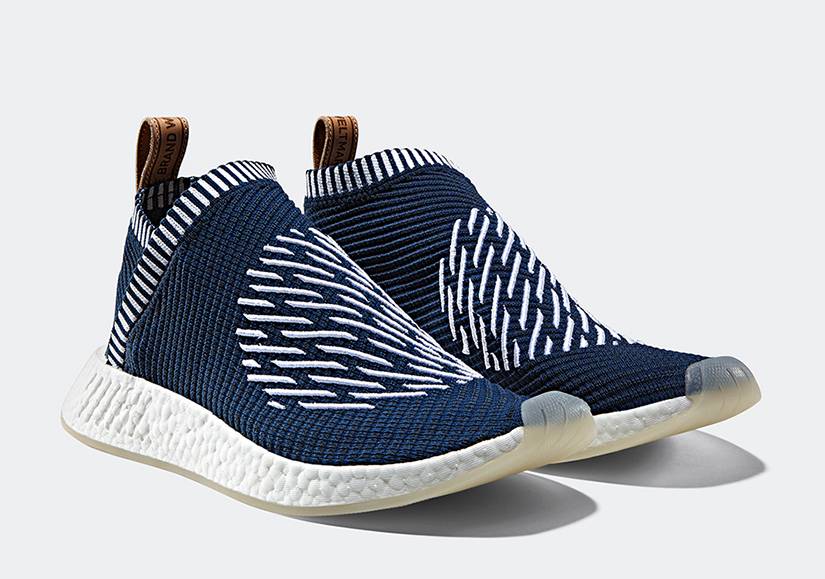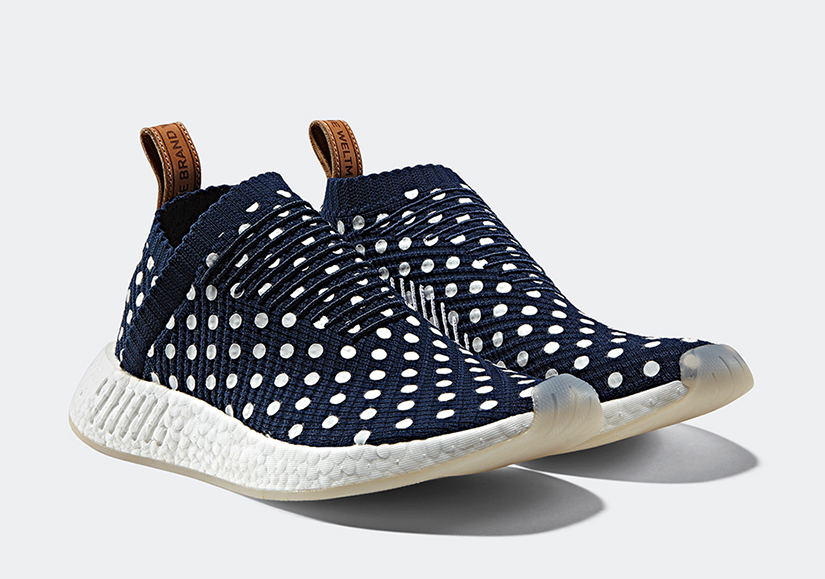 NIKE AIR FOOTSCAPE WOVEN CHUKKA QS "HAIRY SUEDE"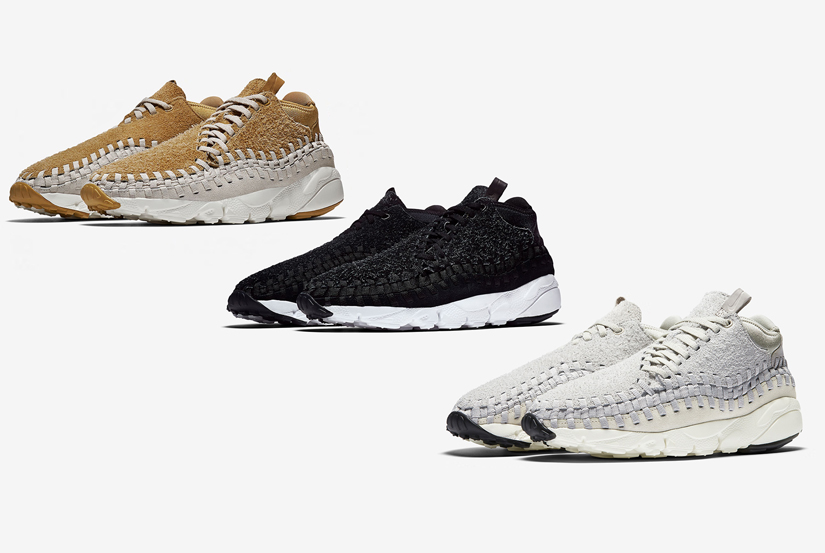 The NIKE AIR FOOTSCAPE WOVEN CHUKKA QS brings back one of our favourite Footscape variants in a deluxe hairy suede treatment.
The Footscape silhouette has been the recipient of many iterations and colourways since the original design launched back in 1996. The popular Woven edition took the original running shape and gave it a moccasin-styled makeover, appealing to a whole new audience.
The slightly higher cut of the Chukka adds ankle support and comfort, blurring the boundaries between sportswear and more formal footwear. The woven sections around the upper are a smart addition to the shoe, more akin to traditional shoes, whilst the Natural Motion sole unit is functional and lightweight.
The Footscape was often considered a summer shoe, but this new trio of colourways will work throughout the seasons. This is a premium rendition of one of the best running shoe designs ever, featuring natural-toned hairy suede with subtle premium leather detailing.